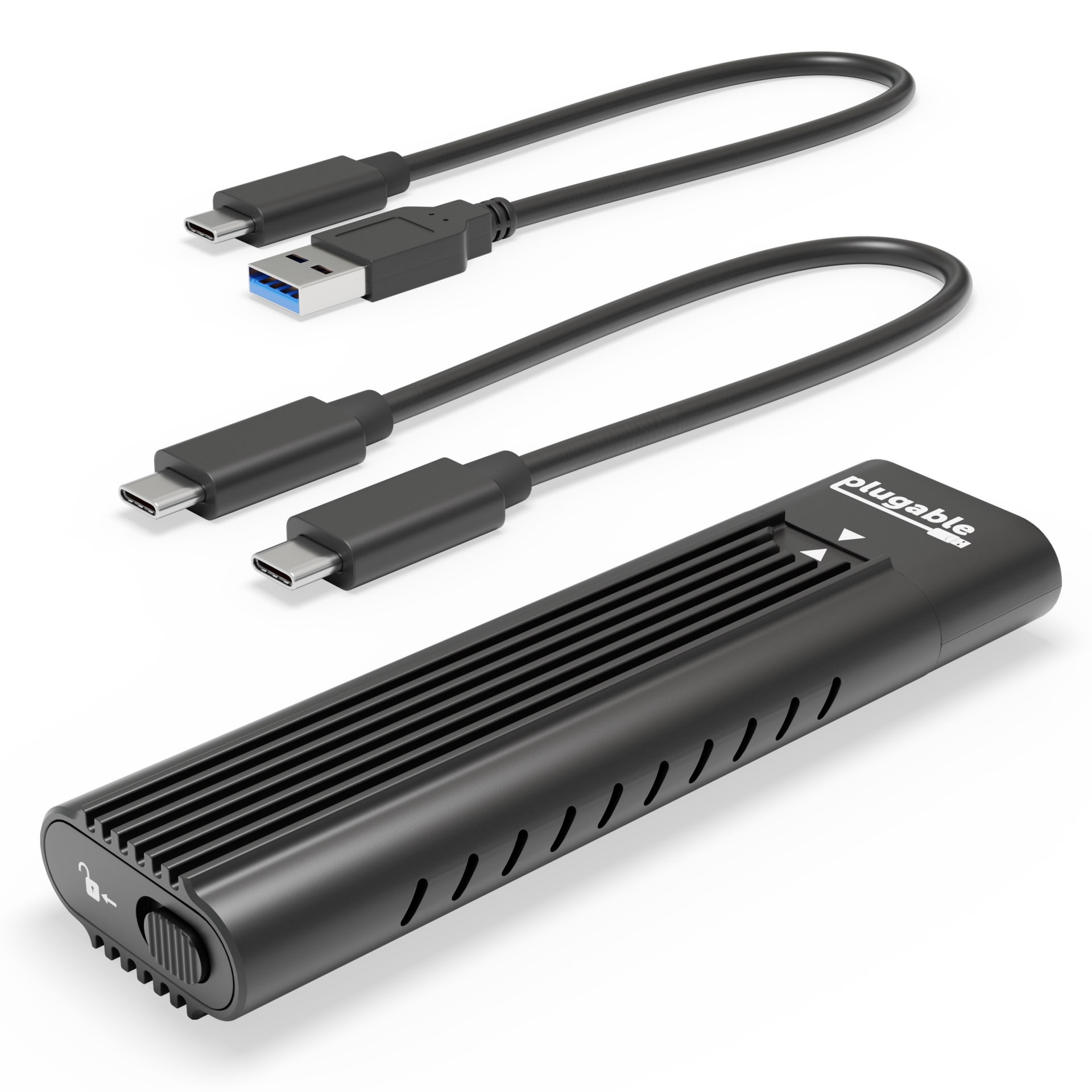 Quick tech specs
Connect NVMe SSD to USB-C (Gen 2) or Thunderbolt 3 port at USB 31 Gen 2 10Gbps speeds for speeds over 800MB/s read/write with high-performance NVMe media
Compatible with M2 NVMe SSDs (SSD not included),USB-C Gen 2 or Thunderbolt 3 hosts up to 10Gbps,USB-C Gen 1 and USB 30 systems capable of up to 5Gbps
Backed by Plugable's 2-year warranty
World's first tool-less NVMe enclosure for quick and easy installation of M2 NVMe SSDs
Offers plug-and-play compatibility with Windows,Mac,and Linux
View All
Know your gear
Performance USB 3.1 Gen 2 and NVMe SSDs let us exceed SATA III SSD performance! The Plugable USBC-NVME M.2 NVMe Enclosure is capable of raw read and write speeds up to 10 Gbps, compared to 6 Gbps with traditional SSDs. Performance depends on the capabilities of your NVMe SSD and host computer. 10Gbps connection requires USB 3.1 Gen 2 on the host computer; NVMe SSDs can run very hot and older drives may throttle, reducing speed, as they get hot. Thermal throttleing is especially noticable in large file transfers on older generation media.

COMPATIBILITY: Compatible with M.2 NVMe SSDs, NVMe SSD not included. Performance depends on host system, workload, and NVMe media used. USB-C Gen 2 or Thunderbolt 3 host recommended for fastest performance. USB-C Gen 1 and USB 3.0 systems supported at up to 5Gbps. Not compatible with M.2 SATA SSDs, M.2 PCIe AHCI SSDs, M.2 PCIe devices such as WiFi and capture cards, mSATA SSDs, and non-M 2 form-factor SSDs.

Compatibility Native compatibility with Windows, Mac, and Linux, file system support depends on operating system. Compatible with M.2 NVMe SSDs in the 2280, 2260, 2242, and 2230 formfactors with tooless installation. Supports USB, USBC, and Thunderbolt 3 host computers. Not compatible with non-NVMe SSDs, or non NVMe M.2 PCIe devices. Some NVMe SSDs may have reduced performance caused by thermal throttling on large file transfers.