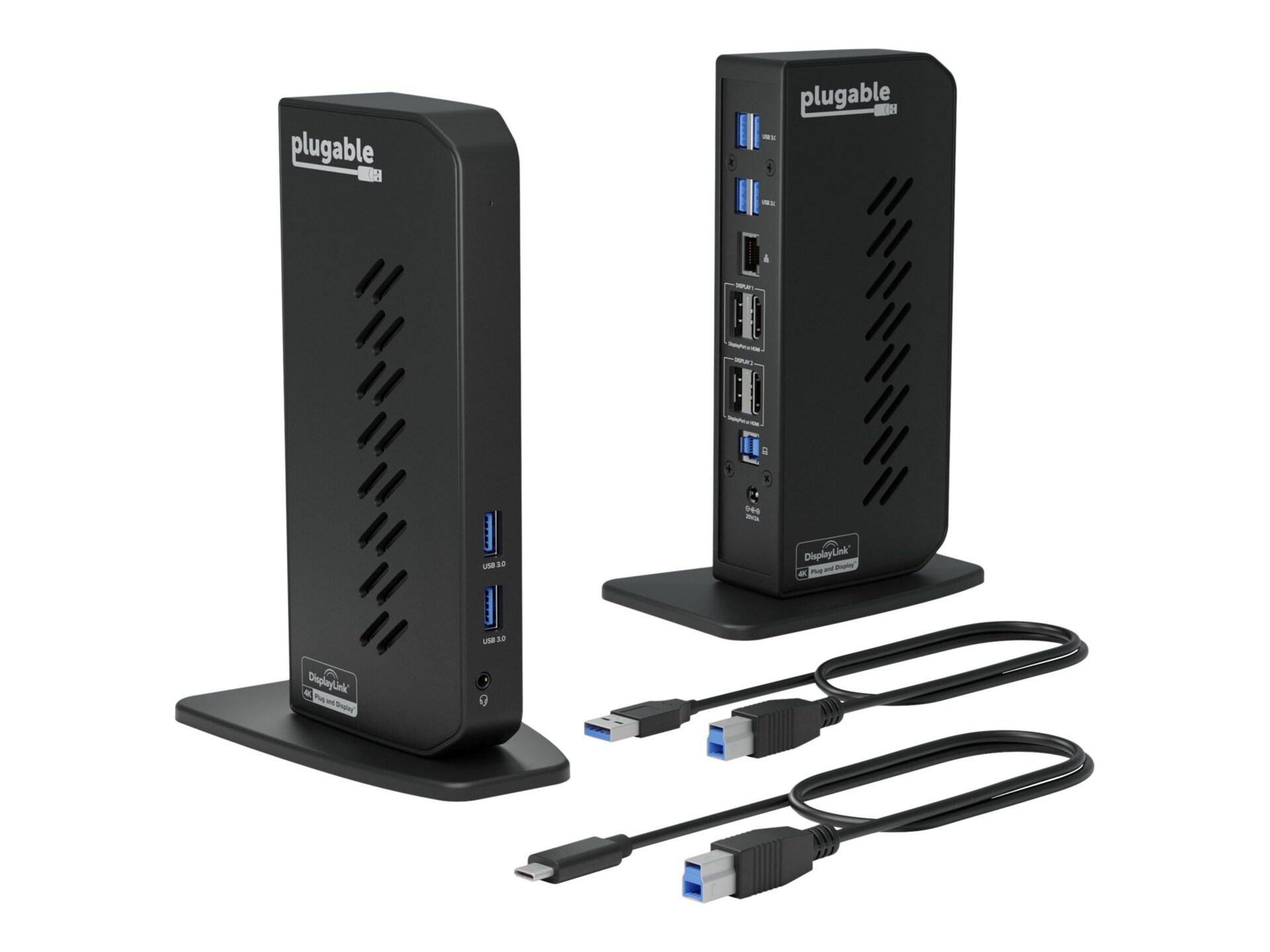 Quick tech specs
This USB laptop dock provides dual HDMI or DisplayPort video outputs,wired Gigabit Ethernet,3.5mm combination audio jack.6xUSB 3.0 ports. Includes USB 3.0 and USB-C cables for flexibility
Compatible w/Windows 11,10,8.x,7,ChromeOS 100+,macOS 10.14+
Backed by Plugable's Seattle-based support team
Equipped with dual HDMI and DisplayPort ports for two 4K monitor supporting resolutions up to 3840x2160@60Hz
For use with web and productivity software
2 year limited parts and labor warranty
View All
Know your gear
Performance Featuring the latest DisplayLink DL-6950 chipset, the Plugable UD-6950Z docking station lets you connect two external monitors up to a 4K@60Hz resolution using DisplayPort or HDMI to your Windows laptop, or desktop via USB 3.0. Additionally, the UD-6950Z dock allows you to connect up to eight accessories to the six USB 3.0 ports, a Gigabit Etherent connection and audio input/output port all through a single USB cable. 4K@60Hz Notes :

To achieve 4K @ 60Hz each connected monitor must support 4K @ 60Hz on the DisplayPort 1.2 or HDMI 2.0 This docking station does not support host charging, we recommend using the systems separate power supply for optimal performance.

Compatibility Our docking station is compatible with most modern laptops and desktops running Windows 10, 8.1 and 7 and macOS 10.14+ and requires the DisplayLink graphics software to be installed.

Not supported on Linux.

Does not support HDCP copy protected content (Blu-Ray, Netflix, Amazon Prime video, etc.). DisplayPort MST daisy-chain connections or Dual-Link DVI conversions are not supported from the DisplayPort outputs.

Gigabit Ethernet port requires a Full-Duplex network connection from the connected network device (router, switch, etc.).

Minimum System Specifications Intel SkyLake i3, Intel Core i7 or AMD A10 CPU at 2.0 GHz or Higher Intel HD 4000, AMD Radeon HD 8650, Nvidia GeForce 7xxM or better 8GB RAM USB 3.0 Port

In the Box Plugable UD-6950Z USB 3.0 Dual 4K Display Vertical Docking Station, USB 3.0 Type-A to Type-C Cable, USB 3.1 Type-C to Type-C Cable, Power Adapter (US AC Wall Outlet Plug, 20V@2A), Quick Installation Guide.
Plugable USB 3.0 Universal Laptop Docking Station Dual DisplayPort 4K
is rated
4.90
out of
5
by
14
.
Rated

5

out of

5
by
LilyoftheValley
from
Portable, and convenient to use
These docking stations make it so easy to give my laptop all of the capabilities of a desktop computer, which is especially great when I have a serious study session, or work I need to do. Sometimes a mouse is just much handier, and being able to add monitors for extra simultaneous screen space is helpful. When I'm doing research for a paper, I tend to have my paper open and fully visible on my laptop while searching the internet on another device. Now, I can use my laptop screen for my paper, and use the empty monitor we weren't using as a convenient way to search the internet through my laptop while having my paper fully visible. It allows me to swap between different things while maintaining full visibility as well as sheer convenience. Their size is also a huge bonus, as they aren't super bulky like the typical desktop stations.
Date published: 2023-04-12T00:00:00-04:00
Rated

5

out of

5
by
Jasmyne84
from
Great hub for all the plugs!
This external port for hdmi and usb is really a lifesaver! Some the electronics I have don't have the updated ports for more modern hardware (like a Roku into an older tv) so this makes them still useful plus the 4K display is great. Highly recommend for anyone who needs to streamline their electronics with great display and surge protection.
Date published: 2023-05-06T00:00:00-04:00
Rated

5

out of

5
by
Lumy
from
Great product
The perfect solution for Mac users who want to increase the amount of screen. Important: Only a total of 3 displays can be connected to a mac mini using this product (Display 1 is directly through the single hdmi port on the computer, and additional 2 displays through DisplayLink). I couldn't use the Amazon Prime app because there isn't proper license support for the displays, but you can disable a feature in Google Chrome that allows you to watch Prime Video, Netflix, in the browser just fine. I also play video games regularly and the games run fine on monitors connected via displaylink.
Date published: 2023-05-02T00:00:00-04:00
Rated

5

out of

5
by
ozsplace
from
Great dock for backup
We got this dock to use as a second station when we need to work in the other room and this is perfect for that. It is very small and has all the ports you would need in a basic setup. There is not a ton of USB ports or additional features but everything works as it should
Date published: 2023-05-05T00:00:00-04:00
Rated

5

out of

5
by
heatherp87
from
I LOVE THIS DOCK
It is so awesome and the number of ports it has it just great. I have a million plugs that are USB ports and the fact i can use this with them is the BEST! I will be buying a few more of these, that's how awesome they are and i have a ton of USB plugs!
Date published: 2023-05-01T00:00:00-04:00
Rated

5

out of

5
by
jken051
from
Perfect for my needs
The plugable docking station works perfectly for my needs. I plugged it into the USB-C ThunderBolt port on the Latitude, and now all my devices are active and working well. This device has two (2) HDMI and two (2) DisplayPorts, so it supported my devices right out of the box. All of my devices work without issue. I like the vertical orientation much more than the Dell dock's "brick on a table" design. The only thing this does not have is power supply to the laptop. I have to use my regular travel charger. This is not a huge deal breaker. I'd much rather have something that works flawlessly than a powered cable.
Date published: 2023-05-02T00:00:00-04:00
Rated

5

out of

5
by
Haleyann123
from
Great product
This is a great product. I love using this. It is super easy to use. Super easy to set up. Works very well and great. I definitely recommend this to everyone in need of this type of product this is a great brand.
Date published: 2023-04-17T00:00:00-04:00
Rated

5

out of

5
by
Matt4
from
PLUGGABLE PLEASE!!
If you are sick of staring at your darn small laptop screen like me and are always on the go as well then I would say try this PLUGGABLE display dock. It's a breeze to connect your monitors too and a snap to connect your laptop in seconds. No connectivity issues and great resolution on both monitors. Great dock for anyone.
Date published: 2023-04-17T00:00:00-04:00
Rated

5

out of

5
by
Suki
from
Easy set up
Really like the sleek design. Fits right into my station. Has plenty of ports for anything you need to connect Wanted to ad more information after uses a while. Get back to you on this product in the future
Date published: 2023-05-05T00:00:00-04:00
Rated

5

out of

5
by
Angeleyes84
from
Must have for home office.
I needed a way to connect my laptop. My job requires me to have dual screen. I got this product a few weeks ago. And it actually work for display on my laptop. And yes my laptop has a USBC connection.
Date published: 2023-04-22T00:00:00-04:00
Rated

5

out of

5
by
IvyL
from
Works as expected
It works nice with my laptop for 2 monitor need. Just download the software to get it to work and set up was pretty fast. So far haven't encountered any issues with it. The only inconvenience is that it has no charging feature.
Date published: 2023-04-22T00:00:00-04:00
Rated

5

out of

5
by
Jorge
from
Excellent job
I got this docking station for a month now and i am impressed with it. Setting up was easy and it connects fast with no issues so far. I am using this with my Mcbook monitor and it is excellent. This is highly recommended.
Date published: 2023-11-04T00:00:00-04:00
Rated

5

out of

5
by
TacoAnthony
from
Pretty good
This is a decent dock. It does take some extra setup on Macs. You'll need to download an application to enable the dock to use dual monitors, which is a hassle but not too bad. I wish the dock had some USB-C ports, but it only has USB-A. The connection from the dock to the host uses a USB-B cable which is unusual but the cable is included. Overall, it's a good dock.
Date published: 2023-10-18T00:00:00-04:00
Rated

5

out of

5
by
Jer235
from
I love this
The docking station that I received is absolutely amazing. I love how I can plug everything into one tower and not have it look like such a mess on my cabinet. I highly recommend this product if you don't have one.
Date published: 2023-11-22T00:00:00-05:00