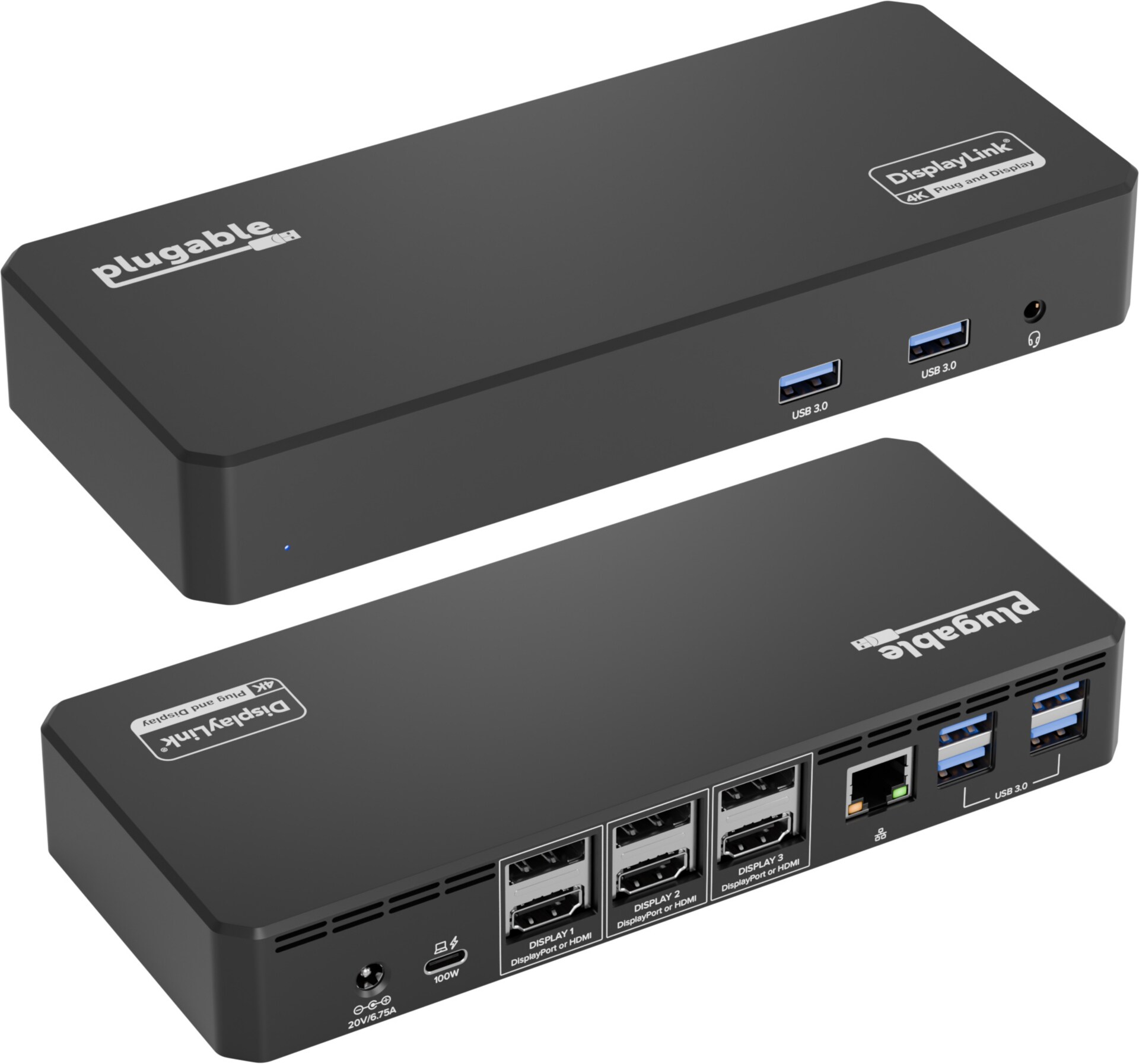 Quick tech specs
lly Connected
3x HDMI ports and 3x DisplayPort ports,this laptop docking station adapts to you—connect three screens up to 4K 60Hz w/ USB4 / Thunderbolt 4 hosts
12-port USB C Docking Station supports 3x 4K monitors—HDMI and DisplayPort,an ethernet port so you can say goodbye to wifi lag,6x USB 30 ports provide room,and an audio jack keeps things sounding freshTriple 4K
Connected to a Thunderbolt 3 / 4,USB4,or full-featured USB-C port and Windows 10,Windows 11,ChromeOS 100+,or macOS 11+
View All
Know your gear
More than just a chance to expand your screen count, the UD-6950PDZ also makes room for all of your peripherals. Through a single USB-C connection back to the host, get 6x USB 3.0 5Gbps ports, Gigabit Ethernet, a combination audio input/output port, and of course, 60W charging so you can leave your charger in the bag.

HDMI, DisplayPort or Both

Three HDMI monitors, three DisplayPort Monitors, or a combination of both. The Plugable USB-C Triple 4K HDMI and DisplayPort Docking Station (UD-6950PDZ) offers three 4K HDMI Ports, and three 4K DisplayPort ports so you can mix and match up to three monitors -no adapters necessary. Of course, the UD-6950PDZ lets you connect more than screens. With an Ethernet port, an audio jack, and 6x USB-A ports, this USB-C Docking Station has room to pair all of your peripherals with a single connection back to your computer.

A Powerful Performer

With the UD-6950PDZ, you're not just adding screens, you're also getting a whole host of extra ports. Starting with the innovative display array, you can add up to three 4K displays in any configuration of HDMI and/or DisplayPort. For computers that only support one display, the UD-6950PDZ laptop dock has you covered with DisplayLink technology. Just a heads up, you'll need to download a DisplayLink driver to get full functionality.

Will It Charge My Laptop

The UD-6950PDZ provides 60W charging to laptops that support PowerDelivery. You'll want to take a look at your laptop's power requirements. If it came with a USB-C power cord, the docking station can provide up to 60W to power the computer, replacing a manufacturer's USB-C power supply rated up to 65W. If your laptop supports a higher charging rate, you may still need to use the laptop's power cord.
Plugable Plugable 12-in-1 USB C Docking Station w/ Triple 4K Displays
is rated
4.90
out of
5
by
12
.
Rated

5

out of

5
by
Nikk1000
from
Great addition for the laptop
Laptops are great when on the go but when you need to be productive at your desk, it can be challenging. With laptops getting thinner and lighter, that means less room for ports which means less things can be plugged in. This dock is universal and great for adding multiple peripherals. The speed of transfer is great too.
Date published: 2023-11-08T00:00:00-05:00
Rated

5

out of

5
by
Rd745
from
Works great
This adapter made my life so easy. I needed to run multiple monitors to use our sounds and slide features for our worship service. This was easy to install and get up working. It is fast and efficient and works as it should. Very happy with this display dock.
Date published: 2023-04-10T00:00:00-04:00
Rated

5

out of

5
by
BrooklynWynter
from
My family loves it!
Needed this Plugable USBC Triple Display Dock for my gamer kids (Eyeroll). My son said it was a must have for his multiple screens so I just nodded my head and complied. Lol the setup wasn't too bad as the steps were pretty easy. But I did have to download some software beforehand. My son says it works perfectly for him with no connection issues as of far. All in all, I think as a parent it was worth the money because my kids are happy and that's what matters. They work hard and deserve it…just like I deserve the peace and quiet that comes with that! Haha!
Date published: 2023-05-26T00:00:00-04:00
Rated

5

out of

5
by
Rj48
from
Wanted to try multiple monitors this made it easy
Got this to try using multiple monitors at once to expand my view. When it arrived the first thing I noticed was well it was packaged to assure no damage before I got it. The directions were clear and easy to follow, the download worked flawlessly and in no time at all my monitors were up and running ! It was so simple I don't know why I waited so long. The docking station is well constructed and came with everything needed. Could not be more pleased !
Date published: 2023-05-10T00:00:00-04:00
Rated

5

out of

5
by
Jon9383
from
Very Handy
Like most people I have a setup on my desk with multiple monitors, blue tooth keyboard and Bluetooth mouse. I need a lot of flexibility with powering these and getting everything connected. I've been using this for a while and it has been great so far.
Date published: 2023-05-05T00:00:00-04:00
Rated

5

out of

5
by
Ken3
from
Perfect for Business
This triple display dock is exactly what I needed. Now I have the ability to use three monitors, and I can literally do three things at once. It sounds a little silly, but it saves a ton of time being able to write invoices, send emails, and use the calculator all at once. This thing is the best piece of technology I own, next to the computer!
Date published: 2023-05-10T00:00:00-04:00
Rated

5

out of

5
by
gremerkle
from
works great
I have been struggling with ways to organize all my electronics cords. This helped me keep the cords together so that they would not tangle. This is a great way to increase the USB ports available and to keep cords better organized.
Date published: 2023-04-25T00:00:00-04:00
Rated

5

out of

5
by
Naee
from
Awesome product
Works great easy to use. Has multiple functions and multiple ports to use at once would definitely recommend for people who need more than one monitor for their work. Also works for charging your rechargeable devices
Date published: 2023-04-17T00:00:00-04:00
Rated

5

out of

5
by
Mena
from
Easy Use and Setup
I love my new USB dock. It was very easy to set up and get working. I know I am able to view all three monitors at the same time which makes it very easy to work from. The device seems well-made and good quality. All of the plug-in seem to fit in nice and snug as well as the USBs.
Date published: 2023-04-24T00:00:00-04:00
Rated

5

out of

5
by
Desire
from
perfect dock
This is honestly the perfect dock, if you need it. It is sleek, black, and it can be easily hidden. The USB C and ethernet plug ports are a life saver. It does seem to be a bit glitchy sometimes, especially when going from Roku to TV screen. Absolutely worth it!
Date published: 2023-05-09T00:00:00-04:00
Rated

5

out of

5
by
Kellym214
from
Great!
I got this a few weeks ago and just needed to use it the other day for the first time. This portable dock is great for traveling, or even just sitting at home! I just plugged my laptop into it and it held a charge to let me finish the task I needed to complete, since I wasn't near my charging cable.
Date published: 2023-04-26T00:00:00-04:00
Rated

5

out of

5
by
Rayanne1234
from
Great
This is so handy and works great! We use it with our gaming computer ans it's amazing with it. It's a nice size too and looks really sleek. Really handy to have around! I like how portable it is tooo.
Date published: 2023-05-24T00:00:00-04:00