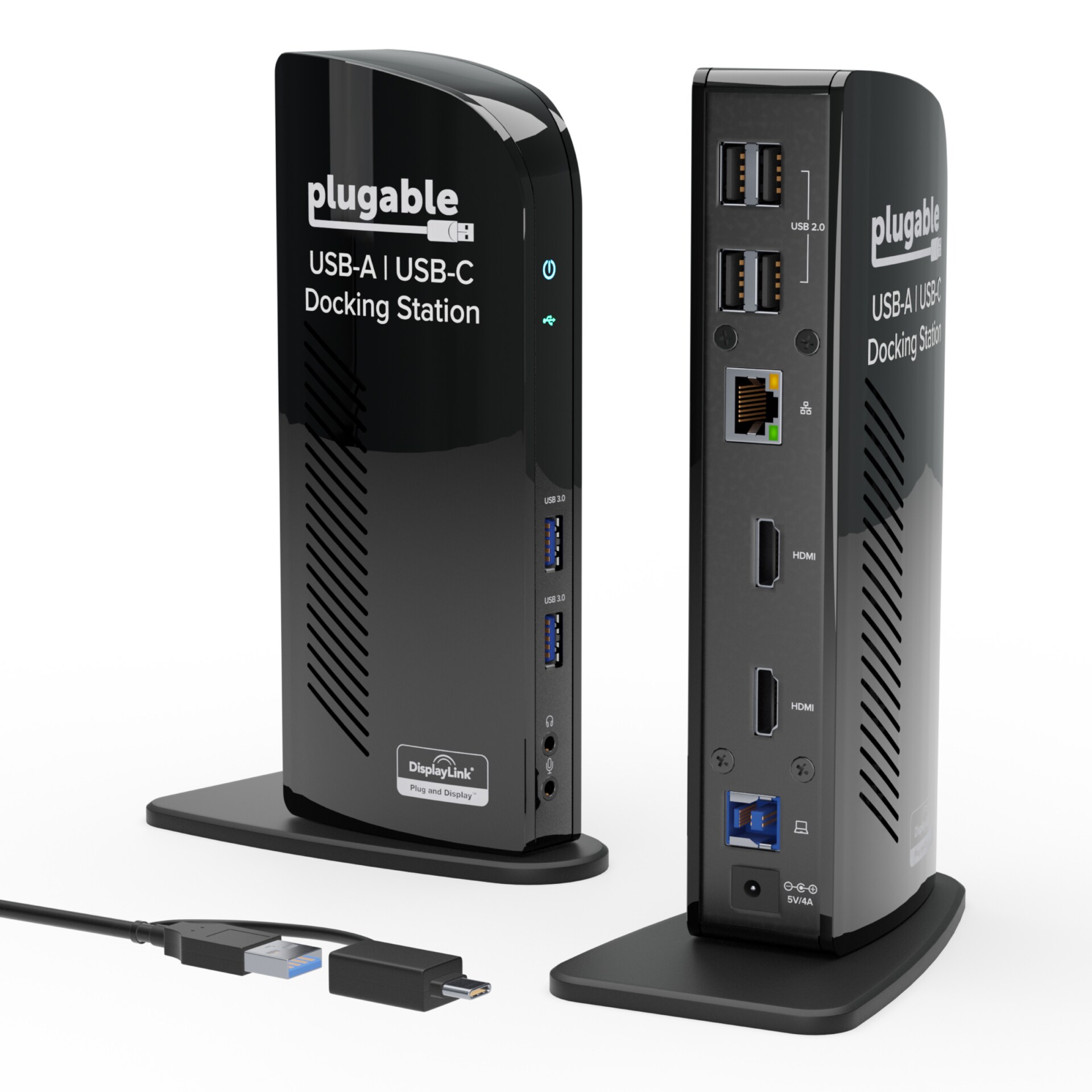 Quick tech specs
This USB 3.0 and USB-C universal docking station features universal compatibility with Windows and Mac,ideal in schools with a mix of laptops
Built-in HDMI and DVI outputs each supporting 1920x1200 resolution @ 60Hz refresh rate
Backed by Plugable's 2 year warranty and Seattle based support team
Gigabit Ethernet,3.5mm Headphone and Microphone jacks,two USB 3.0 ports,four USB 2.0 ports
Includes DVI to VGA adapter and DVI to HDMI adapter
View All
Know your gear
One-stop upgrade for your Windows tablet, laptop, or desktop. Connect up to 10 accessories through a single USB cable. Includes the latest drivers and firmware for compatibility with Windows 10 and earlier. Fully backward compatible with USB 2.0 PCs and devices. Features two graphics ports: an HDMI port and a DVI-I port with VGA adapter for mirroring/extending your Windows desktop to external monitors, a Gigabit Ethernet port (10/100/1000 supported, full-duplex required), audio input/output, two USB 3.0 ports, and four USB 2.0 ports.

Compatibility Windows 10, 8.1, 8, and 7 drivers can be automatically installed by Windows Update (with an existing Internet connection) or can be downloaded from Plugable.com/drivers. Requires Intel / AMD / NVIDIA main GPU and driver. USB graphics require dual-core 2GHz+ CPU for best performance.Up-to-date USB drivers on host system recommended. DVI dual-link connection not supported. 2560x1440 (1440P) resolution only available with native HDMI monitor. 1440P not supported when using HDMI-to-DVI adapter/cable or DVI monitor. Cannot be mixed with non-DisplayLink USB graphics adapters and drivers (e.g. MCT, j5, or SMSC). HDCP/Blu-ray playback not supported. Not recommended for gaming. Linux/Unix are not supported.

Power Includes robust 20W UL certified power supply for supporting several devices requiring USB 3.0's more demanding 900mA per-port power. Does not provide power to attached computer.

In the Box UD-3900, premium 20W UL certified power adapter (US AC Wall Outlet Plug, 100-240V 50/60Hz), USB 3.0 Type-A male to Type-B male cable (USB 2.0 compatible), DVI-to-VGA adapter, quick-install guide.
Plugable DisplayLink Dual Monitor - USB 3.0 Universal Docking Station
is rated
4.90
out of
5
by
13
.
Rated

5

out of

5
by
Wildamanda34
from
Awesome features
Docking Station - USB 3.0 connects your laptop to up to additional monitors, various external devices and the Internet with a single cable. It's a convenient way to expand the capabilities of your portable PC and customize your desktop computing environment. This sleek, compact dock unlocks enhanced productivity and entertainment options with high-speed connectivity, you couldn't find an easier way to connect your devices. Such a great value for so many features. I'd highly recommend for all your gaming needs an more.
Date published: 2023-10-28T00:00:00-04:00
Rated

5

out of

5
by
Tinaw
from
Pluggable usb
Receive this plug a ball USb Docking station I really like it. I can add extra USB ports. It's nice. I can hold up to extra spaces for my USB. I definitely will be sharing this with my friends and family.
Date published: 2023-10-30T00:00:00-04:00
Rated

5

out of

5
by
surveyname
from
Plugable USB 3 Universal Dock 2x Monitor Black!
The Plugable USB 3 Universal Docking Station for Dual Monitor in Black color features a hybrid 2-in-1 USB 3.0 and USB-C cable, and supports dual HDMI, and comes with 2 Year Warranty, which is amazing. This laptop docking station's compatibility is universal and it is compatible with Windows 11, 10, 8.x and 7, macOS 10.14 or later, and ChromeOS 100 or later. Plug and play driver installation via Windows Update; manual driver installation on macOS. Dock does not charge host PC. I have already recommended the Plugable USB 3 Universal Docking Station for Dual Monitor to many of my friends and family and several of them have already purchased and used this docking station to manage their dual monitors quite easily and they all love to use this device.
Date published: 2023-10-17T00:00:00-04:00
Rated

5

out of

5
by
Jesse82
from
Great product
The plugable usb 3.0 dual monitor docking station came well packaged, and the instructions was easy to understand and read. This docking station is amazing, it has a USB 2.0 , USB 3.0 , a plug for headphones, and a plug for a mic. This is truly amazing, keeps everything in one spot and I don't have cords everywhere .
Date published: 2023-10-18T00:00:00-04:00
Rated

5

out of

5
by
jofer49
from
So Useful!
Plugable Technologies USB 3 Universal Dock 2x Monitor works with Windows 11, 10, macOS 11 Big Sur and later. The Dual Monitor Docking Station is USB 3.0 and USB-C compatible. The Display Link gives you the capability to Plug and Display. Ports and connectors included are for the computer, video, audio as well as a power adapter and power mode. When you own this, you are hooked up, literally! It is so small and sits upright on a desk or on the floor. The instructions show you how you can link 7 different electronics to this dock at once! It comes in so handy and makes keeping track of wires so simple. It offers high resolution as well as high Gig Ethernet. So useful and so modern!
Date published: 2023-10-17T00:00:00-04:00
Rated

5

out of

5
by
Scarlettalexis
from
Helps with productivity
This dock has really helped with my productivity as it has made dual monitors so easy to use. I like the other outports available on it, too. I work in and out of the home so this has made it so easy to just plug in and resume work once I'm back at my desk.
Date published: 2023-10-17T00:00:00-04:00
Rated

5

out of

5
by
edward88
from
Effortless Integration: The Ultimate Docking Exper
This universal Dock exceeds expectations, offering seamless connectivity and versatility. Ideal for both work and play, its performance is consistent and reliable. A must-have for anyone seeking a one-stop docking solution.
Date published: 2023-10-24T00:00:00-04:00
Rated

5

out of

5
by
Steve
from
Wonderful
Absolutely wonderful product days dock works seamlessly flawless. I've been using it on my laptop for about a month now without a single glitch or problem. I highly recommend it It does exactly everything that it's supposed to do. Period
Date published: 2023-10-24T00:00:00-04:00
Rated

5

out of

5
by
Scottyf
from
Very compatible
Bought this great docking station over a month ago. It is very compatible with my laptop monitor and printer. Very easy set up and has been working great. Would strongly recommend this great docking station to family and friends
Date published: 2023-10-16T00:00:00-04:00
Rated

5

out of

5
by
noordinarylove33
from
Very compact
This has improved my home office greatly. I recently began working from home more and needed dual screens to make my work go faster and this has helped set that up. I really like how compact this is, it doesn't take up much room at all on my desk. It was easy to install which was a relief because I worried it wouldn't go as smooth. I can definitely recommend.
Date published: 2023-10-31T00:00:00-04:00
Rated

5

out of

5
by
BelindaBelieves1
from
Versatile and Convenient
I'm very pleased with my new PLUGABLE Dual Monitor Docking Station. It's compatible with both USB 3.0 and USB-C. I like the slim design because my desk has limited space. I appreciate that I can connect all my devices. I can connect my camera, mouse, keyboard and printer. I can also connect my notebook to transfer files at a fast speed. I can plug in my headphones and a MIC which is perfect for game play. I can also connect my monitor. This docking station is versatile and very convenient to have because of its multiple abilities to connect to many devices. I'd say it's an all-in-one station.
Date published: 2023-10-19T00:00:00-04:00
Rated

5

out of

5
by
cyclops
from
Great Product!
I really like this product! I can plug in multiple monitors, which assists me greatly while working from home on my computer. It is really easy to setup and use. I'll recommend this product to my friends.
Date published: 2023-10-26T00:00:00-04:00
Rated

5

out of

5
by
Dadof2
from
Easy to use!
I love having This pluggable docking station. I travel a lot for work so it comes in very handy for me because I like to use two screens. I stick this in my backpack I know that when I get to the office I can use my laptop and hook that up and have two screens for use. It was really convenient. It is compact and I highly recommend even if you aren't tech savvy, you will not have an issue using this it's plug-and-play you won't be disappointed
Date published: 2023-10-17T00:00:00-04:00