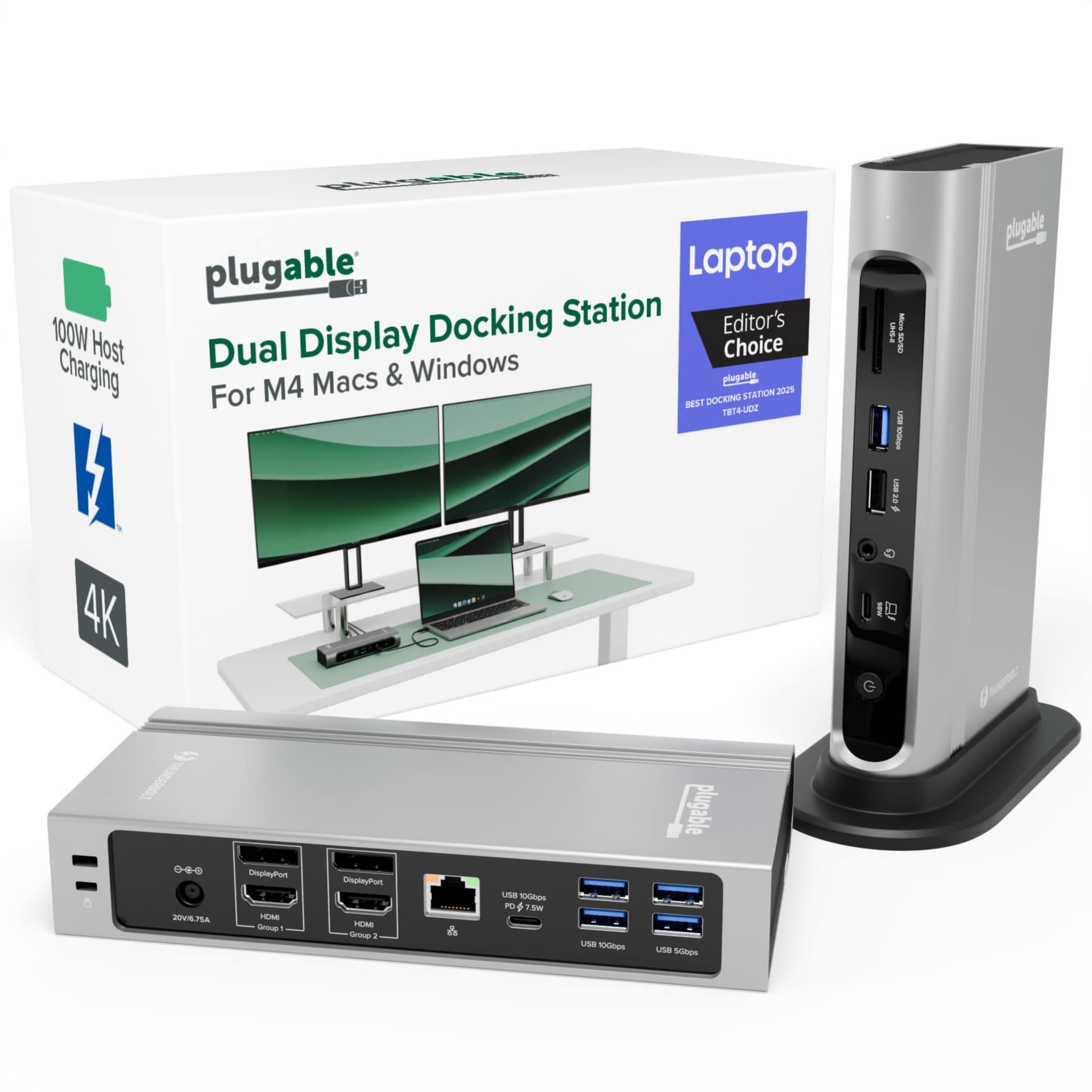 Quick tech specs
Go big with up to 4x screens up to 4K 60Hz on Thunderbolt 4 Windows systems
Compatible with Windows 10 or later and macOS 11+
Every Plugable product is backed by our Seattle-based support team even before purchase,and a 2-year limited parts and labor warranty after purchase
7x USB,SD / microSD slots,Ethernet (2.5Gbps),audio,and 100W PD to keep you charged
This quad monitor dock connects to Thunderbolt 4,Thunderbolt 3,USB4,and USB-C via included Thunderbolt 4 cable(40Gbps,3.3ft/1m)
View All
Know your gear
The Thunderbolt Certified 16-in-1 Quad docking station from Plugable delivers peak performance. The starts with Plugable's display connections. Connect your 4K screens through 2x HDMI ports and 2x DisplayPort ports - a rare level of display flexibility in a Thunderbolt dock. But the real expansion picks up at the ports. Offering sixteen total ports to park your peripherals, including 7x USB ports, SD and microSD card readers, Audio, and 2.5 Gbps Ethernet. It even adapts to your desk with an included stand for vertical or horizontal orientation options.
Plugable 16-in-1 Thunderbolt 4 Quad Dock 100W charging for Windows Laptops
is rated
5.00
out of
5
by
11
.
Rated

5

out of

5
by
Lexii247
from
Amazing product!
I gave this product to my boyfriend who loves computers and all sorts of things, and he absolutely loves this docking station! It gives him more room to plug things in and it's not too big so it doesn't take up much room as well on his computer desk!
Date published: 2023-04-11T00:00:00-04:00
Rated

5

out of

5
by
Alex22
from
Excellent docking station.
With a plethora of ports and inputs and offering 100W, this docking station has been a live saver. I get extra ports for my computer and allows for Samsung's Dex when I don't want to turn my computer on, just plug in a mouse and keyboard to the dock and it all just works!
Date published: 2023-04-11T00:00:00-04:00
Rated

5

out of

5
by
itzasecret
from
Sleek, sturdy and efficient.
The Plugable 100W TBT4 Quad Docking Station is a versatile and high-performance docking station that offers an impressive array of connectivity options. With its Thunderbolt 4 technology, this dock delivers data transfer speeds of up to 40Gbps, making it an ideal choice for power users who need fast and reliable data transfer capabilities. The dock also features four HDMI ports, allowing you to connect up to four external displays simultaneously. This makes it perfect for multi-tasking. It also has two Thunderbolt 4 ports, four USB 3.2 Gen 2 ports, and a Gigabit Ethernet port, giving you plenty of options for connecting your peripherals and accessories. One of the standout features of this docking station is its 100W power delivery capability, which means that it can charge even the most power-hungry devices, including laptops and tablets. It has a compact and sturdy design, making it easy to carry and transport. Overall, the Plugable 100W TBT4 Quad Docking Station offers impressive performance, great connectivity options, and a sleek and sturdy design.
Date published: 2023-04-25T00:00:00-04:00
Rated

5

out of

5
by
ndanip
from
Must have, and a multitasker's dream
This docking station is a must have for my multi-tasking household that has way too much tech. There are ports for any peripheral you can want or need - micro SD/SD, audio, 7 USBs, ethernet, and of course HDMI. I do wish it had multiple USB-C ports but that is easily solved with a small dongle. I primarily work on a laptop so this dock is great for allowing me to become "static" and have my laptop utilize external monitors. The dock is very study and I really like that it has it can stand vertically, a nice space saving measure. Overall, this docking station has worked exactly as anticipated.
Date published: 2023-05-10T00:00:00-04:00
Rated

5

out of

5
by
Kaden
from
Works
This portable , quad docking station is perfect. THis docking station takes up Very little room and it has just enough ports for me to utilize just plug this quad docking station in and it is ready to go
Date published: 2023-04-18T00:00:00-04:00
Rated

5

out of

5
by
Deepthi
from
Space saver
I love this product for my at home work situation. It was super easy to set up and it has helped me organize my multiple computer and other electronics. It seems quite durable and I like the look of it it too.
Date published: 2023-06-29T00:00:00-04:00
Rated

5

out of

5
by
Zach9140
from
Versatile dock
This dock is small in stature to not take up a lot of room on your desk. This is great for multiple screens as any job or gaming environment today almost requires it. There is tons of usb ports for people like me that plug is everything under the sun. Never had any issues!
Date published: 2023-05-31T00:00:00-04:00
Rated

5

out of

5
by
Muse
from
Ideal
I haven't tested this with four screens. I've tested it twitch two gaming screens and it powered it up. I have a powerful laptop and all of my attachments fit perfectly in it. It is really convenient to not to have to keep detaching all of my cords. Instead of plugging in everything to my laptop, I can keep it plugged into the port and just use a cable to connect it all. The vertical Design saves me a lot of space as well. The design is really catchy and stylish. The power holds up for me with two, powerful monitors, a laptop, and tons of other attachments, as I do a lot of video editing. Overall, super impressed with the plug n' play ability and the amount of power it can hold. A must have for someone who designs videos or does gaming.
Date published: 2023-05-02T00:00:00-04:00
Rated

5

out of

5
by
PowerSerg007
from
Suburb Quality and Functionality
Amazing little docking station. Out of the box you can immediately feel and see the quality of the build. The docking station comes with a power supply, USB-Ccable and metal solid stand, as opposed to the cheap plastic stands of others. Amazing functionality being able to use up for four 4K displays and/or 1080p displays and the functionality of 97W charging capability. The SD micro and SD mini slot is also a convenience rather than having an extra peripheral hanging somewhere off the dock. Its sleek design goes well with any work from home set up or even corporate working system. Not much left more to include in a docking station of this caliber. Highly Recommended.
Date published: 2023-04-24T00:00:00-04:00
Rated

5

out of

5
by
mamamichelley
from
Small and Very Functional!
I'm really impressed with the Plugable 16-in-1 Thunderbolt 4 Dock! I was able to connect three 4K displays to my PC and I can add even a 4th. I like that it can lay flat or vertically. I chose vertical just to give myself extra desk space. A little stand that is a rubbery material is included if you want to use is vertically, but it does not require a stand to lay horizontally. The design and look are great; I love the color and it's pretty slim. Oh, the power button is very convenient too, I'm able to turn everything off at once pretty quickly. I'm also really impressed by the number of ports for peripherals; I think I counted 16. I've used several of the USB ports as well as the microSD and SD card slots. They are all very accessible and easy to use. Overall, I'm very happy with the Plugable Thunderbolt 4 Dock and I foresee it getting a lot of use.
Date published: 2023-04-10T00:00:00-04:00
Rated

5

out of

5
by
DTinNC
from
Love this docking station!
This 100W TBT4 Quad Docking Station from Plugable is great! I got it for my MAC Mini, which has a few ports, and my IPAD Pro. It is capable of a lot of things. It has (4) HDMI ports for your computer screens. I need (2) screens, an ethernet port, (7) USB ports for your keyboard, mouse, External HD, or anything else, and a Micro SD card port. It also comes with a thunderbolt cable, a place for headsets... Lots of options. Nice sturdy dock. Just yesterday, I searched my junk drawer for a Thunderbolt adaptor for something so simple as listening to something on my headphones on my iPad Pro. I had many adaptors, but I needed a different one. It's always something, but this Dock makes something like that not an issue.
Date published: 2023-04-11T00:00:00-04:00