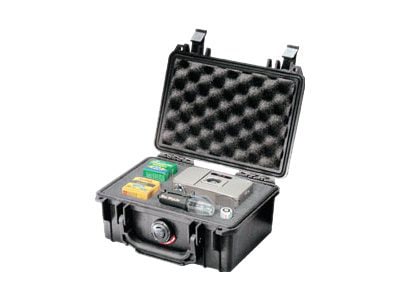 Know your gear


The Pelican 1120 case comes with Pelican's unique Pick-N-Pluck foam. This foam is pre-cut which allows you to customize the interior by half inch cubes. Trace out the item you want in the case and simply pluck the foam out by hand, no tool required. You can customize you case in less that 15 minutes.



Unbreakable, watertight, dustproof, chemical resistant and corrosion proof. These are some of the features of this Pelican Protector™ Case that offers total protection for your equipment. It is made of Ultra High Impact structural copolymer that makes it extremely strong and durable. Its exclusive 1/4" (6.4 mm) polymer o-ring and ABS latches seal perfectly and includes an automatic purge valve for quick equalization after changes in atmospheric pressure. Your equipment can fit into the high density foam of the case for total subjection and protection against impact, vibration or shock.



This case is NATO codified and tested to IP-67 (Ingress Protection). You break it, Pelican replaces it... forever.



Dimensions: 7-3/8" x 4-7/8" x 3-1/16"