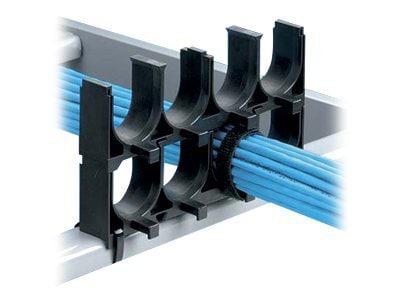 Know your gear
Panduit is a world-class manufacturer committed to innovation and excellence. Today, Panduit is recognized as a leading manufacturer of high-quality products for wiring and communications applications. This reputation gives the company a powerful advantage in today's competitive worldwide marketplace.

PRODUCT FEATURES:

Separates and supports cable and prevents pinch points between the bottom row of cable and the rung as a result of the weight of multiple cable layers applied on top of each other;
Maximize rack space by stacking products for maximum cable capacity;
Provides an alternative to lacing cord by allowing user to secure cable to spacer to prevent movement of cable;
Provides attractive installation.

This four space stackable cable rack spacer accepts cables up to 1.25" diameter.