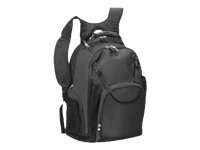 Panasonic Toughmate Top Loader Backpack
Mfg.Part: TBCBPK-P | CDW Part: 1971537 | UNSPSC: 43211619
Panasonic Toughmate Top Loader Backpack
Product Overview
Main Features
Notebook carrying backpack
Backpack
Black
Marketing description is not available.
Panasonic Toughmate Top Loader Backpack is rated out of 5 by 1.
Rated 5 out of 5
by
StowNgo
from
THE bag to have!
I have been running this bag for over 3 years now. It's my everyday bag and have traveled all over the western US with it. I love the pocket design and features inside the bag as much as I love overloading this bag with ALL my stuff; which is the reason I am back for another one. I can't speak highly enough about the ruggedness and abuse my bag has taken. I have thrown the bag with my laptop (rugged Pa**sonic) in the back of my truck and I have never sustained any damage to my computer, which is due to the design of the cushioned pocket and strap that holds it in place. Honestly, I am buying several, so I am not caught without this bag for the rest of my career. Thanks InfoCase for making the best bag EVER!FYI - The photos don't do this bag justice. It is not as block-ie as the photos. It wears great slung over one shoulder or fully worn. Cushioned back that allows airflow, so it's not a "hot" bag. I have carried about 40 pounds in this pack no problem. Usual carry about 20 to 25 pounds on a regular basis. The handle on top is super strong; only after 3 years and excessive abuse has the fabric only started to fail. I crushed a zipper and it has failed in one spot, but all the other zippers work flawlessly even after thousands of openings and closings. The main (not the laptop section) compartment is large enough to stuff a jacket in. The side mesh pockets hold my coffee thermos and the elastic is still going strong. The front zippered pocket has a place to clip in your keys, which is really handy to clip all my thumb drives to. The pen and pencil stays are made of soft fabric. (I don't use them.) Instead there is a convenient zippered pocket just between the rugged handle and the computer compartment. I stow lots of pens, markers, keys, phone, phone chargers, etc. there. When traveling, my headphones come out of this pocket with my radio device in the pocket.I just can't speak highly enough about this bag. It is one of my favorite tools I have.
Date published: 2017-08-17