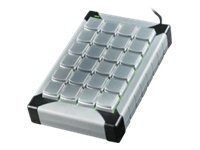 Know your gear
The X-keys XK-24 features 24 keys with independent backlighting, a co-injected case with soft sides suitable for hand-held applications, and a profile which is equally attractive in portrait or landscape orientation. Two snap in feet give the XK-24 a slight angle on the desk top.

The XK-24 combines the tradition of rugged, reliable X-keys with added features for the same price as X-keys desktop. With four more keys in a smaller footprint, the XK-24 sports a co-injected case suitable for handheld applications.

The XK-24 looks equally at home on the desktop in portrait or landscape orientation. Detachable feet improve the viewing angle of your key legends.

Clear key lenses keep your printed or hand written legends securely in place and protect them from wear while making it quick and easy to update them. The full travel keys have the same feel as your standard keyboard.