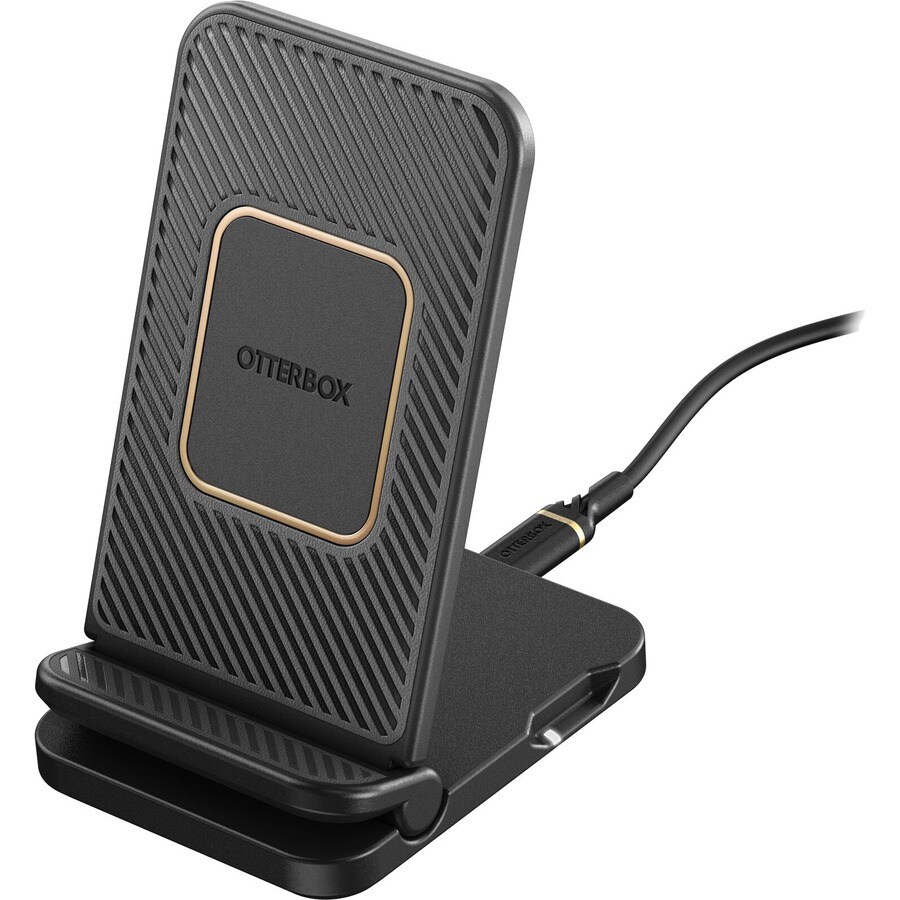 Quick tech specs
15 Watt
PD 2.0
twilight black
View All
Know your gear
Sleek wireless charger powers devices fast in the office and everywhere in between. Designed with three coils to charge in both portrait and landscape angles and a friction hinge that adjusts to any angle. Plug into the 30W Wall Charger and USB-C to USB-C cable to get Fast Charging up to 15W speeds.
OtterBox wireless charging stand - + AC power adapter - 15 Watt
is rated
4.50
out of
5
by
24
.
Rated

5

out of

5
by
Rettafaye
from
Great charger!
I am so thrilled about my new Otterbox wireless charger. If you are looking for a reliable and efficient charger, I highly recommend this Otterbox. I have two things I really like about it...it has a foldable stand so I can charge my phone and read recipes at the same time and I like that I can charge my phone with the case intact. Very nice!
Date published: 2022-02-28T00:00:00-05:00
Rated

5

out of

5
by
Justlex
from
Strong and efficient
The Otterbox folding wireless charging stand is super nice. The stand is so easy to use. The cord is thicker and stronger than any of my other charging cords. The charger is durable and sturdy. This came easy to use right out of the box. Simply plug the cord into the charger and plug into an outlet. Prop the charger up or keep it flat and set your phone on it. That's it. It'll automatically begin fast charging. It works for Android, iPhone and other devices. It's sleek and charges fast. It holds my large galaxy phone with no issue. I'm really happy with this product.
Date published: 2022-02-21T00:00:00-05:00
Rated

5

out of

5
by
Mercedesrae1
from
GREAT
i am a big crafter and having this charger on my desk while im crafting and going live and never have to worry about a dead phone is truly amazing. i love love love this charger its great and like i said the fact that the stand moves to your liking its really great and i would highly recommend
Date published: 2022-03-08T00:00:00-05:00
Rated

5

out of

5
by
Chad K
from
Fast charge but noisy
Easy to use and doesn't take up much space. It charges quickly which is convenient. However, there is a pulsing noise while charging so if you have it next to your bed while trying to sleep it could be an issue. I'm not sure if it's just my charger that makes noise but I'm able to block out the noise and appreciate the fast charge.
Date published: 2022-02-08T00:00:00-05:00
Rated

5

out of

5
by
Scott
from
Works with Defender
After trying multiple other brands, I checked the OtterBox site for something other than a case and found the wireless charger. This is the first charger I have had that consistently works with the Defender case with zero issues. Thank you!
Date published: 2022-04-19T00:00:00-04:00
Rated

5

out of

5
by
skoontz14
from
Perfect for home office!
I've slowly been equipping my home office over the last year or so and this charger is the perfect addition! It lays flat when not in use and then I can raise it up to different levels with the stand to charge my iPhone 12 Pro and my AirPods Pro. It's even a great place to prop my phone when I'm on business calls.
Date published: 2022-03-23T00:00:00-04:00
Rated

5

out of

5
by
Inuyashalover21
from
Awesome charger
Had the pleasure of reviewing this wireless charger. I have a Samsung one too and I can't use the wireless charger with my case on. With the otterbox, I can keep my case on and charger my phone with no issues. Takes 1 hour and 32 minutes to go from 2% battery to 100% battery life. There is a white led indicator on the side that tells you it's charging. It doesn't tell you when it's done charging, so you will need to take it off to see what your percentage is. All in all, I do love this charger and will highly reccomend it to family and friends.
Date published: 2022-02-21T00:00:00-05:00
Rated

5

out of

5
by
Jbwe
from
Just what I needed
I was thrilled to receive this. It has a nice sleek look that I don't mind on my side table, but the best part about this is it's ability to adjust for vertical or horizontal viewing. It charges fast and connects very easily. I'm sure I'll get a lot of use out of this over the years.
Date published: 2022-03-09T00:00:00-05:00
Rated

5

out of

5
by
Sean
from
Not impressed
This charger does not work well with the Defender phone case. Even when I am able to get it to charge, the phone has to be awake and will then stop charging when it goes back into sleep mode. Pretty disappointed in it.
Date published: 2022-01-10T00:00:00-05:00
Rated

5

out of

5
by
LauraATX
from
Yasss!
Wireless charging stations keep getting better. This on is my all time favorite since I am able to change the angle and direction that I set my device on it. Set up is easy. Take out of the box and plug in! I love that I am able to fold it down flat for traveling purposes. No more fighting with an awkwardly shaped charging stand!
Date published: 2022-02-22T00:00:00-05:00
Rated

5

out of

5
by
Lindsey
from
Charges well, but noisy
So I'll start by saying that I have a wallet case with my phone (not otterbox and it charges very well through it. It's a relatively fast charge as well. I like how I can set it up either horizontal or vertical. One downfall is there is a weird high pitched sound, almost like a cricket. Weird. But other than that it does its job!
Date published: 2022-02-21T00:00:00-05:00
Rated

5

out of

5
by
Garner99
from
Awesome Charger!
I got the folding Wireless Outterbox Phone charger for my husband's office, and he loves it! The different directions that you can charge your phone, is a very convenient option! It looks great, works great, and is a handy charger to have!
Date published: 2022-03-02T00:00:00-05:00
Rated

5

out of

5
by
Rick
from
Compatible with Pelican Kevlar Shield
This review is for all those people looking for a standing wireless charger for their thick iPhone case! I don't write reviews but, knowing how hard it was for me to find a standing wireless base that would work for my thick iPhone case I wanted to help someone else out. I have a iPhone 13 pro max with a Pelican Kevlar shield. F.Y.I. I did A LOT of research. The Otter Box Deffender is a thicker case than the Pelican. No problems what so ever with connection. I found no where where my case had been tested with this charger so, I decided to be the gunnie pig. Glad I did! Awesome charger! Thank you!
Date published: 2022-07-19T00:00:00-04:00
Rated

5

out of

5
by
Jason
from
Works with cases!
Wireless charger works great for my Samsung S22 Ultra. I did have a metal rings adhered to my case, so it didn't work with my case on. Once I removed the metal ring, I could leave my phone in its case. (I have an Otterbox symmetry case). Also works with Pela cases (friend tested)
Date published: 2023-03-12T00:00:00-05:00
Rated

5

out of

5
by
Lisa
from
Fulfills All Needs
Works great with the Otterbox phone cases. Provides a fast charge and the fold down design makes it nice for travel.
Date published: 2023-02-21T00:00:00-05:00
Rated

5

out of

5
by
Santangsd
from
Easy Charging
this standup charger is great. Easy to use and works on different products that I have. Can't miss purchase and a great price.
Date published: 2022-10-25T00:00:00-04:00
Rated

5

out of

5
by
Mike
from
Nice charger
I had a stand up charger, but it would not work with my otter box defender series case. So I bought this otter box charger because it said it would work with all otter box cases. It works perfectly.
Date published: 2022-11-22T00:00:00-05:00
Rated

5

out of

5
by
Steve L
from
Best IPhone charger from OtterBox
The best charger I have ever owned, can't believe how fast it charges. Just put it on and go
Date published: 2022-10-30T00:00:00-04:00
Rated

5

out of

5
by
Rock Crusher Ethan
from
Can't stand the noise.
This is a nice charger other than the noise it makes. I use a defender phone case and have no charging issues. I like that the stand is adjustable and simple. The only issue I have is the rapid "ticking" noise it makes when charging and when it's not charging it will randomly start making a humming noise. Some people can't hear the ticking noise so if you don't have great hearing this is your charger.
Date published: 2023-01-21T00:00:00-05:00
Rated

5

out of

5
by
ColinPgande
from
Makes annoying noises!
Purchased the Folding Wireless Charging Stand and it arrived quickly. I was initially impressed with the quality feel and adjustability. It charged well through my OtterBox Commuter case, however that is when the honeymoon ended... Later that night, I noticed the stand making a terrible high frequency pulsating squealing noise, that sometimes sounded like a high pitch sizzle when no phone was in the stand. It takes a little time without anything in it to start acting up. The sound is not loud, but is very noticeable in a quiet room, especially in my bedroom near my bed. Very annoying. So I quickly returned my first one to OtterBox under warranty. I purchased a second OtterBox Wireless Charging Stand from another vendor and had the same problem. Although the noise was slightly different, same circumstances. Nothing in / on the charger, annoying noises eventually start taunting my eardrums. I wanted this charger to work for me, but the noise is unacceptable for a product at this price point.
Date published: 2023-02-13T00:00:00-05:00
Rated

5

out of

5
by
Ben Murko
from
Great Charger!
Great quality, works with Commuter case and is very well built.
Date published: 2022-12-01T00:00:00-05:00
Rated

5

out of

5
by
Marisa Rich
from
The Only Charging Stand
I love my OtterBox - Defender Pro Series Case for Apple® iPhone® 11 Pro/X/Xs and was concerned because the charging stand I purchased with it just stopped working. After trying three other brands of charging stands I finally contacted OtterBox directly to see if I could purchase one that would charge through the protective case. It works perfectly with the Defender Pro Series Case on and I couldn't be happier. The customer service was terrific, free shipping and it arrived within 5 days of ordering. I highly recommend this product for anyone who uses any OtterBox Case.
Date published: 2023-02-20T00:00:00-05:00
Rated

5

out of

5
by
Ger Bear
from
Love it..
Works amazingly! Would recommend anyone purchasing one of these for a desk or home or work.
Date published: 2023-03-16T00:00:00-04:00
Rated

5

out of

5
by
Tyler
from
***
Works great even with defender case. Was pleasantly surprised
Date published: 2023-03-20T00:00:00-04:00