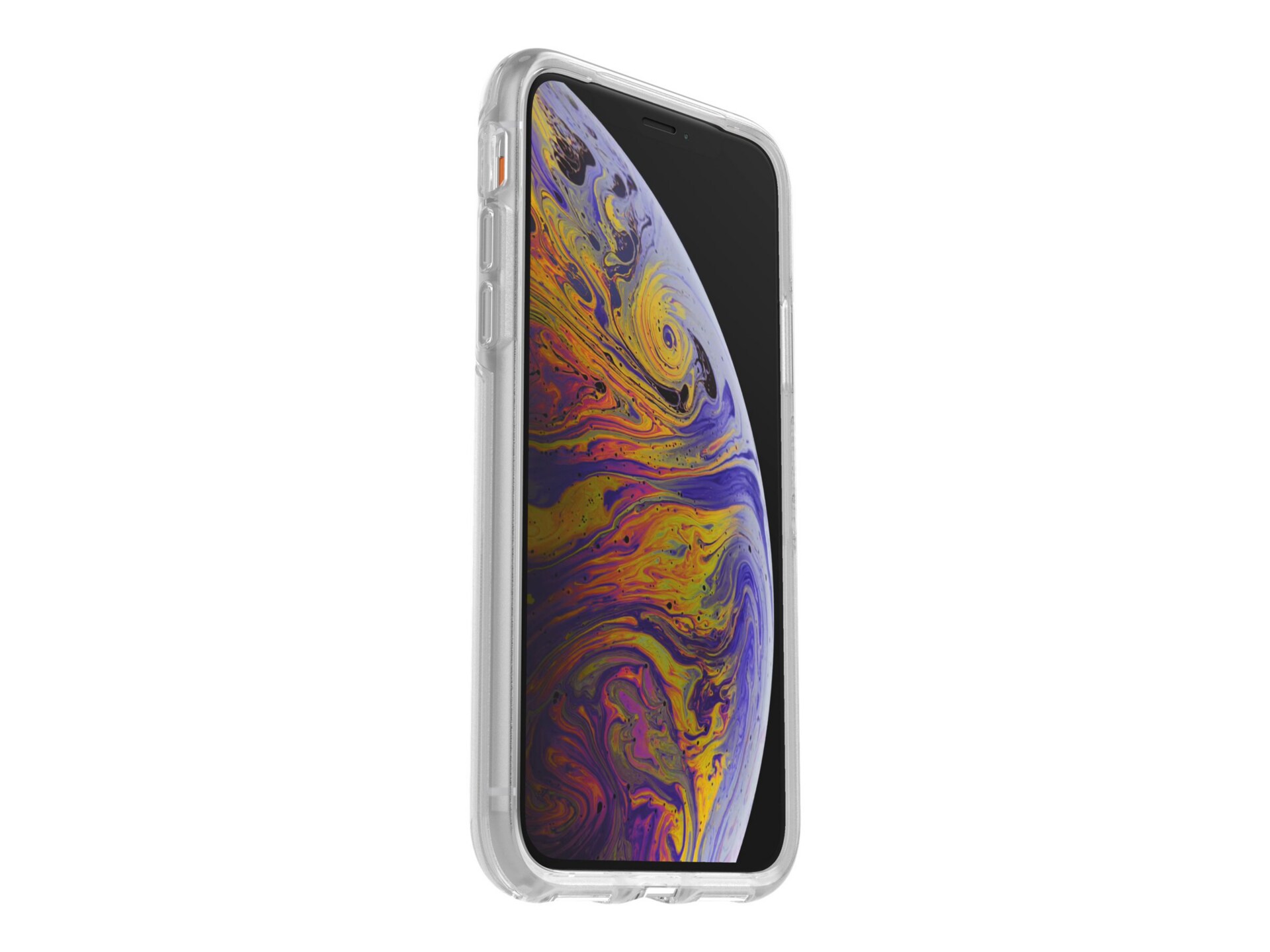 Quick tech specs
Back cover for cell phone
synthetic rubber
for Apple iPhone X
View All
Know your gear
You don't have to choose between a protective case and a stylish one. Symmetry Series is the slim and protective case that inspires your style. All of your phone's buttons, features and functions work flawlessly. And, Symmetry Series is easy to remove and install. Which is great because with all of the colors, patterns and clear options, you need more than just one. Symmetry Series -slimmer than ever, as protective as always.
OtterBox Symmetry Series Clear - back cover for cell phone
is rated
3.68
out of
5
by
19
.
Rated

5

out of

5
by
Anna
from
Great protection; yellowed fast
I bought this shortly after getting my new phone because I'm prone to dropping my phone. I heard that the clear Otterbox case would do the best to protect it from cracking. Its freat that this case is not bulky and has a simplistic look. HOWEVER.... my case yellowed way too soon. Only a couple months after purchasing it, it already lost its clear appearance and is yellow on the sides. Will not be buying again.
Date published: 2022-03-01T00:00:00-05:00
Rated

5

out of

5
by
Katie123
from
Second replacement case needs a replacement.
I bought this OtterBox and had it on my phone for 9 months before the soft plastic on the sides stretched out and detached from the hard plastic on the back. This caused the entire case to separate and break, and you could no longer use the buttons on my phone because the case wouldn't touch them. I got the free replacement from OtterBox and my new case is beginning to do the same thing not even 6 months later. I love this case but I will be switching brands because OtterBox is too expensive for this to be happening.
Date published: 2021-02-19T00:00:00-05:00
Rated

5

out of

5
by
Millie
from
Best Protection for your Smartphone
Theses are the only phone cases I trust. Sturdy, reliable and long lasting. I'm not willing to take risks with my smartphone on just any phone case; you're in good hands, and they have a variety of different colors and creations.
Date published: 2021-01-04T00:00:00-05:00
Rated

5

out of

5
by
eleni
from
Pretty good
i have had this case for about 2 weeks and its scratches so easy. i have not dropped my phone at all and the whole case is scratched up. otherwise i love it.
Date published: 2021-01-16T00:00:00-05:00
Rated

5

out of

5
by
JackH96
from
Best Case EVER!!!
I was riding my motorcycle on a race track and my phone fell from its mount at 150 mph. I stopped and went to get my phone and the only thing broken was my ego for not clamping down the phone. Screen, back, whole phone without a scratch. The Otter Box case saved my iPhone and I can not be happier with this case. I got my 2nd one and thats why I am writing this review. I trust this case with my life.
Date published: 2021-02-22T00:00:00-05:00
Rated

5

out of

5
by
Sb33
from
Loved it so much, purchased it again 2 years later
I had this exact case for the last few years and loved it. I drop my phone quite a lot and this case kept everything intact. The screen has yet to shatter or get a scratch! I love the subtle glitter of the case design.
Date published: 2021-03-22T00:00:00-04:00
Rated

5

out of

5
by
Chris
from
Yellows quickly
I really liked this case at first for it's simple design yet rugged enough to take several drops however, it quickly turned yellow.
Date published: 2021-04-14T00:00:00-04:00
Rated

5

out of

5
by
Coconotoe
from
Does what it says it does!
So far it has worked well! I love the glitter, it's just girly enough. I haven't had any major drops, but it is a sturdy case and I'm certain it'll protect my phone as long as I'm not putting it in a blender.
Date published: 2021-04-11T00:00:00-04:00
Rated

5

out of

5
by
sydney
from
it's okay
it works for me but it did get very scratched up quickly. sad
Date published: 2021-04-16T00:00:00-04:00
Rated

5

out of

5
by
Adily
from
Great case, super cute.
I got this a while back after my toddler literally chewed my last case to pieces. Good size, seems very shock proof (from being thrown by said toddler and I really like the glitter effect.
Date published: 2021-04-19T00:00:00-04:00
Rated

5

out of

5
by
lali
from
Serves its purpose
Bought it a few weeks ago and it was actually a bit difficult to try and take off. It does serve well as if I drop it but sadly it is not easy to put on or take off as it claims. I wanted to put in money or polaroids in the back thinking I could with ease but since I put the case on I haven't taken it off since :(
Date published: 2021-04-02T00:00:00-04:00
Rated

5

out of

5
by
CKat
from
Pretty and protective
It came in on time and fit perfectly on my phone. It looks cute too with the sparkles that are earlier to see on my rose gold iPhone
Date published: 2021-03-24T00:00:00-04:00
Rated

5

out of

5
by
lilly80
from
Nearly broke my phone
I bought this a couple months ago, only to have it slow down my phone. My theory is that this case is so tight on my iPhone X that it was squeezing the screen and my touch screen became unresponsive. I would take it off and my phone would work again. Put it back on and doesn't work. Just a suggestion, the iphoneXR is much smaller than the X and shouldn't be cases used on both. I am out of a case, no longer able to return it, and the warranty doesn't cover me because I can't use it on my phone.
Date published: 2021-05-11T00:00:00-04:00
Rated

5

out of

5
by
William
from
This is a "Do not buy" item.
While the protection is what we all expect from Otterbox, this case will yellow and show scratches in less than a month. If you inquire as to the color change they will tell you it is the oils on your body making this case a horrible yellow, aged look. I loved my original case, but it several months, it aged 10 years. They promised a new formula to prevent the yellowing, but have yet to change. I love Otterbox products, but this is one for the cosmetic value is horrible. Protection wise it is up to Otterbox standards. You will not like the appearance in a couple of months. Why they continue to sell this is beyond me.
Date published: 2021-04-22T00:00:00-04:00
Rated

5

out of

5
by
Haley
from
Don't buy. Falls Apart
I am not happy with my case at all. I thought otter boxes were good quality, but my case went from clear to yellow in a short amount of time. On top of that the entire case is falling apart. I have to get a new case because mine broken even though I never dropped it.
Date published: 2021-07-07T00:00:00-04:00
Rated

5

out of

5
by
Rhysandjada
from
Transferred to a new case today
Bought the case 2019 finally retired at night because of a failure just because it's starting to show wear almost 4 years working as a carpenter And a dog partner It's been dropped many times on to concrete. Bought a new case the brand I will not mention I regret because the edges are black not clear which makes the phone disappear When is put down face up
Date published: 2021-09-30T00:00:00-04:00
Rated

5

out of

5
by
MerylsFaves
from
My favorite case
I have bought this case multiple times. I hope you keep carrying it since I still have an iPhone XS and don't plan to upgrade in the near future. It protects my phone exceptionally well even if I drop the phone. I like this color since it is very neutral and not a muddy color. Simple and classy. Grateful it is still available.
Date published: 2021-08-28T00:00:00-04:00
Rated

5

out of

5
by
emily
from
Amazing Product
I bought the same phone case 3 years ago when I got my phone and it's the only one I trust. When it came time to get a new phone case I went with what works for me?
Date published: 2021-10-30T00:00:00-04:00
Rated

5

out of

5
by
Otterwhy
from
No clear case?
The case is strong. No denying the integrity for protection. For aesthetic's it has 1 trillion sparkles which is not my cup of tea as a man on my phone when I'm involved in meFor aesthetic's it has 1 trillion sparkles which is not my cup of tea. The customer support department has been a nightmare in trying to resolve this from constant non-communication.
Date published: 2021-11-05T00:00:00-04:00