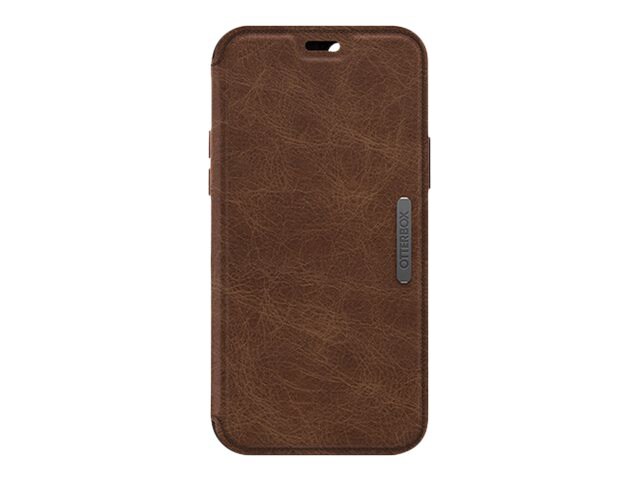 Quick tech specs
Flip cover for cell phone
polycarbonate
espresso brown
for Apple iPhone 12
leather
metal latch
slim design
12 Pro
View All
Know your gear
Strada Series is the iPhone 12 and iPhone 12 Pro wallet case featuring a functional, fashionable folio design that protects your device and your screen. With a card holder for cash or cards and a classic look combined with a modern aesthetic, Strada Series is the timeless case crafted to command attention.
OtterBox Strada Series Folio - flip cover for cell phone
is rated
2.60
out of
5
by
12
.
Rated

5

out of

5
by
Moose1111
from
Ripped and coming apart after 5 months
I purchased this case and I like it. However it does not hold up. It is already starting to rip and come apart after 5 months. I have used this case with other phones in the past, however this version is not very durable. The frustrating part is I went online to see if otterbox would warranty the case however this case is not an option to select Unger their warranty options.
Date published: 2022-02-18T00:00:00-05:00
Rated

5

out of

5
by
Michael H
from
Do not buy - this demagnetized my credit cards
Bought this with my new iPhone 12. Any credit card I've put in the card holder has had the strip rendered unusable.
Date published: 2022-02-05T00:00:00-05:00
Rated

5

out of

5
by
gman
from
Best phone case ever!
I wanted a case that could fold over my phone and hold a business card, credit card, or small fold of cash etc.. this case delivered more, its highly magnetic and I can actually stick it to metal objects, very cool and useful, who would have thought this?
Date published: 2021-08-12T00:00:00-04:00
Rated

5

out of

5
by
Rhettd7
from
Nice materials. Subpar functionality.
This case looks and feels great. The leather feels high quality and nice and smooth textured in your hands. The card holder function works well with two cards but anymore than that the divider will stretch and become more of a hinderance and risk than value added. The magnetic cover is nice to keep the screen protected and puts a finality on calls texts or emails to be able to close the phone. However, the magnet will render any bar codes useless on your cards. I am replacing my case after a few weeks of use.
Date published: 2021-10-08T00:00:00-04:00
Rated

5

out of

5
by
d go jk of dshj
from
terrible
"compatible" apparently means something different to otterbox than the dictionary definition. my apple magsafe charger would barely connect. and as a wallet this is pathetic. the $5 otterbox is charging me for s&h on my return is a small price to pay, and is certainly the last they will get of my money.
Date published: 2021-09-12T00:00:00-04:00
Rated

5

out of

5
by
Myrte
from
Love it!
Looks good! Feels good! Seems to age well! Could not ask for better!
Date published: 2021-08-31T00:00:00-04:00
Rated

5

out of

5
by
Huseph
from
Very disappointing design
I've always had an OtterBox on my phone, and feel that they help keep my phone safe. This case however is so poorly designed in all it's other functionality, that it becomes a liability. I talked to business cards into the two credit cards spots at work event… After I removed the cards a day or two later, the pockets are so loose that my credit cards were lost. The extra bump on the cased hole down the volume buttons do so when it is in your pocket… It turns the volume down on the music and your calls when the phone is pressed against your leg or your keys, it takes six unnecessary screenshots of the home screen each day, and once, it even depressed the button long enough to call the police. Apple has added so much functionality to the volume buttons but having a case that keeps them pressed down is an awful design idea. I wanted to keep my phone protected and store my constantly used credit cards safely, and instead I got a case that makes me want to throw my phone across the room. I am embarrassed that OtterBox put this to market with their name on it.
Date published: 2021-12-02T00:00:00-05:00
Rated

5

out of

5
by
Diane
from
disappointed
Bought the Strada in April 2021 and it is falling apart already. Leather splitting from the seam. Bought OtterBox brand a few times over the years and was happy with their products but this one is very disappointing. Needed a wallet type so I got a different brand as the only other one OtterBox has is the Folio one but does not come with a case to protect the phone.
Date published: 2021-11-27T00:00:00-05:00
Rated

5

out of

5
by
Michael S
from
Wouldn't Reccomend
Early on, Cade served its purpose well enough. Loved being able to carry a few cards or an ID safely in my phone case. After a few weeks, the card slots stretched and now hold cards too loose to be trusted. The case itself stretched and hardly holds the phone in. The magnetic flap works well and stays open/shut with impressive (almost frustrating strength. Wouldn't recommend this wallet case, keep searching.
Date published: 2021-12-28T00:00:00-05:00
Rated

5

out of

5
by
Anonymous
from
Minor Flaw
Case takes unnecessary screenshots when locking your device
Date published: 2022-03-02T00:00:00-05:00
Rated

5

out of

5
by
JB 71
from
I phone 12 case
Solid construction and good fit. Could be improved with more card space and the cover not hitting volume control. Great product
Date published: 2022-03-08T00:00:00-05:00
Rated

5

out of

5
by
coolleen23
from
Best Phone Case Money Can Buy
I know what you're thinking. The best phone case money can buy? Seems bold. But it's 100 percent true - and now the internet says it so it's definitely real. I've had this phone case through multiple years and different phones. I'd recommend it time and time again. But this morning, this is where I solidified my life's trust in Otterbox and the cases they make. To say I've lived everyone's nightmare is an undersell. My phone was in this highly magnetic case when it slipped through the crack of my building's elevator. But, since the magnets are so powerful, they latched on to the side of the elevator and prevented the phone from falling into the pits of our shaft. My phone clung to the side of the elevator and was still within reaching distance for a crow bar like tool to safely scoop it up. I don't know what type of sorcery is behind the magnets in these phone cases but trust me that it will save you from your phone's worst nightmares coming true. I will continue to be a loyal customer to Otterbox forever and ever - might even get a tattoo to become a brand ambassador because Otterbox just means that much to me now.
Date published: 2022-07-06T00:00:00-04:00