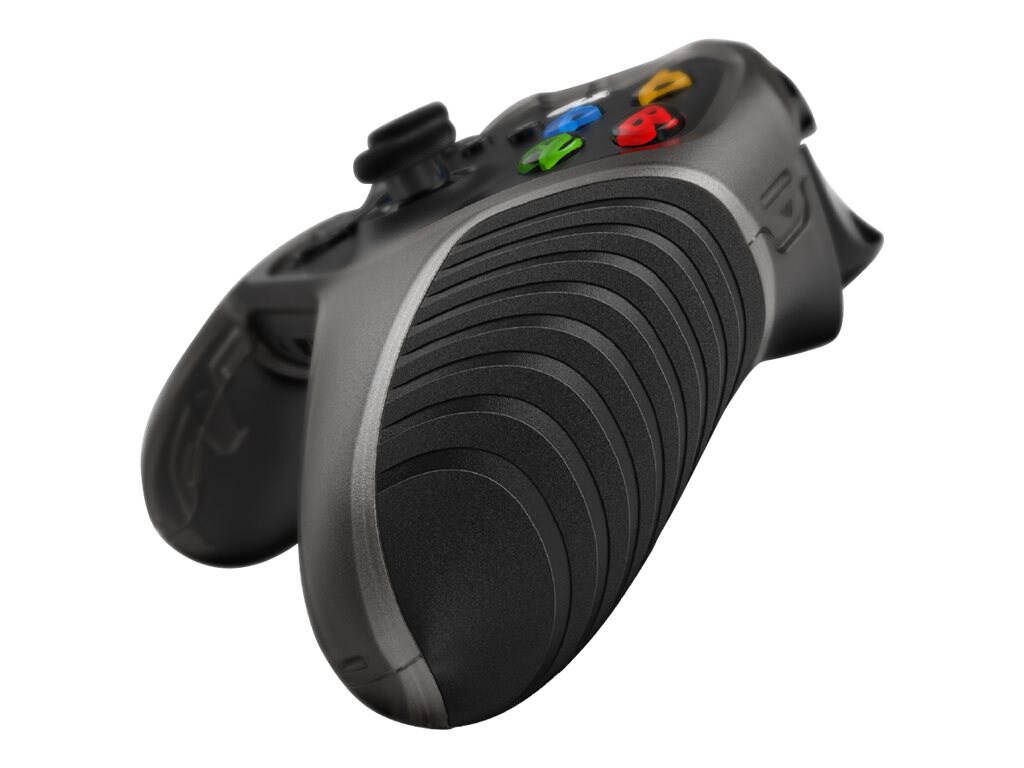 Quick tech specs
Replaceable
For Use With Hmt-1 And Hmt-1z1 Devices
View All
Know your gear
The OtterBox® Xbox® X|S Easy Grip Controller Shell has sweat-wicking properties and offers a no-slip grip for optimal gaming performance. An ergonomic slim case weighing 2.93 ounces ensures the controller feels comfortable and natural in the hand. Resistance against abrasion, discoloration and drops help reinforce its durability and that of the controllers. The OtterBox Xbox controller shell features a flexible design that easily swaps out for a fresh look. When installed, it provides open access to the battery, buttons and switches for uninterrupted game play.

Antimicrobial protection on the grips fights growth of common bacteria. The easy to wash material allows you to clean the game controller protector and encourage hygiene in shared settings such as classrooms. Glow in the dark edges enhance the aesthetics of the pad and set the mood while playing in dark environments. Set up is easy as it requires no sophisticated tools. The game controller cover is compatible with Microsoft Xbox controllers.
Contact Sales Assistance
(800) 800-4239
,
Monday-Friday 7am-7:30pm CT
OtterBox - Protective Cover for Game Console Controller
is rated
4.30
out of
5
by
25
.
Rated

5

out of

5
by
SlidingYeti
from
Feels good
The grip feels nice and makes it comfortable to hold for a long period of time. However, the design does not allow me to use the Xbox chat headset and I have to take off the grip when I play with friends.
Date published: 2022-02-18T00:00:00-05:00
Rated

5

out of

5
by
BFast
from
Great feel, limited protection
Great for grip and minimizing hand sweating. I have big hands, so I really like how it makes the controller feel bigger and chunkier in my hands. I haven't dropped my controller, but I feel like it wouldn't protect it very much. Not going to test that though. Overall, I'm happy. Just expected more protection for my expensive Series X controller.
Date published: 2021-04-14T00:00:00-04:00
Rated

5

out of

5
by
Aconrocks
from
Love the added grip
This is a get item to add to the controller, especially since the new series x controllers dont have the grips yet. Only thing I would say is like the otterbox phone cases it does add some bulk and weight to the controller. I am use to that so works great.
Date published: 2021-03-02T00:00:00-05:00
Rated

5

out of

5
by
DougB
from
Wow
Best purchase ever Cant believe been playing without Must have
Date published: 2021-03-21T00:00:00-04:00
Rated

5

out of

5
by
SoupSup25
from
Definitely a great investment
I really like the feal of this controller shell very nice. I bought 3 for all my controllers.
Date published: 2021-03-24T00:00:00-04:00
Rated

5

out of

5
by
Matt7375
from
Unique
The controller shell is great quality and the rubber hand grips(you get 2 different setsare a nice touch. Absolutely no added weight to the controller and I dropped the controller twice since I've bought the shell and it does exactly what the description says. The only drawback is that you can't use any controller accessories when the shell is on the controller. If I could use my controller accessories AND have the shell on, this product would be PERFECT. *hint**hint*
Date published: 2021-04-27T00:00:00-04:00
Rated

5

out of

5
by
Hank
from
It's an OTTER Box for your Xbox Controller
I have had this for about a month , and overall I am happy with my purchase. I have large sweaty paws and wanted a controller cover would give me better grip and improve the feel of the controller. This is a modular cover with a top and bottom frame, and grips which all snap easily together. You get two pair of the grip caps, each has a slightly different pattern, both provide excellent grip and are comfortable even after hours of play. One area i would have Otter consider improving is the taper of the bezel around the upper frame . There are points on the frame around the ABXY buttons and the digital control pad where the current bezel feels too drastic and it's noticeable when playing . Thanks for the opportunity to review.
Date published: 2021-04-22T00:00:00-04:00
Rated

5

out of

5
by
Chuck
from
Love this brand
The cases are so reliable and that nfc power bank helps greatly. I work for T-Mobile and use it to charge customers phone while doing data transfers. I've had at least 15 customers order one and shoe me that they got theirs. I need another one for personal use since this is now part of the experience I give customers. Who do I speak to about this loyalty gift?
Date published: 2021-04-22T00:00:00-04:00
Rated

5

out of

5
by
Ligma
from
Amazing Product, But One Complaint
The feel, the grips, and the low profile of the shell are all amazing. The only complaint I have is that the purple color way, looks nothing like the one in the picture. I was thinking the "glow in the dark" was actually a color since they never showed it without it and or it being in a dark environment. Plus, the purple really doesn't look they great in person. I wasn't trying to be boring by getting black or white so I went for purple but was super let down. I do plan on buying a black one though and then return my other one when it arrives, I don't want to wait that long this shell is that awesome. Just avoid the purple one and you'll be very, very, very happy.
Date published: 2021-04-22T00:00:00-04:00
Rated

5

out of

5
by
Rich
from
Great for people with big hands
I've been using this now for a couple of weeks. I really like that it does not interfere with rechargeable battery pack. Also, I have big hands and this feels right. Adds a little bit of weight but the grips give me the perfect additional size I like. Worth the purchase. Thank you Otterbox.
Date published: 2021-05-30T00:00:00-04:00
Rated

5

out of

5
by
Chris
from
Great Grips: Better Than Adhesive Kind!
Otterbox's reputation for solid cell phone cases is reflected in these XBOX grips. Be careful taking the parts out of packaging, and review the instructions beforehand. Installation is easy ... just be aware there are two different sets of grips in the package. Knocked it down one star due to the plastic pop-in connectors holding the shell's two halves together; I'd reinforce these with metal to ensure longevity. Otherwise, I like it!
Date published: 2021-10-03T00:00:00-04:00
Rated

5

out of

5
by
Nick
from
Makes 9th Gen Controllers Comfortable
The 9th gen Xbox controllers are way less comfortable than their predecessors. This grip is a game changer because it beefs up the controller just enough to be comfortable without being overkill. It's made my controller both usable and enjoyable again.
Date published: 2021-10-31T00:00:00-04:00
Rated

5

out of

5
by
Maniac Roadkill
from
Cool Shell for your controller!
This little snap together is very cool. It's a really nice upgrade to your basic Xbox One or X|S controllers! the grips are great do not impeded movement at all and there is space in the reverse for the battery pack to be accessed. Comes with 2 sets of gribs so you can choose between the texture. It will add a little bulk to the controller but not weight and are very tight to the surface of the controller. No wobble or jitters when playing.
Date published: 2022-06-22T00:00:00-04:00
Rated

5

out of

5
by
Tia123
from
Great for Controller
This shell is great for Xbox One controllers. My hands sweat when playing my game alot and this grip makes it so much easier to hold my controller and prevents slipping. Overall the controller grip is a great accessory to have.
Date published: 2022-06-21T00:00:00-04:00
Rated

5

out of

5
by
Deucedeuce2000
from
Cool Product
I got this for my son to play his video game. He enjoys the grips because it provides a more comfortable surface to hold than the factory remote control. It also provides an easier grip when his hands sweat. He wishes that I got it for him when he got the gaming system.
Date published: 2022-07-01T00:00:00-04:00
Rated

5

out of

5
by
GHallPS3
from
I actually love the way this feels!
I was a bit sceptical if I would enjoy this or not. I was worried about the extra bulk and the grips, but man was I surprised. Yeah it ads a little bit of bulk, but it's honestly not that bad. My favorite thing about this is that you get 2 different styles of swappable grips to choose from. One set in particular, gives me such a good grip that I'll never be afraid of dropping my controller, sweaty hands or not. This thing is just perfect for what you'd expect!
Date published: 2022-06-11T00:00:00-04:00
Rated

5

out of

5
by
Steve
from
Great grip
I bought this for my controller as it was slick and small. It was nicely packaged and delivered fast. The cover came with simple instructions and extra grips for case. It was very easy to install on controller and did not block any of the buttons or battery cover. I love the way has grips and bigger for hands to hold.
Date published: 2022-11-18T00:00:00-05:00
Rated

5

out of

5
by
Jais Hott
from
Broken
Got it in the mail in a bigger box than needed and one of the black ones and the purple one had a crack in it and isn't holding onto the controller correctly. Tried to get a refund but could get through to no one.
Date published: 2022-04-05T00:00:00-04:00
Rated

5

out of

5
by
Mariano
from
Feels great.
I am usually hesitant on something that add weight to my controller but this product definitely made it feel comfortable holding and not worrying about dropping it was amazing because when you have a really expensive co troller you know you don't want to drop it.
Date published: 2022-06-17T00:00:00-04:00
Rated

5

out of

5
by
Mochelel124
from
No more hand pain!
I have always been an otterbox fan, I have been using their cases with my iPhones and smart watch for many years. Their quality and customer service is unparalleled. When I came across this I knew I needed to have it. The case has been a game changer when it comes to my series x. I have been getting hand cramps in the knuckles of my middle and pointing fingers, with the Xbox Series X controller, probably because the new controllers don't fit my big hands as well. Once I started using this product for my Xbox Series X, all my finger knuckle pain when away. I guess the added thickness gives the controller some extra bulk which helps keep my fingers from having to curl around the triggers as much, in turn making it way more comfortable. It took a few days for me to feel the difference, and now that I do, I can't imagine what I would do without this. The only con to this is that I am having a difficult time with the charging stations. I guess this shell is too thick to use with it. I don't mind if personally, but it's just something to help in mind! This product is still well worth it, and I am so happy I found it!
Date published: 2022-06-14T00:00:00-04:00
Rated

5

out of

5
by
Gab4829
from
Doesn't fit my standard controller
I have tried this on 3 different Xbox controllers, and it won't lock into place therefore doesn't even serve its purpose. It's good quality and made nicely but I'm not happy that it doesn't fit on my controller…
Date published: 2022-06-11T00:00:00-04:00
Rated

5

out of

5
by
Tonidel
from
Xbox Xis Antimicrobial Easy Grip Controller shell.
Thank you tryit for letting us try Xbox Xis Antimicrobial Easy Grip Controller . My son was not happy with it. He said it did not fit right. He does not reccomend this product for his 8 year old. He liked the look but not the product. Sorry
Date published: 2022-08-20T00:00:00-04:00
Rated

5

out of

5
by
Sv52595
from
Amazing Cover
I really was a fan of this otter box case. It is so comfortable to hold and really helps with adding extra grip to the controller. It looks sleek. It was also super easy to put on it and I would highly recommend it.
Date published: 2022-07-04T00:00:00-04:00
Rated

5

out of

5
by
Liftedmussel223
from
Great controller cover
If your mixed on getting this, its basically a hardshell case fir your controller. I definitely suggest-great build quality, grip texture, and just overall feel. Definitely has a more unique "elite" controller feel to it now
Date published: 2023-05-12T00:00:00-04:00
Rated

5

out of

5
by
Andy Lizak
from
Xbox series s/x controller grip
I have rather large hands and this case really helps to fill up the space for my controller. I like that you get two types of interchangeable grips. Construction is solid and fits perfectly. The antimicrobial properties are just a bonus feature in my opinion, love this thing.
Date published: 2023-04-19T00:00:00-04:00