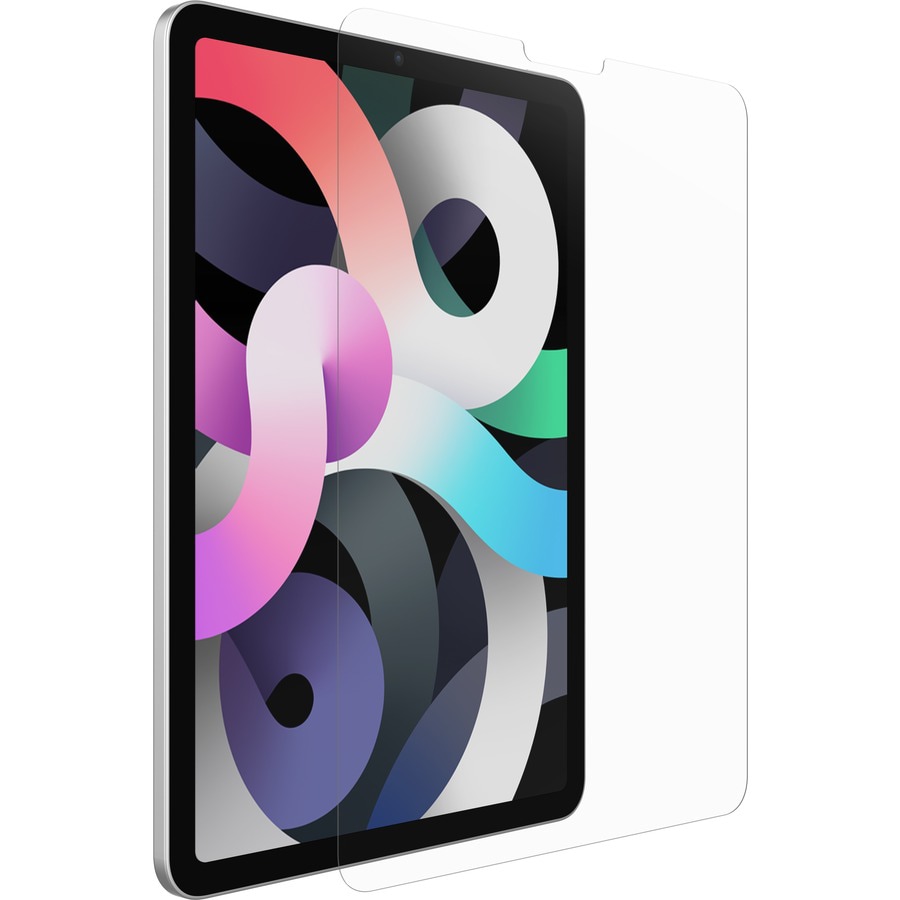 Quick tech specs
Anti-shatter screen protection fortified to avoid scratches and splinters
lightweight tempered glas with rounded edges
Flawless clarity maintains the screen's pristine display quality
Includes everything you need for simple installation
Limited lifetime warranty supported by hasle-free customer service
Ultra-thin
Available with a contoured design for edge-to-edge protection
Reactive touch preserves the screen's responsiveness
Easy to clean and leaves no residue when removed
View All
Know your gear
Shield your screen with OtterBox Alpha Glass. The anti-shatter, ultra-thin iPad Pro 11-inch (4th gen and 3rd gen) screen protector is made from fortified tempered glass that defends against unwanted nicks and scratches. Plus, Alpha Glass is easy to install and retains touchscreen sensitivity.
OtterBox iPad Pro 11-inch (4th Gen and 3rd Gen) Alpha Glass Screen Protecto
is rated
3.30
out of
5
by
16
.
Rated

5

out of

5
by
TRee
from
This is the worst
I have used Otterbox cases and covers for my iPhones and iPads for years. I will not take my new devices out of my house until the are protected. This is the first time I have had an issue with the screen protected. There are "circles" everywhere. And they are not bubbles. These circles will not move. I tried to do a warranty replacement on line and you want to charge me another $11 after I already paid $165 for the items I purchased? Really?! In my opinion this is a defective screen protector but I have to pay you again to hopefully get a better one. Wow.
Date published: 2022-09-10T00:00:00-04:00
Rated

5

out of

5
by
Joel
from
Would buy again when I get a new ipad.
Easy to install, easy to clean too. Fits the Otterbox case without any wrinkles.
Date published: 2022-04-28T00:00:00-04:00
Rated

5

out of

5
by
Scott
from
Easiest application ever
I bought this screen protector and was very impressed with the quality and planning that went into "making it easy" to apply to my iPad the first time without messing anything up. It came with everything I needed. The outer cover allows you to stick it to your device and position it perfectly before ever exposing the adhesive that sticks it to the screen. I have been using it for about a month now and have had no issues. The price is a bit high, but I guess you get what you pay for, this is quality.
Date published: 2021-06-14T00:00:00-04:00
Rated

5

out of

5
by
Wano
from
Another Great Itterbix
Rugged, easy to put on, well designed, …..,highly recommended
Date published: 2021-06-13T00:00:00-04:00
Rated

5

out of

5
by
Emma
from
Just get the Geek Squad to put one on
I waited patiently and eagerly for my shipment to arrive. Otterbox, you're great, the case I bought was great, but these screen protectors, my god I have never wasted $50 so fast. :' I followed the instructions diligently, meticulously creating a dust free environment to apply the alpha glass, but as I peeled the plastic off the sticky side and lowered it onto the screen - a speck revealed itself on the sticky side, don't ask me about the progressive decay into anarchy that was trying to remove it with a toothpick, while every second, more dust seemed to come from ? the unknown and latch itself to the uncleanable, sticky surface. $50, gone in a flash, the screen protector became garbage in a matter of seconds. Do yourself a favour, go get one done at Best Buy, at least, when they mess it up, they just do it again for free. I have never felt so disappointed, I will never buy another one of these again in my life :') so heartbroken
Date published: 2021-03-09T00:00:00-05:00
Rated

5

out of

5
by
Student
from
Messed up the touch screen
My touch screen messes up now and I can't even type on my keyboard because of the reduced sensitivity...
Date published: 2020-12-28T00:00:00-05:00
Rated

5

out of

5
by
swamp
from
Very worth while purchase
Purchased this protector cover the screen on my retirement gift, it took some work to get all the bubbles out but it works.
Date published: 2021-02-10T00:00:00-05:00
Rated

5

out of

5
by
Dale
from
Good cover
I bought this for my new iPad. I think it will do a good job protecting my screen. I found it extremely hard to install. I looked for online videos and found there weren't any for this. I finally installed it by removing the protector from the installation package and placing it by hand. There was no implement included to squeeze out air pockets so I found my own tool in my kitchen implements. It is now installed and protecting my iPad. I have bought other protectors from Otterbox and felt that the installation was easier and that all materials needed were included.
Date published: 2020-12-26T00:00:00-05:00
Rated

5

out of

5
by
Dell
from
Nice purchase for my first IPAD Air
The Alpha Glass screen is perfect for because I stream a lot and I'm eating while binging shows. To simply use a wet towel to clean the glass and plus it provides security so when I'm in public I have privacy.
Date published: 2021-01-03T00:00:00-05:00
Rated

5

out of

5
by
John
from
Glass broke taking it out of the packaging!
This was a big waste of money considering the actual iPad 4 generation case I purchased already has a screen protector on it but of course they don't tell you that before you order it! Regardless I attempted to install the alpha glass screen protector and the glass shattered as I was taking it out of the packaging. Not to mention the instructions on how to install the screen protector are very confusing and are almost non existent!
Date published: 2021-02-17T00:00:00-05:00
Rated

5

out of

5
by
Carter
from
NO option from Otterbox to return Alpha Glass
I bought 3 Alpha Glass screens for my kids new iPad Airs. Otterbox does NOT offer any way to return products. Even their "live chat" is automated and does NOT give a return a product option. Be sure you really need the product or are ordering the right one because you will be stuck with it.
Date published: 2021-01-21T00:00:00-05:00
Rated

5

out of

5
by
Kerry
from
Installation Failed
During the install the tab that is pulled to remove film from the adhesive side of the screen protector pulled free and detached from the film itself. This made trying to remove the film a time consuming manual process exposing the adhesive side to more chance of damage or gathering any dust in the environment. A satisfactory installation was not to be had and I contacted Support for an RMA. I'm still waiting for a refund. The product appeared well made and had the tab not failed I think installation would have been successful. I have and have installed Otterbox products on several phones and tablets without any problems whatsoever. But I'll wait for more positive reviews before recommending this product or trying it again myself.
Date published: 2020-12-11T00:00:00-05:00
Rated

5

out of

5
by
CARLOSMTZCANTU
from
MUY BUEN PRODUCTO
FUE FACIL DE INSTALAR Y SU ESPAECTO ES MAGNÍFICO FELICIDADES
Date published: 2021-03-08T00:00:00-05:00
Rated

5

out of

5
by
Gopi
from
Screen size issues
The protective screen didn't cover Ipad pro4 fully. Was expecting a flush finish with edges
Date published: 2023-01-22T00:00:00-05:00
Rated

5

out of

5
by
Erikah
from
Disappointing
The stickers did not peel off like they were supposed to and it was unusable. Extremely disappointing for the price.
Date published: 2023-05-15T00:00:00-04:00
Rated

5

out of

5
by
Kensing
from
Otter Box for the iPad Win!
Loving it. SOlid protection with a better and more comfortable grip.
Date published: 2023-02-15T00:00:00-05:00