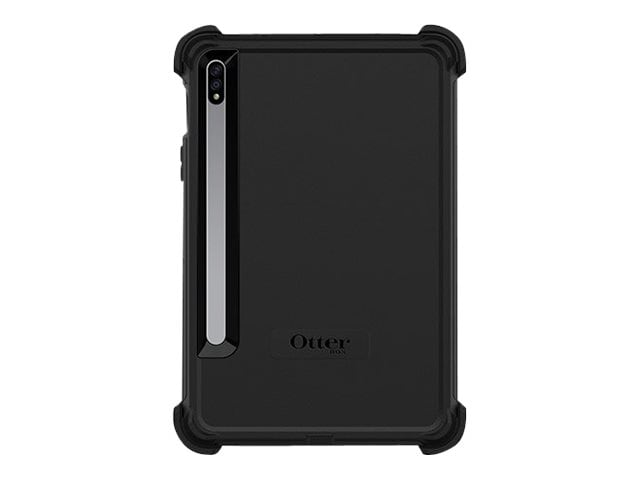 Quick tech specs
Protective case for tablet
black
Tab S8
polycarbonate
for Samsung Galaxy Tab S7
View All
Know your gear
Guard your tablet with Defender Series, the legendary protective Galaxy Tab S7 case. Designed for real life, its multi-layer construction, built-in screen protector and versatile shield stand provide ultra-durability for working hard and playing even harder.
OtterBox Defender Series - protective case for tablet
is rated
4.00
out of
5
by
22
.
Rated

5

out of

5
by
Steve
from
Great Product
I feel like I could play frisbee with my tablets! Perfect for our rough and tumble field team. I had to youtube how to open them, so I wish there were instructions in the box, but other than that, all went well. I accidentally had them shipped to the billing address. I tried calling, emailing, everything to change it, but the company is closed for COVID. That was pretty annoying customer service. Our company is a fraction of the size and we've figured out how to service our customers remotely. We all need to be more understanding of COVID delays, but after a year of this, I would have thought Otter Box would have figured it out.
Date published: 2021-02-12T00:00:00-05:00
Rated

5

out of

5
by
Oldgus
from
Needs Intrutions
This is an excellent product, but you should include installation instructions with it.
Date published: 2021-02-12T00:00:00-05:00
Rated

5

out of

5
by
Screen protector
from
SCREEN PORTION!!!!
I have an old Samsung galaxy tablet about 8yrs old when the cover is off it looks brand new I've always bought otterbox covers for my phones as well only disappointment is my Samsung note 9 doesn't have a screen protector have gone there several tempert glass none sell tight to the phone they pop at the edges of the case i keep waiting for otterbox to come back out with a built in screen protector for samsung phones recently bought a 7s tablet was so happy I could get a case with a screen protector built into the case
Date published: 2021-01-31T00:00:00-05:00
Rated

5

out of

5
by
JBjbjbjbjbjbjbjb
from
Feeling Protected
I had my Samsung Note in a Defender case. I had this other case for my phone and out it on. I had an accident at work and my screen broke in that case. Fixed and put it back in my Otterbox Defender. (I gambled & lost I work outside. I was not taking any chances with my Galaxy Tab S7. I got 'something' just to put it in until my Defender arrived. My Tab S7 did not leave the house until the Defender arrived. So nice, I purchased one for a family member's Tab S7.
Date published: 2021-02-02T00:00:00-05:00
Rated

5

out of

5
by
kamas9
from
Always the otter 100%!!
With all my electronics I am always searching for the otter box case protector. With 7 kids the otter box is the only brand that has kept up to its promise. And with the tab7 being the newest tab in the family I really needed the otter box. I recommend it to everyone. Customer for life right here.
Date published: 2020-10-10T00:00:00-04:00
Rated

5

out of

5
by
nerdy1
from
The BEST Insurance Policy
Otterbox is a great company whose products I have used for over almost a decade. Any device I have ever owned, they are the first option I look for when it comes to protection. The Tab S7 Defender case is as amazing as any other case I have owned by them: it's not just dual layer protection, the cover can be snapped on face in or face out, and it also has a built in media kickstand. Whatever they charge for a case, I pay without question. Every case they make is truly artwork. (The PD lanyard to the cover was my own modification
Date published: 2021-03-05T00:00:00-05:00
Rated

5

out of

5
by
Victoria95762
from
Customer Service
I purchased this a month ago and still have not been able to put it on. All the "contact us" options tell you they are overwhelmed and give you no support. Their videos you are sent to via their link are not about the Tab 7s. The chat is just auto and does not give you the option to actually chat with a person. I have owned several Otter Box cases and they are well worth the money. But when you can't put the case on, it's worth nothing. Very unhappy with their customer service.
Date published: 2021-03-01T00:00:00-05:00
Rated

5

out of

5
by
Chase
from
Improvement is needed
This cases does not allow you to use the keyword that comes with the tablet. The keyboard cost $200 and I can't use it without risking damaging my tablet when removing the case. Please improve this case.
Date published: 2021-03-16T00:00:00-04:00
Rated

5

out of

5
by
Mommy of5
from
Best protective box in the world
I bought mine a few weeks ago I bought 5 . The box was hard to take a part when I was trying to assemble for the first time I actually broke it trying to wrip it apart to unassemble . BUT one I figured it out it was so easy I had 4 other of the same otter boxes to assemble and those were easy and fast but that was once I figured it out with the first box . I would encourage otter to maybe add a video on how to assemble this box somewhere on the site I tried to look for one I couldn't find one. I called customer service after the fact and they offered to send me a video with instructions but I declined since I figured it out . If anyone needs help with assembling I would say contact customer service. BUT like I mentioned once I figured it out it was easy and fast and I was like duhh self that's how it goes lol. But I love the case I bought 5 for my kids . It is a awsome form of protection and it has multiple layers the case looks very durable and feels durable . I recommend this case I recommend calling customer service for instructions on how to install but other then that another awsome case otter box . I always buy this companys cases for all my devices I would like to recommend to Otter box it would be awesome to offer different color/ design cases for Samsung . Example this case in a purple or pink . .. best protective case ever .
Date published: 2021-04-19T00:00:00-04:00
Rated

5

out of

5
by
Elf21
from
Happy with purchase
This is my 2nd purchase of this otter defender. I am happy with their products and I stand behind when they state their cases will protect ones valued purchases. I trust the purchase from this company.
Date published: 2021-05-02T00:00:00-04:00
Rated

5

out of

5
by
TracyS
from
Okay
It's a very good case. The only thing is you have to take off the one part to be able to use the stand.
Date published: 2021-04-29T00:00:00-04:00
Rated

5

out of

5
by
EddieM
from
Perfect case for tablets
After I received the case I realized that it was about 2 inches too short, my tablet is the " Ultra " which is bigger and unfortunately the company didn't make them for that sized Samsung Galaxy Tab S7, so I regrettably returned it.
Date published: 2021-05-21T00:00:00-04:00
Rated

5

out of

5
by
Gene
from
Lousy
They never have install instructions and the product itself is totally inferior to that made by Samsung. Am through buying junk from otterbox.
Date published: 2021-06-16T00:00:00-04:00
Rated

5

out of

5
by
Lainy
from
Awesome Products
I purchased the case because they have the best cases for electronics.
Date published: 2021-06-04T00:00:00-04:00
Rated

5

out of

5
by
Big balls
from
The beaver with big nuts !
Great investment protecting a very fragile valuable item. Thanks Otter!
Date published: 2021-08-14T00:00:00-04:00
Rated

5

out of

5
by
JUNE
from
Great protection.
I was afraid to handle my new Galaxy S7. And now,I don't want to put it down.
Date published: 2021-09-14T00:00:00-04:00
Rated

5

out of

5
by
Slick
from
It's the best brand
The only brand I trust. I use this for my phones and tablets
Date published: 2021-09-14T00:00:00-04:00
Rated

5

out of

5
by
Joey
from
Excited at first
I bought the case from work with my discount and even though it was still the most I've ever spent on a case, I loved it and thought it was worth it for the first 2 weeks. It offers nice protection and I like the separate piece that acts as the stand because you can either attach it for portability or leave it off to reduce bulk. I almost never use a stand with my tablet so I thought it was a nice change from the way most tablet cases that have the stands built in, because at least I know I've got something if I do want to use it but I don't have to worry about a little stand piece accidentally breaking off, which always seems to happen to my stand cases. My biggest problem with this case is the built in screen protector, which is surprising because, at first, I was excited to see OtterBox put the screen protectors back on the defender cases, at least for tablets. However, after about 2 and a half weeks, I pulled my tablet out of my backpack (where I keep it by itself in the separate laptop compartment and it was split from the top right side of the tablet almost half way down the screen protector. Normally this kind of thing wouldn't bother me too much because OtterBox makes it so easy to place a warranty exchange order. Honestly, I wouldn't even buy defender cases if it wasn't for OtterBox's warranty policy because, if you've ever used the defender case before, you know eventually the rubber becomes loose around the shell but I know OtterBox backs their product and I've never had a problem with placing an order for an exchange until now. For whatever reason the tab S7 defender case isn't available for warranty claims, and I'm out of the return window so I can't get my money back either. Had I known that OtterBox wasn't going to back this product the way the do with a lot of their other products, I never would have bought it in the first place but instead I basically ended up throwing away money because I ended up throwing away the case. Normally I'm a big fan, but this experience has me questioning if I should even keep using OtterBox for my other devices if OtterBox isn't going to back their products the way they used to.
Date published: 2021-09-20T00:00:00-04:00
Rated

5

out of

5
by
Auntie Lolo
from
Otterbox for tablet
It is wonderful to have a case to protect my table.
Date published: 2021-08-01T00:00:00-04:00
Rated

5

out of

5
by
ecd2704
from
Great product
I have bought several different ones over the years, always great product. The one Should reason a 4 is fact that it is had to hold holdermwhen laying in bed, etc need a soft strap on back you can stuck your hand through. Also pen holder should have a tube that pen slides into so you won't knock it off or press it while holding tablet.
Date published: 2021-08-27T00:00:00-04:00
Rated

5

out of

5
by
MrMusic4855
from
Protection
My Otterbox case is the ultimate rock hard protection for my tablet. It's tick tock, double locked. The inside of the outer shell has clips to hold your pencil. Five Stars, hands down!
Date published: 2021-08-24T00:00:00-04:00
Rated

5

out of

5
by
Saul
from
Wrong fit
Does not fit tab s7, i tried and it definitely will not fit
Date published: 2022-03-26T00:00:00-04:00