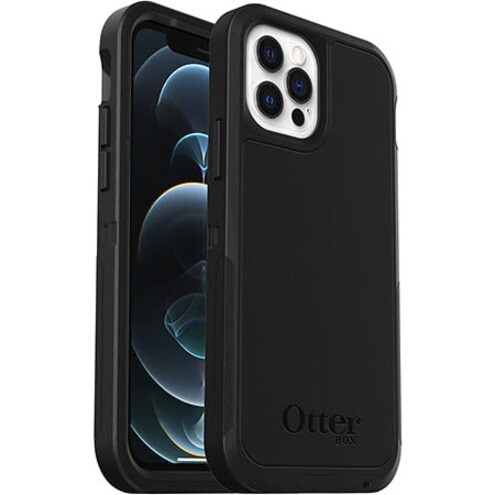 Quick tech specs
Back cover for cell phone
MagSafe compatibility
synthetic rubber
black
12 Pro
rugged
polycarbonate
50% recycled plastic
for Apple iPhone 12
View All
Know your gear
Get legendary phone protection from a sleek case designed to work with Apple's MagSafe system. Defender Series Pro XT is a streamlined version of the classic with added antimicrobial case defense.* Even though it's trimmed down in size, we increased its drop protection. Everything rugged and reliable in phone protection is woven throughout this thin case. And, it integrates a silver-based antimicrobial additive into the case that helps inhibit microbial growth and defends the case exterior against many common bacteria. Mixing the additive into the case materials ensures it keeps protecting your case 24/7/365 and outlasts heavy use. The premium rugged design displays clean lines with a comfortable grip that guards your phone against serious drops, dirt, scrapes and bumps. Plus, the raised edge offers added camera and screen defense. Ready for anything, OtterBox's best defense just got better - Defender Series Pro XT.
OtterBox Defender Series Pro XT - back cover for cell phone
is rated
2.90
out of
5
by
36
.
Rated

5

out of

5
by
iPhone user
from
This is not a defender case by no means
This is the worst case I have ever bought it's slippery and a all around horrible design I will be returning waste of time and money
Date published: 2022-02-11T00:00:00-05:00
Rated

5

out of

5
by
John
from
Wretched installation instructions!
Purchased a iPhone 12 and a Otter Defender Pro XT for the phone. The couple of hieroglyphic installation pictures were absolutely useless. For what I paid for this case I expected both better instructions and installation experience. I'm returning this case later today and purchasing another brand case!!!!! I do no recommend this product based upon my experience!!!!
Date published: 2022-01-27T00:00:00-05:00
Rated

5

out of

5
by
Daverooni
from
Not bad, still slippery though!
This case was less slippery than some others that I purchased and returned. The sides are nice and grippy, but the back is super slippery, making the phone hard to hold onto. Otter box needs to explain why they believe, in their hearts, that a cell phone case SHOULD be slippery and hard to hold on to. I'd really like to hear that reasoning. I can picture three drunk guys in their garage making a cell phone case out of spare lawn mower parts, and ending up with something not really suited to its purpose. But Otterbox must have engineers, or designers, or at least a receptionist that could think these thing through.
Date published: 2022-03-17T00:00:00-04:00
Rated

5

out of

5
by
IVOVI
from
Nothing but quality
Love it! Sleek and super protective day 1 it saved my phone from sure damage
Date published: 2021-10-22T00:00:00-04:00
Rated

5

out of

5
by
Kedim
from
Defender Series Going Downhill
I've used the Otterbix Defender series for as long as I can remember. The case for the 12 Pro Max is only one piece (which I kept trying to see if it was 2 or 1 and it used to be two. I liked the extra layers, especially the rubber on the outside. This case seems cheap and reminds me of the Lifetime case that I purchased in the past and returned. I don't feel that it protects the camera lenses at all. The shipping times were horrible. I ordered a 12 pro by mistake and had to return and ordered the 12 Pro Max. Both shipments took two weeks. I understand there's shipping delays, but from CO to NC?!
Date published: 2021-02-21T00:00:00-05:00
Rated

5

out of

5
by
Tony
from
Great purchase
I love the case. However, the process of receiving the holster make no sense. If an individual would like a holster it should be shipped with the purchase case. I like to save money, I would not ship two separate items to the same address paying shipping cost for both items. It seems to me that you could cut your shipping costs by shipping both items together.
Date published: 2021-02-23T00:00:00-05:00
Rated

5

out of

5
by
Puggly
from
More money but made cheaper.
When I bought this MagSafe case I though it would be of the same quality as the original. It was not. Really looks and feels like the materials used are nothing to brag about. The worst thing is the case is somewhat slippery. Not like the original.
Date published: 2021-02-20T00:00:00-05:00
Rated

5

out of

5
by
Mr Wonky
from
Huge downgrade from previous Defenders cases
I have had Defender cases on my phone since they started being made and have always been very happy with them. The premium over other cases always seemed justified. The new Defender is a big step backwards from the previous. It is a fine $25 case. But, for what they are charging for essentially a Commuter case, it is a rip off. No grippy back. No screen protector. Don't waste your money. I am defiantly
Date published: 2021-02-18T00:00:00-05:00
Rated

5

out of

5
by
John84
from
High Protection & MagSafe, Slimmed down
The case seems like it will provide a good level of protection with less bulk and I was happy to find a case like this with MagSafe compatibility. The fit is very good and I like having the charging port cover and highly raised edges. Two gripes: from a marketing standpoint, don't call it a subset of the defender because people expect defenders to be made with a tpu exterior so this will confuse people. They used to sell a "Pursuit" model that seems more similar to this. From a usability standpoint, I wish they just made the back as grippy as the sides. It's a perfect texture on the sides but as soon as my fingers try to get any traction from the back, it's a struggle and I've almost dropped it many times because of that. At this high price point, Otterbox should be able to give the thin back plastic plate a similar rubberized treatment as the sides and still maintain MagSafe functionality.
Date published: 2021-02-15T00:00:00-05:00
Rated

5

out of

5
by
Tony
from
Best Defender
I bought the Defender Pro XT a month ago and find that it's the best Defender design yet! It's thin, durable, and protective. The MagSafe works seamlessly with my Apple charger......providing a strong magnetic connection. Best part is that it's Apple Certified.
Date published: 2021-02-13T00:00:00-05:00
Rated

5

out of

5
by
Outdoor guy
from
Good, almost perfect, but not quite.
I held off purchasing other cases for my iPhone 12 Pro until I could get the Otter Box Defender with MagSafe. I had Otter Box cases for my previous phones and they worked flawlessly. The main drawback with phone cases and magnet charging seems to be the case itself. They make it hard to figure out where to align the phone with the charger so you will get a complete charge. Not so with the Pro Defender with MagSafe. My iPhone almost snaps into place when I place it on the charger. Otter Box has taken the worry out of charge alignments. That part of the phone case is excellent. I have two wishes that the Pro Defender with Mag Safe had. 1. I wish the case was just a smidgen thicker on the back. I am a little reluctant to lie the phone down on its back as I am not sure there is as much a buffer of space from the camera lenses and what ever surface I am lying it on. I am tending to turn it over and put it face down instead. 2) My second wish would be that the case have a little more rubbery feel. To me it is a little slick. I have had it fall out of my nylon jacket pocket a couple of times because of the hard plastic case being a bit slick. A little thicker rubbery case would take care of my two wishes and put my rating at the top of the best of the best.
Date published: 2021-02-12T00:00:00-05:00
Rated

5

out of

5
by
systmkrsh
from
Sooooo much potential, but falls flat
The case itself feels nice in the hand. There are several issues with it. Let's address the elephant in the room, the back is made of cheap plastic: it should be the same material as they Symmetry+ at the very least. Within days of having the case, the back got all scratched up and not from dropping it -- simply in and out of pockets and putting it down (see photo. This does not come close to the standards that OtterBox is known for. Also, it is weird that the "Pro" one is the one that has the anti-microbial, but doesn't have any color options and the non-Pro one has color options. Complete missed opportunity. Poorly designed case.
Date published: 2021-04-07T00:00:00-04:00
Rated

5

out of

5
by
michael
from
Trust Otter
Never had a problem with Otter. Hope I never do. But, if I do, I think you will stand behind your product.
Date published: 2021-04-02T00:00:00-04:00
Rated

5

out of

5
by
Angelo
from
worse case i have ever had from you guys
I have been using these for years and love them but this purchase was not so good . It was very expensive and very cheap product . Its nothing like my defenders in the past and i have them for my ipad and iphone . its not the same rubber as before . it has less coverage as far as for the buttons and the door for the power charger is such a pain to access . I can't belive i paid 75.00 for this
Date published: 2021-05-02T00:00:00-04:00
Rated

5

out of

5
by
Fiddlejake
from
Great case but slippery
Love everything about this case except that it is slippery and hard to hang on to compared to the older, more rubbery Defender.
Date published: 2021-01-18T00:00:00-05:00
Rated

5

out of

5
by
Motorrad
from
Excellent case
Have had for a few weeks. Great fit, mag charging works as expected. More compact than defender on my iPhone 7 which I really like. The reason for -1 star is the back is a plastic material for charging but shows wear. Don't expect it to look like new after the first couple days. No big deal to me but my old one had a rubber back and still looked good after 5 years. This will be scratched and scuffed but i am guessing it's the trade off for magsafe and being compact. I would not mention it, but at 70 dollars could had had a thin durable rubber like coating to hid the scuffs
Date published: 2021-01-25T00:00:00-05:00
Rated

5

out of

5
by
Quasae
from
Not a Defender, Period.
If you like Defender cases, this is not for you. The camera cutout bezel is barely deep enough to protect your cameras. The back is not rubber it's plastic just like a Commuter or Symmetry and slides around on hard surfaces. If I would have known this I would not have purchased. Waste of money and now I have to get a real Defender for my phone. Otter ox should remove the Defender name from this product.
Date published: 2021-02-08T00:00:00-05:00
Rated

5

out of

5
by
Brian
from
Expected a Defender, this isn't one
I have owned many otter box defender cases over the years for my phones and iPads. As others have noted, this is not a Defender...lacks outer rubber and is slippery. Unfortunately I ordered online and did not know it was not really a defender case. Now am stuck with a brand new case in box. Free to good home :
Date published: 2021-04-20T00:00:00-04:00
Rated

5

out of

5
by
Asinner12
from
Otterbox finally improved the defender
I have had an otterbox case for over 10 years and the defender has never really changed. Bulky, sticky in the pocket, buttons somewhat hard to access. I eventually bought the commuter case for weekends but needed the defender for work and I hated switching cases back and forth. This is the perfect design, slim and sleek like the computer but protection of the defender. Lanyard attachment is a very nice feature and the open slot for silent switch is more practical. Only dislike is I can see the charging port cover could wear out and stay partly open after multiple uses if you don't have a Qi available. Other than that I love this case so thank you for the long awaited design update.
Date published: 2021-04-11T00:00:00-04:00
Rated

5

out of

5
by
phone case sucks
from
Horrible
phone fell out of clip case and cracked glass protector in first week Have owned Otter Box products before and was satisfied, but quality has gone down significantly. Would not buy or recommend ever.
Date published: 2021-04-14T00:00:00-04:00
Rated

5

out of

5
by
Anthony F
from
Solid case
Nice solid case. Prefer commuter case which I initially bought. Then got this because I wanted to use MagSafe. Very disappointing that the lowest lever & highest level case have MagSafe but not the mid. Had to spend a lot of money in two cases. The case it self if nice but a little smoother and slippery. The commuter feels better and is smaller and easier to manage
Date published: 2021-04-13T00:00:00-04:00
Rated

5

out of

5
by
Cameraman
from
Good Case
I have always had my phones in OtterBox, and this is no exception. I just wish that it came with the screen protector also.
Date published: 2021-03-18T00:00:00-04:00
Rated

5

out of

5
by
ONinja
from
Name Defender Series is misleading!!
I first bought the Otterbox Defender series for the iPhone 12 Pro but it wasn't Magsafe compatible. I contacted Otterbox about it and they recommended this case the Defender series XT with MagSafe. The Magsafe works great! Unfortunately it doesn't comes close to being a Defender series case. I always buy the Otterbox Defender series due to the fact that it is fully covered no buttons exposed. Well with this "Defender" case the silent button is not covered up it is exposed. The camera is not even protected. I can't even lay the iphone on it back without the camera being touched by the surface meaning that you can run into the chance of scratching the camera lens so I'm having to lay the iphone face down. The outer feels rubbery and slippery. I wished that there is a way to get my money back on this case.
Date published: 2021-03-04T00:00:00-05:00
Rated

5

out of

5
by
John
from
A good case if you need MagSafe compatibility
This is my third iPhone and the third with a Defender case. Due to the MagSafe compatibility, it is thinner than previous models but appears to protect the phone as well as my other cases. It is somewhat slippery without the soft rubber outer cover that was the trademark of earlier models.
Date published: 2021-03-03T00:00:00-05:00
Rated

5

out of

5
by
NHANLEY
from
Great standards
I am now on my 3rd iPhone, hence my 3rd Otterbox. I, personally, felt wonderfully confident with this slimmer version of my past Otterbox Defender case after the first accidental drop. I truly enjoy not having the bulk of my prior Defender cases with the same sense of protection. NH
Date published: 2021-03-03T00:00:00-05:00
Rated

5

out of

5
by
HolsterUser
from
Great Case But Ordering Holster Was Inconvenient
I like the case a lot. It fits the phone well, appears to provide excellent protection, was easy to put on, works with the MagSafe charger, and has buttons that are easy to use. I have used older Defender cases, and this case has a different design but I am still very happy with it. I purchased the case because it is bundled with a holster. OtterBox no longer includes the holster with the case but instead provides a code in the box with the case that can be used to request a holster for free. Since many people may not use the holster, I can understand why they do that. However, the URL OtterBox provided for requesting a holster did not work. That is very poor customer service on the part of OtterBox. It would be so simple to ensure that customers were directed to a functioning web page. I ended up having to call OtterBox customer support, but they were only open several hours each day. When I finally had an opportunity to call them the support person was very helpful and provided instructions for an alternate way to request the holster.
Date published: 2021-03-16T00:00:00-04:00
Rated

5

out of

5
by
Azul
from
Too slick, no craddle
I purchased the Defender for 12 pro, but i gave it a try to the MagSafe because magsafe. It is too slippery case, no texture for good grip, I can't use the craddle from my defender, so, I always had otter boxes for six of my previous iphones, and pruchased some for my children and grandchildren. This is the first time that I can say I got a bad deal,
Date published: 2021-03-12T00:00:00-05:00
Rated

5

out of

5
by
Pete
from
No instructions
Haven't had it long enough to know how well it protects the phone, but it seems substantial. However, it is extremely difficult insert the phone in the case, and even more difficult to remove it. I was actual afraid that I might damage the phone when I had to remove it. To make matters worse, what passes for instructions was useless.
Date published: 2021-06-01T00:00:00-04:00
Rated

5

out of

5
by
Steven
from
So far...
...so slightly good. I like what otterbox has provide in the past. I've been a regular user of the defender series. So for the new iPhone 12 Pro I didn't hesitate to go defender again. I believe it is just as durable as previous ones. However, I miss the more robust side grip. This new case is much more rigid and requires me to shift my hold to avoid discomfort. I've only been using for a month now. I will give it a bit more time to see if it was worth it.
Date published: 2021-03-23T00:00:00-04:00
Rated

5

out of

5
by
Jayjay
from
Does not feel good in your hands
I used the replacement case for a week. Same problem rubber will not stay in place . Hard to hold on too. The build quality does not feel like a Otterbox at all. To the junk drawer it goes
Date published: 2021-03-31T00:00:00-04:00
Rated

5

out of

5
by
Gump43ss
from
Overpriced
Overpriced, hard to access silent mode switch, doesn't protect camera
Date published: 2021-03-28T00:00:00-04:00
Rated

5

out of

5
by
Kwalker69
from
Not up to expectations
Just received this a couple of days ago. Very slick thin case. Protection is a minimum. Also very hard to get phone inside. Nothing compared to the true Defender case. Also it doesn't fit right in the belt clip. Very poor product for the money.
Date published: 2021-07-19T00:00:00-04:00
Rated

5

out of

5
by
Justin
from
Cheaper to get the defender xt for the same case
Would of bought the $70 one in a different color if I knew it was going to be the same case just more expensive
Date published: 2021-07-19T00:00:00-04:00
Rated

5

out of

5
by
Shawn S
from
Not that protective.Get the Defender Pro instead.
As other reviews have already mentioned, this case is far too slim and slippery (the back is purely plastic and not a grippy, anti microbial material like the defender pro. I suggest that Otterbox makes the MagSafe area of the case plastic and all the surrounding material rubber. That way, MagSafe will still be possible without compromising the grip and overall protection. Also there is barely a lip around the camera. If you drop this flat on it's back with the phone in, say goodbye to your camera lens; a costly repair indeed.
Date published: 2021-05-11T00:00:00-04:00
Rated

5

out of

5
by
MrGlobby
from
It is giving good but could be better
It broke the day I bought it the case is scratched but has no other issues I haven't tried it on MagSafe yet so it would be a good case if you were trying to keep your phone safe but not if you're trying to have a case that makes your phone look good (unless you can never drop it)
Date published: 2023-02-20T00:00:00-05:00
Rated

5

out of

5
by
Arnie P
from
great, but Magnetic issue
great protection, but having problems with the Induction/magnetic charger i just bought. Maybe it is the problem.
Date published: 2023-02-13T00:00:00-05:00