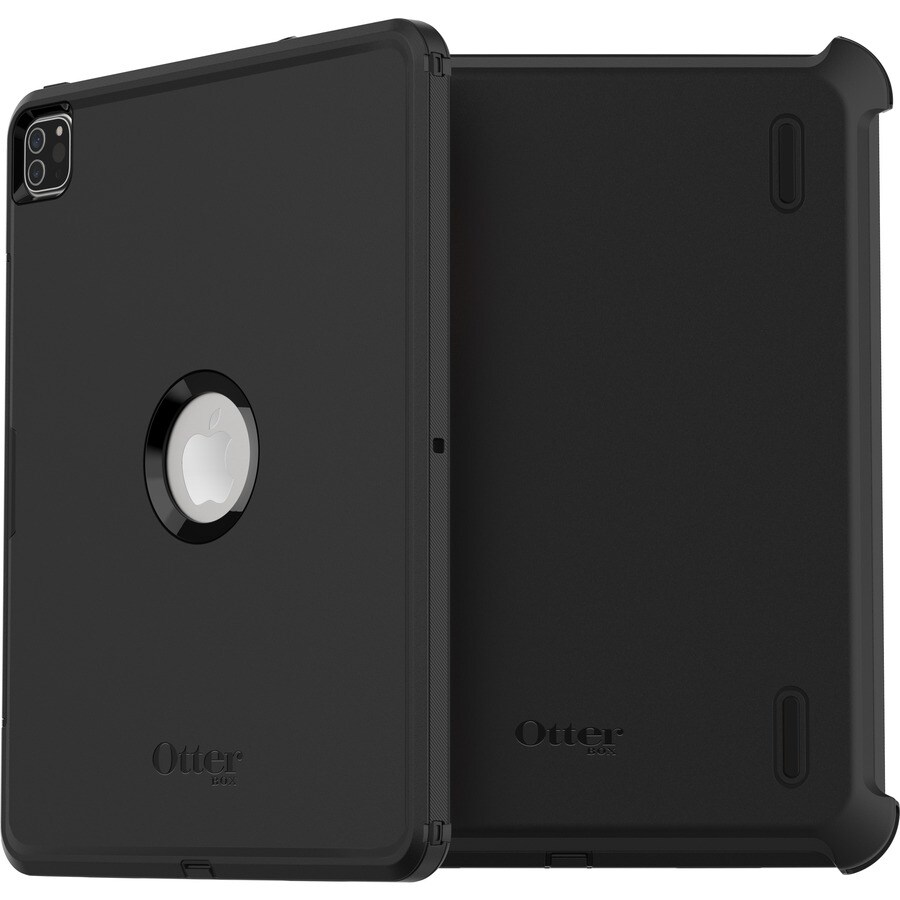 Quick tech specs
Back cover for tablet
12.9"
black
for Apple 12.9-inch iPad Pro (5th generation)
View All
Know your gear
Defender Series Pro is the rugged protective iPad Pro (12.9-inch) (5th gen)case that delivers advanced defense for business on the go. Defender Series Pro integrates a silver-based antimicrobial additive into the case that helps inhibit microbial growth and defends the case exterior against many common bacteria.* Weaving the additive into the case materials ensures it keeps protecting your case 24/7/365 and outlasts heavy use. The premium rugged design displays clean lines with a comfortable grip. Plus, the raised edge offers added camera and screen defense.
OtterBox Defender Series Pro - back cover for tablet
is rated
3.21
out of
5
by
29
.
Rated

5

out of

5
by
Chris
from
Great case with all around protection
I bought this for my new iPad Pro and I'm glad I did. The case is nice and sturdy. I'm comfortable with it protecting my iPad no problems.
Date published: 2021-06-14T00:00:00-04:00
Rated

5

out of

5
by
Bobnoise
from
Garbage
I wanted to like this case so much. I bought one for the 12.9 and another for 11 inch ipad pros. Both 2021 versions. This case is garbage. One side of the case has a movable plastic cover which is not just easily breakable but also is useless. Product designers at otterbox should have either left that side of the case just empty or may be could have developed a rubberized membrane to hold the pencil while it charges. There is so much flex on this case on the moveable plastic side that it's funny. My 12.9 iPad fell to the ground when I picked it up holding that edge. Not recommended in its current form
Date published: 2021-06-13T00:00:00-04:00
Rated

5

out of

5
by
Jake W
from
Lackluster case compared to other defender series
This is my 9th Otterbox Defender series iPad Pro case I've purchased and it is by far the weakest. All the others were for smaller ipad pros and each of them felt very sturdy and had an integrated screen cover. This case has a flimsy door for the Apple Pencil and wide open seam underneath it. The case itself is highly flexible and does not seem near as robust as my other defender cases. I've been an Otterbox loyalist but I guess I will be hunting for something else for this iPad. This case really shouldn't be included in the defender series. Improvements I'd like to see; integrated screen protection, better seal against dust and liquids, increased polymer rigidity. Honestly just look at the defender cases for any of the smaller iPads and copy that, it works!
Date published: 2021-06-18T00:00:00-04:00
Rated

5

out of

5
by
Scmillard1967
from
Always my favorite
There is no better protection for your expensive iPhone and or iPad. Every time I update my device, I have an otterbox ready for it to go inside of before it is even purchased. Because my previous devices were so well protected, I was able to get top dollar when selling the old device. It is an investment.
Date published: 2021-07-05T00:00:00-04:00
Rated

5

out of

5
by
Lucy
from
Meh
I just received this in the mail today and I'm super disappointed. For $130 this thing is pretty disappointing. The cover for the Apple Pencil is flimsy and won't snap on. Also the photos show that the device stand will prop the iPad up tall which is not the case. It sits about 3 inches higher in the stand. It also didn't come with any instructions so I kind of had to hope I wasn't breaking the thing while trying to figure out how to put it on my iPad. 3 stars because it's the only product for this device. I'm disappointed.
Date published: 2021-07-03T00:00:00-04:00
Rated

5

out of

5
by
Valerie
from
No Screen Protection and impossible to return...
Ordered this case on the Otterbox website for one of our employees out in the construction field, but there is NO SCREEN PROTECTION??? That should be put in the title of the product or easily visible in the description. Tried returning this online, but it says I have to call support in order to make this return???? Well, I called support but sat on hold for over an hour before I had to hang up. Super frustrated at the moment and in need of an exchange for this case with screen protection.
Date published: 2021-07-06T00:00:00-04:00
Rated

5

out of

5
by
Kevin
from
Best product to protect apple assets!
We use iPads on the job site and the otter box is a must.
Date published: 2021-07-11T00:00:00-04:00
Rated

5

out of

5
by
Edger1126
from
No Built-In Screen Protector for 5th Gen! :(
I've been a lifelong OtterBox fan since discovering the Defender Series products have full coverage, which included a built-in screen protector! This is an essential feature for many OBX consumers, and an absolute deal-breaker for me as a continued customer here. :(
Date published: 2021-07-12T00:00:00-04:00
Rated

5

out of

5
by
Monie
from
Pen opening to flimsy
I have purchased plenty of otter products but this one doesn't hold up for me. The pen opening is very flimsy and I feel it is going to break off soon!
Date published: 2021-07-01T00:00:00-04:00
Rated

5

out of

5
by
Lisag65xs
from
It's okay
I got this because it was THE only case available for the new 12.9 iPad Pro. It's bulky.
Date published: 2021-06-26T00:00:00-04:00
Rated

5

out of

5
by
Happy Repeat Customer
from
Excellent Product & Customer Service
Arrived on time. Fully satisfied!!!!!!!!!!!!!!!!!!
Date published: 2021-07-07T00:00:00-04:00
Rated

5

out of

5
by
Worker
from
OtterBox never disappoints
I would have given 5 stars, but the case needs to be stiffer where it opens for the apple pencil. I have one of these cases on every apple product I own, never had an issue and I work construction and take them all to work.
Date published: 2021-07-21T00:00:00-04:00
Rated

5

out of

5
by
Nomoreotterbox
from
Case doesn't close properly build quality is garba
This is the last otterbox case I will be buying. Returning this ASAP.
Date published: 2021-05-28T00:00:00-04:00
Rated

5

out of

5
by
Kansas Jammer
from
True and honest opinion
I bought this for my 2021 iPad Pro 12.9 inch this is my second case that I purchased. The first one was a junk one on Amazon I don't remember the brand name that I am returning. This OtterBox is built better but not without its falls the rubberized coating on the back is loose around the Apple logo also the One side was loose and flopping but that one had a double-sided sticky tape underneath that was not totally installed correctly but I wish they would put double-sided sticky tape around the Apple logo center hole that rubber is flopping the plastic feels cheap especially the door for the Apple pencil which I am not planning on using a pencil.
Date published: 2021-06-17T00:00:00-04:00
Rated

5

out of

5
by
goodsouthernboy
from
Don't Be Decieved - This case isn't "Pro" Anything
I purchased this for a new 5th Gen Ipad Pro, but there is nothing "Pro" about this case. The hinged plastic cover on the left side of the case disconnected during shipping and was rattling around in the box. This case HAS NO SCREEN PROTECTOR, which is literally the main reason I have been purchasing Otterbox Defender cases for years. What is the point of a "Pro" case which doesn't protect the most sensitive part of the iPad? Apparently, only a regular "Defender" case includes a screen protector, but this is not clearly communicated on the website, as both cases show the same picture and both cases are the same price, even though one clearly lacks a screen protector. Very disappointed in Otterbox on this and will be returning this useless item.
Date published: 2021-06-22T00:00:00-04:00
Rated

5

out of

5
by
Jota Tay
from
This product is exactly what is advertised
Dropped my iPad, no damage. I added a screen protector to protect the screen.
Date published: 2021-08-16T00:00:00-04:00
Rated

5

out of

5
by
Haroun
from
An Otterbox Quality
Once you get an Otterbox product, you'll Never leave for any other brand.
Date published: 2021-08-15T00:00:00-04:00
Rated

5

out of

5
by
Chad
from
completely satisfied
I have been purchasing Otter Box products for many years and many devices. I have never had one fail. My only complaint is that I have tried to return a couple to AT&T over the years that have had issues with the rubber covers breaking and have never been able to collect on the warranty.
Date published: 2021-09-08T00:00:00-04:00
Rated

5

out of

5
by
Neil
from
Great case!!
Every time I update my iPhone or iPad I go with this model case. After three years iPhones and iPads are like new.
Date published: 2021-09-03T00:00:00-04:00
Rated

5

out of

5
by
elmerejildo_pr
from
Top money value
I don't regret if you want the best protection for your IPad and like a little entertainment system this is the cover
Date published: 2021-09-26T00:00:00-04:00
Rated

5

out of

5
by
David
from
Strong, Functional, Clunky
I like the protection the otter box case offers my iPad. It is difficult to access it once the cover is on.
Date published: 2021-09-25T00:00:00-04:00
Rated

5

out of

5
by
Wayne
from
Sturdy and compact
The Defender Series Pro Case adds a level of protection to my iPad Pro while being compact. Having a choice of two angles of the collapsable stand allows lap use while sitting either in a straight chair or on my recliner couch and that is a plus.
Date published: 2021-09-21T00:00:00-04:00
Rated

5

out of

5
by
Unhappy Customer
from
No longer the standard for case protection
I'm not sure what has happened to the Otterbox brand over the last year or so, but to my surprise and unfortunate dismay, I found both of the Defender Series Pro cases for the 2021 iPad Pro models to be extremely subpar. While the lack of a built-in screen protector in recent years is extremely disappointing (and shortsighted my complaint is about the actual build quality of these particular cases. I bought (and quickly returned) both cases after trying them on both iPad Pro models - these cases suffer from the same issue. The issue is that the plastic border of the pencil area that encompasses the bezels on the front facing side of the iPads is so thin that my thumb can actually pull it to the side during normal use. And when it returns to its normal state, it can actually catch on the side of the screen protector! I also own the 2020 iPad Air and this is not an issue - interestingly enough. I suspect Otterbox has reduced the amount of plastic they use on the top frame of the case as well as the amount of rubber they use for the outer case protection. Both of the 2021 cases seem to have less rubber protection than the 2020 iPad Air case. I don't know if this was an intentional move to save money or if Apple provided Otterbox with the wrong specs, but the 2021 cases are less than ideal and the overall rating this case has is deserved - it is not a mistake. This is genuinely poor quality and I expect better from Otterbox overall. In addition, the packaging for the case is extremely cheap and flimsy - almost like recycled newspaper. They are better off just selling it without the packaging because it does not nothing to instill confidence in overall quality. In Otterbox's defense, Apple's choice to use the side of the iPad for charging the Apple Pencil undoubtedly created some design challenges. I think Otterbox's decision to use a cheap plastic flap to accommodate Apple pencil use was a poor decision. The hinges that keep the flap attached to the plastic frame (underneath the rubber when the case is fully assembled) are incredibly cheap and look like they are prone to easy breakage. It introduces a single point of failure in the overall frame design. I wish Otterbox would have simply made a cutout in the frame to accommodate the pencil and gave users the option of inserting a rubber cover over the pencil portion for added rigidity and protection once the case is fully assembled. In either event, I am glad to say that I have not given up on Otterbox entirely - I simply may need to give up the idea that they are the best in the business when it comes to case design and protection. If I can find another company is more focused on case protection that maying cheap bluetooth keyboards, I may give them a chance over the Otterbox brand.
Date published: 2021-08-08T00:00:00-04:00
Rated

5

out of

5
by
RBDD
from
Flimsy side
The side for the pen is very weak & flimsy. Seems like it could easily break.
Date published: 2021-09-10T00:00:00-04:00
Rated

5

out of

5
by
Dude
from
Otter box 12.9 ipad
This is quality i expect it to protect my purchase well
Date published: 2021-10-17T00:00:00-04:00
Rated

5

out of

5
by
Plexi
from
Flimsy plastic Apple Pen slot ruins the design
As plenty of other reviews here have mentioned, the flimsy plastic access cover for the Apple Pen is a black eye on an otherwise good case. I've had several Otterbox cases which I've been mostly satisfied with, but how this design made it through the approval process mystifies me. My immediate first reaction was "well, that's not gonna last long." And predictably, it broke off less than two weeks later and won't stay on now. I'm honestly surprised it lasted that long. Extremely disappointed, especially considering the price I paid for this case.
Date published: 2021-11-10T00:00:00-05:00
Rated

5

out of

5
by
Doug
from
Sending Back
Not worth the time or struggle to find instructions on youtube. No enclose instructions, sending back to look for something other than otterbox.
Date published: 2022-04-06T00:00:00-04:00
Rated

5

out of

5
by
Biker Doctor
from
Defender Series Pro Case
The Defender Series Pro Case surrounded my iPad Pro like a suit of armor. This is why I pick Otter Box for all my Apple devices
Date published: 2022-04-08T00:00:00-04:00
Rated

5

out of

5
by
Frustrated
from
How do I get this on my iPad Pro?
I feel like I need an engineering degree. No instructions, nothing going to return it
Date published: 2022-04-02T00:00:00-04:00