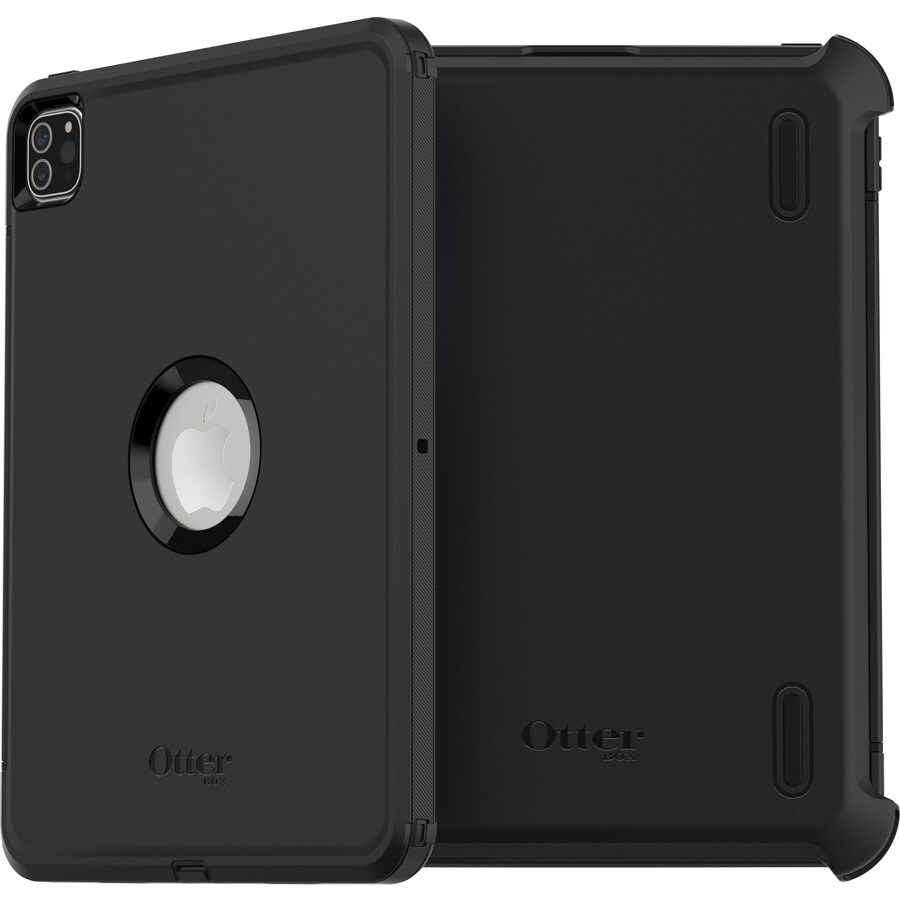 Quick tech specs
Back cover for tablet
polycarbonate
black
for Apple 11-inch iPad Pro (3rd generation)
rugged
synthetic rubber
11"
View All
Know your gear
Defender Series Pro is the rugged protective iPad Pro (11-inch) (3rd gen/2nd gen) case that delivers advanced defense for business on the go. Defender Series Pro integrates a silver-based antimicrobial additive into the case that helps inhibit microbial growth and defends the case exterior against many common bacteria.* Weaving the additive into the case materials ensures it keeps protecting your case 24/7/365 and outlasts heavy use. The premium rugged design displays clean lines with a comfortable grip. Plus, the raised edge offers added camera and screen defense.
OtterBox Defender Series Pro - back cover for tablet
is rated
2.90
out of
5
by
47
.
Rated

5

out of

5
by
Vince
from
Otterbox cases are the best!
Ever since my first iPhone, have always bought Otterbox for my iPhones and iPads. Great cases, tough and rugged. Only wish there was a wider choice of colors, themes and patterns.
Date published: 2022-03-03T00:00:00-05:00
Rated

5

out of

5
by
Joe127
from
Deserves Zero Stars
No directions and no method to view directions in support. The case is as stiff as a brick and it is impossible to install my iPad Pro 11 inch. Very lazy to not include directions
Date published: 2022-01-07T00:00:00-05:00
Rated

5

out of

5
by
Professional
from
Good but could be better
Bought this a month ago, and works great but could be more. Ex. more colors and better stand for viewing positions.
Date published: 2021-10-24T00:00:00-04:00
Rated

5

out of

5
by
Deezle
from
Can't be used with Magic Keyboard
Same high quality as Defender iPhone case. I can't use it with my Magic Keyboard, but glad to have it for future road trips!
Date published: 2021-09-12T00:00:00-04:00
Rated

5

out of

5
by
Craig B
from
Great Case If You Don't Have a Pencil or Car Mount
I'm not the ideal customer for this product since I haven't bought a case for any cell phone or tablet I've owned since before 2007, except when it's been absolutely necessary. But when necessary, like in this case with my iPad Pro that I take around with me in my Jeep for navigation, I remember and chose the Otterbox because it has served me well in the past. However, since it's been so long since I bought a good case for any handheld device, I forgot how big they can (and probably need) to be. This case is so large that it makes it impossible to dash-mount my iPad with it on, limiting the usefulness of it to only times when I'm using it outside of an office or my Jeep, which isn't too often. It's still worth keeping it for those times, so basically I carry it with me in my backpack in case I need it. I think it will work well for its purpose, but I'll probably never know. It gives you decent access to buttons, considering how well it protects your iPad, but the Pencil cover that gives you access to charge your Apple Pencil on your iPad seems like a stupidly designed after-thought. It honestly severely compromises the structural integrity of that side of the case. I really doubt it would protect your iPad at all if you actually dropped your iPad on that side when the Pencil is not there and only the cover is there. The cover is very, very difficult to take off, so even if they left the Pencil cover out of the design to improve protection, it would be nearly useless to people who have the Pencil, because you simply don't want to struggle taking it off every day or two to charge your Pencil. Taking it off every day would be like wearing galoshes and boots every single day and having to wrestle them off just to rest your feet -- not fun. I think given all the shortcomings of this cover as mentioned, they should focus future designs on improving the ease of putting on and taking off the cover. Maybe use more thick rubberized parts that can be easily removed? The plastic parts are ridiculously hard to figure out how to remove, like some kind of puzzle that I never asked for. The outside rubber cover you put on after putting the plastic case on is much, much easier to remove and put on, once you learn how to do it. With zero documentation included, I had to look up a YouTube video to learn how to remove this case from my iPad. That should tell you how badly designed this case is. But, I think it will protect my iPad handily ... as long as I don't drop it exactly on that side where the Pencil goes. With all this being said, I'm sure it will do a better job protecting my iPad than the Apple trackpad/keyboard combo case/cover. I shattered the screen of a previous iPad by dropping it on its corner with that cover on. However, ironically, I'm sure because of how rarely this case will be useful, I'll use the Apple cover a lot more often.
Date published: 2022-02-22T00:00:00-05:00
Rated

5

out of

5
by
Andrew A
from
Good Looking Protective Case But With A Catch
The case fits my iPad perfectly. I got it for the protection and I think it should be enough. It's one of the few cases that look good on the iPad if you don't have an Apple or any stylus pen because it won't look like something is missing because the pen holder can be left in a hidden position. It's also one of the few cases that has a stand that supports a portrait orientation which can be useful for reading. The only problem I have with it is the way it is put together for its price. I don't know if the case is expensive because of the quality of materials used or just because of the brand name. It has not been a month yet and the soft rubber part on the pencil holder side is coming loose already and that is just not acceptable for a $90 case. I'm only giving 3 stars because I think it will at the very least protect my device and the other features I mentioned earlier.
Date published: 2022-02-21T00:00:00-05:00
Rated

5

out of

5
by
OtterDissedCustomer
from
Truly Deceptive Packaging Copy
This product states on the packaging "Storage For Apple Pencil" when it is no way provides encasement for Apple Pencil, merely providing a hinged plastic flap to allow ACCESS ONLY to your Apple Pencil when docked to the side magnetic charging strip. This is a clear case of Otterbox disleading customers, or at the very least obfuscating facts, about the actual product, and over-extend the functionality of this product. The product in no manner holds or encases the Apple Pencil whatsoever. So, if you buy this, what you get is a protective case for your iPad Pro, which leaves the attached Apple Pencil unprotected and exposed, with a hinged plastic flap dangling below it. How Otterbox could allow this packaging copy is a false representation of the actual product on offer, and can only be taken as an effort to induce purchase by overstating the actual function and use of the product. On this basis alone, I will no longer buy an Otterbox product and suggest you avoid this company.
Date published: 2022-02-21T00:00:00-05:00
Rated

5

out of

5
by
Andrea
from
Disappointing…
I've been using OtterBox cases for years. This case matches their usual quality, ease of use, and protects my tech—I've already dropped my new iPad more times than I would like to admit. Unfortunately, I don't see the same enthusiasm or attention to detail in this product as I have in the past. First, I was disappointed in the lack of color options. The black case does the job but I got to mix and match colors for my last case, which felt very special. More importantly, the stand doesn't work at all. The stand is such an important feature to this case, that without it, I wouldn't recommend purchasing this product.
Date published: 2022-02-20T00:00:00-05:00
Rated

5

out of

5
by
james
from
Does not work for gen3
The front frame covers up the ambient light sensors on the iPad Pro gen3 which prevents the auto brightness function from working. The notches at the top of the frame line up with ambient light sensors on the gen1 and gen2 but not the gen3. Returned item
Date published: 2022-03-17T00:00:00-04:00
Rated

5

out of

5
by
Displeased Customer
from
Awful
Bought this at Best Buy - no instructions in box, instructional video on Otterbox support web page is for Defender, not Defender Pro. Back to the store it goes. I will get a different brand.
Date published: 2022-02-27T00:00:00-05:00
Rated

5

out of

5
by
Aydid
from
Best investment ever
I bought this month am really excited with the product so far 10/10
Date published: 2021-11-05T00:00:00-04:00
Rated

5

out of

5
by
Chris
from
Almost There
I love the pro series case. My favorite feature is that it excludes the screen protector. I've never had an issue with Apple touchscreens scratching or breaking and so the case protecting the body of the iPad and leaving the beautiful screen open was very welcomed. There is one glaring issue with this $90 case however. The edge of the case where the apple pen could go is incredibly fragile. It feels like I got 3/4 of a case. Three sides of the case are strong but the side where the apple pen could go has nonexistent protection. I might as well tape some cardboard to the iPad. It is flimsy and bends away from the rest of the case incredibly easy. A superior case would have had the same classic otter box plastic and rubber coating around all 4 sides of the case. If otterbox ever decides to design an iPad Pro case like that, I would get that instead. I just got this case and I regularly find the side where the apple pen could go peeling away from the rest of the case. As someone who uses an iPad regularly without any need of an apple pen, I would really like a case without that flimsy side. If the flimsy side of the case was the same strength as the rest of the case, this would be the perfect case!
Date published: 2021-07-26T00:00:00-04:00
Rated

5

out of

5
by
Lazy Acres Pro
from
OtterBox is the best
I purchased this for my new IPad. It fits perfectly and protects my IPad ifI should drop it.
Date published: 2021-07-28T00:00:00-04:00
Rated

5

out of

5
by
Renee
from
Extra Protection
My husband couldn't find an iPad case that could withstand the wear and tear. This one makes the mark. Thank you!
Date published: 2021-08-09T00:00:00-04:00
Rated

5

out of

5
by
Spoonman
from
Otterbox, rocks!
I am a big fan of OtterBox products, and I've been using them for many years. This product protects my iPad. So much better than a competitors.
Date published: 2023-06-09T00:00:00-04:00
Rated

5

out of

5
by
Barbara R
from
Great protection
Great protection for my iPad when the grandkids come over
Date published: 2023-06-11T00:00:00-04:00
Rated

5

out of

5
by
TurboNick
from
Just beast mode case
I would have given this case five stars because I do absolutely love it it's way better than OtterBox was when they first came out years and years ago but the only thing that I don't like about this case is that the clip is on the side of the tablet and when I put it in my ram mount in my tow truck I Keep accidentally unhinging the clip on the case, like the cases for the phones back in the day didn't have that issue but otherwise this case is freaking amazing I highly recommend it to everyone and if you've ever ridden in a tow truck, you know that tow trucks are bouncy from the Stiff suspension and my tablet gets bounced around all the time and I have not had any damage to it yet, so I really enjoy this case I just wish it was a little bit more affordable like normally anything over $60 for a case it's just insane I do not think that it's worth it for what They are selling it for but it is what it is. Definitely worth it to have though
Date published: 2022-12-09T00:00:00-05:00
Rated

5

out of

5
by
Chuck24
from
Face ID no longer works
After I installed the Defender case on an IPad Pro version 4 Face ID stopped working. The iPad thinks that the camera is covered but it is not. Really like the feel of this case, but would like for Face ID to function.
Date published: 2022-10-30T00:00:00-04:00
Rated

5

out of

5
by
Mark
from
Not as good as previous models
Not happy that no screen protector included. Doesn't seem as strong, protective as previous one owned.
Date published: 2022-11-18T00:00:00-05:00
Rated

5

out of

5
by
Mark
from
O.K. But…..
Ok been using Otterbox cases for years. This one started out great but now there is a problem. The case is open underneath the Apple Pencil door and it doesn't look quite right.
Date published: 2022-06-03T00:00:00-04:00
Rated

5

out of

5
by
Jschue
from
Should be better for the price
I have owned 3 I-pad cases & 2-iPhone cases over the years. They are all defender models. The protection is phenomenal. I can't tell you how many times I have dropped my phone/iPad with absolutely no damage. Now for the reason for only 3-stars. With the top cover (lid) on, it's so tight that it is VERY,VERY DIFFICULT to remove it. I can't tell you how difficult it is if you have arthritis in your fingers, plus the broken nails trying to open it. Also the same lid has two positions to hold the iPad in a horizontal position. The lowest position is fine, but the higher position doesn't hold the iPad securely & it keeps falling over. Such a disappointment since the protection is so good. For the price of the case it shouldn't have these problems.
Date published: 2022-05-02T00:00:00-04:00
Rated

5

out of

5
by
Oscar
from
Old cases feel sturdier than this one
It's nice that has a spot for the Apple Pencil but it makes it flimsy on that side, the holder in base/cover feels loose and it doesn't hold it firmly in a semi upright position.
Date published: 2022-03-24T00:00:00-04:00
Rated

5

out of

5
by
Myjo
from
Only holds in one direction
Defender holds tablet in low view angle. Not good at holding more vertical positions
Date published: 2023-04-04T00:00:00-04:00
Rated

5

out of

5
by
Chef
from
Worst purchase ever!
This is the most pathetic design for a case. The pencil holder breaks and the clips are too small to get it to snap back in! Apple replaced once but now they say that I have to return the case to OtterBox! Terrible service from Apple Store and terrible product from OtterBox! This is not an inexpensive case and I expect more from both companies!
Date published: 2023-04-01T00:00:00-04:00
Rated

5

out of

5
by
HMT123
from
No happy
The stand sucks. The tablet keeps falling because it's not connecting to the clips at the bottom. Also the pen opening keeps coming open and will not stay closed. First time ever having an issue with otter box.
Date published: 2023-04-01T00:00:00-04:00
Rated

5

out of

5
by
ATX Apple Guy
from
Great protection, won't stay on stand
I have had two other OtterBox defender cases for previous iPads, and this one I expected to work just the same. Unfortunately, when placed on both landscape and portrait stand, it is very difficult for the tablet to stay in position. The protection is still first class
Date published: 2023-01-02T00:00:00-05:00
Rated

5

out of

5
by
Nickus
from
Great Product
Love Otterbox. Starting from the time it leaves, notifying you, providing tracking and keeping up to date. Upon arrival, the rugged creative box it comes in. When you receive it, talk about Superior Quality and hardcore. I feel 100 percent confident in carrying my IPad with me. Lastly, the top notch Customer Service and Warranty. If you have wn issue, Otterbox has got you. I have had some cases just wear and tear. Otterbox doesn't tolerate it, sends me a replacement, hands down. You guys Rock!
Date published: 2021-06-11T00:00:00-04:00
Rated

5

out of

5
by
Scrubbing bubbles
from
Horrible
This case has no screen protector as other defender cases usually do. Also, a cheap plastic part broke off the top shortly after I bought it, and customer service for this company is nonexistent. I tried to go through the warranty process online, but it's unavailable for some reason.
Date published: 2021-06-15T00:00:00-04:00
Rated

5

out of

5
by
Swan
from
Rugged but doesn't prop up
The case is nice and rugged (and heavy, but it doesn't prop up as depicted in the photos. Notice that the photo shows an empty case, because that is the only way to prop it up. Just as another reviewer mentioned, in landscape view, it will fall down with the tiniest touch, there's nothing keeping the heavy weight of the iPad from staying up stably. In portrait, it doesn't work at all. I don't think they tested this case with an actual iPad inside. It's pretty frustrating because they could've made minor adjustments to the design to fix this. Also, the protective shell is very difficult to remove, and it requires a bit of force, which I prefer not to use on something so expensive and delicate. I do like that I can use the shell for added protection to the screen when transporting my iPad. I also like that I can charge the pencil because of the little hatch. FYI I've contacted support a few times and they've been unhelpful (they don't actually listen to what you're saying and give you generic replies as if you don't know how to use the iPad and send a link to their YouTube ad).
Date published: 2021-07-17T00:00:00-04:00
Rated

5

out of

5
by
Jul 23
from
Probably my last Ottebox
The case itself is very protective and secure but there is a fatal flaw in the cover/stand. When the iPad is at the more tilted angle on the stand it is literally hanging by a thread. The slightest movement or pressure causes it to become insecure and fall backwards and sometimes it falls from nothing at all. For the price of these cases, it is simply inexcusable to not have a more secure stand integrated into the cover. My 14 days to return it to Verizon ran out before I realized this was a dealbreaker so I'm stuck with it but I doubt I will get another Otterbox in the future and it used to be my go to brand. I can't have a $1000 iPad Pro falling flat every time a puff of wind or tap to the table happens. No excuse at this price point.
Date published: 2021-06-28T00:00:00-04:00
Rated

5

out of

5
by
Richard57
from
Excellent Product For People With Mobility Issues
I am a Quadriplegic Wheelchair User With Spastic Cerebral Palsy. As a result, I regularly drop things, so I needed a sturdy case to protect my expensive birthday gift. The Defender Series Pro Case is very easy to grip, and it is designed to protect all of the buttons, etc. on the iPad Pro 11 inch, as well as allow to freely use an access all aspects of the device, without obstruction. Excellent product for everyone, especially people like me.
Date published: 2021-06-25T00:00:00-04:00
Rated

5

out of

5
by
Brooke
from
Plastic piece broke
One piece of the plastic came off and broke, it just came in and one little piece is already broken
Date published: 2023-07-07T00:00:00-04:00
Rated

5

out of

5
by
Reed
from
Blocked Camera
Purchased an OtterBox Defender case for my Apple IPad 11 Pro. Always purchased OtterBox cases. Very disappointed with this case. It blocks my camera. I have to but a different case. Make changes to the design.
Date published: 2023-01-15T00:00:00-05:00
Rated

5

out of

5
by
Madman
from
Meh
The cover for the Apple pen won't stay on and a little bit of my screen near the camera is cracked
Date published: 2023-02-17T00:00:00-05:00
Rated

5

out of

5
by
Rich B
from
Why Not A Better Apple Pen Holder Design?
The compartment that holds the Apple pen is weak and makes the entire side that it is on not as durable as the other. Otherwise it is a good product. However, the pen compartment situation is a strong enough factor that I would have bought another brand. Especially since I don't own, and probably never with own an Apple pen. Hence only three stars.
Date published: 2023-01-19T00:00:00-05:00
Rated

5

out of

5
by
Jane Jetson
from
Doesn't fit ipad pro 11
Incredibly disappointed. Recieved case for my daughter's new ipad.pro 11in. And it would not fit at all! Will be returning.
Date published: 2023-03-05T00:00:00-05:00
Rated

5

out of

5
by
Jeff
from
Defender?
The side piece broke off within a week and it did not protect the screen from cracking. Can someone help.
Date published: 2023-02-12T00:00:00-05:00
Rated

5

out of

5
by
Ripoff
from
RUN AWAY, DO NOT BUY!
It does not fit. You guys dropped the ball on this one. The back of it hangs down as if it was not measured correctly. The snap on piece on the side is a piece of garbage and doesn't stay on after a week. I had another one sent due to warranty, and it was worse. There are a bunch of other cases out there that work, but it is NOT this one! It should sell for $6.00!
Date published: 2023-05-08T00:00:00-04:00
Rated

5

out of

5
by
Joe from VA
from
It's ok, but no screen protection
Buyer beware. This product does NOT have built in screen protection. I've always bought defender series for my iPads for the screen protection as well as the drop protection. My kids are always using my iPads and abusing them. One of our dogs sometimes digs at the screen. Defender has always held up. Every defender for iPad I've purchased has had screen protection built in, but this one does not. It is NOT clear on the sale page. On the package it clearly says screenless. It does not say that on the page, so I stupidly assumed it had it. I haven't used it at all because I can't use one without screen protection. I've tried to initiate a return on the website about a dozen times, but the website keeps saying to try again later because of technical issues. I'm very frustrated. So, my main comment would be to please fix the return issue, and make it more clear on the sale page that this armor doesn't have screen protection.
Date published: 2023-06-01T00:00:00-04:00
Rated

5

out of

5
by
Andrew
from
Excellent case
Gives a nice solid feel when using my iPad. I've always used this particular case for tablets and have never been disappointed. My only suggestion for improvement would be if there were a way to have more than 2 angles for viewing when using the lid as a stand. I ended up having to buy a third party stand that I bring with me so I can have more angles.
Date published: 2023-06-01T00:00:00-04:00
Rated

5

out of

5
by
Trsh
from
Thin
Thin and fits in any holder. Bought for a kitchen fits great.
Date published: 2023-04-16T00:00:00-04:00
Rated

5

out of

5
by
DruN
from
One overlooked detail
The case is definitively sturdy, but the rubber outer cover droops on the side with the pencil cover, needs 2 way tape like the 12.9" version, not sure why it isn't included
Date published: 2023-04-21T00:00:00-04:00
Rated

5

out of

5
by
Unhappy customer
from
Worst purchase and customer service
This is the worst Otterbox cover I have ever had!!!! It is too tight and does not fit !!! I had to press it on so hard I was worried I would bend or worse break my iPad 11 3rd generation. I called you all sent me another, same exact problem so I went to a different brand!! I always stood by and purchased otter boxes hands down, but really I have purchased other items like a phone case , etc which left me disappointed!!! It's very sad that the quality of OtterBox has just gone down to a generic and nothing to brag about!!! So lucky me I have a pile of junk worth $89.99 of nothing I can use
Date published: 2023-07-15T00:00:00-04:00
Rated

5

out of

5
by
Life Proof Lover
from
Terrible design
No, the product has a serious design flaw. There is a long plastic piece on the side that never stays on and will eventually break every time. It is held by two tiny plastic nubs that easily break and render the case very vulnerable to stuff getting in it. The life proof cases were so much better and this company is nothing compared to them. Find a different case you will not like this one.
Date published: 2023-04-28T00:00:00-04:00
Rated

5

out of

5
by
jjkjjk
from
Do Not Purchase
Standing up horizontally does not work - literally my only use for this case.
Date published: 2023-05-10T00:00:00-04:00
Rated

5

out of

5
by
Terri
from
Love this otterbox
Have used this before and love it. Really protects my iPad. Just disappointed it did not come with screen protector.
Date published: 2023-02-24T00:00:00-05:00
Rated

5

out of

5
by
BarryISU
from
Great case… as always!
I have had several similar cases and this one does not disappoint. It is a tight fit and I like the hard case for travel and taking it biking to work. I appreciate the door to attach and charge the Apple Pen.
Date published: 2023-07-24T00:00:00-04:00