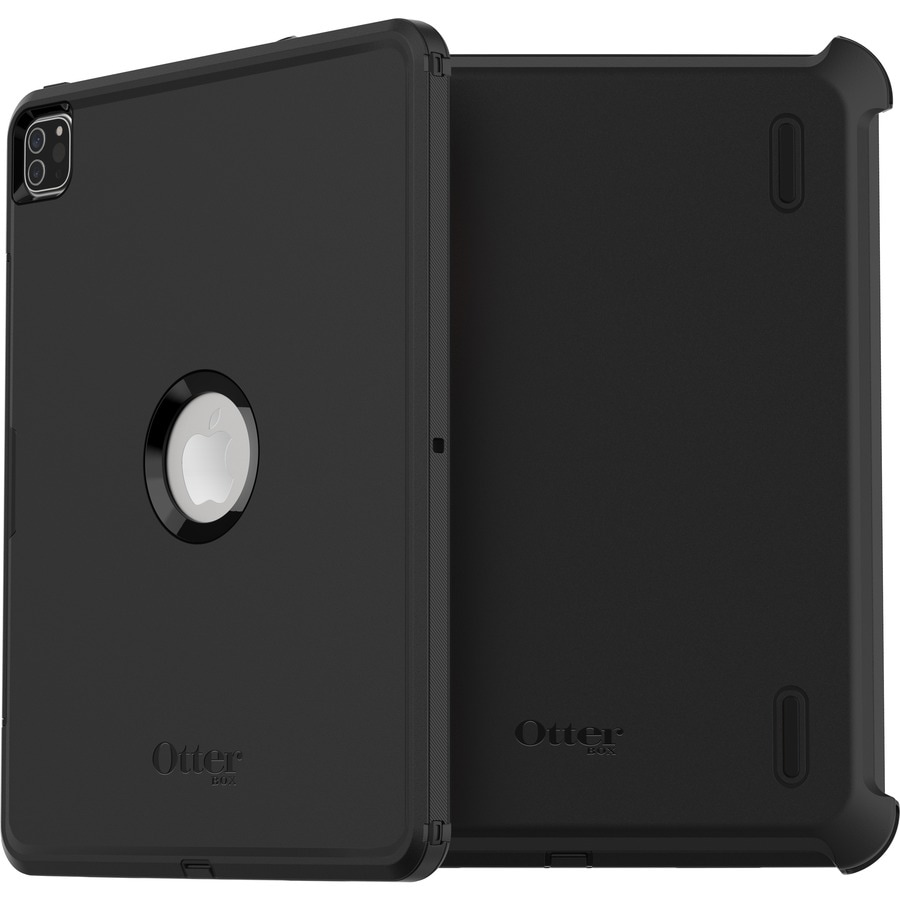 Quick tech specs
Back cover for tablet
12.9"
black
for Apple 12.9-inch iPad Pro (5th generation)
View All
Know your gear
Handle any project with OtterBox Defender Series, the protective iPad Pro (12.9-inch) case that delivers legendary defense. Its multi-layer construction guards tablets against serious drops, dirt, scrapes and bumps.
OtterBox Defender Series - back cover for tablet
is rated
4.17
out of
5
by
23
.
Rated

5

out of

5
by
Erich
from
Peace of mind
A bit pricey but worth the peace of mind it provides for protection for your pricey iPad
Date published: 2022-02-19T00:00:00-05:00
Rated

5

out of

5
by
Cami
from
My iPad is secure
OtterBox is the reigning champ for best brand to protect your technology. I've used other products, which may have a more attractive or sleeker look that in the end, never keep my protects safe. Give the value and dependency we have on our technology these days, I'd rather go for what keeps my investment safe rather than what looks fashionable. I use my tablet when I go into work and I like how this makes it easy to travel with between meetings and also keeps the pen secure and easy to keep up with. I also like the stand feature, whether horizontal or vertical. I find this makes my iPad functional for video calls or watching a movie, for example. The only small critique is that I did not find the instructions included easy to follow, but no big deal - I just looked up a video online from OtterBox that was easy to understand.
Date published: 2022-03-21T00:00:00-04:00
Rated

5

out of

5
by
Lilsparky42
from
Case is decent stand case awful
I have purchased otterbox defender series for my entire families Apple devices dating back to long before the iPhone 6 series (that's many years & a long ago). Have always been extremely happy with the products. I bought this defender series for iPad Pro 12.9" 4th Gen (2020) and case itself has worked okay. The stand is garbage. Functionality is terrible and best and mine broke within a few months - and barely used at all. Cannot purchase replacement stand and iPad otterbox case isn't compatible with other stands
Date published: 2022-03-16T00:00:00-04:00
Rated

5

out of

5
by
DudeCMH
from
Disappointed with the latest 12.9 I pad pro case
Let's start by saying the latest cease isn't as good as my last one which was for I pad pro 12inch, the newest I pad pro case 12.9 fits around the device pretty well , it adds more weight to an already over weight device, what I do not like is the apple pencil door slot opening, it's a hard plastic totally different feel around the I pad that the rest of the case, my next issue with the case is on the back of the case along the edge of the pencil door the rubber backing of case is all loose and sloppy I can feel the rubber hanging off the back of the case , this shouldn't be hppinging in my opinion for an over priced case at 129.00, the longer it's on the I pad I can see it getting looser and eventually hanging off the back along the pencil door …I wished I had ordered a different case at this point it's only Ben a few weeks but every time I see this I'm resenting that I blindly put my faith in Otterbox and ordered a new case designed for the latest 12.9 I pad, had I seen the case in person I believe I would;d passed on the case and chose a different Otterbox case or n entirely different brand altogether ,I reached out to Otterbox customer service and got hung up on several times trying to get help with this issue
Date published: 2021-07-09T00:00:00-04:00
Rated

5

out of

5
by
Steve21
from
Protector
Great item. If you want to completely protect. Your valuable tech items. All my Apple devices have these on. They protect from liquid as well as other things drops especially. And they look good. And doesn't interfere with the use of your I pad.
Date published: 2021-06-24T00:00:00-04:00
Rated

5

out of

5
by
Andy
from
Can't believe it survived
I bought the defender for my daughter's iPad a few years back and she didn't use it. She broke her screen and bent the frame. She then borrowed her mother's iPad and did the same. I bought the ipad from my daughter for $100, spent $165 to fix it, and use it as the interface for my ASIAIR astrophotography controller. The other night I left it on top of my car when I left my observing site. I didn't realize it until I heard it go bump on my trunk at 55 mph plus. I was on a busy highway, and expected the worst, but when I finally got turned around, and frantically searched for 20 minutes, I was pleased to find it laying in 3 pieces on the edge of the pavement. The iPad was totally unharmed. The snap on cover and the little prop in it were the only things damaged. The cover lost one of it's little corners. Thank you for saving my iPad.
Date published: 2021-07-21T00:00:00-04:00
Rated

5

out of

5
by
Ratster
from
Best case for the 12.9 IPad pro
Best fit and easy of use case out there! Nothing else comes close.
Date published: 2021-06-12T00:00:00-04:00
Rated

5

out of

5
by
David from San Diego
from
Great product
My 3rd OtterBox item, had one for my 11 inch iPad two years ago. It's still in great condition. I just got the new 12.9 pro 5th gen last week and the otter box was my only choice!!! It fits perfect looks good, has a spot for the Apple Pen 2 and even better is the rubber slot that opens up for the wireless charging of the new Apple 2 pen. Such a so we'll thought out product...
Date published: 2021-05-31T00:00:00-04:00
Rated

5

out of

5
by
David
from
Excellent product, but lacking instructions
This is an exceptionally well-made case for the 5th-gen iPad Pro and I am confident it will protect the tablet from just about anything short of a nuclear strike. My one criticism is that the case came with no instructions whatsoever. I had to go on Youtube and find out how to encase my iPad Pro in it. It's trickier than it looks; there are several pieces to the case, and it has to be taken apart (it comes fully assembled) and then reassembled around the iPad in a multi-step process. Luckily a tech Youtuber had posted a review and showed how to put it on. I am baffled why a $129 product didn't come with instructions.
Date published: 2021-09-27T00:00:00-04:00
Rated

5

out of

5
by
Rick o 1
from
Much better than the earlier design!
I bought the earlier designed case. It was a bad design. I had to configure a special kickstand for it because the way it was molded made for an intense straight up holding of the tablet. Way too vertical. It was uncomfortable to use, and one of the corners of the guard/kickstand base literally broke off when I opened it one day. After that it wouldn't latch correctly. So, I am delighted that the case has been re-designed. Thanks
Date published: 2021-09-13T00:00:00-04:00
Rated

5

out of

5
by
Lynnwood310
from
Disappointed
I've been an Otter user ever since I've had an Apple product….probably had 8 cases over the years and bought an additional 5 or 6 for family. All Defender Series. This cover is not working well for me. Yes, placing the iPad in its cover was easy and worked as it should and has with my other Defenders. But the snap on cover plate is where this one lacks. The Apple Pencil holder will not keep the pencil in place. 95% of the time the pencil is out of its spot and when the cover is removed I have to watch that it doesn't fall. Which it has. The folding stand on the cover plate is too loose. Annoying to hear it flop when the cover plate is on or off. And it needs special attention to keep it folded when snapping the cover on the back of the pad or placing down somewhere or covering up the screen again. Now, these may seem trivial to most. But the expensive Apple Pencil is an major issue. Fumbling to catch it when with clients, the risk of damage to the nib, having to constantly make sure it's not gonna roll out just adds another thing to watch after…which shouldn't be with what the cost of the defender cover is. I love Otter Box. Will continue to purchase Defenders….but this series isn't working well for me.
Date published: 2021-10-05T00:00:00-04:00
Rated

5

out of

5
by
FALCON
from
It just works
I brought this awhile back and it is reliable just like with my past iPads
Date published: 2021-08-01T00:00:00-04:00
Rated

5

out of

5
by
Jinx86
from
great value for the money
I bought this about two weeks ago, it feels and looks great on ipad, love the built in screen protector, it feels lighter then the one made for the 3rd generation about 3 years ago. the built in screen protector does not take away from the screen touch sensitivity. would definitely buy again.
Date published: 2021-08-06T00:00:00-04:00
Rated

5

out of

5
by
Dathan
from
Good but not great
I bought the otterbox defender immediately after buying my new iPad. I'm happy with the case on the iPad, but the lid is frustrating. It fits maybe *too* tightly, and is a pain to take off every single time. The clip on the inside that holds the pencil, though, is the opposite - it barely holds the pencil, and the pencil falls out every time I remove the lid. So I'm super ambivalent about the lid, even tho the quality of the case overall seems quite high.
Date published: 2021-09-06T00:00:00-04:00
Rated

5

out of

5
by
Sandy
from
I always buy otter box for all my phones and iPads
I love the Otter Box it protects all my phones and ipads. I would not ever consider anything else. It give me piece of mind that my all my things are protected. Thanks so much for creating such a great products
Date published: 2021-10-19T00:00:00-04:00
Rated

5

out of

5
by
Rob56
from
Okay
The side where the Apple Pencil goes has already broken off for no reason at all, it's attached but ver annoying. Overall the case is good, but could be a little more durable for the money paid :(
Date published: 2021-10-18T00:00:00-04:00
Rated

5

out of

5
by
Big E
from
Best product ever
Heavy duty case for my tablet… i have the peace of mind that I'm protected and you can't put a price on that
Date published: 2021-10-25T00:00:00-04:00
Rated

5

out of

5
by
Very Disappointed
from
wasted money
Worst otterbox product i have ever owned. Robber cover doesn't fit properly. The hard cover for the screen doesn't fit properly either. Only 3 corners will actually click shut. Then when you try to get it off You think you're going to have to break it to get it off. I have taken it completely out 3 times and rubber cover still will not fit completely.
Date published: 2022-07-29T00:00:00-04:00
Rated

5

out of

5
by
Sam Kingsley
from
Solid
I feel I don't need to watch my every movement to protect my iPad. OtterBox is phenomenal.
Date published: 2022-04-22T00:00:00-04:00
Rated

5

out of

5
by
David
from
Solid iPad protection but requires some refinement
The case is perfect if you require good protection for your iPad especially if you travel a lot. However it should come with instructions on how to insert your iPad into the case and the lack of a secure Apple pencil holder is required to stop it falling out every time you open the case which was also difficult, stopped me from giving it five stars.
Date published: 2022-04-15T00:00:00-04:00
Rated

5

out of

5
by
BJG FL
from
You get what you pay for
Tried the rest, ended up with the best. I bought 2 other cases from companies that claimed everything but delivered on nothing before I broke down and bought an Otterbox. I also have an Otterbox on my iPhone 13. The junk I bought before even caused my screen to crack while trying to get the quickly broken pieces back on. My only wish was that the Otterbox kickstand was on the outside of the hard case. It's annoying to have to take the outer case off to use the stand.
Date published: 2022-04-09T00:00:00-04:00
Rated

5

out of

5
by
ecbrown
from
iPad Pro Survived…
…but alas the Otterbox Defender did not after a fall from six feet, right on the corner. The iPad should have shattered! It did it's job perfectly, and I will gladly get a replacement case.
Date published: 2022-05-05T00:00:00-04:00
Rated

5

out of

5
by
Andy L
from
Little over priced
Pretty good. Little over priced. The door for the Apple Pencil is pretty annoying.
Date published: 2022-03-29T00:00:00-04:00