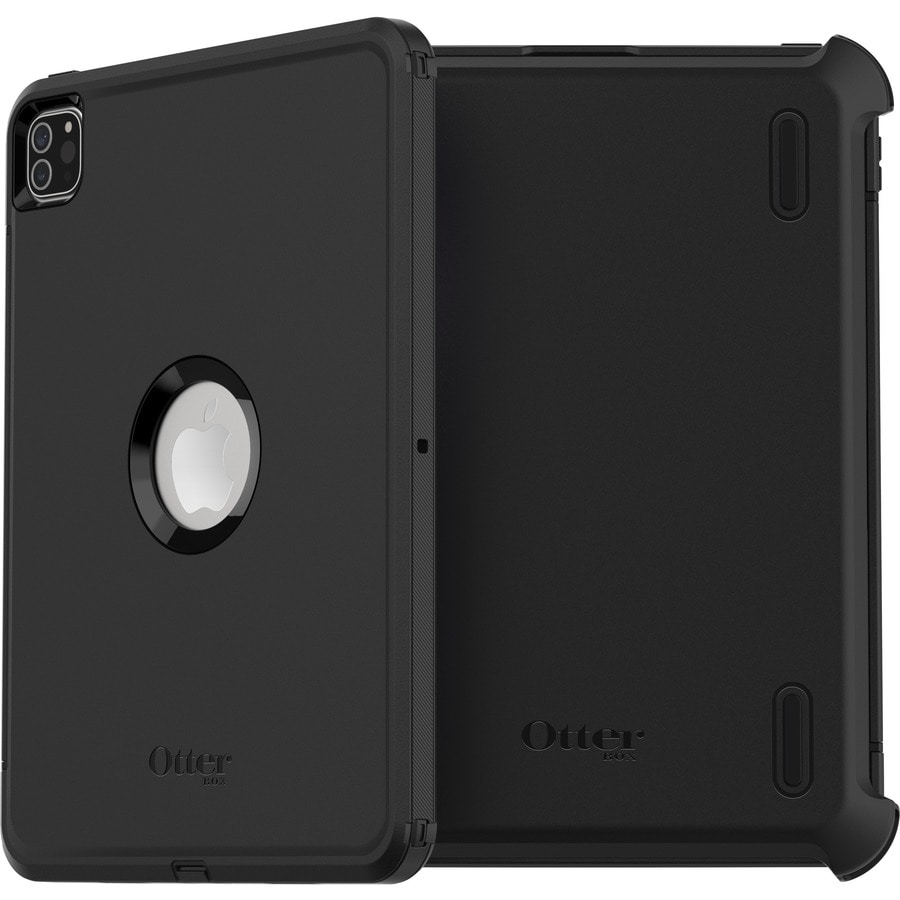 Quick tech specs
Back cover for tablet
synthetic rubber
11"
polycarbonate
black
for Apple 11-inch iPad Pro (3rd generation)
View All
Know your gear
Handle any project with OtterBox Defender Series, the protective iPad Pro (11-inch) (3rd gen) case that delivers legendary defense. Its multi-layer construction guards tablets against serious drops, dirt, scrapes and bumps.
OtterBox Defender Series - back cover for tablet
is rated
4.18
out of
5
by
17
.
Rated

5

out of

5
by
Aaron
from
Disappointed
Less than a year old and the edges on the rubber surrounds have swelled and its really hard to fit into the hard plastic lid , now the edges are getting chewed up by the plastic lugs on the lip . Protects the iPad very well and comfortable the flap system to charge the pencil is fiddly at best
Date published: 2021-06-21T00:00:00-04:00
Rated

5

out of

5
by
MerrySherry
from
Have Always Used Otter Box
Have had 8-10 iPhones/iPads over the years and always get an Otter Box at the same time I purchase a new one. Never let my new devices go "naked". Never had a device break - though many have been dropped. I only use the products with the included screen protector. I hate the glass protector and hopefully, they will keep these thin plastic screen protector options available. The glass simply does not allow good control for my art and design projects. The only reason I give a 4 star is the price point. With my latest purchase of an Otter Box for a new iPad, the price caused me to really stop and wait to decide. Ultimately I chose to go with Otter Box one more time, but I've reached my limit on what I'm willing to pay. At the end of the day, these are molded products and there are some decent competitors coming up. I am obviously a devotee of the Otter Box - but price DOES matter at some point.
Date published: 2021-07-07T00:00:00-04:00
Rated

5

out of

5
by
Revive Air HVAC
from
Fantastic warranty service - just call
We got a Defender case for the new iPad Pro to take to job sites - no doubt which one we wanted after using this case for previous iPhones. Mistakenly got a case for the 1st/2nd gen tablets, which cut across the camera lenses and left a gap. The online chat was fruitless but when I called customer service, they were very understanding - sent the correct model immediately and it arrived within a few days. Highly recommend Otterbox for quality products and customer service!
Date published: 2021-07-15T00:00:00-04:00
Rated

5

out of

5
by
CJKaz
from
Unrivaled protection for the new iPad Pro
Just upgraded an old iPad Air to the Pro 11. The old one was in a Defender case since day one. Perfect condition, not a mark on it. It was used in a pretty rough garage environment for much of its life. You'd never know though. Using the new Pro without a defender on it is a bit unnerving. So used to the case, I'm afraid of dropping it or scratching the screen! Ordered the case immediately after purchasing it. Interestingly the Apple store rep said not to bother with anything they had in the store. Order the defender!! Every Apple device we have owned has always been in an Otterbox case. Excellent customer service, dropped my phone, broke the corner of the inner shell. They sent a new one immediately. No questions.
Date published: 2021-05-25T00:00:00-04:00
Rated

5

out of

5
by
Tonton
from
Produit de qualité
Le Defender pour le iPad Pro 11 pouces de ma copine est robuste et esthétique ...par contre le couvercles est très difficile à enlever une fois qu'il est bien installé sur l'étui contenant le iPad ...vraiment difficile
Date published: 2021-05-31T00:00:00-04:00
Rated

5

out of

5
by
noaim
from
Defender is always solid
I've owned defender cases on every Apple product I buy pretty much. The case's including this one are always made to Perfection you won't be disappointed
Date published: 2021-05-26T00:00:00-04:00
Rated

5

out of

5
by
Honolulu21
from
Awesome case
Awesome case. Perfect fit and really durable for a defender case. Side latch is kinda odd to open it but so worth it. Nice to see improvement from old style iPad cases. Love it. Need one. Get one.
Date published: 2021-06-15T00:00:00-04:00
Rated

5

out of

5
by
leftybowler280
from
So Far So Good
To start, I am normally the person that buys a case and screen protector separately and then end up paying for the install of the screen protector. After seeing the price I decided to try this since I have bought other Otterbox products (usually my iPhone before and decided to give this a shot. For the good, the main case with the screen protector is pretty good. It doesn't add much size or weight (in my opinion) to my iPad. I also like that the flap for the Apple Pencil in previous model I researched has been replaced with a hard piece of plastic that opens on hinges and snaps/clicks shut when you are not charging the Apple Pencil. For the "okay", the hard shell case is nice for transport but I find it hard to get off at times. Perhaps this will relax a bit over time since it is so new. I also noticed some notches in the screen protector that look like they are for sure there by design but I'm not sure why aside from one obvious one that would cover the front camera. Not a huge deal but just something I happened to notice. Also, inside the hard shell is where you'll find a slot to hold your Apple Pencil during transport but it appears this wasn't designed tight enough as I find my Apple Pencil able to slide up and down the holster. For the bad/need improvement I'll start with the hard shell case/stand. The stand feature is really nice but like many have said in previous generations it would have been better if more angles were possible. I think if some additional slots were added and you could lift/move one of the "feet" that this could be easily accomplished. I have also seen competitors utilize a slit on the side for the Apple Pencil so it is always able to be connected/charging to the iPad that I think would have been nice as I worry about the hinges on the door I mentioned. Maybe to some this isn't a huge deal but I think this could have helped put this product over the top. Overall I would definitely recommend this product in terms of protection for your iPad. There are just a few minor tweaks that is keeping it from being perfect.
Date published: 2021-06-12T00:00:00-04:00
Rated

5

out of

5
by
Kensale77
from
Great case except for the hinge!
I previously had a Defender case for my old iPad Air 2. When I got a new iPad Pro I immediately purchased another Defender case. I was surprised to see that the Defender still has the same design for the hinged stand that is built into the lid/cover. The hinged stand broke multiple times on my old Defender case. OtterBox has a great warranty and customer service and they replaced it multiple times but I'm sure OtterBox would rather not keep shipping me new cases. The hinge is also too low when the iPad is used vertically in the landscape orientation and the iPad will tip over backwards during use. This doesn't happen in the portrait orientation because the bottom of the iPad hooks into the lid so it can't tip over. The protection is great so I give it a 5 star rating anyway but update the Defender with a better hinged stand!
Date published: 2021-07-22T00:00:00-04:00
Rated

5

out of

5
by
Dturn
from
It definitely does the job
I have a rule in my house if it's expensive it goes in an OtterBox! This is my second OtterBox for my iPad this one doesn't seem to stand in its base very well, I have trouble getting it to stay upright in the stand other than that I know that it's protected I wish they would come out with more colors for the defender series I'm really bored of the black.
Date published: 2021-09-27T00:00:00-04:00
Rated

5

out of

5
by
ZukoGuy4
from
Very Disappointed with This One
I became an OtterBox devotee after a previous Defender case literally saved a previous iPad Air from falling off the roof of a car, a direct hit, and a drizzly overnight on a country road. That I even found the iPad 9 hours later was a miracle. That it was still intact was even more amazing (I still have the pictures of the shattered shell and working iPad. Since then, about 8-9 years, every one of my devices has had an OtterBox case slapped on them straight out of the box. When I got my new iPad Pro, I purchased this case alongside it. Imagine my surprise when I learned that there is no thin screen protector on this case, like each prior Defender iPad case I have owned has. I have always told my "saved my iPad" story when I suggest cases for any device. Sadly, with no screen protector on this one, I 'm not sure this case would have had the same survival story. I'm disappointed that this case has left what seems to be one of the most important parts of prior cases off of this version.
Date published: 2021-09-28T00:00:00-04:00
Rated

5

out of

5
by
Rock
from
Love the protection
IPAD will not stay upright when using the stand, very frustrating feature. I've been using outter cases for over a decade and this one has the poorest quality.
Date published: 2021-08-02T00:00:00-04:00
Rated

5

out of

5
by
Margo
from
Great protection
The hard protective cover is hard to get off but I think it will loosen up with use. Have used your product for years, had my kids purchase your protective Otterbox covers, and now my sister bought one for her ipad. Wish it hadn't been shiped vis UPS/USPS as it took 2 wks to arrive. I expect faster service Otterbox !
Date published: 2021-08-02T00:00:00-04:00
Rated

5

out of

5
by
oldgal
from
Reliable as expected
Otter has been protecting my devices since I switched from the flip phone. Devices get old and upgraded. When I take an ancient device out of the Otter it's been in for it's entire life, the device looks brand-new.
Date published: 2021-08-01T00:00:00-04:00
Rated

5

out of

5
by
catan
from
Screen, port cover
It would be 5 star if removed the port cover, it's too tight and bends the usb-c a little. And the screen protector, did I receive a defective one or does everybody has this problem?
Date published: 2021-10-12T00:00:00-04:00
Rated

5

out of

5
by
Vince
from
Need more colors
Awesome protection. Wish it came in other than black.
Date published: 2022-04-22T00:00:00-04:00
Rated

5

out of

5
by
D Carrington
from
Great product
I love the defender series. I have them on all my apple products. It does make the iPad feel heavier but it's a small price to pay for protection on a $1000 tablet.
Date published: 2022-04-08T00:00:00-04:00