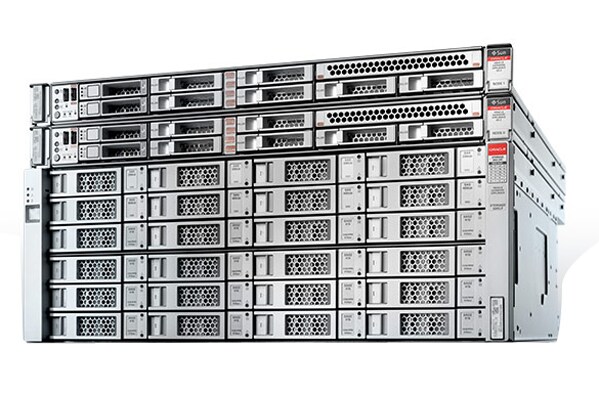 ORACLE DATABASE APPLIANCE X5-2
Mfg.Part:

7110252
|
CDW Part:

3622702
ORACLE DATABASE APPLIANCE X5-2
ORACLE DATABASE APPLIANCE X5-2
is rated out of
5
by
37
.
Rated

4

out of

5
by
Adnan Nasir
from
The advantage of using Oracle's RDMS solution is that it is integrated with Oracle's other products, including our ERP and EPM solutions.
Valuable Features:The best aspect of Oracle Database is that it allows integration of our ERP and EPM suite of applications and databases. It's integrated tightly together, and we prefer that, as we think it's best to stick with a single vendor as much as possible to avoid dealing with multiple vendors in case of any issue. We can scale it up, upgrade and it is supported by Oracle's customer support program. It is secure and reliable, which gives us peace of mind. If we went with a third-party tool, there's always the issues of compatibility. If we do upgrades and there are issues, we'd have to talk to both the third-party vendor and Oracle.I think that avoiding complications and compatibility issues is the biggest advantage of keeping our Oracle ERP and EPM products together. I work with a lot of the compatibility settings, and Oracle has done a great job with the matrix inter-dependencies and patch-up ligation. For example, I just upgraded our Hyperion system so I had to got through all the settings and configurations for databases, browsers, Java, OS, and servers. I, as an administrator, have to have enough technical knowledge to understand all the inter-dependencies.That's the advantage of using Oracle's RDMS solution -- we can use other Oracle products.Room for Improvement:It needs a better, less technical interface. I'm not an expert on our RDBMS as we have our own database administrator, so especially on a Linux environment Oracle needs to make progress on the user-friendliness of the UI.In my opinion, I've found Microsoft SQL Server to be more user-friendly than Oracle Database. Even though the latter is more complex, more robust, and has more capacity, from a user perspective, especially those who are naive or functional, it needs to be more user-friendly.I've asked my DBA to do something for me so I can try to learn from him, but if it were more user-friendly with a more graphical implementation that tells you all the variation criteria and failure messages, that would be much better.Deployment Issues:We've had no issues deploying it. It's quite simple.Stability Issues:It's quite stable for being capable of doing so many things. It's powerful, fast, reliable, and secure.Scalability Issues:We have had no issues scaling it for our needs.Other Advice:You should consider whether you're going to go physical or virtual, Windows or Linux, etc. You should do your due diligence and know what you want.We decided to put Essbase and Database on Linux. We put everything else on Windows, the reason being that our databases needed more resources and liability. Linux provides more security for databases, and it's a more robust setup for a Linux admin. So be sure to consider this before jumping into an implementation of the Oracle RDBMS solution.Disclaimer: I am a real user, and this review is based on my own experience and opinions.
Date published: 2017-08-31
Rated

4

out of

5
by
dba436155
from
It performs automatic backup recovery and database management, both of which are useful.
Valuable Features:It's enterprise-wide and can handle big databases. Also, it performs automatic backup recovery and database management and monitoring, both of which are extremely useful.Improvements to My Organization:We've reduced our time monitoring the database and, instead, spent more time researching and improving our system.Room for Improvement:The portal site needs to be improved, as sometimes it's very slow. They also need to improve their critical problem resolution, especially error ORA-60000. I hoped that they'd be able to reduce those types of errors by now.Deployment Issues:We've had no issues with deployment.Stability Issues:We very seldom have stability issues. It's been really stable so far.Scalability Issues:It's a scalable solution that comes at a cost.Technical Support:Issues are registered through their portal where we login our tickets. Sometimes, it's a bit slow and their response is a bit average unless it's Severity One, in which case the response time is really quick, about 1 or 2 hours. Otherwise, if it's Severity Three or below, it can probably take up to one day. Sometimes the development team needs to look into the issues.Initial Setup:Database was already set up when I joined, but I haven't heard that it was particularly complex.Cost and Licensing Advice:Oracle needs to reduce the licensing cost as it's getting more expensive.Other Advice:You have to really know the Oracle version type that you're working on, especially with the new Oracle chassis which is running on multi-tenant architecture. That is very important if you are, just like our company, on MTA, multi-tenant architecture. We have to really know the inside out how it works before we can actually support and maintain it. So be well prepared for it.Disclaimer: I am a real user, and this review is based on my own experience and opinions.
Date published: 2017-01-23
Rated

4

out of

5
by
teamlead7109
from
We're operating an Oracle RAC system, so we can scale when required.
Valuable Features:It's the only database you can operate at a very high professional level and that offers what the customers need from the product, ACID.Improvements to My Organization:It's a crucial and critical part of our everyday business. That's what it does.Room for Improvement:Real zero-downtime patching, that's what I want.When you have a fallback system with RAC and Data Guard, the autonomous help framework could support it, but collecting the logs and reading the logs is still a nightmare. Improving this would be very good. The way Oracle does it today is OK, with in-memory options, with NoSQL database integrated and so on, but it could be a really good feature for the future.Scalability Issues:We have scaled it, but not to a very high extent.I think as we start to get into the IT business more and more, we will see how we need it. We are now operating an Oracle RAC system, so we can scale when required.Technical Support:Technical support is kind of different because at some point, you reach the point where you can't proceed any further with stand-up processes. You need to have context and background information about the company. We're lucky that we can get in touch directly with the development team. We get help there.Normally we have very complex problems when we have them. When we communicate with them using the standard channels, it does not fit. But, as I've mentioned, we have the direct line of communication with the development.Previous Solutions:It's like, how do you decide that you need electricity at home? It's a given requirement from the business. We've been working with Oracle for many, many years and using the product for many, many versions.Initial Setup:We did the initial setup ourselves. We have a huge framework in which we did the complete setup. We installed the clusters. It was not straightforward. For such as huge company like ours, it's not straightforward. There are too many management processes around and too many specialties in the company.Other Solutions Considered:We do not have any other vendors on a shortlist at this time.We have three flavors of relational databases: MS SQL, Oracle, and MySQL. MySQL should fit the open-source aspect, and then we have two huge relational databases. Therefore, MS SQL is more for the smaller deployment and Oracle is for the huge deployments. SAP release 3 runs on Oracle, too. It was in the company. We didn't decide to use Oracle or not. It was there.We just offer it to our customers and they choose. The mission-critical stuff runs on Oracle.Other Advice:It's very professional and there are good structures implemented there. When you are willing to pay, you can get everything. Basically, what you pay for with Oracle is the maturity of the product, and that is something you can rely on.Know how Oracle works. They say it's always been like that: you first sell, then you fulfill. You have to know that and that it's okay. You have to know that the new features will not work immediately.When we're looking at a vendor like Oracle, we look at two areas. One is the technical part and the other is that it's a huge company. When we have problems, there is a huge organization behind it that can support it. We have a lot of ways to escalate issues. We look for a really huge company with a lot of people with whom we can get in contact. When we go to open-source projects or to smaller projects and we have problems, it's not as easy. Communicating with Oracle is easier to manage.Disclaimer: I am a real user, and this review is based on my own experience and opinions.
Date published: 2017-01-23
Rated

4

out of

5
by
Engineer40213
from
Performance, Durability, Security.
Valuable Features:* Performance* Durability* SecurityImprovements to My Organization:For a long time I've been working as a performance tuner for Oracle and Java. The tuning of the performance is very important for me.Room for Improvement:I want the price to be lowered.Stability Issues:Oracle solutions are the most used, so we don't need to do verification of the product on our own. We can assume that the product's reliability is high enough. Based on Oracle products we are able to run our own developed applications at very high performance levels.Scalability Issues:What we do is that based on a certain understanding about the product speck, based on the maximum transaction we can assume for our businesses, we are going to decide the sizing and then we confirm the capability and we decide the threshold. Then after that we do the scale up. Based on the recent cloud environment, I cannot really say that it's easier for us to do the scale up.Technical Support:The people who used to work in Oracle are responsible for the tentative troubleshooting at the 1st stage. Then if we need more further investigation, then we exchange the technical support contract. Based on that agreement they will provide us with support. Once we purchase the product from the Oracle, then they offer the knowledge. The structure of the knowledge is quite well-shaped.Other Advice:For colleagues who are in the financial business and are looking into what kind of product they want to use for their databases - I would recommend using the Oracle Database because in terms of the security and in terms of the audit process it's top notch. When it comes to audits, as long as we say we are using Oracle Database, then they give us a certain assurance. They're confident about it.Disclaimer: I am a real user, and this review is based on my own experience and opinions.
Date published: 2016-12-24
Rated

4

out of

5
by
architec8a80
from
With multi-tenancy, you can set up background processes and memory at the container level.
Valuable Features:The most valuable feature we have found is the multi-tenancy. You can set up background processes and memory at the container level, not at the pluggable level. he second thing is, I can set up a disaster recovery solution for the container database, not at the pluggable level, so that if I have more pluggable databases, I do not need to worry about disaster recovery setup at the pluggable database level. I only have to set it up one time at the containment level. I can reduce my time, effort, cost, everything. I feel this is one of the best features in 12c, multi-tenancy.Another valuable feature Oracle has released is the Flex ASM in RAC. In 10g and 11c, if something goes wrong for you with A, some instance, your database will go down. But in 12c, if something goes wrong for you with A, some instance, your database will not go down. You automatically use the next two machines, A, some instance. These are two wonderful features that we have used in database 12c.One more very cool feature is called Information Lifecycle Management, ILM. It is one of the best features right now.Improvements to My Organization:Instead of maintaining multiple servers, multiple databases, multiple disaster recovery solution setups for several levels, if you implement the 12c multi-tenancy, I only have to set it up for one container, not for all of the pluggable databases. I can reduce my support, my time, my effort, my cost, my server cost.Room for Improvement:Upgrades.Use of Solution:We have been using 12c for 10 months.Stability Issues:We have been using it for the past 10 months. We have not had any stability issues, at all. We updated the PSU patches, just the CPU patches; it's up and running for months.Scalability Issues:We haven't exactly scaled it right now. Once we upgrade the remaining databases, we can go ahead with scaling it.Technical Support:We raised a couple of SR requests with the Oracle team, and they responded quickly. We have successfully upgraded one database to 12c.We are really pretty happy. In the coming months, we are going to upgrade three to four databases to 12c. I attended an Oracle OpenWorld conference to get some information about how I can upgrade with nearly zero down time. I was looking for that.Initial Setup:Upgrading it is not easy, because application to application could be different architecture. Before upgrading to 12c, we have to go into QA and development, from us to QA and development. Once that is successful, you can go ahead with production. Until now, out of six databases, we have upgraded to 12c on one platform; it was smooth.Other Advice:When you upgrade from 11g to 12c, consider your execution plans. Before upgrading, check it out in the QA and development environments. The third thing is, when you go about upgrading from 11g to 12c, plan how many databases you are going to make as pluggable, and how much memory it requires, and what flat file from exactly you are moving to upgrade. These are the three things you have to keep it mind when it comes to upgrading from 11g to 12c.Although it is smooth coming into production, you have to be careful. Until now, it has been very smooth. We didn't raise any issues, but we have raised a couple of SR requests. Oracle has provided a smooth solution.Disclaimer: I am a real user, and this review is based on my own experience and opinions.
Date published: 2016-12-22
Rated

4

out of

5
by
dba436173
from
Oracle is our product of choice because of its stability, scalability, reliability, and flexibility.
Valuable Features:RDBMS, we still believe, is Oracle's core product. Hence any time we are looking at any database features or building a new database, Oracle is always our product of choice because of its stability, scalability, reliability, and flexibility.Improvements to My Organization:It would be the stability that's improved our organization the most. We are a 24/7 manufacturing plant. We take one day off a year, Christmas Day. Other than that, we're building and creating drugs and the stability of the Oracle database enables us to have near 100% uptime 24/7/364.Room for Improvement:It's so expensive, particularly Enterprise Edition, and that would be my number one gripe. It's very, very expensive. Also, Oracle makes a big show of its new features and enhancers with each new release, but it's very rare that any of those enhancements come with Database by default. You have to pay for each of those enhancement -- and pay heavily at that.Deployment Issues:In the latter versions of the 12c product, I've actually found it a little bit more difficult to set up than it was before. I find that Oracle is introducing many, many, many new features with each part of the database. Sometimes I think they're losing focus of the core components and what customers actually need. I think if they concentrated on the core elements of RDMS, which, for me, is their number one product, I think before going on the periphery and looking at small enhancements or additions to the product, they should look into making it even more stable before they do these major releases.Stability Issues:It's been very stable for us.Scalability Issues:I would say the scalability sets it apart from others. We run a big manufacturing plant and the database is growing at a very very, high rate, but we know with the Oracle RDBMS, it can sustain growth from now and into the future.Initial Setup:I actually found that the earlier versions of RDBMS were actually easier to set up, so I've been working with the Oracle product right from Oracle 7, and I obviously will in 12c. I find now in 12c, I would expected laying out Oracle Database to become easier, but I actually think it's a little bit more complicated now in these later versions. I can categorically say that the joining up with the Oracle agent between RDBMS and Oracle Enterprise Manager is an extremely complicated process. When we were on TNG before we'd done any upgrades, the agent to get the database to talk to Enterprise Manager was a really, really simple thing to do. In fact, right now it's extremely complicated.Other Advice:For installing the database or looking at the database, I would say look at the components that you need within the database. What we generally find is that most of the features that we want, or most of the features that are available in Enterprise Edition, we actually wouldn't use, so take time and you might actually see them only by using Standard Edition.Disclaimer: I am a real user, and this review is based on my own experience and opinions.
Date published: 2016-12-12
Rated

5

out of

5
by
Kim Berg Hansen
from
I consider one of the top features to be the concurrency and consistency model that allows many simultaneous users with little or no locking.
Valuable Features:The powerful SQL language for working with, analyzing and manipulating lots of data. The concurrency and consistency model that allows many simultaneous users with little or no locking. The extensibility using PL/SQL and Java to extend legacy application with modern features like webservices via the database.Improvements to My Organization:Rewriting legacy procedural modules to SQL with analytic functions has on several occasions turned multi-hour jobs into few-minute jobs. High concurrency enables sales persons in shops to service customers swiftly with no waiting even on peak days with several sales per second. Even though legacy application cannot interface with external services, the database is capable of doing so, which enables the business to get new ideas without thinking of technological hindrances.Room for Improvement:There's not much - new features come along in every version helping to keep up withtechnological advances. There are some small technical issues such as support forwindowing clause in LISTAGG function and a few similar small issues in SQL. There are a few nice-to-have extensions, like allowing external table syntax on the content of a CLOB.Use of Solution:I've used it since 1996.Stability Issues:Some of the time, a Real Application Cluster version was used, which turned out on very rare occasions to performed unmotivated failover to other node. The problem really was sub-optimal coding of the legacy application in the use of the locking methods of Oracle, which was magnified when propagating locks to other nodes, however would have been nice if RAC could have handled it, even when sup-optimal. After switching some years ago to a single server non-RAC solution, the database has been rock steady - only instabilities was when O/S or hardware failed, not the database.Technical Support:Highly knowledgeable and competent tech support - once you get past the first level and get the case assigned to the right people. However, it can take quite a bit of time to explain details to first level support and gather debug and log information, that in some cases aren't necessarily relevant but is merely correct procedure in order to get the case assigned. On the other hand, many key Oracle people engage in the community, so a finicky question about a PL/SQL detail might get attention and answers from product managers themselves.Previous Solutions:Before 1996 we used a legacy application, but it would locked on a table level. That meant practically no concurrency, for example phone sales people could not enter order data while talking to the customer but wrote on paper. Then one guy would enter all orders later. After a demonstration of Oracle database giving high concurrency, it was very easy for my boss to decide to buy Oracle.Initial Setup:An external consultant was hired for the setup and there was no trouble with the database setup. The legacy application needed a bit extra setting up to get it to run properly with Oracle, but that was not the fault of Oracle.Cost and Licensing Advice:Bargain with the sales representative for good discounts - particularly if you buy several licences at once. But beware when buying multiple licenses together you get them on a single CSI, which may give trouble in future if you need to cancel one license out of the total, as that in principle means cancelling all licences and renegotiating so you may get new prices with less discount on the yearly support fees for the licences you have left. Research all the things that actually is possible with the basic licence so you get your value-for-money and only pay for options if you really need them.Other Solutions Considered:There weren't many options at the time. A database supported by the legacy application had to be chosen, and the native legacy database just wasn't up to concurrency demands as described above, so Oracle was the other choice.Other Advice:Oracle database can do many things that you may think it is necessary to supplement with other products. Look into how you may use all of the features to get value-for-money - then it might turn out in the long run to be cheaper than having to integrate multiple products.Disclaimer: IT Central Station contacted the reviewer to collect the review and to validate authenticity. The reviewer was referred by the vendor, but the review is not subject to editing or approval by the vendor. The reviewer's company has a business relationship with this vendor other than being a customer:Oracle partners
Date published: 2016-11-19
Rated

3

out of

5
by
LeadDBA692
from
All queries see a read consistent view of the database so that readers do not block writers and vice versa. I've encountered bugs with the implementation of optional features.
Valuable Features:Oracle is the premier relational database platform for enterprise environments. Any organization that purchases enterprise applications will likely have Oracle in place since so many applications require or prefer it.The most valuable features of Oracle database from my perspective are:* Read consistency (all queries see a read consistent view of the database so that readers do not block writers and vice versa).* Data Guard: standby database, with options for maximum performance, availability and protection. I use it in full-synchronous mode to ensure a "hot standby" is available with zero data loss.* Ability to run non-Windows OS, particularly Linux.* Ability to monitor and tune; lots of instrumentation built in.Room for Improvement:Oracle Database is a big, complex technology stack with many options, features, management packs, etc. The base product (Oracle Database Enterprise Edition) is generally rock solid. Some of the oldest, most mature options are also quite reliable (example: Partitioning option). However, most of the other optional products create additional issues. Almost every time I have pursued the implementation of an optional feature I have encountered bugs, limitations or other unexpected behavior.I would like to see Oracle follow a model like Microsoft's SQL Server Enterprise Edition, where all products and features are included by default. There are no "options" you can purchase with SQL Server EE. It seems like one of the results of Oracle's plethora of optional offerings is confusion and quality issues.Use of Solution:I've been using Database for over 20 years. There are many additional options and management packs (examples: Partitioning, Tuning Pack, Diagnostics Pack, Lifecycle Management Pack, Active Data Guard, Advanced Compression, Advanced Security, RAC, etc.).Deployment Issues:A "simple" deployment of just Oracle Database Enterprise Edition is generally a trouble-free activity, albeit still tedious. The RDBMS kernel is perhaps the most mature on the market (Oracle and IBM's DB2 were released about the same time).Stability Issues:It is one of the most stable solutions on the market.Scalability Issues:There are no issues with scaling it.Technical Support:Technical support is very good. I don't use Oracle Support often to open a new case. Questions and issues I have are most often answered via the support portal. On the rare occasion a new service request is opened, I find the responses timely and helpful.Previous Solutions:In the past, I have used RAC (and before that OPS, its ancestor). In general, like most shared clustering technologies, the "solution" creates more problems than it solves. RAC's complexity level requires full-time attention in my opinion. I abandoned the option in favor of VMware and virtual servers, which cover availability from a hardware-loss perspective. In cases where more availability is needed, the Data Guard option is sufficient and MUCH simpler to configure and use.I started with IBM's DB2 and used SQL Server (Sybase initially, then Microsoft SQL Server after they split in the 90's) before Oracle, so have used and evaluated all three of the major RDBMS vendors. I no longer use DB2 because the platform it was on (mainframe) was retired, but I still actively use Microsoft SQL Server.Both products have their place. I prefer SQL Server for the smaller, departmental applications and Microsoft-related back-office applications due to its ease of deployment and management. I prefer Oracle for most enterprise-scale applications due to its overall strength in this area (performance, scalability, availability) and ability to run on a non-Windows OS (we use Linux exclusively).Initial Setup:Oracle is a complex product, there is no way around that. Compared to Microsoft SQL Server, which can be installed with a few mouse clicks, Oracle takes planning, preparation and significantly more time and expertise.Implementation Team:We have always installed, configured, and managed Oracle with in-house personnel. I would not recommend outsourcing the implementation unless all support for the product were being outsourced. Oracle database requires expertise and constant attention. If an organization intends to support it internally, the personnel responsible for that support need to be the same that install and configure it.ROI:Oracle is very expensive. No organization that didn't "have to" use Oracle would do so. If I were in a small business or an organization that did all of its own applications development, I would avoid Oracle simply due to its cost. Other databases on the market would suffice in those scenarios. Any medium-to-large business will probably not be able to avoid using Oracle database. I don't think there is an ROI to calculate, but rather a sunk cost in doing business. My advice would be to limit the number of options and features and go with the bare minimum needed to support the needed applications.Other Advice:The technology behind the base RDBMS is excellent, probably the best on the market, but its cost and complexity are negatives. The personnel who will support need to get formal training and need to be dedicated database administrators. A part-time DBA will not be sufficient for anything more than a trivial deployment.Disclaimer: I am a real user, and this review is based on my own experience and opinions.
Date published: 2016-10-04