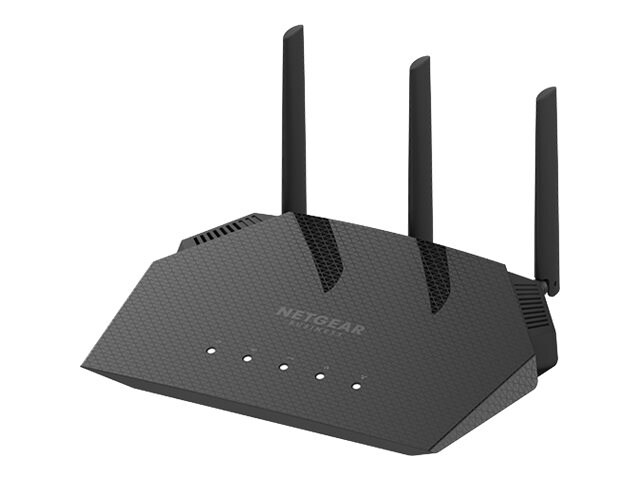 Quick tech specs
Wireless access point
GigE
2.4 GHz
desktop
View All
Know your gear
The NETGEAR Wi-Fi 6 AX1800 Dual Band Wireless Access Point (AP) delivers 802.11ax high performance wireless connectivity for Small Office and Home Office (SOHO) deployments and supports dual band concurrent Wi-Fi 6 operations at 2.4GHz and 5GHz with a combined throughput of 1.8Gbps (600Mbps at 2.4GHz and 1200Mbps at 5GHz). The WAX204 Wi-Fi 6 Access Point provides standalone configuration with easy setup for a reliable, 802.11ax high performance, and cost-effective wireless solution.
Contact Sales Assistance
(800) 800-4239
,
Monday-Friday 7am-7:30pm CT
NETGEAR WAX204 - wireless access point - Wi-Fi 6
is rated
4.24
out of
5
by
21
.
Rated

5

out of

5
by
Anand696
from
Feedback
Great experience and performance ! Initial hiccups in setup and installation though. Should have been part of night hawk
Date published: 2022-02-21T00:00:00-05:00
Rated

5

out of

5
by
Ck R
from
Another great router from Netgear
It's seriously a great router! I've had netgear routers for over a decade but this one is powerful enough to give me high speeds on multiple devices across a 1,200sqft apartment. The price was great to.
Date published: 2022-03-21T00:00:00-04:00
Rated

5

out of

5
by
GeorgeMzc
from
Better know what you're doing...
I found thus point difficult to get working correctly. I returned it.
Date published: 2022-02-02T00:00:00-05:00
Rated

5

out of

5
by
Deb3000
from
Worst product ever
Got it on line Amozon couldn't get it set up. All the lights lite up but could access little to no support some on line crap made not sense
Date published: 2021-05-23T00:00:00-04:00
Rated

5

out of

5
by
RySal
from
Decent AP, Terrible Setup
I recently purchased this as my old AP died. I liked the fast this has 4 giabit ports on it as well as being able to play the role of an AP. The setup process was miserable. I'm on a 192.168.1.x network and it wasn't detected. Then I actually tried downloading the app and had to create a Netgear account just to set it up and even then it failed. I ended up having to set my computer to a static IP with a 192.168.0.x address to be able to get into the switch and configure it myself. I found out the AP is also set up as a router by default.... while this is a nice feature, I bought an AP and wasn't expecting the device to be handing out different IP addresses. Once I put it into AP mode and manually configured the SSID and encryption I wanted, things were smoother. The 4 ports on the back are welcomed for some hardwired devices nearby and Wifi 6 is certainly speedy. I have GB Fiber and I can pull speeds of about 475Mb down and 640Mb up (line of sight, 15 feet. If you have a lot of area to cover and it's through walls, I would recommend something more powerful. I have a two-story, 1,400 sq ft home and it reaches all corners with only one spot that has "acceptable" coverage (speeds dropped to 40Mbs down). Overall if you can get past the setup with the help of a friend (or doing it yourself without their apps) I think you'll enjoy the product.
Date published: 2021-06-11T00:00:00-04:00
Rated

5

out of

5
by
BobbyDigital311
from
Amazing speed and stability. A breeze to set up.
Folks, download the Netgear Nighthawk app and this setup will take 10 minutes. Just scan the QR code on the plastic wrap that came with your router, and follow the next credentials steps, then plug it in. That's literally it. Now I'm getting 700Mbps down and 60Mbps up from 100ft away on the same floor. Incredible performance for the price, just make sure you have an 802.11ax Wifi card in your PC to get the full benefits!
Date published: 2021-11-02T00:00:00-04:00
Rated

5

out of

5
by
Chell90
from
Super fast speed
I bought this almost 2 months ago when my previous internet service started moving super slow. But once I purchased this,I can get speeds everywhere in my house now. While streaming movies on my smart tv,I don't have to worry about seeing the word 'buffering'.
Date published: 2021-11-04T00:00:00-04:00
Rated

5

out of

5
by
TechGuru
from
Great Features and best access point
I was using a TP-Link access point and our WI-Fi connections use to drop couple of times. When we are in middle of important Zoom Meeting and Web application. We replaces it with Netgear WAX204, best decision never had a drop in signal strength or connectivity. Just great producr.
Date published: 2021-11-04T00:00:00-04:00
Rated

5

out of

5
by
Rusty Singer
from
Rock Solid Performance
Essentials WiFi 6 (WAX204 is a great product and works flawlessly. I would highly recommend this!
Date published: 2021-11-08T00:00:00-05:00
Rated

5

out of

5
by
NGUser
from
Awesome router, great value
I replaced an old router that had finally died. I didn't realize how much signal range I was missing until I installed this new one! I'm getting signal upstairs, downstairs, and at both ends of my house now. I was never able to go more than a few rooms away before. I am extremely satisfied with my purchase! I will stick with Netgear for sure.
Date published: 2021-11-04T00:00:00-04:00
Rated

5

out of

5
by
Ted Vitale
from
Pretty terrible router
I've had it for a month and it's complete trash. I get abysmal speeds over my separate wireless network. It's clearly not actually a gigabit router. I also get constant drops in network connectivity every half hour and it's just a completely useless piece of garbage. I've been on the phone with support 5 times and so far the most I've gotten is that I should change my cables (which I know work fine and have been tested) or they blame it on my brand new switch which works just fine for local network traffic. Just so completely frustrated.
Date published: 2021-11-05T00:00:00-04:00
Rated

5

out of

5
by
pupazo72
from
Great router, the one I've been waiting for.
Just bought it, amazing, now I have on my pc more that 800 mb/s using the 5 ghz wifi, even located more 50 feet of the router, easy manual configuration, setup openvpn and 2 ssid, one for my local network and the other one for the smart home. The signal reaches where my last router couldn't, now I have to setup the vlans.
Date published: 2021-11-11T00:00:00-05:00
Rated

5

out of

5
by
kvkasy
from
Review
Router is pretty good.. getting a good range .. I have a 1000 sft house and so far no issue in wifi range.. did not find any connection drops so far .. using it for a month.
Date published: 2021-12-25T00:00:00-05:00
Rated

5

out of

5
by
TheCybologist
from
Lot's more power
Upgraded my home internet service to fiber. The router that came with it was weak but allowed bridge mode. I bought this router/AP and turned the Company provided one to just a modem. This thing blasts through my homes walls and even makes it all the way out to my detached garage cameras in back. Setup was easy, port mapping is straight forward for my VPN/Firewall.
Date published: 2021-11-15T00:00:00-05:00
Rated

5

out of

5
by
NetgearS
from
Good value
The router is fast and easy to set up. It's also easy to configure the individual device QoS
Date published: 2022-04-10T00:00:00-04:00
Rated

5

out of

5
by
Butch no
from
Hard to hook up..
Im not the that good at this so I could not get it to work.. too much to do that I do not undrstand.. wpold have liked to use it but I would have to pay someone to come in and hook it up and I cant aford that now.. Thank you anyway.. Lloyd..
Date published: 2022-04-15T00:00:00-04:00
Rated

5

out of

5
by
Cypher
from
Almost a Home Run
Overall I really like the simplicity of this unit. It doesn't have gimmicky cell phone aps or any useless fluff. Traffic throughput is great and WiFi 6 sets me up for the near term future. I only have 2 complaints about this AP. 1 I cannot turn off the WPS. I know it defaults to push button active only which in theory is fine, but I don't get the warm & fuzzy that it's off. 2) There is no "transitional" option to support WPA2 and WPA3 on one SSID. Not all my devices are new enough to support WPA3 so I either have to disable WPA3 or setup a separate SSID that is WPA2. Even with my gripes, which I feel could be addressed with a firmware update, the price point that this has been at recently is too hard to pass up.
Date published: 2022-04-14T00:00:00-04:00
Rated

5

out of

5
by
Pacific Northwest Jeff
from
Great router- easy installation
Replaced an 8 year old Netgear router. Seamless installation and set-up. Immediately after installation, device updated to latest firmware and works very well. We've had dead spots in our office for years. The WiFi6 router addressed those issues providing much better coverage in our small two story office building.
Date published: 2022-04-29T00:00:00-04:00
Rated

5

out of

5
by
A. Customer
from
It's fine.
It's fine for what it is, but I bought it hoping that as an AP it could still manage VLANs per SSIDs. It can only do so in Router Mode. That's a shame. However, it was a fine product for the price. Radios weren't that strong in the end.
Date published: 2022-04-22T00:00:00-04:00
Rated

5

out of

5
by
gamie6243
from
Great value for a great price
Works great, easy to setup. I have all my wireless devices connected. For the price you can't beat it.
Date published: 2022-04-22T00:00:00-04:00
Rated

5

out of

5
by
Carl70
from
An Excellent Upgrade
This is an excellent upgrade from my single band Netgear DNG2200 modem/router. I put the modem/router in modem mode in front of the WAX204. I am getting better speeds and better coverage with this setup.
Date published: 2022-04-21T00:00:00-04:00