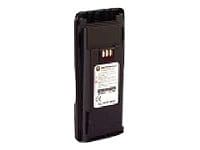 Quick tech specs
NiMH
for Motorola CP150
PR400
View All
Know your gear
Motorola batteries for two-way radios are especially designed, built and tested to take the tremendous abuse radios have to handle in the field. Hard knocks and extreme temperatures can cause batteries to lose power. And a sharp drop in power or rise in impedance can easily cause the radio receiver to completely shut down, or "desense".

Motorola starts with premium grade battery cells to help ensure you get more charge cycles, more capacity and greater reliability. Then Motorola build in specially designed internal shock absorbers and impact resistant soft-flex copper circuitry, and wrap it all in rugged poly-carbonate castings.

Motorola Nickel-Metal Hydride (NiMH) batteries can work 40% to 50% longer between charges than NiCd batteries of similar size, but do not operate as efficiently in extreme temperatures. NiMH contains fewer toxic chemicals, so disposal is more environmentally friendly.