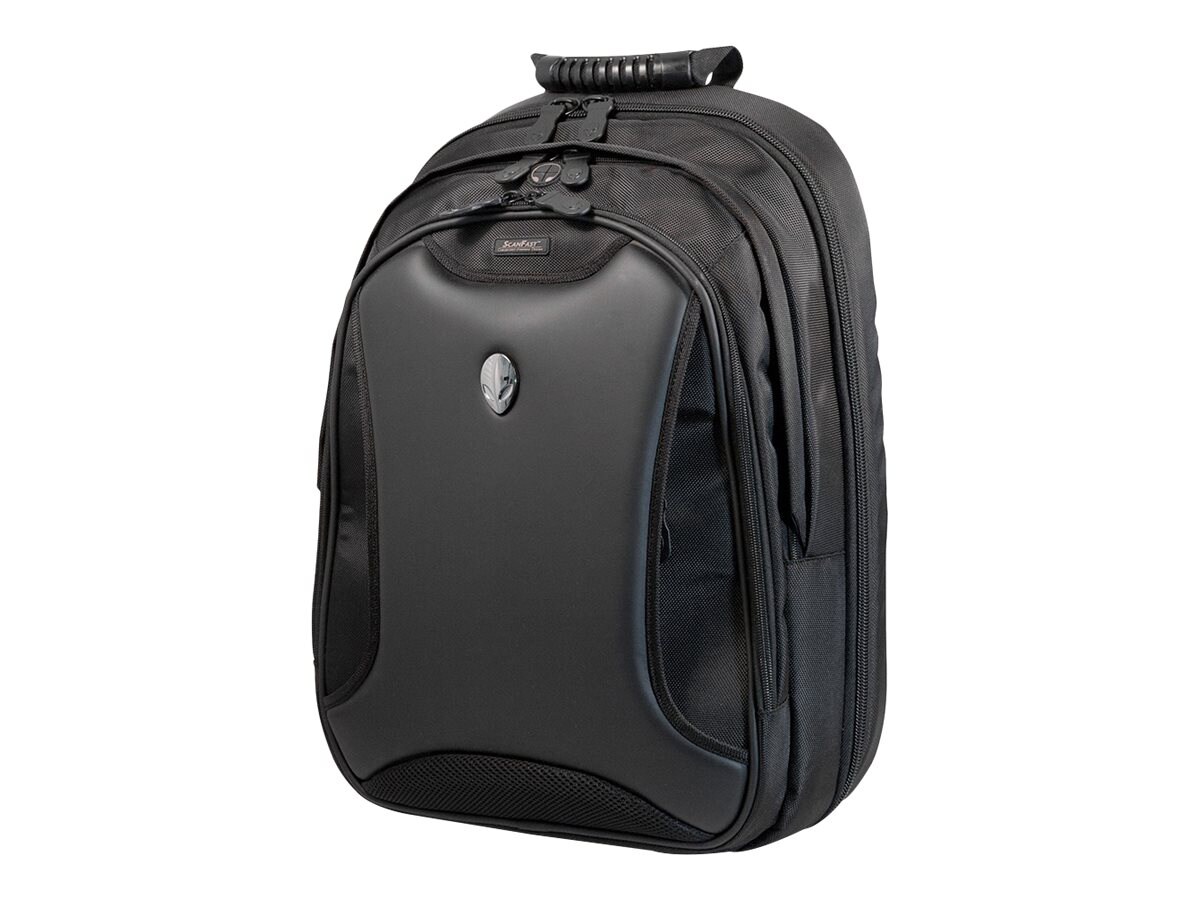 Quick tech specs
inch screen size fit
840D nylon
Black
Compatible with PC & Apple Mac
View All
Know your gear
The TSA announced guidelines to allow travelers with properly designed carrying cases to pass through security checkpoints without removing their laptops. Mobile Edge responded by creating the ScanFast Collection, each case is uniquely designed to provide an unobstructed security scan of the computer. If you're traveling with your laptop, let Mobile Edge make your trip through the airport security faster and easier, not to mention safer, keeping your laptop safe from thieves and from bumps. It will stay safe within your laptop bag.

The new ScanFast 2.0 collection is made using DuPont Sorona, a material produced partially with Agricultural Feedstocks (corn). This requires 30% less energy than Petrochemical products and reduces greenhouse emissions by 63%. This makes the ScanFast line of cases not only smart for travel, but smart for the environment as well!

Given TSA's use of random screening protocols, TSA reserves the right to re-screen any bag or laptop regardless of the design of the bag.


Mobile Edge Alienware Orion 17.3" Notebook Backpack
is rated
4.44
out of
5
by
78
.
Rated

5

out of

5
by
DrJBN
from
Good choice
The alienware m17 fits well and snug into this backpack, with room for the power supply and a book or two. It is very comfortable on my back, and being slightly over 6ft 4 that comfort is rare for me. There is ample room in the adjoining compartments with many pockets. As others mentioned, the seams around the zippers make them a bit harder to reach than they should be, but it is a minor issue.
Date published: 2010-04-11T00:00:00-04:00
Rated

5

out of

5
by
rmrgrs
from
Not a bad bag
Ok, this bag feels very solid. The construction was nice and it looks phenomenal. The problem that I have with this bag (and why I am returning it is that the bag was designed to hold your laptop, a few accessories and that is it. The Orion will not do as a school bag as it is not large enough to hold anything outside of your computer needs.
Date published: 2009-08-07T00:00:00-04:00
Rated

5

out of

5
by
Taker007
from
This Bag is awesome!!!
This bag is awesome. There are so many compartments for storing things. The padding makes carrying it very comfortable. I love this bag.
Date published: 2012-06-24T00:00:00-04:00
Rated

5

out of

5
by
southernboy104
from
Great bag.
Very well constructed. The extra padding on the straps and back make it very comfortable. The only problem is that the power supply for my Alienware M17x does not fit in the ALIENWARE laptop bag made for up to 17 inch laptops. Other than that it is a great bag.
Date published: 2010-10-06T00:00:00-04:00
Rated

5

out of

5
by
Tony
from
Back pack for M17 computer
Excellent. Will fit an M17 no problem. Good cushion. Opens easy for tsa. I'd buy again.
Date published: 2020-04-16T00:00:00-04:00
Rated

5

out of

5
by
Connor
from
Outstanding backpack
Very nice back pack. Zippers move perfectly and has many compartments.
Date published: 2020-10-19T00:00:00-04:00
Rated

5

out of

5
by
Chuck
from
Great Backpack
Great backpack. 17.3 inch laptop fits nicely. Room for all my accessories.
Date published: 2020-03-27T00:00:00-04:00
Rated

5

out of

5
by
Eric
from
Awesome bag, lots of storage.
This bag is awesome! The build quality is top-notch; everything feels very sturdy and comfortable. The main compartment is large enough to hold two 17" laptops with ease, and the zipper opens up so that everything is visible. The middle compartment is also large enough to fit a laptop, so it can easily be used for books or other items. The outer compartment has ample space for all your accessories, and has a convenient pouch for a phone and a slot to feed headphones out. There are also several smaller compartments for you to store smaller items.
Date published: 2020-09-04T00:00:00-04:00
Rated

5

out of

5
by
frostee
from
Best Bag Owned
Just what i was looking for.
Date published: 2008-09-29T00:00:00-04:00
Rated

5

out of

5
by
Chaoscope
from
Not bad as of yet
Loved the bag so far, have only used it a handful of times, but so far its great. It is just big enough to hold my M17x. Has many pockets and openings and even a hidden water bottle pouch.
Date published: 2012-07-19T00:00:00-04:00
Rated

5

out of

5
by
WilliaminGtown
from
Sweet bag!
I was even MORE impressed with this bag when it got to my house than I was when I bought it. It is freaking sweet. Nice storage space. Fits my m11x and one other laptop nicely. Plenty of room for cords and accessories.
Date published: 2010-11-03T00:00:00-04:00
Rated

5

out of

5
by
CrystalH
from
Frequent flier with a two-year old
This pack hauls it all with ease. Not only do I feel that my 17xr2 is safe and secure, but I don't have to remove it. If you have kids, this change alone is worth it for secrity screening. I carry a stuffed shark (2' long) curled up in the other half of the laptop compartment as well...plenty of room. The fifth star is lost on me for not providing a specific power cord compartment. The middle zipper area has one that can be used for this, but not if you are carry file folders. Even a little velcro strap to lock it im on the other side would be appreciated. As is it is still worth the money, you just have to decide your folder/cord placement.
Date published: 2011-07-27T00:00:00-04:00
Rated

5

out of

5
by
hardynw
from
Durability
I purchased this product to hold my MX17 and it's associated accessories. Occassionally, I carry a small book or some extra items, but nothing more. I could not recommend another carrying case other than this, due to the weight alone of the MX17. This bag carries these items comfortably. The space available for storage is amazing. Plenty of zippered pockets and compartments for your items. I did have an issue within 4 months. The seam on the side began to separate. After a couple of weeks, this tear extended to beyond what I thougth would be accceptable to carry the computer. I called Dell Support, and another carrying case was mailed, free of charge. This bag contains a limited lifetime warranty. Seam tear is covered in this lifetime warranty.
Date published: 2011-02-03T00:00:00-05:00
Rated

5

out of

5
by
RenatoBrazil
from
Excelent backpack
It´s really great, an incredible backpack for an affordable price Strongly recommend it!!!
Date published: 2011-05-11T00:00:00-04:00
Rated

5

out of

5
by
ajSPECTORaj
from
My Backpack
I bought this for a carrying case my laptop never leaves my side where I go it goes. I went to get my vehicle fixed the other day and while there quite a few people were starring. One finally approached and ask if I have what they think I have. They thought I had an AlienWare Laptop I said yes showed them and I think they might try to go buy one now. I will tell any one trying to find a laptop to go for this but a little heads up for dell(you need to get more out there so other people can hold them and they will buy I took a while to make my decision and I think others are too because we want to test drive b4 we buy. Start sending a few to some retail stores so people can see what there missing out on.) P.S. Dont forget the little towns.
Date published: 2011-04-24T00:00:00-04:00
Rated

5

out of

5
by
tuan1490
from
Very nice bag, durable
This is very stylish bag, you can use it to go to school. This bag doesn't look big but it can actually fit 3 laptop of around 14, 15 inches each and it can fit up to 17 inch alienware m17x. I feel the bag very strong.
Date published: 2011-01-13T00:00:00-05:00
Rated

5

out of

5
by
RhettL
from
I LOVE THIS BAG!!!
I am a Gamer, Programmer, and I just happen to make leather Bags and Pouches as a hobby. I love this bag, it's well thought out all around. Pro's: = The TSA checkpoint friendliness is great = There is a hard shell on the front for style and protection = pockets just behind the shell are perfectly sized for batteries. = there are compartments for papers, SD cards, USB Sticks, USB Cables, and even a hidden drink pouch (a little odd Con's: = I would liked to have a cross strap on mine. My M17x-R4 is a little heavy and if I filled this bag AND had my laptop in it the weight would be significant. I wish it had a cross strap from the right shoulder strap to the left to help take some of the weight off my shoulders. In all if I were to get this bag from Targus or anther brand, though I love Targus's backpacks, it would cost more and probably would fit my laptop so perfectly. This Bag is a great buy and I don't regret it for a moment.
Date published: 2012-07-05T00:00:00-04:00
Rated

5

out of

5
by
lgidede
from
Alienware Backpack
This is an excellent backpack. The Alienware computer slides right in. The backpack carries the computer very well. The backpack is easy on the back. Great product!
Date published: 2011-01-27T00:00:00-05:00
Rated

5

out of

5
by
FriggenChiggen
from
Great backpack!
This backpack is perfect for storing not only your gaming equipment, but your books as well. It is a ton of help for a college student because i can easily bring my laptop to class with me. It fits comfortable on your back and isn't too heavy itself. It even has a cellphone pocket!
Date published: 2011-07-13T00:00:00-04:00
Rated

5

out of

5
by
Mooki
from
Perfect Backpack
I purchased this backpack for my new M17x10 gaming laptop for extra protection, and I have been completly impressed. Quality materials,construction,feel and appearance, as well as all the compliments I get when on the go. The sturdy construction, and detail is only surpassed by how comfortable it is even when packing more than just my laptop. Love the ventilation and back support. I'd highly recomend this backpack to anyone in need of a trustworthy travel bag for there precious equipment.
Date published: 2010-03-18T00:00:00-04:00
Rated

5

out of

5
by
Jmarti
from
A good Bag for the price
This bag is heavy duty and will protect the laptops with in. It also is check point friendly in airports. The bag has space for for extras like mp3s, cell phones, cds/dvds and, more. This bag is everything its supposed to be and is built like tank.
Date published: 2010-02-26T00:00:00-05:00
Rated

5

out of

5
by
Listo07
from
Amazing Product
When I received my new backpack I was amazed at how cool it looked in person. Slick and clean. When I put my 17" laptop in it, it looked the same and fit well and balanced on my back even with all my cables, external hard drive, and some beverages :-). But all that aside, my point is that it has plenty of room and pocket slots for anything you want to take on the road.
Date published: 2010-03-17T00:00:00-04:00
Rated

5

out of

5
by
Mikotos
from
Alienware Backpack
Great product. Looks and performs exactly as I thought it would, which is to say it fits my Alienware 17" and all the accessories with no problem. Heavy duty material, and easy transport.
Date published: 2009-12-24T00:00:00-05:00
Rated

5

out of

5
by
cyrillabega
from
Great product
The Alienware Orion M17x Backpack is simply awesome. I carry my Alienware M17xR3 Laptop in it, a cooling pad, power cables, trackball, and a external hard drive, and there is still room to spare for many other goodies. The pack is sturdy, well designed and on top of all that, it looks extremely badass. I highly recommend this to anyone looking for a laptop backpack.
Date published: 2011-07-07T00:00:00-04:00
Rated

5

out of

5
by
LordEricDraven
from
Alienware Backpack
This backpack is hands down the best backpack I've ever owned. I needed a safe way to transport my M17X, CHECK. A backpack that actually fits me comfortably, CHECK. Enough room to carry School books, laptop, cd's, dvd's, mouse, and everything else I need for class and to kick butt on the go, CHECK. The bag has enough room for everything I need to bring with me at any given time. Plus, since the bag is so padded it fits great and is extremely easy on the shoulders and back. This bag is amazing. Now if they could only make the laptops as mind blowing.
Date published: 2011-06-22T00:00:00-04:00
Rated

5

out of

5
by
dddisappointed
from
defective backpack
Have only been using the backpack for 3 months and the straps are coming apart. The right strap on the bottom has frayed so badly that within another month it will be completely detached from the body of the backpack. It took over 3 hours on the phone to get any information on getting it repaired. Good luck if you buy one.
Date published: 2011-12-14T00:00:00-05:00
Rated

5

out of

5
by
Jaygoody09
from
Another AWESOME Alienware product!
As soon as I received my AW M17X R4 I wanted something that I could carry it in. I didnt look any further after finding this backpack in AW accessories. I called to place to my order versus ordering through Dell.com because I had a couple of questions. I.E.- How well would my AW fit? Sales rep was fantastic! The shipping was blazing fast. When I received it I looked at every inch its built very well. Everything right down to zippers are excellent. The amount space that this backpack has is mind blowing! It can fit my laptop with ease, my mouse, my charging brick, mousepad, Along with My phone, mp3 player. and still has plenty of room to pack at least three days of clothes. The carry handle is also convenient if your not wearing it on your back. Pros-EVERYTHING Cons-NONE
Date published: 2012-07-19T00:00:00-04:00
Rated

5

out of

5
by
oz7322
from
Alienware Orion Laptop Backpack
Love the backpack. Lots of storage area, and comfortable to wear. Very nice product.
Date published: 2010-06-10T00:00:00-04:00
Rated

5

out of

5
by
FastCar
from
Laptop Bag
Pro's Lots of pockets for your stuff Lots of room for files even when the PC is in the bag Con's TSA did not think the bag was checkpoint friendly. They thought it was too big to fit in the bins they use. the open bag is too big for the TSA bins.
Date published: 2012-12-06T00:00:00-05:00
Rated

5

out of

5
by
MMcTavish
from
Great laptop transport solution!
This backpack has been great so far. I use it to transport my laptop, cooling pad, and charger to work every day of the work week. PROS: This bag is well made and easy to carry around. The straps are heavy duty yet comfortable. It has held together well so far under heavy use. CONS: I wish there was a way to adjust the area for the laptop since I carry my 14" in here. It moves around just a little so I added some extra foam padding in behind it to help stabilize it. Overall this has been a great bag so far and I would definitely recommend it.
Date published: 2012-05-16T00:00:00-04:00
Rated

5

out of

5
by
Hector0187
from
Awesome Backpack
Very nice backpack. Superior craftsmanship.
Date published: 2011-05-19T00:00:00-04:00
Rated

5

out of

5
by
Verido
from
Useful
It has a fancy exterior, many compartments, lots of cushioning. More importantly, it fits an alienware laptop!
Date published: 2009-12-10T00:00:00-05:00
Rated

5

out of

5
by
sermn8r
from
Wow
I love this backpack. There is room for everything that I need with space left over. Travel is a breeze when going through secruity because it fully unzips so there is no need to remove the laptop from the pack. The only thing you have to worry about is overpacking. It holds so much that it can become quite heavy.
Date published: 2010-09-18T00:00:00-04:00
Rated

5

out of

5
by
Gamer11
from
Everything I need
Was worth the price. I use it for everything, including school and travel. The comfortable padding on the straps and back make it easy to carry the 10 pound labtop and everything I need. The thick pad and harder outside shell make for very good protection during transport.
Date published: 2012-08-29T00:00:00-04:00
Rated

5

out of

5
by
Thunder02
from
Great Backpack
Very comfortable. Fits my 17 inch laptop very well. All the pockets are great for everything I need to carry
Date published: 2011-04-15T00:00:00-04:00
Rated

5

out of

5
by
mrjvella
from
Torn at the seams again
I love the design of this backpack and it's great for my MX-15 and books but after only 2 weeks the first one busted at the seams in three places. Dell sent me a replacement and again on the third week of use the seams are tearing again. I would recommend the design however the manufacture should really consider better stitching practices especially for a bag designed to carry such a heavy laptop.
Date published: 2011-04-13T00:00:00-04:00
Rated

5

out of

5
by
awbaseball07
from
Great!!
This is one of the best carrying cases that I have ever bought. It has enough room to fit my brand new Alienware and all of my books for school without it being big and bulky. This is the perfect carrying case if you want a case that looks small but has Alot of room!!
Date published: 2010-03-25T00:00:00-04:00
Rated

5

out of

5
by
LateNightHawk
from
Perfect
Fits my 15 inch Alien wonderfully. Lots of storage pockets inside, could easily fit another laptop, that much padded and comfortable space. Even a pocket on the strap for my cellphone :-)
Date published: 2010-03-10T00:00:00-05:00
Rated

5

out of

5
by
m15xperson
from
Cool Design but lacking in quality
Bought this with my M15x to transport my laptop for air travel. I travel with this bag by air 3-4 times per month and the rapid scan design is great. Don't have to remove the laptop from my bag you unzip the laptop compartment and open it up to scan in the bag. Comfortable considering the heavy laptop I carry. The reason I give it a 3 star rating is the bag is not built to last. In the 1st month the lining in one of the compartments came apart at the seams. The next month the part inside that holds pens ripped open. Overall a good size bag that is easy to travel with I carry my M15x and 2 days worth of clothes no problem. Just don't think you are buying a bag for the long haul as with most cheaply made stuff from China it will last about 3 years of normal use.
Date published: 2011-01-12T00:00:00-05:00
Rated

5

out of

5
by
TimothyK
from
Damaged
I received this at my college. I immediately put it to use right out of the box. Unfortunately I didn't inspect the backpack carefully enough, because within a month I noticed that it was fraying in 2 places, due to improper sewing. I didn't bother calling customer service because I figured they would just screw me like when I called about my Alienware M17X (which was over $3000 Other than the fraying, the backpack is the most comfortable backpack i have ever had, even with a 10-20lb, 17" Alienware laptop in it. Very durable if it isn't damaged. Make sure you inspect your products very carefully as soon as you get them.
Date published: 2010-11-05T00:00:00-04:00
Rated

5

out of

5
by
CorwinAmberlash
from
Great backpack
Completely impressed with the quality of materials used, very good feel and durability as well. Its got a lot of pockets! Almost too many, some are even hidden by others. My one tiny complaint is that the middle section zippers are under a small but stiff flap making it hard to open that compartment with one hand, or with any speed using both hands.
Date published: 2010-04-07T00:00:00-04:00
Rated

5

out of

5
by
Alienware User
from
Don't Buy It. Worthless! Buy somethingelse.
I've only spent two months since I bought the bag, but I've already run out of shoulder straps. I only put my laptop and battery in my bag. It's incredibly poor quality.
Date published: 2019-11-21T00:00:00-05:00
Rated

5

out of

5
by
JarrodSH
from
really cant believe this
I ordered my m17r3 while i was in iraq and was super excited when i got it laptop is great but it doesnt fit in the backpack at all. along with that the zippers are really cheap and the shoulder straps are starting to seperate from the main body of the backpack
Date published: 2012-02-01T00:00:00-05:00
Rated

5

out of

5
by
Sturmgiest
from
Quality Challenged - I expect better from Dell/AW
It's a visually apealing bag. Spacious. After less than a month, the stitching began separating along the front top left hand corner, where the leather facing connects. After about 6 weeks, the stiching on the shoulder straps began separating. CSRs would not replace, even though issues were within 30 and 60 days. Having paid what I have between the laptop and all the accessories I bought, I have to say it left a foul taste in my mouth.
Date published: 2011-09-03T00:00:00-04:00
Rated

5

out of

5
by
RubenO
from
Backpack, Room for everything
Awesome, it's perfect, plenty of room for at least three laptops, dk who need to carry 3 of them but is perfect, love the appeal....and Alienware did a great job with the "Checkpoint friendly", if your tired of taking out the laptop at the airport (which u must do at some of them) then you must have this backpack..........with my previous backpack i always felt like carrying rocks....with this one is like everything becomes lighter......and i'm sure u'll overpack due to it's capaciy.....
Date published: 2010-10-01T00:00:00-04:00
Rated

5

out of

5
by
ClintonE
from
Practical backpack design
Pros My Alienware M17X10 disappears into this backpack with plenty space to spare for accessories and books. Commuting by motorcycle the backpack is perfectly padded and sits comfortably without straining ones back. An absolute pleasure at airport security with the backpack unzipping more than sufficiently, this allows quick and easy access to remove and replace your laptop safely. Overall durable look and feel, highly recommended. Cons Early days as I have not yet experienced any of the cons mentioned in previous reviews.
Date published: 2011-10-13T00:00:00-04:00
Rated

5

out of

5
by
EMC05
from
Alienware Orion Laptop Backpack
I really enjoy having this backpack as my laptops carrier. It is comfortable and very convenient to have. the pockets inside are big and can hold cds, ipod, phone, pens and pencil. Prettey much everything a regular backpack can hold but this it has a laptop storage that securely keeps your laptop from moving. Very comfortable for myself and easy to adjust straps.I enjoy the look of it as well, and it has some prettey durable padding around the putside to protect your laptop. A must get especially if you have spent $4.000 or more for a laptop.
Date published: 2009-11-13T00:00:00-05:00
Rated

5

out of

5
by
StudentLV
from
Do not buy this bag
Pros: Everything fits in this bag CONS: Stitching came off in 3 months of using this bag. Stitches came off around the shoulder strap. Around the first big zipper. The stitching is just horrible. This product is horrible. DO NOT BUY IT AT ALL.
Date published: 2012-08-26T00:00:00-04:00
Rated

5

out of

5
by
WraithNath
from
Great Bag
Ordered this bag to fit my new m17x R4, the laptop itself is very heavy, over 4KG. Combined with the beast of the charger that comes with this laptop the bag is very heavy just with the laptop and charger. However, the bag is well made and shows no sign of wear after a weeks use. I would not want the messenger bag with all the weight on one shoulder. The bag is a little larger than expected but that's better than using a 14" screen. The bag has plenty of room, for the laptop, charger, mouse and various other things in the font pouch, this bag even has enough room for a cooling tray in the middle pocket or even another laptop (although i'm not sure how well it will hold up with 10KG+ weight inside it) I contacted customer support to enquire about what 'limited lifetime warranty' means, they said they would contact the manufacturer to find out but I never heard back) so not sure how long the warranty is for. Overall the laptop fits well, is well protected which is expected from a product designed specifically for the laptop. Assuming the lifetime warranty is actually lifetime then this is a great buy (there are other manufacturers offering definite lifetime warranty for a few extra pounds included in the price of the bag.)
Date published: 2012-08-08T00:00:00-04:00
Rated

5

out of

5
by
Enigma346
from
The Backpack
The backpack for the laptop is excellent in the way it is built and the way it can handle a beating and not hurt anything inside. I would highly recommend getting this backpack before any other laptop carrying case.
Date published: 2009-11-19T00:00:00-05:00
Rated

5

out of

5
by
Malaji
from
Very nice bag!
I received the bag in a very timely manner. This bag has some really cool pockets, even USB slots. It seems really good quality and I am looking forward to taking my first trip with it. Really nice bag!
Date published: 2012-05-24T00:00:00-04:00
Rated

5

out of

5
by
theresa1999
from
Love this back pack
I have a mini Alienware and it is perfect for that. I can carry my cooling fan, mouse and school books.
Date published: 2011-04-13T00:00:00-04:00
Rated

5

out of

5
by
willybeer22
from
Tore after 8 months (limited use)
This backpack meets or exceeds all of its specifications except for one thing - one of the seams has pulled apart after just 8 months of limited use. The seam for the pouch that contains the laptop itself is separating and the bag will soon be unusuable (already very dangerous, if it tore the rest of the way all at once the laptop might take a spill). Seemed like it was higher quality than that and it is possible I just received one with bad stitching. Nothing else will fit my M17 however so I will contact Dell for a replacement.
Date published: 2011-07-26T00:00:00-04:00
Rated

5

out of

5
by
Fuzzy1
from
Protection
I like the appearance of the backpack, and the way it carries the weight of the M17X. It has plenty of room for the computer, accessories, and business documents. My only concern is the amount of padding surrounding the computer compartment. I'm not sure if it would protect the computer if it the pack was accidently dropped from a height of 10" or greater.
Date published: 2011-03-31T00:00:00-04:00
Rated

5

out of

5
by
Zach76
from
Great bag
Pros Fits a 15x laptop easily and protects it well. Cons The front damages easily.
Date published: 2010-08-12T00:00:00-04:00
Rated

5

out of

5
by
Chipiri
from
very good
Very confortable and well designed backpack, the only bad this is that they delay the shipping of my computer like 2 weeks more...
Date published: 2010-12-09T00:00:00-05:00
Rated

5

out of

5
by
PRPapaSmurf
from
Nice BIG Backpack!
I love this bag, its so big. It fits my Alienware M17X like a glove. Its got lots of storage for many other goodies and there is even enough space left over for another laptop. Just dont over pack it with stuff like I did, it can get quite heavy very fast because of all the space. If you love your Alienware and need to protect it, this is the bag for you. A+++
Date published: 2010-06-10T00:00:00-04:00
Rated

5

out of

5
by
Sadistic13
from
Best Backpack Ever!
Best backpack I've owned in a longtime. Has a pocked for every one of tools and accessories. its my M15x in its place with no problem.
Date published: 2011-07-05T00:00:00-04:00
Rated

5

out of

5
by
swannie
from
great bag but..
This bag is really great with many sports to organize my books for school but the only problem i have with the bag is that it started to rip in the first week...i carry only one handbook with 2 writing books and it somehow ripped a bit...i do love the bag but i wish it wasn't so weak
Date published: 2011-02-23T00:00:00-05:00
Rated

5

out of

5
by
AliewareJosh
from
Absolutely fantastic backpack!
I found this to be absolutely one of the best investments I ever made. I needed a backpack that would fit my M17X - this is not easy thing to do and most backpacks on the market don't even come close. I am travelling more this year so moving easily around an airport in and out of taxis etc. was of paramount importance. This pack fit the bill. I also am rather partial to the Alienware logos strewn about the pack! Yes I am an Alienware lover!
Date published: 2011-07-14T00:00:00-04:00
Rated

5

out of

5
by
IrisT
from
Very Good!
Well made, sturdy and sleek design. I love it!
Date published: 2011-07-07T00:00:00-04:00
Rated

5

out of

5
by
Bboyquikchoas
from
Alienware Orion Backback
Pros: The Orion Backpack has a nice sleet look to it. Has enough space to fit your 17" alien ware laptop along with a second laptop with many more pockets within. These extra pockets can hold your cell phone, drink bottles, extra wires & many other items fit for mobile use. Cons: The Orion Backpack is on the big side. The more items you put in, the heavier it will be. It only comes in black, scratches will be noticeable. Other than that just take care of it & it will take you long ways
Date published: 2011-07-14T00:00:00-04:00
Rated

5

out of

5
by
Poinman
from
This Orion Branded Alienware Backpack
Have used the backpack for over two years. Not only for gaming transport. For work and play almost always with the Logitech G35 headset/microphone and the M17x note book always in it's place. Often carrying between two to three inch file folders. Even though having never boarded a plan. Mostly have been in a manual wheel chair all except nine months. For the nine months of walking every where, from office, to parks to coffee shops home, library to friends houses, and regular bus transportation the comfort level has only been toped by the most expensive hiking gear on the market to date. Please note that i am five nine, weigh 187 45 y/o male. Not on a cycle or street bike, in which case the power brick or adapter and office materials would be taken out and placed in pouches and or helmate stow away areas.
Date published: 2011-06-01T00:00:00-04:00
Rated

5

out of

5
by
DarthPuluca
from
Alienware Backpack
Fast Shipment and excellent backpack to travel. Laptops are very secure inside it. Better than displayed.
Date published: 2010-04-03T00:00:00-04:00
Rated

5

out of

5
by
flyturtle
from
Great Backpack!!!!!!!!!!!!!!!!!!!!
I Love It-I Love It-I Love It!!!!!!! Have had this backpack for about a year now, and have used it a lot-airport security-libraries-business meetings etc. I bought it for my M15x, but it died-two of them lol, but the bag still rocks on, and Dell made it right by giving me an M17x R3, and it fit,s even better!!!!!!!! Pros-It works-it really doe's, and looks good doing it. Cons-Wish it had a clasp or clip to secure the front of straps while wearing it, but no biggie-hasn't slipped or fell off...... I am going to get the Messenger Bag also:)!!!!!!!!!!
Date published: 2012-02-11T00:00:00-05:00
Rated

5

out of

5
by
DJVISION
from
Must Have if your on the Go & Own Alien Laptop
I am a professional DJ for mobile events mainly weddings and I purchased the best alien ware laptop to date. I soon realized I needed to protect my investment and make it easy for me to be on the go. I can't say enough great things about this back pack. It holds CDs my extra keys, jump drive cables, mouse, power cables, & my backup laptop. This is incredible all of this can fit. and it even has an extra pouch on the side to carry water or any beverage. Again this is a MUST HAVE especially if you are on the go.
Date published: 2010-06-24T00:00:00-04:00
Rated

5

out of

5
by
ScottJ
from
Good back-pack for a laptop
This laptop is both functional and beautiful. The main compartment is divided in 2. One half is nicely padded and a perfect fit for the 17" Alienware M17x. The other half is not padded but is large enough to hold a second 17" laptop, power supply, etc. The middle compartment is sub-divided into several pouches and compartments. Iniside is one zippered compartment 6.5" wide and 5.5" tall that hangs in the top of the middle compartment, a cell phone holder with RF shielding 5" tall and 4.5" wide, a webbed and zippered pouch on the bottom 3" tall and 12" wide, five pouches designed to one-CDs each, a velcro latched pouch 5.5" wide and 8" tall, a business card holder along with a pouch the same size behind it, 3 pen/pen holders, an open pouch over the pen holders about 3" wide and 3" tall, and one last open pouch about 3" wide and 5" tall. When zipped, the middle compartment will hold about 5 novels of space. Lastly, on the front of the backpack, there are two compartments under the Alienware logo that are a bit oddly shaped. Each is about the size of a novel, but due to the unsquare shape of the compartments, I can't get it to zip with a book inside. However, they should work fine for quick access items like plane tickets. On the outside left and right of the packpack there are two webbed compartments that will hold a 16 oz bottle of water. On the backpack straps, a removble cell phone holder is included that has the Alienware logo on it. Straps are fully adjustable and quite comfortable. The addition of a well strengthened handle on top of the backpack makes it easy to a haul around. Construction wise, the backpack is quite well made. Zippers are all high-quality with large Alienware branded fobs. The surface that will contact your back is channeled to ventilate. Overall, this is a great backpack to haul your laptop around it. It's big enough to put your computer and periperials as well as some other travel gear. As for using this for school, it would depend on the quantity and size of the books you plan on moving about. I would estimate that the size of about 2- 17" laptops worth of books would fit with no problem (in addition to 1 laptop). Beyond that, you may be pressed for space.
Date published: 2009-12-17T00:00:00-05:00
Rated

5

out of

5
by
Toadsowrth
from
Works great
Lots of space for a large laptop, a little nerdy but not too bad. Its large and not extremely fashionable but it is very useful. Lots of pockets and space for books and other stuff.
Date published: 2010-03-17T00:00:00-04:00
Rated

5

out of

5
by
Brigid
from
Women beware!
I love my laptop, and it fits great in this bag, but this bag does not fit me. It was clearly made for men with broad shoulders; the straps are so far apart that they barely rest on my shoulders at all. The result? The straps cut into my arms and make it hard to move and once the bag comes off: back and neck pain. However, if you're a dude, you'll be very happy with this bag. I've had a lot of my friends try it on and they say its very comfortable, and it's very well made and spacious. So, ladies, be careful before buying this bag. You might be better off with the over the shoulder bag (I have one too, it's a lot harder to move around with and feels a lot heavier but you won't be in as much pain when the bag comes off)
Date published: 2012-06-05T00:00:00-04:00
Rated

5

out of

5
by
Gaanon
from
Nice bag. A little tight.
Not going to lie, the only reason I got the bag was I had store credit from my 17"R4 purchase and my old backpack was too small. That said, the laptop fits, but it's a little tight. I can put plenty of extras in there. Overall, not bad. Not sure I'd spend the money on it if it weren't for the credit.
Date published: 2018-08-01T00:00:00-04:00
Rated

5

out of

5
by
TVick
from
null
Very pleased with the Alienware Backpack. Good quality.
Date published: 2011-05-05T00:00:00-04:00
Rated

5

out of

5
by
danielmurphy4
from
This is an awesome backpact
I bought this backpack to carry my new m17x-r2 and this is perfect it has good support so it doesn't hurt my back and shoulders. Also big enough to carry books and other things for college.
Date published: 2010-02-26T00:00:00-05:00
Rated

5

out of

5
by
SelvamRaju
from
Orion Backpack for Alienware
The back pack is awesome in terms of space and design. The otherwise heavy laptop never feels heavy while in this bag. The only area which the bag could be improved is the bottle holder, which is not comfortable for taking out and putting in bottles is not so easy while wearing the bag.
Date published: 2012-09-13T00:00:00-04:00
Rated

5

out of

5
by
gjohnson87109
from
Best Back Pack On The Planet
After reading the responses I find myself lost for words. So I will say that I have had many types of backpacks to include carrying one in the military. This is the perfect backpack for laptops. Its very easy to carry and I do like the carrying handle option on top of the back pack. I originally purchased the alienware backpack because of the alienware logo (which I like as my own). Now if I can only win the $500 I can buy the MX11 17" to go with it. Until then, I will only have to dream and enjoy my backpack the way it is. Right now I carry all my work materials in it. I have received many compliments and have personally sold two of them!
Date published: 2010-03-12T00:00:00-05:00
Rated

5

out of

5
by
JJViz
from
Great Backpack
The backpack is great and is durability for the traveling via cars and planes. Fits everything but a drinks. The storage fits everything I need and I have a huge 17" widescreen laptop workstation. The bag carries the weight well and the sternum strap is a must! The drink holder is only good for small plastic water bottles or 12 oz cans. You cannot fit your large water reusable bottle in it. Also cell phone holder on strap is useless for any smart phone.
Date published: 2019-01-03T00:00:00-05:00
Rated

5

out of

5
by
JE42
from
THE backpack for 17" workstation replacements
if you are determined to run a full sized laptop and "can't deal with the wheels" - this is your bag. I've gone to my second one after just under three years of totting around an Elitebook 8770W and its brick 200w PWR Supply. (~12 LBS. minimum load) Totting is tossed in the backseat each day (twice), under airplane seats, its even been checked a few times and dropped more than that. Prior to this bag I blew through two of the knife guy's 17" bags in less than 6 months. (Zipper failures)
Date published: 2014-08-04T00:00:00-04:00
Rated

5

out of

5
by
KPC
from
Barely fits Alienware 17 R4,
Bought this for an Alienware 17 R4 it >barely< fits. It's a tight fit but it does fit with a little finagling.
Date published: 2021-02-14T00:00:00-05:00
Rated

5

out of

5
by
James
from
Great, Great will be happy
All my stiff fits perfectly
Date published: 2021-02-25T00:00:00-05:00