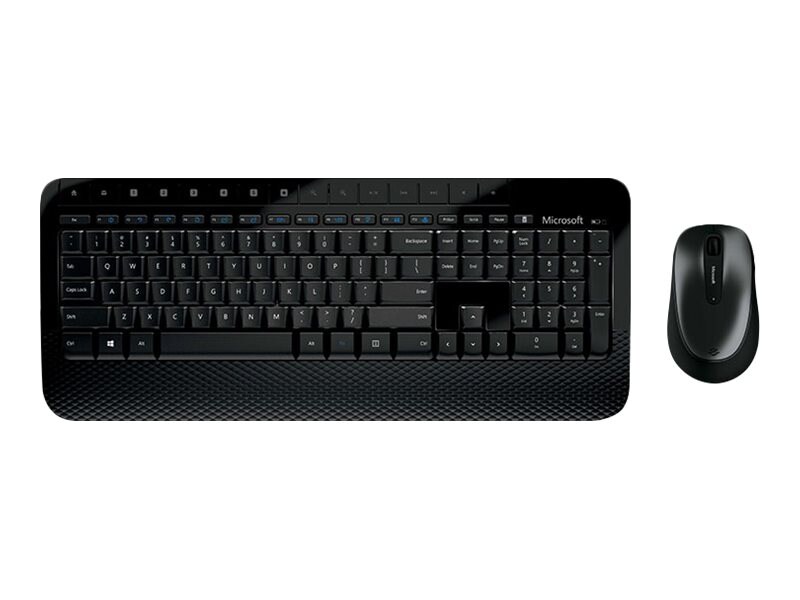 Quick tech specs
Keyboard and mouse set
2.4 GHz
US
View All
Know your gear
Unlike standard keyboards, this one features Advanced Encryption Standard (AES), which can help protect your personal and business information by encrypting what you type. Enjoy the classically designed keyboard, with a pillow-textured palm rest for support and comfort. The desktop is completed with a wireless, full-size mouse that features enhanced side grips, four-way scrolling and Blue Track technology. Not only is this desktop secures, comfortable and convenient - it's simple to use - just plug in the transceivers and you're ready to go!
Microsoft Wireless Desktop 2000 - keyboard and mouse set - QWERTY - US - bl
is rated
3.36
out of
5
by
14
.
Rated

5

out of

5
by
nlessard
from
Poor Design, Poor Quality
I have owned this for 3 months and the USB plug which connects both the mouse and keyboard is no longer recognized by my laptop. The USB plug is also quite large and must be removed before transporting the laptop unlike most wireless mice which have a very small USB plug which is almost flush with the USB port. Definitely not worth the money, look elsewhere.
Date published: 2019-12-30T00:00:00-05:00
Rated

5

out of

5
by
Tim V.
from
Multiplatform (MacOS & Windows) with no problems
The keyboard & mouse work well together and on different platforms (Windows & macOS). No problems what so ever.
Date published: 2020-05-27T16:52:17-04:00
Rated

5

out of

5
by
JameyFelsing
from
null
This is a good set for the price. Our users are very happy and like the feel of the mouse and the keyboard. We have ordered four of these and have not had any issues with any of them.
Date published: 2013-02-23T00:00:00-05:00
Rated

5

out of

5
by
Rob Dunn
from
null
Fair keyboard for the price, considering you also get a wireless mouse. However, if you are a heavy user of the function keys (FN1-F12), then you probably won't like it as the keys are too small for repetitive use (say by shop workers). For regular office input, it is ok - the key throw feels a bit cheap, but overall not a bad device.
Date published: 2014-07-17T00:00:00-04:00
Rated

5

out of

5
by
mdcarver
from
null
battery life is okay until the device gets old. then it seems to chew through them. Also you can't have two in the same area they will interfere with each other.
Date published: 2016-05-05T00:00:00-04:00
Rated

5

out of

5
by
LittleITguy
from
Very Accurate Mouse
The accuracy of the mouse is very nice, i have noticed that the size fits my hand better that other mice i have had in the past.
Date published: 2018-10-13T00:00:00-04:00
Rated

5

out of

5
by
Brony Overlord
from
null
Great keyboard and mouse for the price. We have to be careful about which users we give them to because the function keys are very small. Other than that it's a good keyboard and mouse.
Date published: 2016-06-22T00:00:00-04:00
Rated

5

out of

5
by
MikeinNE
from
Worst ever?
I tried using this for a couple of days, but just couldn't get used to the horrible design - It might be the poorest keyboard design ever. There is no space at all between any of the keys, and the function keys are much smaller and shorter than the other keys. There is not a single good thing I can say about it. Do not waste your money on this.
Date published: 2017-06-21T00:00:00-04:00
Rated

5

out of

5
by
Josh
from
This product is a good wireless keyboard / mouse set, but has some drawbacks
The function keys on this keyboard are not very high compared to the height of the other keys. This set has worked in areas where other wireless sets did not.
Date published: 2014-01-27T00:00:00-05:00
Rated

5

out of

5
by
nogles34
from
Dont lose/damage USB receiver
The product is a good buy as long as you don't lose or damage your USB wireless receiver. If you do, you'll have a new doorstop as your keyboard is now worthless, since Microsoft tied the receiver to that very keyboard. I say go Logitech all the way, the unifying receiver can easily be purchased for $10 if you lose it.
Date published: 2014-07-16T00:00:00-04:00
Rated

5

out of

5
by
LOL95963
from
great keyboard
I suggested this keyboard to a colle. They love it.
Date published: 2017-08-31T00:00:00-04:00
Rated

5

out of

5
by
Dee62
from
I love the Keyboard
I love the setup and ease of this keyboard and rate it a 5. Suggestion for upgrade would be a lit indication light if the Number Lock and Cap Lock are on. It's hard to tell. Other than that, I love it
Date published: 2017-08-17T00:00:00-04:00
Rated

5

out of

5
by
scottmcaff
from
Issues with mouse
We have bought several of these and the mouse always seems to be jumpy. It did install quick and easy however I will stick with Logitech going forward.
Date published: 2017-10-05T00:00:00-04:00
Rated

5

out of

5
by
Kzimmer
from
Desktop 2000
Nice keyboard and mouse combo for the price. We have about 25 in use over multiple locations
Date published: 2018-09-26T00:00:00-04:00