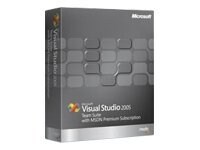 Know your gear
Today's software systems are comprised of numerous distributed services, spanning platforms, protocols, and programming languages, all with significant impact on the operations environment. Moreover, teams have become increasingly specialized and geographically distributed. Successful deployment of modern solutions depends on bridging the communication gap between development and operations so that the entire IT department is represented early and often throughout the software lifecycle.

The new Visual Studio Team System expands significantly on Microsoft's demonstrated successes in delivering highly productive tools, by offering businesses tightly integrated and extensible lifecycle tools to increase the predictability of their software development process.

If you are purchasing more than 5 copies, Microsoft® licensing may be an option for you. Call your account manager to learn more about saving money through Microsoft Open Licensing.

Contact Sales Assistance
(800) 800-4239
,
Monday-Friday 7am-7:30pm CT
Software Details
View Tech Specs