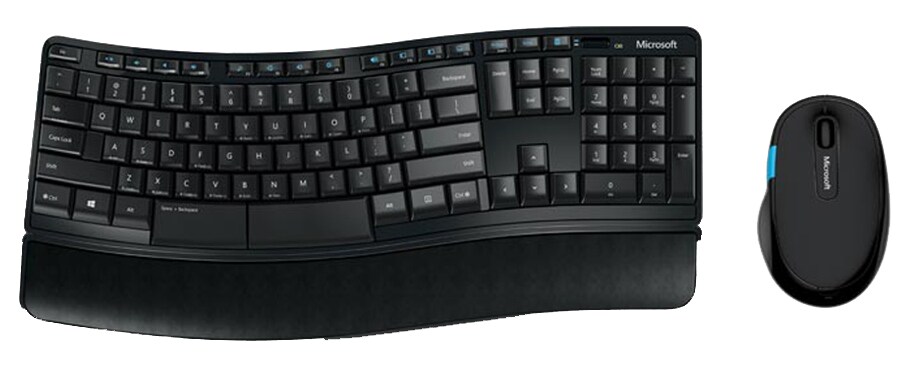 Quick tech specs
Mouse
right-handed
6 buttons
Bluetooth 3.0
ergonomic
optical
wireless
black
View All
Know your gear
The customizable Windows touch tab on Sculpt Comfort Mouse revolutionizes the relationship between hardware and software, providing quick and easy access to the Start Menu, Cortana, OneNote, Task View or virtual desktops.
Microsoft Sculpt Comfort Mouse - mouse - Bluetooth 3.0 - black
is rated
3.50
out of
5
by
8
.
Rated

5

out of

5
by
Barbara
from
Nice bluetooth enabled mouse
Easy to setup and use. No wires needed. Adaptable setting for the controls.
Date published: 2020-02-27T00:00:00-05:00
Rated

5

out of

5
by
Zach G.
from
Connection Issues
The mouse is okay quality but I had constant connection issues with my brand new XPS 15. It would drop connection and lag when I was using it. I tried all solutions I found online with none of them fixing the issues. Went back to my Logitec MX Anywhere 2S which I highly recommend if you have smaller hands.
Date published: 2019-12-09T00:00:00-05:00
Rated

5

out of

5
by
CHRISTA S.
from
too heavy
not as ergonomically comfortable as former mouse, heavier than current mouse.
Date published: 2020-06-10T16:13:27-04:00
Rated

5

out of

5
by
admlshake
from
Hope you aren't using Windows 8.1
Found out the hardway that this mouse isn't supported in win 8.1. I got a new laptop a few months ago and picked up this mouse to use at my desk. After a while it stopped working at random intervals, would disconnected constantly, had to restart the PC and resync the device to my laptop. Doing some searching around I discovred that this mouse isn't supported in Win 8.1 and that MS hadn't released an updated driver for it as of yet. So until then, it sits on my shelf unused and while I use my travel blutooth mouse. Which hasn't given me any problems.
Date published: 2015-01-20T00:00:00-05:00
Rated

5

out of

5
by
TheTock
from
Great features and bluetooth
This is truly the best mouse for touch features, price and convenience. Bluetooth so no dongle or usb port plugged.
Date published: 2013-06-13T00:00:00-04:00
Rated

5

out of

5
by
Mike
from
My GoTo Bluetooth Mouse
For my right handed users, this is the Bluetooth mouse I purchase. I have a fleet of these mice running around with my fleet of Surface Pro 3s and 4s and everyone has been rock solid. The only issue I have is this mouse is very definitely designed for a right handed user. I have a couple of southpaws who couldn't use this mouse as a result.
Date published: 2017-11-08T00:00:00-05:00
Rated

5

out of

5
by
dpcesq
from
Mouse didn't last one year of light office use.
This mouse is not well engineered for use on a desk with a keyboard tray. I've had the mouse for just over one year. Over the year, the mouse has slid off the mouse pad platform on my under-the-desk keyboard/mouse tray maybe 4 times. A couple of times it landed in my plastic recycling bin. A couple of times it landed on my carpet guard . The mouse has not dropped from my desk in about 4 months. Last week, the left mouse button ceased to work properly. It either will not register a click, or it registers a click as 3-5 clicks. I can't click-and-drag hardly anything. Sometimes when I try to drag an e-mail from my inbox to a sub-folder, it opens the e-mail and then one random sub-folder that I passed over on my way to the sub-folder where I wanted to file the e-mail. I've had hardwire and digital mice at home go through a beating with kids and pets and work like they came right out of the box. Not this one. I specifically spent a little extra money believing I was buying a better product.
Date published: 2016-06-24T00:00:00-04:00
Rated

5

out of

5
by
Kelli77
from
This is a great accessory for our company.
This particularly product is used heavily in our company with Lenovo laptops and Microsoft Surface tablets as these are fast to connect and convenient to fit in a backpack. The pricing is affordable and reasonable when it comes to signing off with the employees compared to wireless mice that run up to $100 and over.
Date published: 2018-08-09T00:00:00-04:00