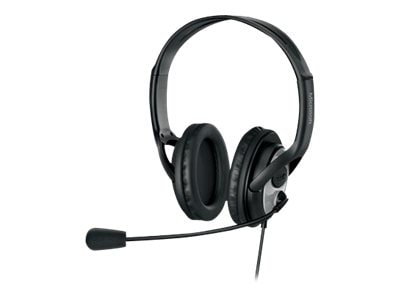 Quick tech specs
Listen to music or make calls with this Microsoft LifeChat LX-3000 headset,which features a noise-canceling microphone
Leatherette ear pads provide hours of comfort
Microsoft 2-year warranty
Digital USB 2.0 connection delivers clear sound
Compatible with both Windows and Mac operating systems
View All
Know your gear
The Microsoft® LifeChat LX-3000 Headset features a noise-canceling microphone that targets the speaker's voice to deliver clear sound quality. This headset includes a USB 2.0 connection, which provides reliable, high-quality sound while listening to conversations, podcasts and music. The snug leatherette earpads on this Microsoft LifeChat LX-3000 headset create a comfortable listening experience for hours on end. This easy to install stereo headset plugs into a USB 1.1 port or higher and works with Windows® 10, 8.1, 8 and 7 as well as Mac® 10.10, 10.9, 10.8 and 10.7 operating systems. Use this Microsoft wired headset in conjunction with compatible Skype® products to make voice and video calls easy. Be present and heard when talking to clients and colleagues with the multi-functional headset.
Microsoft LifeChat LX-3000 - headset
is rated
4.10
out of
5
by
9
.
Rated

5

out of

5
by
JEANETTE
from
Live Chat headset
The volume setting is very low. Even at the max, volume is still low. I will use it as a spare. I find myself straining too much to hear the customer.
Date published: 2020-02-28T00:00:00-05:00
Rated

5

out of

5
by
DanJV
from
Great headset
We use these for people working near our assembly line. Amazing that people you call don't hear the background noise. Best headset we've used!
Date published: 2013-05-09T00:00:00-04:00
Rated

5

out of

5
by
Jennah
from
Best headset for small call center
Absolutely the best I have ever used! No complaints!
Date published: 2013-08-15T00:00:00-04:00
Rated

5

out of

5
by
Budd
from
Not for Lync (and maybe not for Jabber)
We purchased ten of these to replace the Plantronics headsets we use for Lync. They are advertised as "optimized for Lync" (not certified for Lync). Unfortunately, they don't work well with Lync. The controls work only for the headset, they don't affect Lync. The mute, for instance, only mutes the mic, it does not control the mute in Lync. For music, this model works great. Good sound. For Lync, I would choose another model. The mic on nearly every one of these headsets has failed while in use with Lync. We are in the process of switching from Lync to Jabber, and I personally haven't had good luck with the mic. I keep having to switch back to the Plantronics headset for Jabber. So, for music or gaming, I give it two thumbs up. For Lync or Jabber, I recommend using another product.
Date published: 2016-01-06T00:00:00-05:00
Rated

5

out of

5
by
peter
from
Microphone dies after a few months
Microphone not working well, and dies after a few months of usage. Happens to me and to other colleagues using the same headset. Working nicely at the beginning but microphone issues in the long run
Date published: 2018-12-14T00:00:00-05:00
Rated

5

out of

5
by
John Q Public
from
Nice
I wish it came with a protective case. The volume/mute controls should be located near the USB connector or it should be a lot smaller as the weight of the control is a little annoying. Overall, I am very satisfied with the product.
Date published: 2020-08-04T00:00:00-04:00
Rated

5

out of

5
by
HY
from
Head pinch
This is a good headset that is very easy to use. The ear pieces are large and comfortable. I recommend this headset in general, but with a couple of negative observations: (1) the spring in the part that goes over the head is too powerful for me, because after awhile, it pinches my head so much that my ears hurt; and (2) because I am hard of hearing, the volume control is not loud enough for me.
Date published: 2020-08-04T00:00:00-04:00
Rated

5

out of

5
by
NorthernWaters
from
null
We have purchased and used a few of these and have had no complaints. These are beings used for web meetings and occasional music and everyone that uses them said they like them. Windows 7 did not automatically switch the sound to the headphone part of the headset. For basic users, assistant was needed to set this device as the default audio before sound would be sent to them. This may have had to do with the connection being USB instead of the audio and microphone jack. This headset only comes with a USB connection to the computer and this is good to know in the case that somebody does not have any open USB ports. The mute and volume control on the cord are very useful. We would and probably will be purchasing more fo these. Fits over some ears completely and can be worn for several hours without discomfort. Good quality for the price.
Date published: 2015-02-02T00:00:00-05:00
Rated

5

out of

5
by
Snufykat
from
null
Deployed a set of this headset to be used for video chat from a workstation on the production floor. The setting introduced a lot of back ground noise and the user could not hear the meeting. With the headset they were able to use the same workstation with success.
Date published: 2015-11-24T00:00:00-05:00