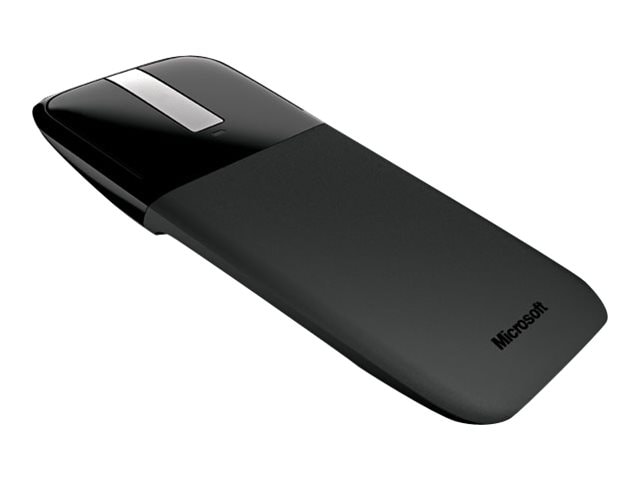 Quick tech specs
Mouse
optical
wireless
USB wireless receiver
right and left-handed
2 buttons
2.4 GHz
black
View All
Know your gear
The Arc Touch Bluetooth Mouse curves to turn on and flattens to turn off. Comfortable and portable, shaped to match the natural curve of your hand, it's a perfect fit for your mobile lifestyle. The touch strip responds precisely to the speed of your finger movement, using haptic feedback to scroll vertically.

Take advantage of BlueTrack Technology, which combines the power of optical with the precision of laser for remarkable tracking on virtually any surface. Even use it on a rough wood surface or carpet, with BlueTrack Technology.
Microsoft Arc Touch Mouse - mouse - 2.4 GHz - black
is rated
3.60
out of
5
by
10
.
Rated

5

out of

5
by
JRish
from
love the ease of use
Not sure how to scroll lock, probably something I have missed, but besides that I love the product
Date published: 2019-04-22T00:00:00-04:00
Rated

5

out of

5
by
dorianlea
from
Great Mouse
I bought this mouse in hopes of alleviating the pain I get in my right shoulder after long hours at my computer. Low and behold, it has done just that. It works properly and I like it because it lays flat when I take it with me.
Date published: 2013-07-16T00:00:00-04:00
Rated

5

out of

5
by
BobbyMcGee
from
Getting There
I had a really good review written up, but I then noticed that it states to avoid talking about the price of the product. When writing a review on any type of product, a major point to determining how anyone feels about their purchase, starts with how much they spent on it and if they feel like it was worth the buy. Overall, I think that this was a great attempt at a new design, there are still a few bugs to work out with it. Not very durable, kind of a major delay between it and your PC if it is not used on a very smooth surface. The positive, It fits your hand more comfortably than you would think, clicking is easy, it looks awesome and it works great with windows 8. But when you can buy the same thing at almost any other store for $25-$35, your less inclined to pay close to $65 through HP.
Date published: 2014-06-13T00:00:00-04:00
Rated

5

out of

5
by
CJA22
from
Great Mouse!
I bought my FIRST Arc mouse a few years ago and I was surprised at how well it responded to all surfaces. It is comfortable in your hand and once you get the feel of the scroll you will love it! It is definitely more expensive but worth the price. I travel often and the space it saves is great.
Date published: 2017-03-15T00:00:00-04:00
Rated

5

out of

5
by
Gil18
from
Functional but different
I bought this to replace my deteriorating HP wireless mouse and am still adjusting to it. The track pad replacing the scrolling wheel is where I am having the most difficulty adapting; maybe I need to adjust the sensitivity but it doesn't always respond like I expect. Secondly it is wider than the scrolling wheel requiring one to hold your fingers further apart for accurate results. Lastly, I hope the on/off techniques is durable enough to outlast the warranty. Flattening out the mouse to turn it of feels destructive and I'm constantly feeling this bend will be my last bend. I'm going to recommend only after sharing my personal experience.
Date published: 2018-06-18T00:00:00-04:00
Rated

5

out of

5
by
LDog17
from
Good design, poor execution
This mouse is difficult to control and only has one setting, it does not contour to your hand, which I thought it did. Also, it's difficult to stop the scrolling noise.
Date published: 2013-11-27T00:00:00-05:00
Rated

5

out of

5
by
NurseJess
from
Great features!!
I bought this mouse about two weeks ago and it's amazing!!! The way it glides on my knee and on any surface is phenomenal. I love it!
Date published: 2020-09-24T00:00:00-04:00
Rated

5

out of

5
by
gmoney
from
I like it
Very easy to use and there was no need for me to download any software to make it work...just plug the USB wait for a few seconds then good to go. I like that it can be carried like a typical phone... no bulky mouse in my bag.
Date published: 2018-03-01T00:00:00-05:00
Rated

5

out of

5
by
alex10
from
All is good - Unless you have to scroll
It's flattens out making it portable, it's sleek and looks super cool, it performs as you would expect a mouse to EXCEPT if you have to scroll. I have been close to throwing the thing across the office because it takes a bunch of tapping, muttering, and rubbing around to get the "scroll button" to work.
Date published: 2017-01-27T00:00:00-05:00
Rated

5

out of

5
by
VertexEmployee
from
Good but not great
I like the way you turn the mouse on my folding it but the mouse itself doesn't handle all that well. I am use to wired gaming mice and I'm having a difficult time adjusting to this mouse. The scroll wheel has already started acting up so I try to use my track pad when possible.
Date published: 2017-05-18T00:00:00-04:00