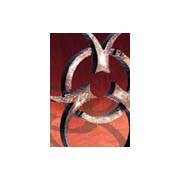 Know your gear
Trusted by individual users and large companies alike, McAfee VirusScan is one of the world's premier virus detection and removal solution for a major source of infection: your desktop machines. With the broadest platform coverage, VirusScan fits seamlessly into any networked environment with a wide array of proactive manageability and visibility features, ensuring the most effective virus security solution for all your users.
Features:
Lower Cost of Ownership
As a virus spreads throughout your enterprise, the costs to your organization grow exponentially-especially when customers are exposed. VirusScan helps you detect, clean and remove viruses and malicious code attacks at the furthest reaches of your network-the end-user desktops. This comprehensive solution lowers your costs, continues your secure information flow, and allows your staff to focus on their primary tasks.
Flexible Scanning Options
VirusScan provides comprehensive protection for your organization's desktop machines, capturing both known and new viruses before they infect multiple users. The scanning engine delivers high-speed scans of all files in real time, supporting all major file compression formats. Detected viruses can be automatically cleaned, deleted, or even quarantined for future analysis and origin tracing. VirusScan also includes flexible on-demand and scheduled scanning capabilities. With a simple point-and-click, administrators can configure any number of selective scan tasks to run at different intervals.
Content Scanning
E-mail and the Internet represent the fastest growing source of virus distribution, so it is imperative that your desktop virus security solution is equipped with the tools to defend against such threats. VirusScan e-mail X-ray stops viruses hidden in e-mail attachments before they infect other users. Java and ActiveX scanning also prevent malicious Internet-borne attacks.
Advanced Enterprise Reporting
VirusScan's Anti-Virus Informant tells you exactly where a virus threatened your network and how many times it was stopped. It tells you whether your desktops, servers, groupware, and gateway machines are up-to-date with the latest DAT file and engine versions. And it delivers customized reports-in varied chart types including 3D bar charts, pie charts, line graphs, and tables. Anti-Virus Informant is also integrated with Seagate Crystal Reports technology and Microsoft's MSDE/SQL 7.0 server for enterprise level protection.
Powerful Multi-tier Active Virus Defense
NetShield, together with VirusScan, GroupShield, WebShield, and the management tool set provide a comprehensible suite for desktops, file servers, groupware, and Internet gateways. This multi-tiered approach means that you're not relying on a single point of failure.
Protection from the Newest Threats
Uses advanced heuristic technologies called ViruLogic to seek out previously undiscovered viruses. ViruLogic has the intelligence to know what characteristics viruses do and do not exhibit, giving you unparalleled virus detection with the fewest possible false alarms. When a new virus is confirmed, the cure is generated and distributed to infected systems. VirusScan employs Virtran, a virus specific scripting language that creates detectors and cleaners in seconds-a quicker fix for the most ferocious new viruses.
Broadest Platform Support
VirusScan supports a broad range of platforms including Windows 2000, NT4.0, 95 and 98, OS/2, Linux, HP-UX, SCO, AIX, Solaris.
ePolicy Orchestrator
VirusScan works in conjunction with ePolicy Orchestrator to provide turnkey software distribution, configuration management and policy enforcement scaleable to 100,000 users.
Management Edition
VirusScan can be installed, configured, updated/upgraded, and remotely managed by Management Edition.
Additional Features
Automatic Updating
Enterprise
Software features<
Contact Sales Assistance
(800) 800-4239
,
Monday-Friday 7am-7:30pm CT