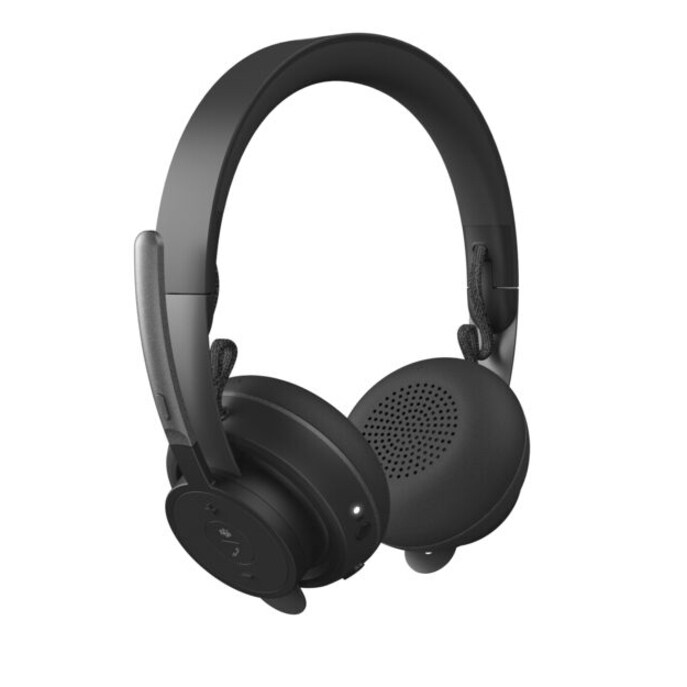 Quick tech specs
Headset
Bluetooth
active noise canceling
on-ear
wireless
Certified for Microsoft Teams
View All
Know your gear
Zone Wireless is a wireless headset designed for busy workspaces and Certified for Microsoft Teams. Chat, launch or join a Teams meeting with a single touch of the Team button on the earcup. Or apply a longer touch to invoke Cortana voice skills. It's that simple.

Open workspaces are great for collaboration, but not so great when the conversations around you make it hard to concentrate. Active noise cancellation substantially reduces unwanted ambient sound, providing blissful control of your acoustic environment.

Great for talking and immersive for listening to music, Zone Wireless provides all-day comfort, simple controls and pure amazingness between your ears. Simultaneously pair up to three Bluetooth-compatible devices and seamlessly switch between them, plus Zone Wireless is Qi-enabled for fast wireless charging. On-ear controls provide quick access to headset functions and the handy flip-to-mute mic feature ensures instant privacy at any time.

Define your workplace soundscape with Zone Wireless and get stuff done.
Logitech Zone Wireless Bluetooth Headset for Microsoft Teams - headset
is rated
4.83
out of
5
by
24
.
Rated

5

out of

5
by
Lily20
from
They work great!
They work great!They connect and pair almost instantly!!They have probably been the best wireless headphones I have used because they connect so well and I really like how the voice tells me how much battery life has left when I pair it up to my device.Sound quality is crisp and not muffled.However not much bass with these so don't expect much bass.Love the wireless charging function and I like to use that the most to charge these up and they hold a charge for several hours before needed a charge again and they charge up really quick!It includes a USB C charger but the QI wireless charger is not included with it.The mic is also noise canceling and cancels out a lot of background noise which is awesome!They are fairly comfortable and easy to use.Pairs up nicely to my iPhones Bluetooth and the windows computer needs the dongle and connects to it right away!I would recommend these they work great!
Date published: 2020-12-09T00:00:00-05:00
Rated

5

out of

5
by
dixiechik
from
Excellent features
I got these headphones for my son for gaming, I also tried for listening to music. I have say they produce excellent sound quality. I like the feature with the microphone. When the microphone is moved up, it automatically mutes. They also charge quickly, that's another plus.
Date published: 2020-12-04T00:00:00-05:00
Rated

5

out of

5
by
htrudeau517
from
Great sound
I had to get a new pair of headphones when mine suddenly broke. I absolutely love these!! I have never had wireless headphones before. I got these to be able to work outside but still listen to my music. I am able to connect to these headphones and work all over my yard. The clarity on these headphones is unbelievable!!!
Date published: 2020-12-30T00:00:00-05:00
Rated

5

out of

5
by
Dadofmany
from
Easy setup and clear
Very simple and easy setup and the sound was super clear. The style was very comfortable on my ear and able to be moved out of the way when not in use very happy with the product overall and it would highly recommend for anyone needing to wear headsets for work or pleasure
Date published: 2020-12-15T00:00:00-05:00
Rated

5

out of

5
by
Rockangellmt
from
Love these
I love the fit of this headset! The ear pieces are sure comfortable and, padded, they just easily and look nice. They are easy to hook up and have great sound! The microphone it nice and clear as well!
Date published: 2020-11-28T00:00:00-05:00
Rated

5

out of

5
by
BelMar25
from
Works Great!
I love how comfortable the headset is. The headset works great for my Microsoft Team calls and WebEx meetings. I would definitely recommend. I really like the fact that I can use them even when charging because of the length of the charging cable.
Date published: 2020-11-28T00:00:00-05:00
Rated

5

out of

5
by
Chels91
from
Easy to use
My son is a virtual learner this year so he needed headphones to concentrate. This was so easy for him to use. He is 6 and he was able to connect them through the Bluetooth when he needed to turn them on and off. He was also able to understand the concept of the microphone. Loved it to much bought a pair for my husband who is a gamer and talks to people online
Date published: 2020-12-27T00:00:00-05:00
Rated

5

out of

5
by
Corporate Sharon
from
Light weight and no cords
So since I have been working from home I have been NEEDING some cordless headphones with a mic. These Logitech wireless headphones are just what I needed. The sound is clear and not muffled, they are very light weight and works perfectly with my company's Microsoft Teams software. With no cords to look out for or worry about tripping over I am more productive. I can take the caller with me if need be!
Date published: 2020-11-28T00:00:00-05:00
Rated

5

out of

5
by
Phantasyg1
from
Great quality
I recently got the Logitech Zone Wireless Headset - Microsoft Teams Certified headset. It is super comfortable. Lightweight. Easy to use and operate and wear looks nice. Has great sound quality I would recommend. Makes a great gift.
Date published: 2020-12-18T00:00:00-05:00
Rated

5

out of

5
by
Jan24
from
Her new headphones
I gave the Logitech headphones to my niece because she has been working from home even before the virus and needed them. She was happy to get them. She told me that they have good sound quality and the prompts to setup were clear. They were compatible with Teams so that was convenient. They were comfortable, good noise cancelling and easy to adjust. Problems are the buttons are small, so you have to take them off to see and by the time you press the button and put them back on you've missed the prompt. You need both hands so not good for handicapped people. Also she hasn't been able to connect through her team calls. which is what she really wanted them for. She is still working on it and pretty sure she'll have it licked. She said she would still recommend them.
Date published: 2020-12-12T00:00:00-05:00
Rated

5

out of

5
by
Piping Designer
from
Logitech Zone wireless headset
Love that I can have two different Bluetooth devices connected at once. I wish both devices could be Bluetooth instead of Bluetooth and a dongle but it's not that big of a deal for me.
Date published: 2021-02-21T00:00:00-05:00
Rated

5

out of

5
by
Mcfly85
from
Nice Headset
This is a nice headset. It's easy to use and sounds clear. My son used this for his online school. He likes to flip the microphone down. It stays in place and doesn't slip down. I really like this Logitech headset.
Date published: 2021-04-22T00:00:00-04:00
Rated

5

out of

5
by
Anjcrawford
from
Very nice
This headset is very nice and well made. Came packaged neatly and instructions were easy to read. The headset itself is easy to use and comfortable to have on for long periods of time. My kid likes the microphone and the ability to game and talk to others. Must recommend
Date published: 2021-04-29T00:00:00-04:00
Rated

5

out of

5
by
Chrissy47
from
Easy set up comfortable and great sound.
The Logitech Zone Wireless Headset w/Boom Mic is a fantastic headset for multiple needs simple set up lightweight and comfortable with excellent sound.Love the noise canceling especially given our times with so many zoom meetings and it's great that you can take a call at the same time everybody says I sound crystal clear and The sound is excellent for me you can hear how it separated my voice from the background noise ..tip if for some reason you don't want something else around you to be heard in the background keep the volume 50 and under but for me this wasn't even really a problem you did a fantastic job separating the two! Great for phone calls fantastic for music schooling and of course meetings Microsoft certified and join launch or chat easily with the TEAMs button.Bluetooth enabled Qi wireless charging(not included and I also love the speaking assistant to let you know when the mic is muted or when the mic is on and you can do both by simply raising the mic or lowering it etc.Which you can adjust easily and other settings through the Logi tune app. These headphones really are a jack of all trade!
Date published: 2021-04-29T00:00:00-04:00
Rated

5

out of

5
by
Caybaby85
from
Clear sound, simple set-up
With all the zoom meetings and conference calls, having a good and functional headset is a must have. This one has been my favorite. All communication has been clear on both ends every time. It easily connect with my laptop and my cell phone. I needed to download an app for my phone, but it was easy and set up within 2 minutes. If you put the mouthpiece up it mutes, and when you pull it back down it unmutes. It also charges really fast. They are very easily adjustable and the ear padding is super comfortable and doesn't irritate me after having to wear them for long periods of time.
Date published: 2021-04-23T00:00:00-04:00
Rated

5

out of

5
by
Ms H
from
Good Purchase Choice. Noise Cancellation leaves more to be desired.
The headset is expensive. The TEAMS button is great. The noise cancellation is fair.
Date published: 2021-09-03T00:00:00-04:00
Rated

5

out of

5
by
Gwen75
from
Excellent audio quality
I've been looking for wireless headsets for a while now and came across Logitech Zone Wireless Headset. The quality of sound is fantastic. The ANC function cuts out the background noises and is great for listening to music. The mic functions are so convenient and simple to use. These headphones are very comfortable, it doesn't hurt your ears when you wear them for long periods. I am very happy with this headset because I listen to music all the time and it's battery lasts a whole day!
Date published: 2021-04-21T00:00:00-04:00
Rated

5

out of

5
by
Misty
from
Great Headset
It buffers outside noises and has great sound effects.
Date published: 2021-10-12T00:00:00-04:00
Rated

5

out of

5
by
noodle1234
from
Clear sound and very comfortable
I received the Logitech Zone Headset as part of as sampling program and just love it. Is it lightweight and sturdy and the volume controls are simple to control with a touch of a button. It quickly paired with my laptop as a plug and play device and I love the battery notification feature which alerted me when I need to recharge. Highly recommend.
Date published: 2021-04-26T00:00:00-04:00
Rated

5

out of

5
by
brandijohnson38
from
Awesome sound!
I was very shocked that a wireless headset had such great sound and I didn't have any issues with connections. Most wireless headsets you have that issue with staying connected or the sound going in and out. These did not fail at all. I was very glad about that. Especially since these are a daily use around 9 hours a day!
Date published: 2021-04-24T00:00:00-04:00
Rated

5

out of

5
by
CAJ
from
Great headset
This headset is so much more comfortable than standard issue headsets at work the sound is great on them if you would like to listen to music on them as well have great sound for that as well. I love the lift to mute microphone too. Mute helps a lot when working from home and your pups decide its playtime barking and pouncing about and nipping at your sides because they are ready to go have break time outside to play.
Date published: 2021-09-18T00:00:00-04:00
Rated

5

out of

5
by
Jenniferx45
from
Great Features!
I got this and am so happy about the Logitech Zone headset Wireless boom. I have used this daily to do online meetings for work and the sound clarity is superb. I love the ease of connection it was basically a plug-and-play system. The features of the phone, blue tooth connectivity, and the mic are great. This item holds a charge all day and the range is wonderful. I have used them while my device was downstairs and the sound and clarity were stellar. I definitely recommend the Logitech Zone Headset.
Date published: 2021-04-24T00:00:00-04:00
Rated

5

out of

5
by
dwork
from
Great sound!
These headphones have great sound! I think they are great for the work from home lifestyle. so easy to hear out of and people can hear me great when i wear them. I assume they also would be great gaming head phones as well.
Date published: 2021-04-20T00:00:00-04:00
Rated

5

out of

5
by
xkrazedkittenx
from
Great Head Set
The Logitech Zone Headset - Wireless - Boom Mic is a great product, it's a comfy and light fit. The head set has nice crisp clear sound and good volume. It's perfect for any and all gamers alike! I would recommend this product.
Date published: 2021-04-26T00:00:00-04:00