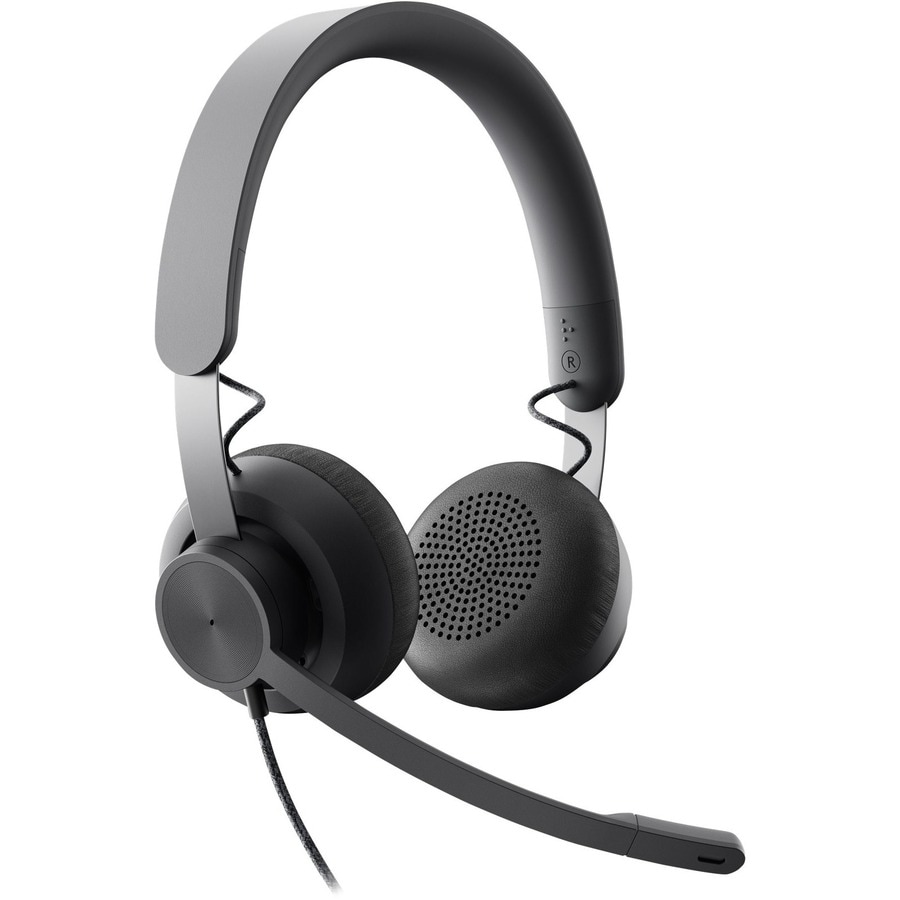 Quick tech specs
For Microsoft Teams
on-ear
active noise canceling
graphite
View All
Know your gear
Zone Wired is a business-quality USB headset that delivers premium audio and reliable call clarity. Certified for Microsoft Teams with advanced noise-canceling mic technology for open office environments.

Durable, reliable and simple to use, Zone Wired makes it easy to chat, launch or join a Teams meeting with a single touch to the dedicated button on the inline controller positioned on the tangle-resistant braided cable. The intuitive controls also provide fingertip access to mute, adjust volume, answer/end/reject calls, and play/pause music, plus visual Teams notifications.

Zone Wired is lightweight, stylishly contemporary and super comfortable. Designed for all-day use, the Teflon-coated stainless steel headband features a silicone head cushion and memory-foam ear pads. The noise-canceling dual mic technology accurately suppresses distracting sounds like keyboard clicks and nearby voices as close as 60 cm away for superbly clear calls and video meetings. Plus, the generously-sized 40mm drivers deliver pure happiness for your ears.
Logitech Zone Wired Noise Cancelling Headset - for Microsoft Teams - headse
is rated
4.73
out of
5
by
15
.
Rated

5

out of

5
by
TechGuru777
from
High Quality Headset
I am very pleased with this headset! I usually go through about two headsets a year from frequent consistent use. This headset, while on the more expensive side, is extremely high quality and it shows. This product is nicer than all other headsets I have used in the past. It's flexible and not overly stiff which I really like because it doesn't put extra pressure on my head or cause discomfort. It's very comfortable and surprisingly lightweight which is the most important factors for me when using a headset. The audio quality and the sound quality is fantastic. The built in microphone is excellent and I have experienced no issues with hearing anyone or anyone hearing me while speaking. I prefer wired headsets over wireless and the Logitech Zone Wired really hits the mark! The technical specifications is "Wired USB-C with USB-A adapter" to connect to your computer or other devices. This headset is also Microsoft Teams certified! Would highly recommend.
Date published: 2020-11-28T00:00:00-05:00
Rated

5

out of

5
by
Eduard C Hanganu
from
Excellent Head Set
Excellent head set. Comfortable and versatile. Simple commands make it easy to handle. The noise cancellation and the clear sound make conversations a pleasure. Awesome!
Date published: 2021-01-11T00:00:00-05:00
Rated

5

out of

5
by
AmandaDE
from
Comfy but tinny sound
I got this because my last headset died while I was playing Diablo. Since I use a helmet for both meetings, gaming and chatting with friends I knew I needed a replacement. This is nice and feels sturdy in my hands. It is comfortable when I wear it. The only problem is that the audio quality isn't the best. I have tried to check everything and troubleshoot it all and it seems like it's just how the sound it. Pro- fits well, comfy, sturdy Con- sounds quality not the best :(
Date published: 2020-12-08T00:00:00-05:00
Rated

5

out of

5
by
Nikkibee
from
Great Headset!
I work full-time from home, and this headset has been great for meetings. The sound quality is good and consistent. I also really like the in-line mute and volume feature. The USB plugin makes it easy to set up and can be switched between my different computers quickly as I move around the house. Really enjoying this headset so far!
Date published: 2020-12-03T00:00:00-05:00
Rated

5

out of

5
by
florina64
from
Great Headset
I received the Logictech Zone Wired Headset -Microsoft Teams Certified & I love these. I use mine with my laptop & now I can listen & enjoy videos with out distracting any one else, These are great for Windows, Mac & Chrome computers . Very well made & fit to my head nicely. Looking for a great Headset, I highly recommend these.
Date published: 2020-11-30T00:00:00-05:00
Rated

5

out of

5
by
mommyjoy35
from
Always the best!
I always choose Logitech for my computer accessories. Great, reliable products! This wired headset is great for anyone working from home or gaming from a PC. The audio is very clear and loud and the headset is comfortable on your head and ears.
Date published: 2021-01-18T00:00:00-05:00
Rated

5

out of

5
by
Casumi
from
Perfect for distant learning!
As a teacher who has been doing distance learning, this headset has been ideal for conducting remote meetings and lessons. The headset itself does an awesome job isolating background noise in my house, and the microphone controls are clear and intuitive. This is also one of the most comfortable headsets I have ever worn— I no longer get red marks or minor aches from having a headset on all day.
Date published: 2020-12-11T00:00:00-05:00
Rated

5

out of

5
by
PinkyPink222
from
Excellent!
My family loves this headset because it has the most softest and cushion comfortable padding that make it super comfortable to wear all day on your ears! The microphone is easily adjustable with incredible Sound and the control panel on the cord itself is a nice feature to have that really comes in handy! Strong durable cords & headset highly Recommend! Also comes with a nice carry storage bag!
Date published: 2020-11-22T00:00:00-05:00
Rated

5

out of

5
by
Telleferro
from
Great sounding from a great Brand
This Logitech Zone wired headset is great. The sound quality is rich with full on base. I love the cushioned ear pads, as it makes it easy and comfortable for all day usage. The adjustable microphone is great for phone calls or when online playing with friends with gaming, and folds up out of the way when not in use. It has a standard pause, play, sound increase and decrease. It's not bulky, which is a plus. I really don't like those bulky headphones that give that old 80's and 90's look. It can plug into a standard android phone like my Galaxy 8 or it comes with a USB adapter to plug into tv's, games, or computers. It comes with a protective carry bag which is nice. Overall it is a great product from a well trusted brand.
Date published: 2020-11-19T00:00:00-05:00
Rated

5

out of

5
by
Les123
from
Ok
While this headset is really comfortable i did have a few issues with it. It hooked up to my computer with ease but i cannot get the controls on it to work. The audio quality is clear, but almost sounds like you are in a tunnel. I use audio conferencing daily and while these serve the purpose just fine they are not my first choice.
Date published: 2020-12-12T00:00:00-05:00
Rated

5

out of

5
by
BKC6767
from
Can you say comfortable.
I got these a couple of weeks ago. They are so comfy. The sound quality is spectacular. With the world today it is also very easy to clean and keep sanitized. I can wear them all day with no issues they stay put on my head and don't slide all over.
Date published: 2020-12-14T00:00:00-05:00
Rated

5

out of

5
by
Plester
from
Great Headset!
I had some troubles with MS Teams with another headset and often connected to other web based meetings using my phone for better audio quality. After purchasing this headset I'm trouble free on web based meetings. It works seamlessly with MS Teams and quite nicely with other web meeting platforms. I especially like the feature of swiveling the microphone up and down to mute myself.
Date published: 2020-09-08T00:00:00-04:00
Rated

5

out of

5
by
KC
from
Noise canceling Headphones!!
Great at filtering out background noise!!
Date published: 2020-08-27T00:00:00-04:00
Rated

5

out of

5
by
Tess
from
Logitech Zone Wired Headset
Excellent noise cancelling mic and headset! Very comfortable. I wear for hours with no problem. so much better than any other headset that I have tried.
Date published: 2021-03-13T00:00:00-05:00
Rated

5

out of

5
by
S Bonora
from
Great Headphones
These headphones are the best for work.
Date published: 2021-04-22T00:00:00-04:00