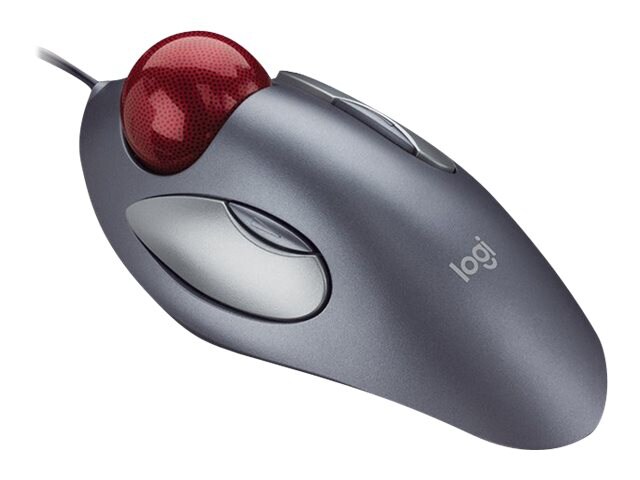 Know your gear
The Logitech TrackMan Marble gives you superior comfort - for either hand. Ambidextrous design provides long-lasting comfort for right- and left-handed people. Convenient button controls let you easily move forward and backward when you're surfing the Web. Click the large buttons together and use the ball for auto-scrolling. Fingertip-based control enables fast, accurate cursor movements. Patented Marble optical technology ensures smooth tracking.

Left handed? Right handed? When you're working on your computer day and night, and you want more flexibility, the Logitech Trackman Marble will help increase your comfort level.


Contact Sales Assistance
(800) 800-4239
,
Monday-Friday 7am-7:30pm CT
Logitech Trackman Marble USB Wired Mouse
is rated
3.93
out of
5
by
15
.
Rated

5

out of

5
by
CJ Hutto,TX
from
Wrist saver
Easy to use and convenient
Date published: 2020-07-25T00:00:00-04:00
Rated

5

out of

5
by
Steve
from
Caveat
Works as expected - excellent - but good thing that the price is low, since the I have not found a way to retain the original slick rolling ability for more than one or two years. Perhaps the latest iteration of the product will last longer than in the past.
Date published: 2019-11-29T00:00:00-05:00
Rated

5

out of

5
by
Spike
from
Hard to scroll
I bought the trackball because of recent carpal tunnel surgery. Ultimately, I went back to a mouse mainly because it was easier to scroll.
Date published: 2018-12-12T00:00:00-05:00
Rated

5

out of

5
by
SUZI
from
I love the Trackman Marble Mouse
I have used the Trackman Marble Mouse ever since it first became available because it has helped rid me of the pain of overuse in my right arm from constantly moving a mouse back and forth, up and down. I love that I use my fingers on the ball rather than the side ball because of overuse thumb pain. I have used my hands repetitively for over 35 years typing reports on the keyboard and have a lot of damage to my arms, hands, and fingers, but the Trackman has helped relieve me of a lot of this pain and for that reason, I will always use it. If they quit making the Trackman, I want to buy several so I don't ever have to be without my Trackman.
Date published: 2019-11-22T00:00:00-05:00
Rated

5

out of

5
by
LaDora
from
trackman marble mouse
I love it. This design is always my first choice.
Date published: 2019-11-25T00:00:00-05:00
Rated

5

out of

5
by
Mark
from
Replacement
Got this to replace my previous Logitec Trackball that I've had for over 5 years. Ball rolls smoothly. Very happy with this purchase.
Date published: 2019-12-01T00:00:00-05:00
Rated

5

out of

5
by
lucie
from
action
while the trackball is great as it don't move, I have went through three and all three developed the same problem. the left button doesn't keep what i am needing to drag to another spot, it just bounces bak. you do have to clean UNDER the ball so the ad saying no cleaning necessary is untrue.
Date published: 2018-08-21T00:00:00-04:00
Rated

5

out of

5
by
Surfettekw
from
Inexpensive and works great...
It a trackball :) Limited features but only a portion of the cost of the others available. Lasts for years this is my third time buying this model - I am rough on my equipment.
Date published: 2017-05-18T00:00:00-04:00
Rated

5

out of

5
by
paulm
from
I love it
I have carpel tunnel syndrome in my left (favored hand) Now I use the trackball for almost everything I do. Only thing I wish it had was a center scroll nob which if I need at times I used the old mouse hooked up still in a seperate port.
Date published: 2013-12-02T00:00:00-05:00
Rated

5

out of

5
by
MelissaHR
from
quite, smooth, easy to use
using this mouse has help my pain in my hand. I would recommend this product to all of my friends and co workers.
Date published: 2017-05-24T00:00:00-04:00
Rated

5

out of

5
by
Colleen
from
Love this mouse!!
I have had a mouse like my new mouse for as long as I can remember. It recently quit working and I replaced it with the same mouse. It is so easy to use and doesn't hurt my hand and wrist. I would recommend this to anyone and everyone. Thanks for making such a quality product.
Date published: 2017-09-06T00:00:00-04:00
Rated

5

out of

5
by
PAMELA J.
from
Very good but miss easy scrolling
I like the ergonomics of this product. It works as expected except for the scrolling. I miss the scroll wheel or some way to easily scroll. Having to navigate to scroll bars or some other non-intuitive behavior slowed me down in getting used to this product.
Date published: 2020-01-09T12:05:15-05:00
Rated

5

out of

5
by
kjnd82
from
sucks
this mouse is very uncomfortable I spent like 30 $ for mine I used it for a month and through it out no good
Date published: 2012-12-18T00:00:00-05:00
Rated

5

out of

5
by
j
from
good budget track mouse
i returned this product due his missing scrolling options
Date published: 2021-02-27T00:00:00-05:00
Rated

5

out of

5
by
Randy
from
Great buy
Great trackball nice movement
Date published: 2021-04-07T00:00:00-04:00