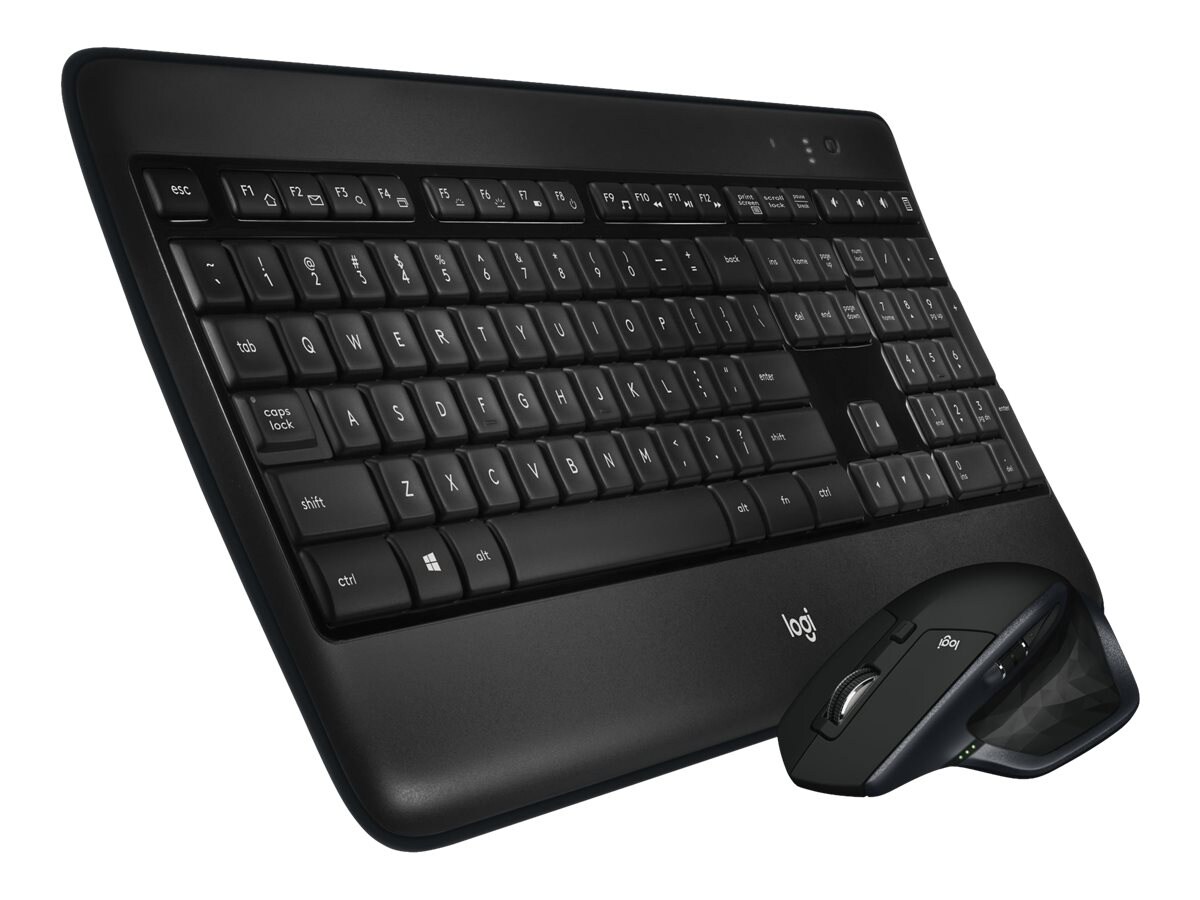 Quick tech specs
Connectivity Technology: Wireless
Speed-adaptive Scroll-wheel
View All
Know your gear
Experience fast and powerful computing performance with the Logitech MX900 Wireless Performance Keyboard and Mouse Combo. The sleek K800 keyboard features laser-etched, concave keys with adjustable back light for ergonomic use even in the dark. Its built-in sensors detect your hand movements to turn the backlight on and off. You can simply plug the wireless 2.4 GHz receiver into a USB port on your desktop PC or laptop for a fast and reliable connection. The 1600 DPI MX Master Mouse comes equipped with Darkfield Laser Tracking technology for easy tracking on any surface. Its speed-adaptive scroll wheel enables you to quickly scroll through long documents and web pages.
Compact design for storage and portability
Universal micro-USB cable for easy recharging
Full-size keyboard with PerfectStroke key system for fluid performance
Mouse with programmable side scroll and thumb buttons for hassle-free use
Contact Sales Assistance
(800) 800-4239
,
Monday-Friday 7am-7:30pm CT
Logitech Performance MX900 Wireless Keyboard/Mouse Combo
is rated
4.27
out of
5
by
26
.
Rated

5

out of

5
by
Simona
from
Good Value for the money & Excellent Combo products
These items provide good value for the money and are excellent Combo products to use with my laptop. I also enjoyed how easy it was to install and use. I just plugged in the USB that came with it, turned on the On switch on the mouse and it was ready to use. The keyboard lights up - and I really enjoy this feature a lot since the area I work in my home office is darker than the rest of the room, so I can easily see the keys. They light up to the slightest touch. The mouse fits the palm of my hand perfectly, responds well, and very easy to use. Overall, good purchase.
Date published: 2019-05-22T00:00:00-04:00
Rated

5

out of

5
by
Keith
from
Excellent performing albeit pricey
This keyboard is very, nice. I have been using Logitech products for years and they have almost never let me down. I bought this keyboard specifically for use in a conference room where the transceiver is a dozen or more feet away. The previous keyboard/mouse was losing connection fairly often. So far the MX900 has been rock solid. The first thing I thought when I started using it was "Wow, this mouse is silky smooth.
Date published: 2019-07-22T00:00:00-04:00
Rated

5

out of

5
by
null
from
great
This is a fabulous product. Very smooth operation
Date published: 2020-04-01T16:54:44-04:00
Rated

5

out of

5
by
Kappy
from
Perfect! Just what we needed! Light and a powerhouse!
Works great! Long battery life!
Date published: 2020-09-03T00:00:00-04:00
Rated

5

out of

5
by
HRH
from
GREAT MX COMBO
Fine Wireless Keyboard & Mouse Combo.
Date published: 2020-10-12T00:00:00-04:00
Rated

5

out of

5
by
Corey
from
Keyboard Not Bluetooth
Would have been good to know that the mouse is bluetooth but the keyboard is not and requires a USB dongle to function. The look and feel of both are great, but I have no USB A ports on my dell XPS 15. Luckily I have a docking station, but the bluetooth connectivity was what I really needed.
Date published: 2020-08-31T00:00:00-04:00
Rated

5

out of

5
by
Milt
from
Works well...
Easy charging and setup. Downloaded the drivers and both the keyboard and mouse have worked without issue. Battery life is impressive. XPS-13 9300.
Date published: 2020-08-17T00:00:00-04:00
Rated

5

out of

5
by
seung
from
Mouse is too sensitive
Mouse is a bit too sensitive, and the cursor keeps moving by itself.
Date published: 2020-02-21T00:00:00-05:00
Rated

5

out of

5
by
tparrist1
from
key board an mouse
The clicker doesn't always work. When this happens I have to click it 2 or 3 times.
Date published: 2020-04-02T00:00:00-04:00
Rated

5

out of

5
by
plmbob
from
mx 900
The mouse provided the precision needed for my CAD program. Feels good to use the keyboard
Date published: 2020-05-12T00:00:00-04:00
Rated

5

out of

5
by
DrJ68
from
Great keyboard and mouse
Have three of these. After two or three years, need to replace the keyboard battery because it no longer holds a charge
Date published: 2020-07-29T00:00:00-04:00
Rated

5

out of

5
by
LuciaP
from
Good quality
This keyboard is easy to use, easy to setup. I really enjoy the Illuminating keyboard in my not so lit basement. The mouse design was amazing, I had a full control of my screen. The design was made for people who don't want to get carpal tunnel. The bar sitting in front of the keyboard is great for my wrist support. Overall I would highly recommend this MX 900 wireless mouse/keyboard combo.
Date published: 2019-11-30T00:00:00-05:00
Rated

5

out of

5
by
tbrown0102
from
Best Keyboard Ever!
I'm a huge Tech Head and finding the right keyboard and mouse for me is hard to find. This keyboard right here is the best, fastest and easiest set up ever! Just plug it in and your good to go! The customization is great setting your own keys, and your own layout is great! The back lit is great for when I'm doing my school work at night!
Date published: 2019-11-26T00:00:00-05:00
Rated

5

out of

5
by
Chelsbk21
from
Great wireless combo
My husband plays lots of computer games so i thought these would be perfect for him to use. I played a couple of his games and they work great with them. The wireless part makes it that much better because we don't need any extra wires around.
Date published: 2019-11-30T00:00:00-05:00
Rated

5

out of

5
by
FMcGrr
from
Junkish
Mouse ok, keyboard sucks. Keys stopped working after a few weeks
Date published: 2019-11-28T00:00:00-05:00
Rated

5

out of

5
by
Tyler
from
great keyboard and mouse
The keyboard and mouse are great for use in the office. Sweat up takes less than 1 minute and so easy to get started with. I love how the mouse is form fitting to my hand and the keyboard is quieter than a mouse (pun intended). The fact that there are no wires just cleans up my desk and makes for a great experience when I get back to my workspace and there is no clutter of wires everywhere. I strongly recommend this bundle to anyone who is on their computer daily and wants to escape the chaos of wires everywhere.
Date published: 2019-11-24T00:00:00-05:00
Rated

5

out of

5
by
Claybon
from
A Good Combination
I like both products but the mouse seems to lag in response time. The keyboard took a little bit to adjust to but I love the feel. Overall, I'm glad I got both of them.
Date published: 2019-11-22T00:00:00-05:00
Rated

5

out of

5
by
Rhyno507
from
Excellent Quality
I got this keyboard yesterday and absolutely love it! From the bluetooth connectivity to the hot key. Well worth the money. I've always used logitech from cameras to mice and keyboard. Never disappointed.
Date published: 2019-11-20T00:00:00-05:00
Rated

5

out of

5
by
smolnar
from
Very Nice Wireless Combo!
I've only had this keyboard/mouse combo for about three weeks, but I love them both. I was worried about the integrated batteries (which cannot be replaced) running down too quickly but, so far, the charge on the keyboard lasts about two weeks (I forget to turn it off when I walk away from the computer or it would last longer!). I have not had to recharge the mouse at all yet and it still shows the battery full. I just keep the charging cable plugged in to the computer so whenever I need to recharge, I can just plug it in to the keyboard or mouse. You can use both while charging, too. The keyboard has a nice touch and is quiet. I love how the back-lit keys turn on as your hands approach the keyboard and turn off after a few seconds of no activity, saving battery life. I also like that the keyboard is a compact size while still having all the keys (numeric keypad, arrows, etc.) and the low profile is nice. I have not yet tried all the extra functionality available with the mouse via the Logitech Options program and its extra buttons, so I can't comment on that. I find the mouse just slightly wide for my small hand, but not so much that I am uncomfortable. I believe the newer model mouse has been made slightly narrower. I also like the thumb-rest area of the mouse. The scroll wheel is easy to use and works well and the mouse tracks perfectly on multiple surfaces. I am using the Unifying USB Connector (one USB connector runs both keyboard and mouse) and have not tried Bluetooth connection, so cannot comment on that. Assuming the integrated battery doesn't die completely in an unreasonable amount of time, I would recommend this combo and would purchase it again.
Date published: 2020-01-31T00:00:00-05:00
Rated

5

out of

5
by
null
from
BEST. KEYBOARD. MOUSE. EVER!
THIS is hands-down the absolute BEST wireless keyboard/mouse combo on the market. I literally accept nothing less anymore. Solid, backlit keyboard works from the other room, and a mouse so good it can work on glass. All the function keys work, thumb-roller and extra clickers on the mouse, which is shaped so you can carry it. Whatever your computer came with, believe me, you want this instead!
Date published: 2020-10-20T11:15:02-04:00
Rated

5

out of

5
by
Hytops
from
The mail key needs some programing
Performs as stated. Scale of ten, I give it a solid 8. Would be a 10 if the mail key(F2 preset) would bring up office mail as well MS mail
Date published: 2020-01-28T00:00:00-05:00
Rated

5

out of

5
by
Scot
from
A bit costly but my favorite keyboard/mouse ever
I hesitated after seeing the cost of this combo and I had a rechargeable set before and found it frankly annoying to remember to charge it (versus just changing batteries). However, this has been hands-down my favorite combo ever. The mouse is precisely responsive, no cursor-jumping like my Dell mouse did. The keyboard is clickety-clickety satisfying, backlit responds well but doesn't seem to drag battery life. I have end up having to charge every 4-5 days with very heavy use (I am a writer, on my computer 12-15 hrs/day). I definitely recommend.
Date published: 2021-02-13T00:00:00-05:00
Rated

5

out of

5
by
PSF
from
MX900 pending
I'll give it 5 stars but I haven't used it yet as I am awaiting my new laptop to arrive.
Date published: 2021-02-20T00:00:00-05:00
Rated

5

out of

5
by
Larry
from
The perfect keyboard & mouse combo
This is the perfect accessory for any desktop with a lit up keyboard and ergononically correct mouse
Date published: 2021-04-15T00:00:00-04:00
Rated

5

out of

5
by
Kyle
from
Great mouse. Unpleasant keyboard.
The mouse is great 10/10. The keyboard it is bundled with isnt great so I would avoid this bundle.
Date published: 2021-04-16T00:00:00-04:00
Rated

5

out of

5
by
The Sauce
from
Great Keyboard. Crap mouse that makes me rage.
The mouse scrolls up by itself because it is too loose. Should've bought some shoes instead.
Date published: 2021-02-27T00:00:00-05:00