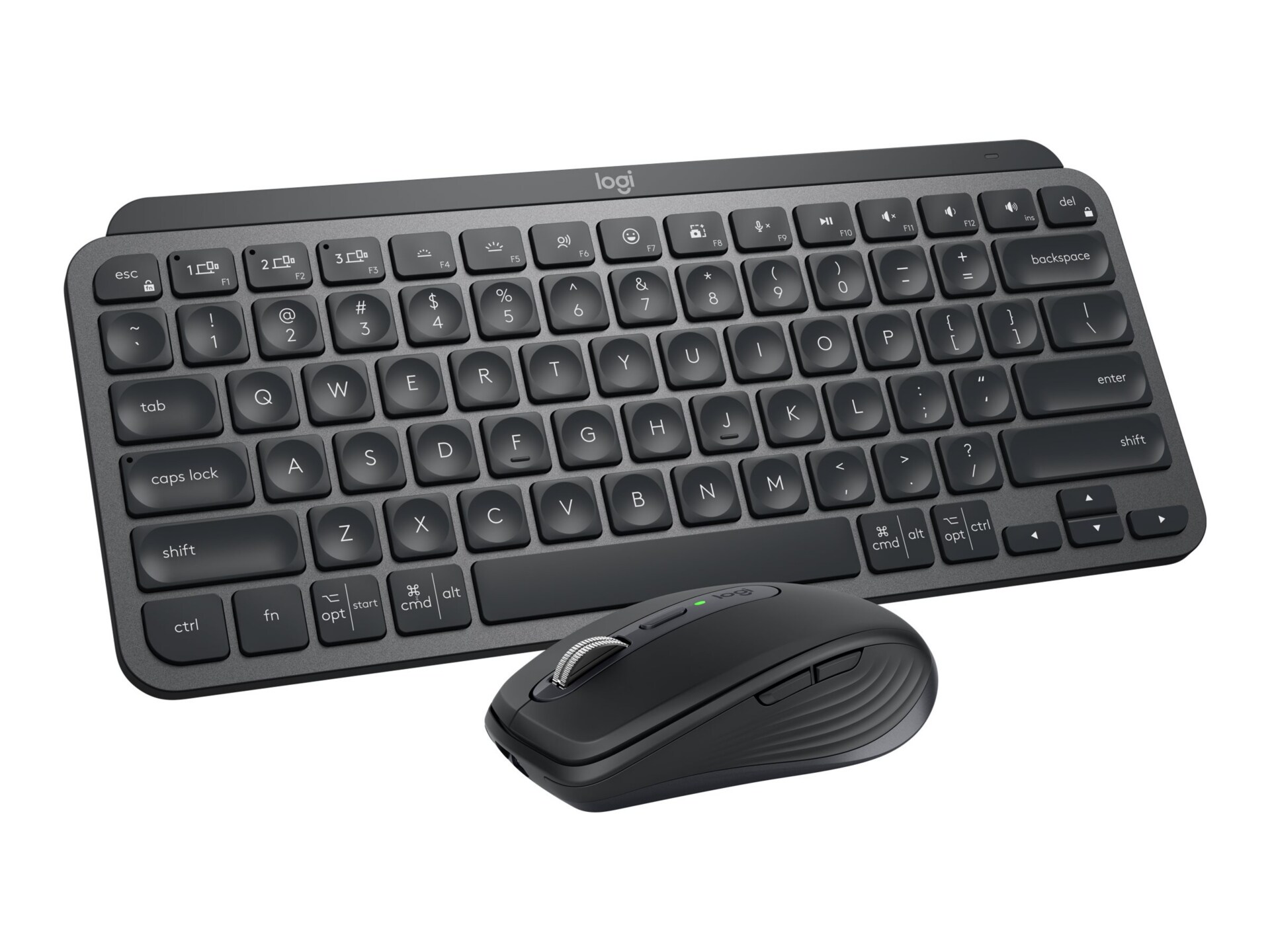 Quick tech specs
Keyboard and mouse set
wireless
QWERTY
graphite
View All
Know your gear
A compact and stylish design that clears space on any work surface, MX Keys Mini Combo For Business makes it easier for creators to create and work comfortably. It's the ultimate, compact performance combo ideal for coders, analysts and creative workers. MX Keys Mini Keyboard and MX Anywhere 3 Mouse are perfect for those who need a bit more room and better portability for work station hopping and travel. It's all about precision, performance and security with this duo. The keyboard's Perfect Stroke keys are shaped to your fingertips with backlighting that automatically adjusts. The mouse's Darkfield Technology allows precise, smooth tracking, even on glass. For users who need extra precision, the MagSpeed scroll wheel runs through 1,000 lines in a second or can scroll with pixel-by-pixel accuracy. The minimalist design benefits from improved ergonomics to align shoulders better, allowing closer mouse placement for less reaching, more comfort, and better body posture. Connect to up to three computers with the Easy-Switch button and swap among them effortlessly. MX Keys Mini Combo features Logi Bolt wireless technology, engineered to conquer modern IT security challenges. Delivering reliable connections even in congested wireless environments. The pair is fully encrypted and FIPS secure when paired with a Logi Bolt USB receiver. Easy for IT Help Desks to deploy and manage, the combo is compatible with all major platforms. Both mouse and keyboard are rechargeable with Li-Po batteries (keyboard 1500 mAh, mouse 500 mAh) and can be used while charging (USB-C charge port).

Ideal For IT departments that want peace of mind and high-performance, secure wireless connections. Also end-users with a demanding workflow who need more space to create.

Logi Bolt wireless technology addresses rising enterprise security concerns with Secure Connections Only Mode - Bluetooth Low Energy Security Mode 1, Level 4 protection.

Minimalist design meets high productivity with this mouse and keyboard combo designed for those with a demanding workflow.

Advanced functionality in a minimalist form for better portability and performance.

Mouse users have 25% less forearm muscle activity than laptop touchpad users. That means less fatigue and more comfort.

Seamless compatibility with Windows, macOS, Linux, Chrome OS, iPadOS, and Android.

Pair up to six Logi Bolt wireless mice and keyboard to a single Logi Bolt USB receiver.