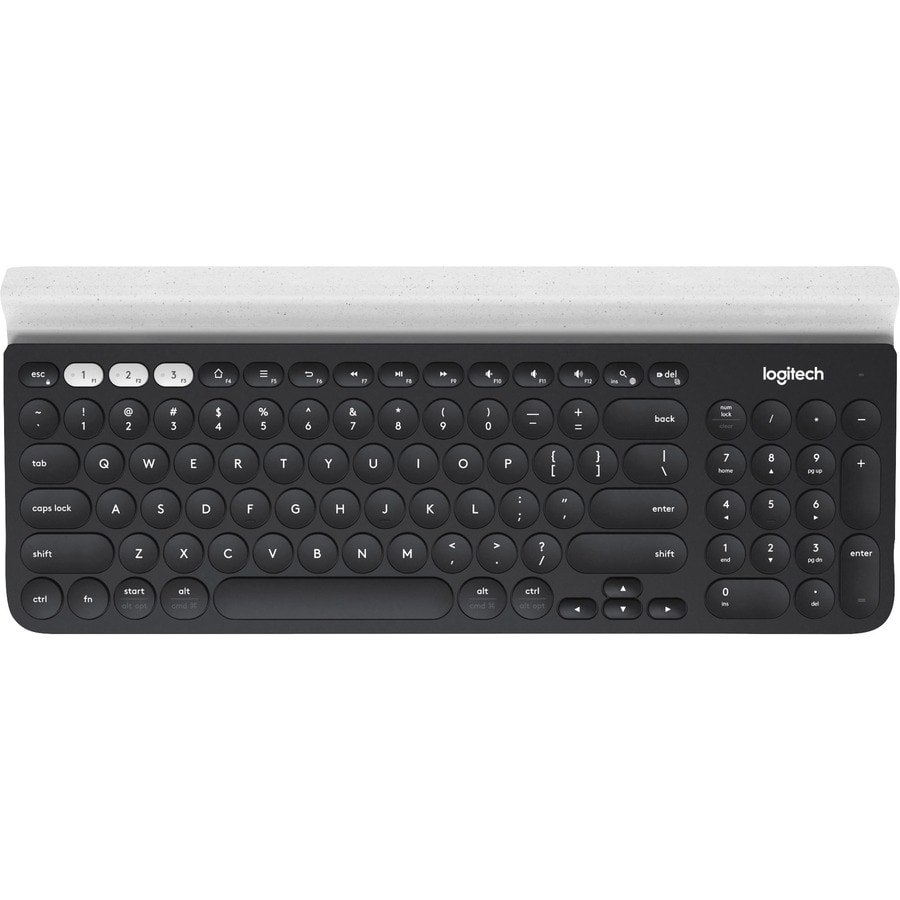 Quick tech specs
View All
Know your gear
The K780 Multi-Device is a fully equipped, beautifully finished computer keyboard with numbers pad, which also works perfectly with smartphones and tablets.
Logitech K780 Multi-Device - keyboard - QWERTY - black
is rated
4.26
out of
5
by
19
.
Rated

5

out of

5
by
Lia.M
from
Logitech K8 wireless keyboard
This keyboard is awesome. It is nice and heavy and I like that because it does not move around. The keys are quiet when typing and close enough to where my fingers do not have to stretch too far. The best part is when I could switch from typing on my computer to when someone will text me and I can just press a button and it switches to my phone. It feels so smooth when I type. I am also working with an iMac desktop and I like that it has the certain buttons already on there that works for iMac computer. This I mean, the command and cntl button. This is by far the best wireless keyboard I have ever owned. Oh, it's also very easy and quick to set up.
Date published: 2020-06-01T00:00:00-04:00
Rated

5

out of

5
by
Kathi M
from
Ehhh..
It's ok. The directions for hooking everything up were not easy to understand (all pictures and I didn't realize there was a tray at the top to hold cell phone, tablet, etc. Neither of mine fit as it is too narrow anyway. The metal casing makes the keyboard very heavy and there is no way to tilt it up for hand comfort. It does type very quietly though.
Date published: 2020-08-21T00:00:00-04:00
Rated

5

out of

5
by
Blue flash
from
Great key board that is easy to use, has very large area of use.
Great key board. Need better info on key board keys, what they do and how to use them.
Date published: 2020-06-08T00:00:00-04:00
Rated

5

out of

5
by
Rhonda
from
Logitech K780 Wireless Multi-Device Keyboard Black
Perfect for someone who types with one or two fingers. Nice looking keyboard. Not for you if you know how to type. Small round keys and perfectly useful keys like page up and others are gone.
Date published: 2020-08-09T00:00:00-04:00
Rated

5

out of

5
by
Arizona travel
from
Nice smaller keyboard
I needed a new keyboard for my new Mac mini and this one fit the bill. Works really good, doesn't take up alot of room and looks nice on my desk. Easy to pair with other hardware.
Date published: 2020-04-17T00:00:00-04:00
Rated

5

out of

5
by
Mukesh
from
Very elegant...
I am extremely happy with this one ! worth spending $$...
Date published: 2020-09-29T00:00:00-04:00
Rated

5

out of

5
by
nunya222
from
Very Responsive
I started using this about a month ago and am really impressed w/ the responsiveness and quiet keys.
Date published: 2019-01-11T00:00:00-05:00
Rated

5

out of

5
by
Big Al
from
Great feel and functionality/connectivity
A friend turned me on to this wireless keyboard. I can use one keyboard to type into my phone, tablet or PC. One quick touch of a button to instantly switch between devices. Makes multitasking very easy. With phone I can now use full size great feeling keyboard to type texts, calendar entries and even type address into navigation. I also love the way the keyboard feels when typing.
Date published: 2018-08-23T00:00:00-04:00
Rated

5

out of

5
by
paulaj
from
Wireless Beauty!
I have had a wired keyboard for years now and finally decided to upgrade to wireless... so GLAD I did! This keyboard was extremely easy to set up and matched my M720 Logitech Mouse perfectly! It's a great size and still includes a full number keypad. I really like the multi-device shelf on the keyboard that allows me to set my phone/tablet up for easy access and let's me reply to my text messages from my keyboard with ease! Being able to go from my computer to phone to tablet with the press of a button is the coolest feature by far. A 5 star product all the way!
Date published: 2019-01-15T00:00:00-05:00
Rated

5

out of

5
by
KingOfTheCastle
from
Must Have Keyboard
This is a great keyboard, it is virtually silent and is one of the easiest to connect to a phone/PC I have ever used. The keyboard can seamlessly be flipped between 3 products with the touch of a button and move between dongle and Bluetooth without lag. Highly recommend.
Date published: 2019-01-14T00:00:00-05:00
Rated

5

out of

5
by
BatmanIsOverrated
from
Slick and Portable
The keyboard is flat and easy to carry around and connect to other bluetooth devices. The built in phone stand is cool too for watching movies when I should be working.
Date published: 2019-01-09T00:00:00-05:00
Rated

5

out of

5
by
William12345
from
Great multi device keyboard!
I love the keyboard, so intuitive and easy to use. My typing is actually faster and more accurate than with other keyboards. It has a good, solid feel and weight. I also love switching between my phone and PC just by clicking 1 button. The only drawback is that the 'home' and 'end' keys can only be accessed by hitting num lock, then you have to hit num lock again to use the number pad.
Date published: 2019-01-09T00:00:00-05:00
Rated

5

out of

5
by
KC143
from
So Quiet & Great Multi-Device Functionality
I've had this keyboard for about a month and a half & it is great! I primarily use it at work, so the multi-device functionality has been very beneficial. The switch between my phone & my computer is nearly seamless with a press of a button. The smart device tray decluttered my desk by giving me a spot for my phone. And it is SO QUIET! By far my favorite benefit, especially in the open workspace of my office. My only complaint would be some of the function keys (home, page up, etc.) are a bit harder to find/use requiring the use of the function key & a number pad digit, but I think that will just take time to get used to. Overall, a great device!
Date published: 2019-01-09T00:00:00-05:00
Rated

5

out of

5
by
HUser
from
Great keyboard... But...
In order to make the batteries go forever... this keyboard goes to a 'sleep' mode very quickly. As per Logitech support, this cannot be changed or configured.The Problem: This keyboard does not register the first keystroke. It is maddening! Imagine when you start typing a password or a URL or anything... and the first keystroke doesn't register... ugh!Don't buy it. You will be pulling your hair out within an hour and its not fixable.
Date published: 2017-05-23T00:00:00-04:00
Rated

5

out of

5
by
ITGuy
from
Decent Keyboard, great multi-device functionality
This keyboard is perfectly adequate. I have purchased 2 (one for home and one for the office). I like the ability to be able to switch between my desktops, tables, and even smartphone. This has eliminated a need for a KVM.Pro's+ Multi-device support+ great battery life+ Full keyboard size / spacingCon's- round keys- does not have "tilt legs"- slot for device (white area above the function keys) is not wide enough if your device (phone, tablet, etc.) has a caseAdditional note: A previous reviewer indicated that the keyboard going to "sleep" mode was frustrating. I have not observed this... I anticipate that by the time the keyboard goes to sleep, I also imagine that my desktop has gone to a lock screen (where I would hit the space bar to wake it up anyway).
Date published: 2017-06-22T00:00:00-04:00
Rated

5

out of

5
by
DScott
from
Great Keyboard!
Excellent keyboard, lightweight and small.
Date published: 2021-03-15T00:00:00-04:00
Rated

5

out of

5
by
Karen
from
LOVE IT!
I love this keyboard. The keyboard is small but easy to type on. The feel is smooth.
Date published: 2022-04-27T00:00:00-04:00
Rated

5

out of

5
by
Maggie
from
Solid Keyboard
Wasn't sure when I got this I would like it. But I was wrong. Is easy to use and fits my needs perfectly.
Date published: 2021-10-22T00:00:00-04:00
Rated

5

out of

5
by
Tom
from
x
This is a nice keyboard. I understood that it was not backlit, but I am very disappointed that there is nothing to indicate when caps lock or num lock are on.
Date published: 2021-06-30T00:00:00-04:00