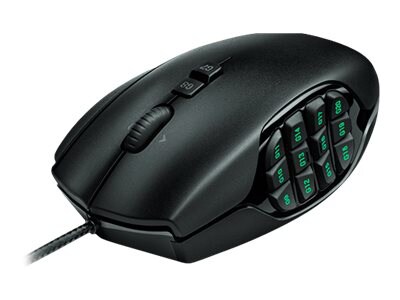 Quick tech specs
right-handed
20 buttons
USB
Gaming
View All
Know your gear
With 20 buttons, the Logitech G600 MMO Gaming Mouse is the most customizable and easy-to-use mouse specifically designed for mastering your favorite MMOs. Three primary buttons. Twelve thumb buttons. A clickable scroll wheel that tilts. DPI and profile switching. All pre-configured for optimal MMO use right out of the box - no drivers required. Three onboard profiles - two for MMOs and one for FPS - that store button assignments, tracking information, and lighting color settings. Use them as-is or download optional software to tweak them to perfection.


Logitech Gaming Mouse G600 MMO - mouse - USB - black
is rated
4.60
out of
5
by
17
.
Rated

5

out of

5
by
JohnM
from
Great mouse for Video Editing
Excellent mouse for gaming and video editing. The 12 side buttons are designed perfectly to fit your thumb for quick access to shortcuts.
Date published: 2019-11-21T00:00:00-05:00
Rated

5

out of

5
by
MPW
from
Okay for a mouse but the keys on left not worth it
The software was buggy, and trying to get the 20 MMO tuned buttons program is more of a headache than it's worth.
Date published: 2020-08-07T00:00:00-04:00
Rated

5

out of

5
by
Nathan
from
10/10 best mouse I have ever used.
Amazing gaming mouse! Weather for WOW, Diablo 3, or Overwatch, with mouse brings the A game. With 12 buttons accessed by your thumb and a 3 clicker used by your ring finger the button mapping is insane. It sakes a bit to get used to, nut once you get the feel you will never want to go back to another mouse.
Date published: 2020-06-03T00:00:00-04:00
Rated

5

out of

5
by
Name
from
It's the best one.
This will ruin other mice for you. Why does your mouse only have two clicks? Because it's terrible, and dumb. Buy this one.
Date published: 2019-12-20T00:00:00-05:00
Rated

5

out of

5
by
Anthony
from
I Love It!
I really like this mouse. Love that it has so many buttons and that it is doubled because of the shift function. The shape of it is very comfortable and the tracking on it is very very good better than my other mice and the light isnt blinding like my other mice! I'm able to use this without a mouse pad on my wooden table, which I cannot do with my other mice. Nice rgb features and dpi settings. Love this!
Date published: 2019-12-29T00:00:00-05:00
Rated

5

out of

5
by
Sidewazes
from
null
I have two of them. Woek great on my desktop and my gaming laptop.
Date published: 2017-10-01T00:00:00-04:00
Rated

5

out of

5
by
mcjome
from
Great Mouse
Everything to do with this mouse is very handy and works as advertised and the additional buttons come in very handy. I would definitely recommend this mouse to any gamer.
Date published: 2014-01-31T00:00:00-05:00
Rated

5

out of

5
by
roninshibo
from
Highly Recommend
It's awesome. One of the best peripheral I've ever purchased. Greatly increased efficiency for online gamers.
Date published: 2019-11-22T00:00:00-05:00
Rated

5

out of

5
by
Ranthalion75
from
An accurate mouse with options.
I moved from the G602 over to the G600 because of the number of buttons. I don't play MMOs that much, which is what this mouse was designed for, but I do play simulations and FPS quite a bit. I LOVE the amount of programmable buttons and options you have to use on this mouse, especially the DPI Shift that let's you drop your DPI down to as little as 200 DPI for accurate aiming just by holding a button down. The only thing I don't like about this mouse is that there is no thumb rest, or a place to be able to pick up the mouse to readjust your hold on it. You end up having to hold it with your thumb on the side buttons, which sometimes results in accidental button presses. But if you can hold it lightly enough, you can manage. Overall, I love this mouse and use it every day. I also feel that besides the lack of a thumb rest, it does give me an advantage when I need many commands or actions at the press of a button on my mouse, instead of having to use keys on the keyboard.
Date published: 2019-08-07T00:00:00-04:00
Rated

5

out of

5
by
R.
from
Best mouse I have ever owned.
Better than Razor Naga. The buttons feel incredibly smooth and silent.
Date published: 2021-04-23T00:00:00-04:00
Rated

5

out of

5
by
Daniel
from
Worth every cent invested.
Really nice product, soft click and good to handle. Definitely worth it for the cost benefit!
Date published: 2022-10-13T00:00:00-04:00
Rated

5

out of

5
by
Caitlin
from
MMO MOUSE
Always my fav mouse. I love the amount of buttons. Awesome for MMORPG's
Date published: 2022-11-22T00:00:00-05:00
Rated

5

out of

5
by
ob-1
from
Good one
I do like this mouse
Date published: 2023-02-17T00:00:00-05:00
Rated

5

out of

5
by
JB
from
Great gaming mouse.
Software is robust and sensitivity options are nice.
Date published: 2022-08-29T00:00:00-04:00
Rated

5

out of

5
by
Ausmack
from
Great mouse
Great mouse, extra buttons are awesome
Date published: 2021-04-15T00:00:00-04:00
Rated

5

out of

5
by
Jeremy
from
Great for mmos
Excellent features, lots of buttons. This mouse was exactly what I was looking for. A couple of games I can play with just the mouse now. Others are made easier because of the ability to map keys to the mouse and have macros.
Date published: 2021-04-13T00:00:00-04:00
Rated

5

out of

5
by
Jaysoprock
from
null
This mouse is odd. It is very wide due to its 3 click button instead of the standard 2. You still have your left click, the middle is your right click, and the right-most button is a modifier to allow all of the buttons to perform multiple functions. I have rarely tried to use the modifier function. The buttons on the side of the mouse are plenty for my needs. The side buttons are grooved to allow easy recognition for when your in the zone and cant afford the look at the mouse. I will say that the buttons towards the back of the mouse may be hard to reach if you dont have monkey fingers like myself. I have very large hands and the mouse still took some time to not feel huge in my hand. The different color LEDs are a cool feature, the software is a bit bleh...but it works I guess. If you wont to make your gaming life more streamlined give this mouse a shot, as long as you dont mind palming a boulder for hours on end.
Date published: 2015-07-14T00:00:00-04:00