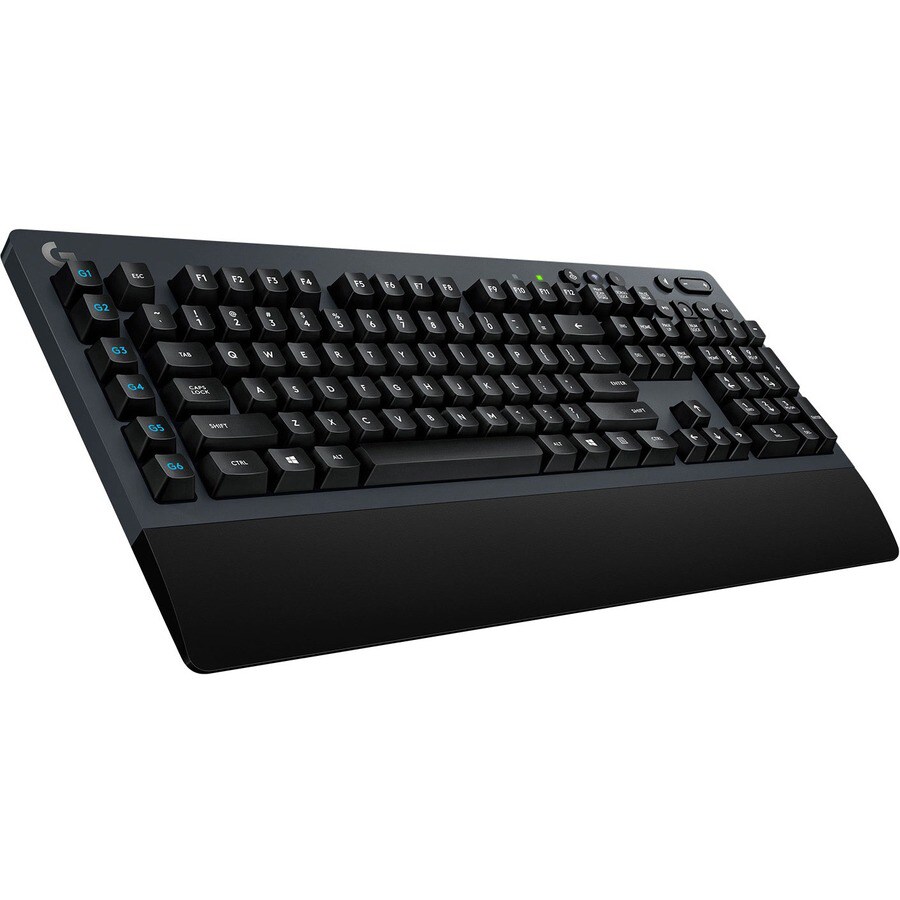 Quick tech specs
View All
Know your gear
G613 is a next generation wireless keyboard designed for gamers who demand both the high performance capabilities of mechanical switches and the freedom of wireless gaming. G613 features LIGHTSPEED wireless technology for super fast report rate and Bluetooth for multi-host connectivity, advanced Romer-G mechanical performance, 6-programmable G-keys, and amazing battery life.


Logitech Gaming G613 - keyboard
is rated
4.50
out of
5
by
13
.
Rated

5

out of

5
by
John
from
Good keyboard
Good keyboard, would have gotten a 5/5 review if not for the ctrl button popping out from time to time
Date published: 2020-10-05T00:00:00-04:00
Rated

5

out of

5
by
Hugo T.
from
Nicest mechanical keyboard
If you are looking for a wireless mechanical keyboard, this is the keyboard to get (this is the second one I buy. It even includes a small armrest. The battery life is very good. I am still using the original batteries in the first keyboard that I bought (more than 2 years, regular use!). It also supports 2 wireless modes of communication: Bluetooth and Logitech Lightspeed. As added functionality, you can pair the keyboard using Bluetooth to a computer and use the Logitech Lightspeed dongle to use the same keyboard on another computer. There is a gaming mode for those wanting to disable the Windows key to prevent accidentally pressing it while in game. Hope you like it too!!!
Date published: 2020-09-03T00:00:00-04:00
Rated

5

out of

5
by
Matt
from
Logitech G613
Outstanding keyboard with great response time
Date published: 2020-08-04T00:00:00-04:00
Rated

5

out of

5
by
D in SC
from
Powerful Wireless Key Strokes
The keyboard is great for typing and reacts well. My big fingers are not getting in the way when trying to type because they have room. I still have not used all the features of this keyboard, but my initial thoughts was that I am impressed how it feels just as a keyboard.
Date published: 2022-12-14T00:00:00-05:00
Rated

5

out of

5
by
BobbyC
from
G613 Keyboard
Great Keyboard Quick Response time. built in hand rest great feature!
Date published: 2022-07-21T00:00:00-04:00
Rated

5

out of

5
by
Christopher Culligan
from
Awesome keyboard
Great keyboard for both gaming and business that utilizes Bluetooth or Wi-Fi dongle connections. Recommend to all my friends, family, and business connections.
Date published: 2022-11-14T00:00:00-05:00
Rated

5

out of

5
by
James
from
Review
Batteries last a long time and it is fast.
Date published: 2023-02-28T00:00:00-05:00
Rated

5

out of

5
by
Homer
from
Logitech Keyboard
Great Keyboard
Date published: 2022-08-15T00:00:00-04:00
Rated

5

out of

5
by
BrianInMKE
from
Nice keyboard, good feel, and highly responsive
Very pleased with the keyboard. Only wish that when it paired via Bluetooth for the first time with a new device it didn't generate a different pairing code each time. That makes it harder to use across two computers where only one is turned on at a time.
Date published: 2023-01-31T00:00:00-05:00
Rated

5

out of

5
by
Anand S
from
Appreciation and Thanks for the quality.
Has been a month and works as per and as thought. Setting up is also easy. Thank you Logitech. Have been a fan, your name always sounds like the Toyota of computer accessories for me for the past 15+ years. Thank you for the team. ALWAYS listen to Cx's complaints and DO NOT ignore or fail to work on failures. Or else you will fail. THANKS AGAIN !!!
Date published: 2021-08-25T00:00:00-04:00
Rated

5

out of

5
by
Adrian
from
Cheap chunk of plastic
it feels like cheap plastic garbage and it is massive. I returned it.
Date published: 2021-06-28T00:00:00-04:00
Rated

5

out of

5
by
JewJew
from
Love the convenience
I love the convenience that this keyboard provides and how long it stays connected. The G buttons on the left side and the quick play, pause, and next options on the right side have made it easy to engrain into my normal computer activities. It has been my main keyboard for a while not and has not given me a single problem. I would definitely recommend this to someone who is constantly moving while needing to complete something, since it is Bluetooth and a wireless connection I am able to move it where I need it to be to comfortably type. Definitely satisfied with this purchase.
Date published: 2023-04-10T00:00:00-04:00
Rated

5

out of

5
by
Pat
from
Great keyboard; if you have room
Feel is awesome and sturdy. Very easy connection ; only downside is control of phone from the keyboard only worlds with Android. On the large side so make sure you have enough room.
Date published: 2021-02-09T00:00:00-05:00