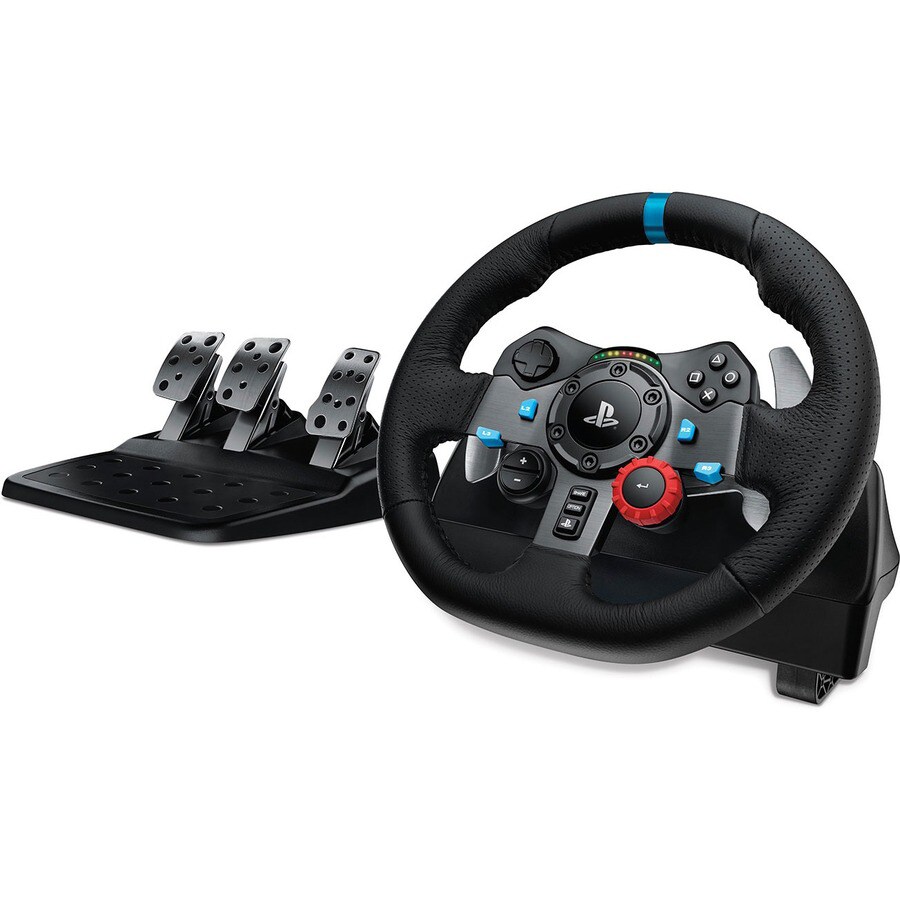 Quick tech specs
900˚ Rotating Wheel
24v Dc Power Adapter/charger
Handstitched Leather Covering
Sony Playstation 4
Windows 8
Mount To Tables Or Racing Rigs
Auto-calibration For Pedals
Stainless-steel Pedals And Paddle Shifters
Sony Playstation 3
Windows 8.1
Windows 7
Logitech 2-year Limited Warranty
View All
Know your gear
The Logitech® G29 Driving Force gaming steering wheel and pedals set produces dual-motor force feedback, allowing you to feel every terrain change for an immersive gaming experience. A 900˚ rotating wheel with a handstitched leather covering provides comfort for long gaming periods. Incorporated D-pad, paddle shifters and buttons on the USB™ racing wheel allow you complete control over the game from a single point. Helical gears reduce unwanted vibrations noise for smooth steering.

The Logitech G29 driving force wheel and pedals set is built for durability and comprise stainless steel pedals, paddle shifters and strong steel ball bearings. It's easy to install, providing the flexibility to mount it on racing rigs or tables, depending on which position maximizes output. The Logitech racing wheel and pedals unit is compatible with a wide range of Sony® PS3® and PS4® games as well as Windows® 7, Windows 8 and Windows 8.1 operating systems. Such versatility ensures you have adaptable gaming equipment for all your gaming needs.
Logitech G29 Driving Force - wheel and pedals set - wired
is rated
4.60
out of
5
by
10
.
Rated

5

out of

5
by
Matt Vandegenachte
from
Good but
Very good exactly as advertised almost... the only thing is the blue metallic ring around top center of the wheel is a few degrees off center. It is used to be able to tell where the wheel is without taking your eyes off the screen, it still serves its purpose ok but with it being alittle off it can sometimes affect my steering in game. Hopefully they are not all like that.
Date published: 2020-07-23T00:00:00-04:00
Rated

5

out of

5
by
JohnL
from
Not the best? Pretty darn good!
Based on my month or so of use, the G29 meets or exceeds my expectations. The reviews I read before pulling the trigger place the G27/G29 at the top of the heap of non-direct drive wheels. I agree that the G29 is more than capable of delivering a "realistic" racing experience - loads of fun. Set up was straight forward, basically plug n' play. I didn't (yet used the "quick change" mount since I mounted it directly to my DIY rig. This is my first wheel so my comment may not carry a lot of weight, but you can find plenty of glowing reviews. I will say that I probably couldn't have done better without shelling out BIG bucks for a direct drive unit. I don't see how one could be disappointed with the performance of the G29 racing wheel.
Date published: 2020-08-04T00:00:00-04:00
Rated

5

out of

5
by
wvhillbilly
from
best made equipment I have ever seen
This is one of the best made wheel/pedal system that I have ever purchased. Very sturdy, easy to hook up. Wish the stand was offered with it or in addition. The only complaint I have has nothing to do with dell. In fact it is with playstation. The fact that it is not compatible with almost no games that are typically played. From what we could find online there are only about three games it is playable with and those are the typical arcade style like NFS.
Date published: 2016-01-12T00:00:00-05:00
Rated

5

out of

5
by
Ty h
from
Wow
Amazing first wheel i just put a different shifter knob on.
Date published: 2021-08-21T00:00:00-04:00
Rated

5

out of

5
by
John C.
from
great wheel!
feedback feels great and is super responsive.
Date published: 2021-08-19T00:00:00-04:00
Rated

5

out of

5
by
A
from
Happy customer
Works great, glad it came with the pedals.
Date published: 2022-06-11T00:00:00-04:00
Rated

5

out of

5
by
E Chen
from
G29
Great quality. Excellent paddle shift.
Date published: 2022-08-23T00:00:00-04:00
Rated

5

out of

5
by
AJ
from
Loud, but ok.
Works well, but very loud.
Date published: 2022-12-27T00:00:00-05:00
Rated

5

out of

5
by
TruGenius
from
Nice Entry level racing Wheel for my PC and PS5
Very nice addition works great with PC and PS4 / PS5
Date published: 2022-11-22T00:00:00-05:00
Rated

5

out of

5
by
JUNG
from
G29
It was great racing wheel
Date published: 2023-03-13T00:00:00-04:00