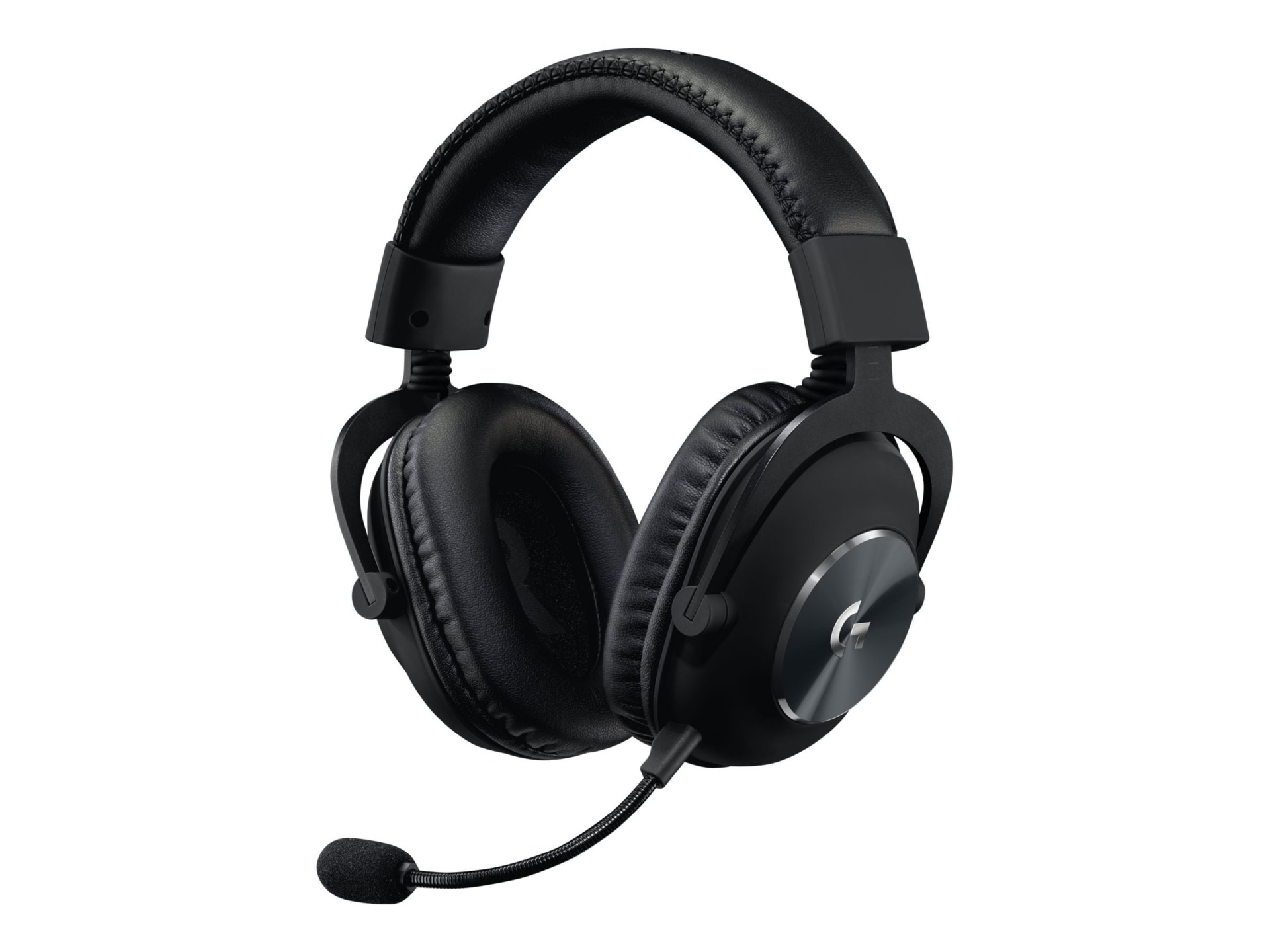 Quick tech specs
Headset
wired
noise isolating
full size
3.5 mm jack
black
View All
Know your gear
The PRO headset from Logitech G is designed with and for esports pros. Aluminum forks, steel headband, and memory foam and premium leatherette head and ear pads keep you comfortable through marathon training and competition sessions. Pro-G 50mm drivers deliver incredibly accurate audio with improved bass response. The advanced USB DAC has a five-band onboard EQ that can be programmed via G HUB software with settings from your favorite esports pros. Pro-tuned, detachable boom mic with wind screen and pop filter ensures your comms are crystal clear. Designed for PC.
Contact Sales Assistance
(800) 800-4239
,
Monday-Friday 7am-7:30pm CT
Logitech G Pro - headset
is rated
4.20
out of
5
by
20
.
Rated

5

out of

5
by
Eli Verschleisser
from
Well built headphones
Really nice quality very flexible in design and very comfortable
Date published: 2020-07-24T00:00:00-04:00
Rated

5

out of

5
by
Antoine P
from
G pro headset
Great headphones, but they are a little tight on the head.
Date published: 2020-07-24T00:00:00-04:00
Rated

5

out of

5
by
Paulymer
from
Maximum potential, minimal performance.
These headphones are well designed, very sturdy and nice to look at, but the most important part of headphones is how they sound and boy or boy do they sound horrible. They cancel noise better than a lot of headphones I've owned, but the sound is extremely muffled and "dirty." I understand now why I was offered a pair of these for free when I bought a computer recently, because these should only be given away. Definitely not worth the money and I wouldn't recommend them at all.
Date published: 2020-08-18T00:00:00-04:00
Rated

5

out of

5
by
Kim Combies
from
no a good set
Only the right ear phone works. I have only used them once since I got them.
Date published: 2020-08-04T00:00:00-04:00
Rated

5

out of

5
by
Newuser
from
Not compatible
Didnt work with xps 15 dell
Date published: 2020-10-13T00:00:00-04:00
Rated

5

out of

5
by
Bryon
from
Speaker stopped working
The right speaker stopped working 28 days after I purchased it.
Date published: 2020-06-05T00:00:00-04:00
Rated

5

out of

5
by
Bryan
from
Quality
It works! I use it for dictation, phone calls, web commands, excel, word. It works.
Date published: 2020-08-30T00:00:00-04:00
Rated

5

out of

5
by
VHS
from
Great value
fast delivery very good bang for buck headset with great mic.
Date published: 2020-05-24T00:00:00-04:00
Rated

5

out of

5
by
Mike
from
Great head set
I was looking for wired headset that didnt feel like cardboard and had good sound quality and mic. This one was great choice!
Date published: 2020-06-12T00:00:00-04:00
Rated

5

out of

5
by
Stacey
from
Sound quality is excellent
I have never had this brand before until I recieved this one. I really like these. I like how they can be used on my phone, computer, and even my gaming system. I like the style of these as well. They feel durable and not cheaply made. Very easy to use. I highly recommend these to anyone. Love them. The sound quality is amazing. It is very clear and to me they are noise canceling. I am so happy with these.
Date published: 2019-11-20T00:00:00-05:00
Rated

5

out of

5
by
ashwill82
from
Good product!
I was excited for my son to try these headphones as he is a gamer and always looking for a great pair of headphones. They fit him well and he seemed very pleased. The sound was good and they were easy to operate.
Date published: 2019-12-12T00:00:00-05:00
Rated

5

out of

5
by
Julesangel74
from
Great headphones
These headphones are amazing. I am hard of hearing which makes it difficult to find a set that works for me. These hit the nail on the head. The clarity is spot on with ever beat. All the sounds come out clear and crisp. The microphone is loud and cancels out any background sounds there might me. The Bluewave technology is exactly what makes these headphones first class. The wiring is heavy duty with no worry of kinking.
Date published: 2019-12-03T00:00:00-05:00
Rated

5

out of

5
by
dmx10101
from
Great gamin headset to use daily!
This Logitech headset is super comfortable to wear for hours at a time and the ear cups fit just right. They feel very sturdy and well built with quality materials, something that seems like it will last through a lot of frequent use. I like that it comes with everything you need to be able to use these on consoles or a PC. The mic appears to offer a clear and understandable transmission of your voice talk. They are also good to use when recording audio for video productions. Now when it comes to the actual sound of these, they rank up there with some of the most premium headsets for sale. The sound range on these is very good, with bass and treble sounds falling in the appropriate range. I found the software that it comes with to use on your PC for tuning the audio further to be useful and it did help to clarify the quality sound even further. All in all this is a get pair of headphones for gaming or recording audio.
Date published: 2019-12-02T00:00:00-05:00
Rated

5

out of

5
by
Blkttykat
from
Excellent Purchase
Well worth the money. These hphones are awesome. And Dell gave me rewards I could use for the purchase. Could not be happier. Dell Rocks!
Date published: 2019-11-25T00:00:00-05:00
Rated

5

out of

5
by
Pbanuelos2
from
This headset is awesome!
Not only do i use this headset but so does my husband and even my son. We all love it its great quality theyre not cheap at all and yes! It blocks out sound so it feels like ure in the game or whatever it is u choose to do with them!
Date published: 2019-11-21T00:00:00-05:00
Rated

5

out of

5
by
Jenny T
from
Gamer happy
Going on 2 months in perfect condition and no complaints from the gamer!
Date published: 2021-03-09T00:00:00-05:00
Rated

5

out of

5
by
Old School
from
Very good quality
Very good sound and microphone quality according to my ears. I can still hear the clicking of my gaming keyboard (not much but when the sound plays, i could barely hear the clicking (maybe because the loud volume). The the pressure of the earcups not hurting my ears at all (4 hours on my ears listening to music and playing Roblox). But after 4hrs, my ears were sweating. It seemed like no air circulation due to the leather like padding in comparison with cloth padding. But overall .... I like this headset.
Date published: 2021-03-20T00:00:00-04:00
Rated

5

out of

5
by
Don't ask , don't tell
from
Can you hear me now???
They are comfortable but I have to almost be eating the mic for friends to hear me
Date published: 2021-12-02T00:00:00-05:00
Rated

5

out of

5
by
Turner
from
Would Buy Again!
Excellent headphones. I love the included DAC because you can save on-board EQ profiles to it for us on other devices. Tough price to beat.
Date published: 2022-05-18T00:00:00-04:00
Rated

5

out of

5
by
nice
from
The earphones are super cost-effective, the stereo sound is also very strong, the sound insulation effect is also very good, the appearance texture is very good-looking, and it supports tuning. It feels good to use
I was pleasantly surprised after receiving the earphones, the price/performance ratio is quite high. The packaging is exquisite and tight, and the packaging looks tall and elegant. After taking it apart, the earphones are very textured, comfortable to the touch, skin-friendly and smooth, and the shape design is also very special. The key point is to have both good looks and high quality. After using it for a few days, the sound is very natural and comfortable. The effect of playing games and listening to music is great, and it feels very comfortable to wear. The size is just right, and it fits the ear quite well. I am very satisfied!
Date published: 2023-04-11T00:00:00-04:00