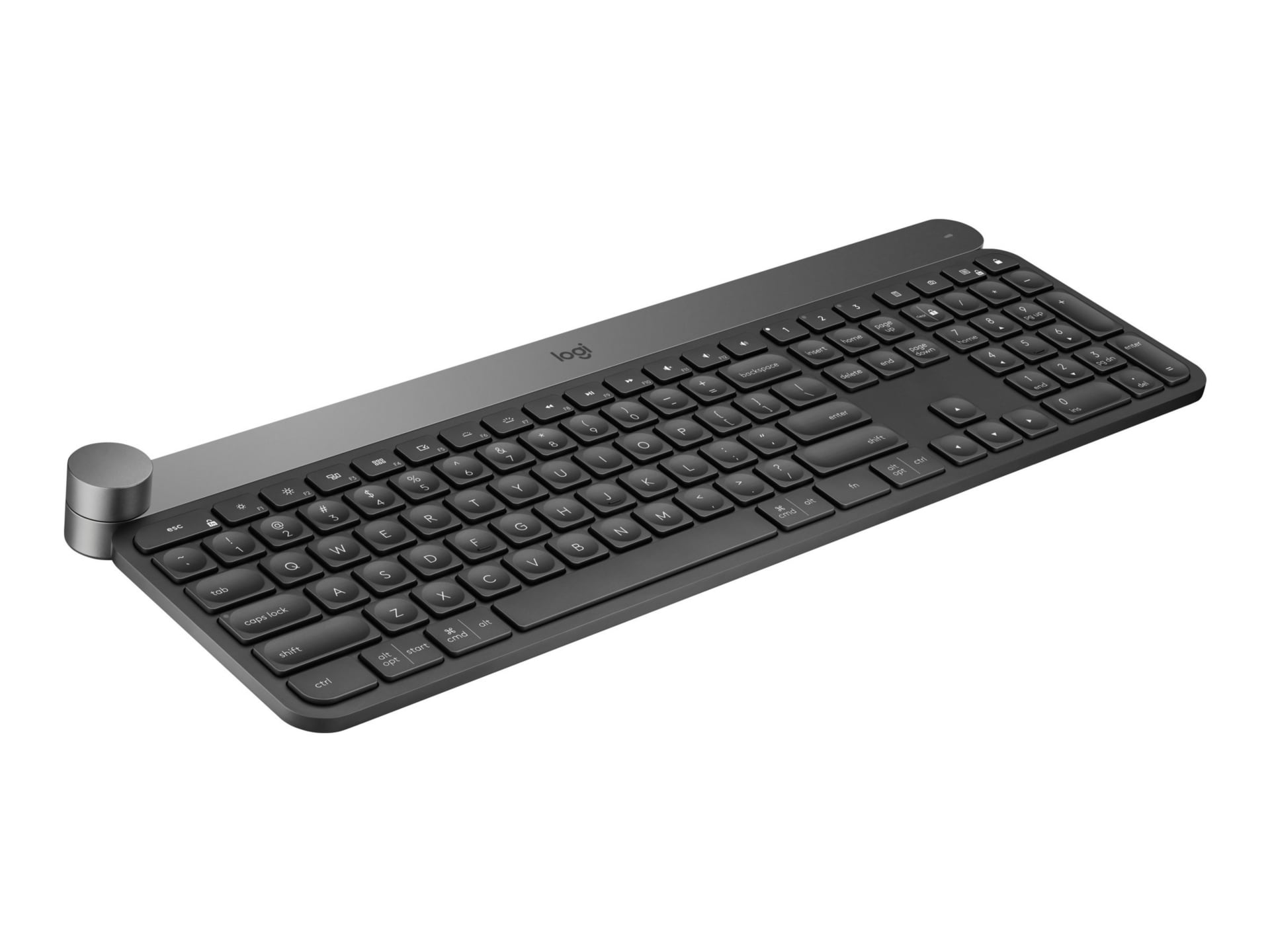 Quick tech specs
View All
Know your gear
Craft is a wireless keyboard with a premium typing experience and a versatile input dial that adapts to what you're making - keeping you focused and in your creative flow.
Logitech Craft Advanced with Creative Input Dial - keyboard
is rated
4.75
out of
5
by
20
.
Rated

5

out of

5
by
null
from
Great feel of keyboard and useful dial
The keyboard works very nicely although I need to readjust from locations on my Mac keyboard. The Input dial is useful but I do end up touching it a lot when I hit the Esc key, and that pops up the dial icons on-screen a little too frequently. Battery life is probably 5-6 days before I had to plug it into the laptop for charging.
Date published: 2020-06-03T16:21:16-04:00
Rated

5

out of

5
by
Mike D.
from
Sturdy, quiet, efficient keyboard w/programmable knob!
Great quiet typing with solid, sturdy feel. Actually helps me type faster and more accurately. I like the programmable knob for quick actions needed in Outlook and for pausing anything that's playing.
Date published: 2020-05-07T00:00:00-04:00
Rated

5

out of

5
by
BaldEagle48
from
Enjoying my Logitech Craft Keyboard
Really nice feel to this keyboard. Lots of features to get into as I use it to work with two different computers while teleworking from home. Pricey but was able to blunt some of that due to previous Dell purchases. Glad I purchased it. 
Date published: 2020-05-11T00:00:00-04:00
Rated

5

out of

5
by
rubayethk79
from
Awesome keyboard
I needed a keyboard that would let me switch between my ipad pro and macbook and my desktop windows machine and this did the trick seamlessly. Really impressed and appreciate the quick ship times by Dell.
Date published: 2019-05-08T00:00:00-04:00
Rated

5

out of

5
by
Goodcat
from
Very cool keyboard
Although a bit on the pricey side, this is a great keyboard! I have used it now for several weeks and use probably 65% of the features. It switches flawlessly between my 2 PC's and the battery life is great as well.
Date published: 2018-11-28T00:00:00-05:00
Rated

5

out of

5
by
Andrew
from
great keyboard - less one item
Very pleased with the keyboard's versatility and performance. The only issue that I am having is tied to the dial. there are times on Chrome that I need to change the volume and as I touch the dial I hear a mechanism movement inside it like it's changing a setting when it shouldn't? A couple of more touches it stops and allows me to smoothly change the volume. Not sure this is a defect or firmware issue? Overall like everything else about this keyboard.
Date published: 2019-11-06T00:00:00-05:00
Rated

5

out of

5
by
ecolson
from
Definitely a great keyboard, but way overpriced
This keyboard is very good. Which, for the price, is actually a downside. It needs to be stunningly good to be worth the cost. The features are all good, but none of them stand out as really groundbreaking. The wheel is nice, but not something I regularly use. I can see someone with different use cases liking it better.
Date published: 2018-11-12T00:00:00-05:00
Rated

5

out of

5
by
jd79
from
Works Great
I bought this because my keyboard broke. This works so well. It was easy to hook up. Easy to use. It is very convenient to have. I use it between my tablet and my personal computer. The quality is great.
Date published: 2021-04-26T00:00:00-04:00
Rated

5

out of

5
by
Jjoan
from
Great size keyboard
I have always wanted a wireless keyboard for my ipad plus because the keyboard. It also works with my windows computer for work. I love how the number keys are on the right size of the keyboard. It is so much easier to do my bills and purchases because of the side keyboard. I also like the dial on the left it works well with my apple apps. Reminder you need to download the app from logi to use the dial. Over all we love this larger wireless keyboard.
Date published: 2021-04-20T00:00:00-04:00
Rated

5

out of

5
by
Nikkib
from
Advanced beyond expectations
The Logitech Craft Keyboard is a game changer for me. As a budding new photographer I am quite new at photo editing software and it's navigation. The Crown on the keyboard gives me such control with its ability to control brush strokes, brightness, and font size. I can't even begin to list all of its capabilities as I haven't had a chance to explore all of them as of yet. The Bluetooth connectivity allowed me to pretty much take it anywhere. Connects to my iPad, smart phone, and even my smart tv. I can take pictures with my phone, which is not always the best quality and I can use photoshop to change that. I can also listen to music and use the crown to control volume. The crown also allows me to navigate between apps on my iPad and Mac with ease. I can't wait to see where this takes me in the future as it seems the possibilities are endless. All in all this is a well made sturdy keyboard that almost senses my next keystroke!
Date published: 2021-04-25T00:00:00-04:00
Rated

5

out of

5
by
Bkenney
from
Durable and Stylish
The Logitech Craft Advanced Keyboard is incredibly durable, and stylish. The buttons are soft and comfortable for extended use. The dial can be linked up with your favorite software and programs. This keyboard is sleek, but sturdy, and beautifully connects between three devices with ease. I highly recommend this product.
Date published: 2021-04-22T00:00:00-04:00
Rated

5

out of

5
by
Hainesmom
from
Very cool
Logitech Craft Advanced Keyboard - Wireless - Black is a very cool keyboard to use for all your meetings, it enables you to keep all your powerpoints very creative and easy to compile. It is a little heavy but worth it due to the creativity that it allows you to do. Very strict and tough.
Date published: 2021-04-22T00:00:00-04:00
Rated

5

out of

5
by
Jaymarie
from
Great keyboard
I received this as a sample product. My future daughter in law works from home. I asked her to try this keyboard for a week and give me feedback. She said the keys flow much easier then the one she had. It was very easy to set up. She said it is the best keyboard she has ever used.
Date published: 2021-04-27T00:00:00-04:00
Rated

5

out of

5
by
Ax4c
from
Obsessed
This connects to phones tablets computers whatever you want really. Im obsessed with it. Super easy to use, so many useful shortcut buttons. It feels like it's made of high quality materials as well. Very nicely made , super functional. I am obsessed with it
Date published: 2021-04-20T00:00:00-04:00
Rated

5

out of

5
by
Medical Author at Home
from
Great Keyboard, Battery Life Just Average
I have been using this keyboard for a few weeks now after retiring another Logitech keyboard. It is responsive with no missing keystrokes like my old keyboard did. I like the scroll wheel - mostly use it for volume setting right now but will push myself to explore other uses soon. On the flipside, I find the key edges kind of sharp. Sounds silly I know, but can be irritating to the fingers with how I type as my fingers slightly scrape the edges of some of the keys. I'm also not overly pleased with the battery life, needing to charge the keyboard about every other day. It works then boom! - critical battery alert.
Date published: 2022-05-26T00:00:00-04:00
Rated

5

out of

5
by
Lynn234
from
Perfect keyboard
Exactly what I needed. Simple, classic keyboard. Very streamlined and easy to setup and begin using. Everything works perfectly and keeps the work rolling smoothly. Is exactly what you think you're getting, a great product.
Date published: 2021-04-24T00:00:00-04:00
Rated

5

out of

5
by
Rhlala
from
Such an amazing keyboard
Easy to initially hook up because it is Bluetooth. There are extras that you gain by downloading the software from the Logitech. I was not able to use these features due to my work computer being so locked down. I did reach out to their customer service for assistance and got a timely response from them to answer my question. I really like the low profile keys. Easy to type on.
Date published: 2021-05-17T00:00:00-04:00
Rated

5

out of

5
by
Voiceover Tom
from
Best keyboard for audio/video production.
Well build, highly functional and professional grade.
Date published: 2022-06-08T00:00:00-04:00
Rated

5

out of

5
by
DFW David
from
Best Keyboard on the Market
I really recommend this keyboard to everyone. It has back-lit soft touch keys which don't extend from the keyboard itself. The Logitech helps me type much faster. Buy one today if you can!
Date published: 2022-06-11T00:00:00-04:00
Rated

5

out of

5
by
Paul
from
Control three from one with a high quality keyboard
Great keyboard from Logitech.
Date published: 2021-02-24T00:00:00-05:00