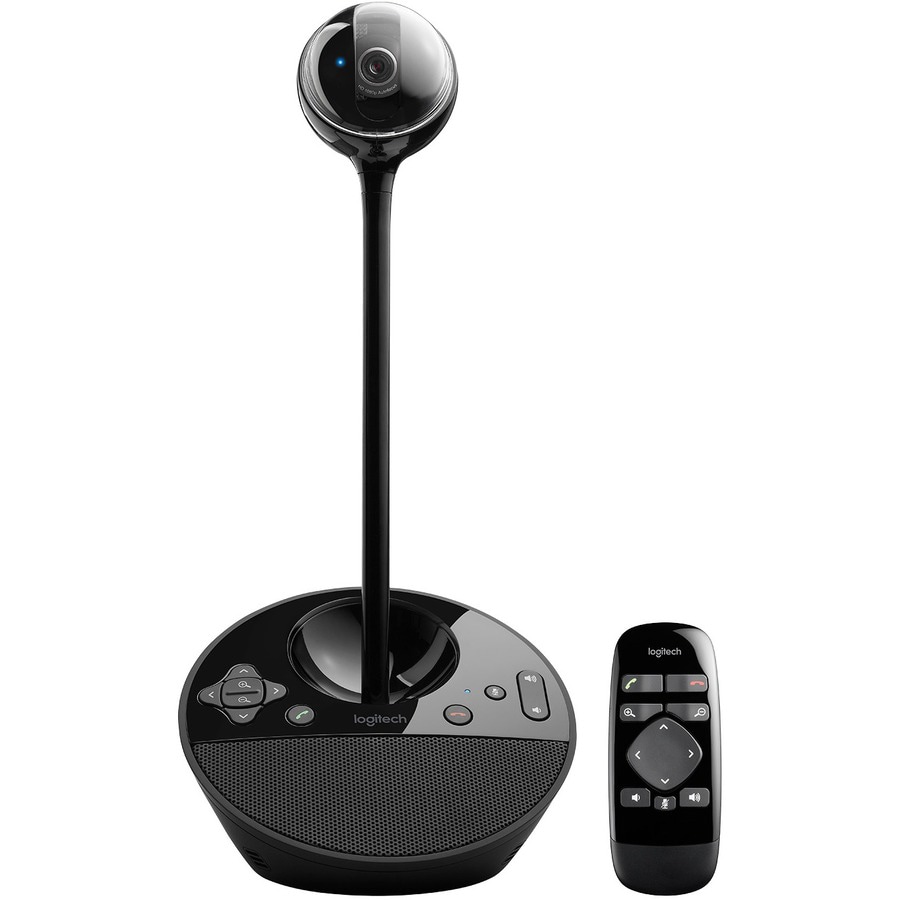 Quick tech specs
View All
Know your gear
It combines HD 1080p 30fps video with high-quality full-duplex speakerphone clarity for business-grade video conferencing. UVC H. 264 onboard technology helps ensure quick Plug-and-Play functionality on both PCs and Macs - no software to install. The built-in, full duplex speakerphone and noise-canceling microphone allow all meeting members to hear and be heard clearly up to 8 feet away from the base.
Logitech BCC950 ConferenceCam - webcam
is rated
4.20
out of
5
by
10
.
Rated

5

out of

5
by
NIRD
from
null
Setup and installed 2 of these recently without any issues. Both installed quickly and seamlessly onto Windows 7 and integrated into Skype. Good quality picture / control.
Date published: 2015-02-03T00:00:00-05:00
Rated

5

out of

5
by
RobertFranz
from
null
Crippled drivers make this of dubious use. There are no drivers available for Windows Server or Win8, so it will be crippled on these operating systems. By crippled - I mean that there is no way to make adjustments via software - since Logitech software won't install on these systems. I can install the desktop software for a different Logitech, start it, and access a very small subset of the camera controls. This seems to be an attempt to 'dumb down' the camera. This is unfortunate, as good video quality is dependent on fine tuning of settings. Even in Win7 with the drivers installed, controls are still minimal. Bought this as an experiment, but it was a big fail. I get MUCH better video with a C930E. If your mileage differs, it's because you are not bothering to tune your camera for for environment. The BCC950 may be marginally better than other cams in 'idiot mode' - where you make no effort other than opening the box.
Date published: 2014-04-18T00:00:00-04:00
Rated

5

out of

5
by
Gareth Compton
from
null
Installed this for a client on the recommendation of their head office in another country. 4 year old Windows 7 Lenovo Thinkpad to a 42" Samsung professional Monitor (Full HD). The camera installed with no dramas whatsoever. Client uses Lync and this was able to use the camera with no problems. tested to Lync on iPad, images were crystal clear. the microphone was also perfectly good at picking up all sounds in the room. The only issue raised so far was a Lync issue, rather than the camera - in a meeting with multiple offices, the aspect ratio in Lync was changed from widescreen to square - which cut off some of the people around the table. This was resolved in a setting in Lync. Generally I have had no significant performance issues with this camera - everything just worked. The remote to pan/tilt/zoom worked as expected. I really have no complaints and would consider recommending this camera for small conference room settings.
Date published: 2014-05-12T00:00:00-04:00
Rated

5

out of

5
by
OldF1
from
Great for the Price
Don't try to compare this to a Full Video Conference System. Its not a $5-10K replacement. Its 1080P and absolutely gorgeous picture. Ours outputs to a 55" Samsung LED TV. The eyeball height could be slightly higher. Sound is great, it takes all sound from the installed computer its running off of. Used with the shipped cabling and work great. Installation was a breeze with drivers downloaded from Logitech. Running with LifeSize Soft Phone software, works great. Really a compelling, low cost, small conference room (2-3 people) solution.
Date published: 2014-08-25T00:00:00-04:00
Rated

5

out of

5
by
AC
from
Really good camera ... look much better for Zoom than my Macbook camera
Really good camera and easy to use
Date published: 2020-11-06T00:00:00-05:00
Rated

5

out of

5
by
Tamar
from
The best web camera I've used so far!
I love the video quality and the ability to adjust the camera with the remote control. How did I get along without this before!?! I highly recommend this to anyone who does a lot of video conferencing even if it is only you on camera.
Date published: 2020-07-29T00:00:00-04:00
Rated

5

out of

5
by
PRC
from
Happy!
Excellent performance. I just wish the post for elevating the camera fit more sturdily into the base. And for the future, maybe consider making the post adjustable, so the user has options for varying the height?
Date published: 2021-02-13T00:00:00-05:00
Rated

5

out of

5
by
Margi G
from
Great webcam. Well worth the price!
I love this webcam. It is SO worth the price compared to my prior webcam options.
Date published: 2021-03-02T00:00:00-05:00
Rated

5

out of

5
by
Michael
from
Conference Cam
Trying to determine which power source that works with the camera took a little bit of time - i.e. plug in power or USB-C.
Date published: 2020-08-25T00:00:00-04:00
Rated

5

out of

5
by
cre8ivichiban
from
Good quality, a little awkward and lacking USB C
This is a good device; I deducted a star as this device does not have a USB C cable interface. From a usability point this device is ergonomically a little awkward for the desktop or even in a small conference room as you need to have it placed in the line of site of the monitor so that everyone is looking into the camera and not askew as people tend to look at the monitor to see the other participants.
Date published: 2020-07-27T00:00:00-04:00