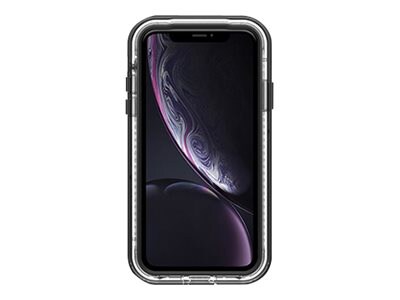 Quick tech specs
clear
for Apple iPhone XR
View All
Know your gear
When action keeps your feet planted on dry land, park your device inside the LifeProof NEXT Back Cover. This case is designed for the iPhone XR and offers waterproof protection that will shield your phone from liquid spills and protect it from drops in water. It can also block dirt, dust, snow and debris from entering your smartphone. The case's transparent shell reveals the phone's finish.
Contact Sales Assistance
(800) 800-4239
,
Monday-Friday 7am-7:30pm CT
LifeProof NËXT JOYRIDE - back cover for cell phone
is rated
3.81
out of
5
by
36
.
Rated

5

out of

5
by
DennyM
from
Sleek & impervious
While I love otter box defenders, the life proof case is sleek, yet still offers great protection and grip.
Date published: 2019-01-19T00:00:00-05:00
Rated

5

out of

5
by
Jules614
from
Love it!
I bought 2 cases when they had a sale "Buy a case & get a free Alpha Glass." This has been my favorite case I've ever had! I love the sleekness of it. I got the red iPhone XR and the red shows through the back of my case. My son got a white XR. I haven't dropped mine yet (*knock on wood*, but it seems very sturdy. It's a tight fit for your phone, but it's supposed to be! I love it!
Date published: 2018-12-04T00:00:00-05:00
Rated

5

out of

5
by
Tabitha
from
Not what expected
When the case came it seemed to already have some tiny scratches and when put on phone even when cleaning and wiping it down it tended to have a rainbow effect like from oil or dirt. Not worth the price.
Date published: 2019-01-08T00:00:00-05:00
Rated

5

out of

5
by
Inkd0504
from
Nice case...
I got this about a month ago.... case is great... easy to put on but only issue was the was 2 scratches on the inside of the back plate of the case when it arrived...other then that the case is great
Date published: 2019-04-03T00:00:00-04:00
Rated

5

out of

5
by
Reagan
from
Through the dirt and mud
I've dropped my phone so many times and it hasn't even scratched I love this case!
Date published: 2019-02-23T00:00:00-05:00
Rated

5

out of

5
by
Elena
from
Wasn't sure until
I received this case very late so when I 1st opened the package I was disappointed. I thought it had a built in screen protector but it doesn't. I misunderstood the description. That being said it just looked like a lot of meaningless plastic for all the money I paid for it! I put it right back in the package to send back. A few days went by and I kept seeing internet pics of this case in a lot of different colors and thought how nice it looked. Maybe I should give it a shot and see. Took it out of the package I had it in for returning and it's not as easy as it looks to.open. Once opened I snapped the case together and to my surprise I really liked it! It feels good in my hand and just looks great! Nice even coverage and the slide button on the side to shut the ringer off is cool! So happy I gave it a try. Great color as well!
Date published: 2019-03-29T00:00:00-04:00
Rated

5

out of

5
by
Ejam
from
Great case!
Have this case for a two weeks now. It was easy to install and looks great! Its sleek and slim design makes it easy to fit in any pocket. The clear back allows me to show off the phone's awesome RED color! It gives me great peace of mind having this case to protect my expensive investment!
Date published: 2019-01-21T00:00:00-05:00
Rated

5

out of

5
by
Cass
from
Sleek and Functional
I bought this a month ago and love the disign. I've used Lifeproof for every Apple product i've owned and never regret the purchase; it alwyas protects my device even through design changes. I love the clear elements and pop of color with this collection.
Date published: 2019-02-20T00:00:00-05:00
Rated

5

out of

5
by
brg7910
from
Great protective case
I have only been using the Next for my XR for about a week. The case itself adds a bit of width but very little depth making it super protective and also quite manageable. The only "issue" with the case is that you MUST use the pry to tool it comes with it ALL THE WAY AROUND. Do NOT simply pry the bottom corners off then pull the top as per the instructions. Doing so will make the top part of the case seat incorrectly/loosely when you assemble it again. LifeProof customer service was top notch and sent me a free case after calling in to report the issue I had. If it wasn't for this issue it would have been a 5 star review.
Date published: 2018-12-14T00:00:00-05:00
Rated

5

out of

5
by
Brooke
from
Gets dirty
I have had this phone case for 2-3 weeks now. The purple has turned to an ugly brownish color and I can not clean it.The Rubber also has indent marks making the case look old and not nice. I take good care of my phone/ phone case and I am very upset with the color change. I think for the price of this case, the original color should stay.
Date published: 2019-03-06T00:00:00-05:00
Rated

5

out of

5
by
Bummed out
from
I don't love it
I am disappointed in my new case. It's not very protective I dropped it once and my screen protector shattered. I have only had this case less than a week. I am going to return this and go back to my fre case. I wanted this one because it was clear. The blue sides don't look good with my red XR anyway.
Date published: 2018-12-08T00:00:00-05:00
Rated

5

out of

5
by
Sarah
from
Let my personality shine
I have had this just over a week and love it! I have always bought life proof and won't waste my money with anyone else because with life proof you get your monies worth. I love that it shows the color you pick for your XR, in my case it is the coral. I didn't want to hide that. I was torn between the water proof or this one. I decided to go for this one because the phone itself would be okay in water. It just feels like I am getting my monies worth with my phone because you pick just a nice color and then hide it? No thanks. This cover is so incredible. It has saved my phone from cracking one too many times already. Wouldn't go anywhere else and you shouldn't either.
Date published: 2019-03-29T00:00:00-04:00
Rated

5

out of

5
by
Matt
from
Great case
I am a tree trimmer so I deal with plenty of sawdust, even in my pocket. The speaker/port cover really helps. It did arrive with a scratch on the back but I'm not too picky and pretended I didn't see it.
Date published: 2018-12-08T00:00:00-05:00
Rated

5

out of

5
by
stith_lord
from
So far so good!
I've had the case for a week now and I'm really happy I bought it. Dropped my phone walking up concrete stairs and didn't have a scratch. One thing I will say about the case that Lifeproof doesn't address, the case still allows the phone to wirelessly charge.
Date published: 2018-11-02T00:00:00-04:00
Rated

5

out of

5
by
MarcoPolo
from
Life Proof Next Clear Case for iPhone XR
I like this case, although it is too expensive at $89.99. It protects better with its hard plastic in the rear and I especially like the clear, transparent plastic which highlights the bright pastel colors of the new XR model. Otterbox brand (same company should make something similar but doesn't. Their price points are lower than the Lifeproof brand. Also - due to the expense of this Lifeproof case - the company should throw in the tempered glass to cover the screen. It must be purchaded seperately for a whopping $39.95.
Date published: 2018-12-23T00:00:00-05:00
Rated

5

out of

5
by
RobJ
from
Faulty item replaced quickly
My first case had a faulty ringer button but was quickly replaced once I had gone through the warranty/support process. The replacement case is working well and I am loving it's simplicity.
Date published: 2018-12-23T00:00:00-05:00
Rated

5

out of

5
by
Breeze
from
In love
I love this case I get compliments all the time I dropped it a few times wasn't paranoid what I will see when I picked it up. The price is worth it. I got the black outline one so it wouldn't clash with my yellow phone it's fantastic.
Date published: 2019-01-23T00:00:00-05:00
Rated

5

out of

5
by
julia_ingham
from
Good case
The case is really comfortable to hold and it goes in my pockets easily because it's not very bulky. When I first put it on I was having some trouble with the volume buttons, now they work great though.
Date published: 2019-02-11T00:00:00-05:00
Rated

5

out of

5
by
Doodles
from
Looks slick!
Used this less than a week on my new coral IPhone XR. Looks great and will hopefully protect phone in case of drops. I can see the beautiful coral color of the phone through the full clear back. Phone with case is slightly larger than I anticipated but still a slimmer profile for a 2 piece ultra protective case. Rubber grip around perimeter helps keep the phone from slipping in hand and sound toggle switch makes turning off the sound a snap.
Date published: 2018-11-01T00:00:00-04:00
Rated

5

out of

5
by
phil
from
next case
love it it looks good and rubber bumper is good lip covers front of screen perfect with alpha glass
Date published: 2018-12-08T00:00:00-05:00
Rated

5

out of

5
by
Jaime Gates
from
Ehhh
Got a brand new phone so thought I'd spring for a great PROTECTION phone case. I always bought the cheap ones.... ehhh not sure why it was SOOOOO expensive. Have not dropped my phone yet so don't know if it will protect against falls, but the case SEEMS to be over priced. Only had case 2 weeks and the color part is dirty pink now and the back has some scratches. Easy to use exchange though. Which I did.
Date published: 2018-12-07T00:00:00-05:00
Rated

5

out of

5
by
A M R
from
Works for my needs, but too pricey
It seems to be a fairly sturdy case. It scratches fairly easily though and is very expensive. They used to have guarantees on these cases, but I guess too many people took advantage. If I didn't work in construction I most certainly would gone with almost anything else on Amazon. Pros: - it's light weight and fairly slim - offers some form of dust protection - doesn't muffle sound or speakers Cons: - overly expensive - no longer comes with any guarantee - could be more aesthetically pleasing - scratches easily
Date published: 2019-03-14T00:00:00-04:00
Rated

5

out of

5
by
MamaLou
from
Travel around New York state
I purchased my new case immediately after acquiring a new iphoneXR. I have bought life proof cases since buying my first iPhone in 2011. The caseshas been 100% reliable. my new one is just what I wanted: functional, clear to see the phone itself, easy to apply, and pretty in purple.
Date published: 2018-12-04T00:00:00-05:00
Rated

5

out of

5
by
Nothanks
from
Carried everyday for over a week
This case is bigger than I expected. It's bulky but I feel it is very well built and protects my phone.
Date published: 2019-01-23T00:00:00-05:00
Rated

5

out of

5
by
Lola
from
My fault
The case is beautiful and sturdy. However, I didn't realize that the screen wouldn't be covered. That's my fault I just figured for the price there would be a screen protector.
Date published: 2019-01-12T00:00:00-05:00
Rated

5

out of

5
by
SwimF
from
Practical
I like the case- rugged and practical but doesn't detract from being able to use the interactivity of the phones screen- all gestures and touches are easily recognised by the phone
Date published: 2019-01-18T00:00:00-05:00
Rated

5

out of

5
by
jenn
from
New Case style for new phone
I just recently purchased this case to protect my new Iphone XR. I wanted to be able to still see the color of my phone, so that is why I chose the clear case. Cactus Rose was the closest thing to Coral, so I opted for that color. I would of liked the coral like options the other cases had.
Date published: 2018-11-07T00:00:00-05:00
Rated

5

out of

5
by
Domi
from
Okay
I wish it had a screen cover and wasn't so wide. Dust and crumbs get into the case and scratch the sides and back of the phone. It makes the phone even bigger then it already is which isn't ideal. Has good drop protection though and pretty colours.
Date published: 2018-12-18T00:00:00-05:00
Rated

5

out of

5
by
mghe
from
aesthetically pleasing, functional, but pricey
I've had this on my phone for about a week. Firstly, I love the way it looks on my phone, the lavender border and the clear back gives it a minimalist but polished look. I will say that the rubber on the outside gets dirty quickly. Nothing that cant be cleaned off with a paper towel and a little rubbing alcohol. If you have the XR, it is a bit wider of a phone then compared to the 7, and this case will make it even wider. I do feel like my phone is protected. I like that all the buttons are covered and the charging port has a nice cover for it. I haven't dropped it of gotten water on it so I can't speak to the durability. Overall, an attractive case with solid protection features, but definitely overpriced. Cheers.
Date published: 2019-04-10T00:00:00-04:00
Rated

5

out of

5
by
Makayla L
from
Amazing
I absolutely love this case! It is a bigger one, so it does make your phone feel wider, which I love! I've dropped it on concrete from chest length and there wasn't a single scratch to my phone. The clear back is really great too because you can show off the amazing colors the iPhone XR has to offer-while keeping it protected! Highly recommend.
Date published: 2019-01-12T00:00:00-05:00
Rated

5

out of

5
by
Ball654
from
Does what it says
I bought this a month ago and unhappy with it because all of the cases buttons stick out and because of that all the volume and power button are getting pressed in your pocket. Amazing for drop protection but the protruding easy to push buttons really ruin it for me. So I ordered a FRE.
Date published: 2018-11-18T00:00:00-05:00
Rated

5

out of

5
by
Felicia
from
Sleek and Sturdy
I've been an avid LifeProof user for over 2.5 years now. The first one was great and outlasted all of the crazy things that happened to my phone. I've only had this phone for a week, but it seems like it will last just as long as the last one did. It's much smaller and easier to put on than the Fre. Does not add too much bulkiness to the phone as you'll experience with other brands. I'm very happy with my purchase.
Date published: 2018-12-26T00:00:00-05:00
Rated

5

out of

5
by
Bubbycold
from
It looks to do what it says
I am currently using my Otterbox screenless defender case because I put the magnet mount for the Lifeproof mount on my case and it doesn't work with my wireless charger. I really wish they would come back with the Nuud case for these phones. I had that case on my iPhone 6S and loved the size, it was waterproof and screenless. Just nice size and wasn't bulky. The Next seems a lil bulky and not waterproof which I get the iPhones now are but I liked the dust protections and just liked my Nuud case
Date published: 2018-11-23T00:00:00-05:00
Rated

5

out of

5
by
Dean
from
Dust and dirt
Did not keep dirt out as good as I thought, the lightning port is full of dust, and dirt gets in by the camera and you can really see it with the clear back, with all that put aside the case is a great protective case and does it's job with regards to that. If your just looking for a protective clear case and don't care about dirt in the case I would highly recommend. If your looking for a case that keeps out dirt and dust I would look other places.
Date published: 2019-01-16T00:00:00-05:00
Rated

5

out of

5
by
Public
from
Everyday use
Not that happy as I thought it had something that would cover the camera and the screen especially from scratches and dirt so I'm not fully satisfied
Date published: 2019-01-22T00:00:00-05:00
Rated

5

out of

5
by
Stacy
from
Would be a nice case if mute worked
The mute button has a defect and does not turn correctly when you click it, I tried all different ways of putting the phone case on. Have to return it and get the slam because I use mute a lot and now they are charging me a five dollar fee to return and I contacted them the week I received it.
Date published: 2018-11-13T00:00:00-05:00