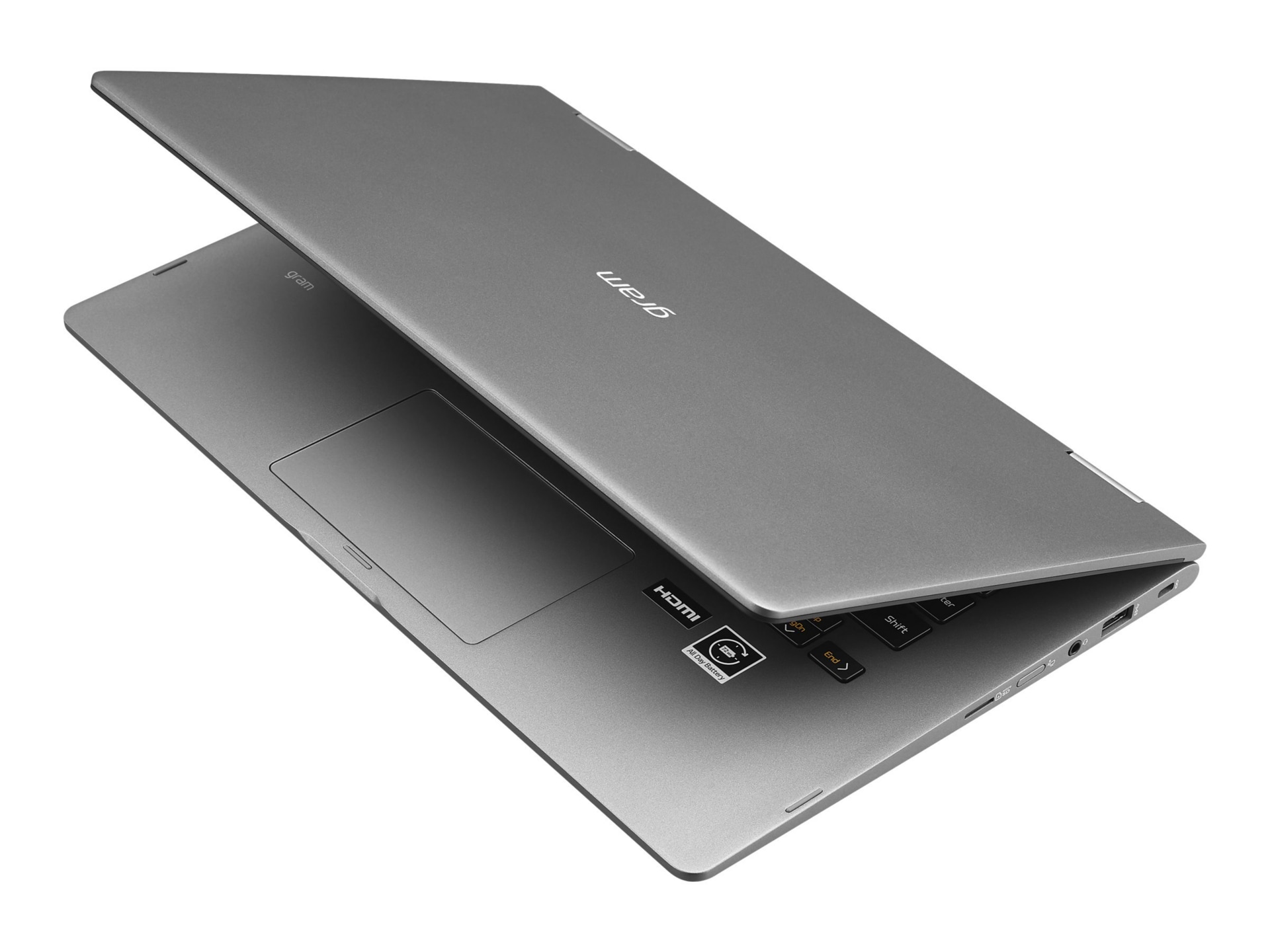 Quick tech specs
R.APS7U1
Core i7 10510U / 1.8 GHz
16 GB RAM
14" IPS touchscreen 1920 x 1080 (Full HD)
Bluetooth
dark silver
Flip design
Win 10 Pro 64-bit
512 GB SSD NVMe
UHD Graphics
Wi-Fi 6
View All
Know your gear
14" 2-in-1 TAA FHD IPS Touch gram Laptop with Stylus, Intel Core i7 processor, 16GB DDR4 RAM & 512 GB SSD, & Windows 10 Professional (64 bit) OS.
Contact Sales Assistance
(800) 800-4239
,
Monday-Friday 7am-7:30pm CT
LG gram 14T90N-R.APS7U1 - 14" - Core i7 10510U - 16 GB RAM - 512 GB SSD
is rated
4.20
out of
5
by
22
.
Rated

5

out of

5
by
ASL123
from
null
WORKs GOOD AS A COMPANY COMPUTER NO ISSUES VERY FAST
Date published: 2022-03-22T00:00:00-04:00
Rated

5

out of

5
by
Lorii K
from
Great Until It Wasn't
Honestly speaking, I really enjoyed it for the first half year. Everything worked well and beyond my expectations. I loved the dual feature allowing me to change from laptop to tablet mode fluidly and vice versa. This was the main reason why I purchased it since I'm a huge digital note taker and needed something convenient and light for lectures. However, slowly throughout the rest of the year, I started noticing a few flaws. For example, every now and then, the screen would not recognize the pen, and so, nothing would get written down or the drawing would just stop responding. I initially thought it was the battery in the pen, and so, I replaced it but that didn't do the trick. The only thing that worked was either restarting or shutting down the system. Another example, the hardware would have moments of intense heat within an hour of using it like normal. These flaws were still tolerable at that time. However, it became more frequent after 1 year's use. By that point, I was already past the warranty date and still in the middle of the semester, so I decided to wait it out before fixing it. Unfortunately, I never got to the end of the semester. It started crashing on me more frequently within less than 2 hours of continual usage. Right before it died on me for good, I was having 2-3 crashes within a 7 day time period. You might think that this is a software issue, however, my software has to always be up-to-date due to the requirements of some of my applications for school. After taking it to a local technician, he diagnosed the problem to be as a faulty SSD. I was shocked since it hasn't been 18 months yet and I also treat it like a shrine due to its sheer importance for my classwork. Regardless of whether you do decide to purchase it, understand that the longevity of this purchase is abysmal despite providing the best care you possibly can beyond normal wear and tear and also to frequently back up your data to an external source or else you will risk losing everything once it decides to crash on you for good.
Date published: 2022-09-05T00:00:00-04:00
Rated

5

out of

5
by
Havoc13
from
Great 2 in 1 computer
I wasn't looking for a computer, but when mine died and Geek Squad couldn't help me and the Microsoft store was closed I had to make a decision. I was thinking buying cheep and try to get mine fixed. I didn't realize how old it was and was not worth spending to fix. I still wanted a light weight, touch screen laptop. Plus if it changed to tablet like my Surface Pro, bonus. The only negatives I have: 1. my apple plugin head phones are not compatible. 2. the volume for zoom calls and you tube videos could be loader. I maxed it out. If there is any back ground sounds the computer sounds are harder to hear. Love how light it is. Ordered a small computer bag. You don't need the heavy crazy large bags that most companies supply. I love the battery life. I almost get 20 hours on a full charge.
Date published: 2021-04-09T00:00:00-04:00
Rated

5

out of

5
by
14 inch 2 in 1 plus pen
from
Awesome 2 in 1 LG GRAM 14 I7 PROCESSOR
I love my Gram 2 in 1 I can use it as a Tablet and the pen that comes with it is a added perk for tablet mode. Its light weight yet portable design lets me use it on the go and fits perfectly in my bag or back pack. The beautiful screen and vivid colors makes this a one of a kind LG is known for! Plus I love the pen that comes with it to make notes and draw just like a sketch pad! I honestly don't leave the house with out my Gram 2 in 1 Laptop!
Date published: 2021-05-15T00:00:00-04:00
Rated

5

out of

5
by
Friend of Bob27
from
New Laptop Defective, LG won't replace
I purchased a LG Gram laptop through Amazon. It worked fine when I received it, and then the battery would not charge. We tried all types of fixes like downloading drivers, and that worked for a few weeks. After I had the laptop 60 days, I finally called and LG who had us do minimal troubleshooting & said that I would have to mail it in, and that it would take 10 to 15 business days to repair. They wouldn't even provide a loaner. I panicked because I use my computer for work (and for everything.) I thought I saw I had a 90 day return window through Amazon, I called them, and they ultimately they agreed to replace. My household owns four of these laptops, so we enjoy using them, but our loyalty is irrelevant. I would have been in a very difficult situation if I had to do all my work on my cell phone for 10 to 15 business days. The product is fine (starts up sooo quickly, speakers aren't great but very satisfied when the product isn't defective) but how do you recommend with this poor customer service. Since we have other laptops, same brand and model, I doubt our problem could have been an issue of user error. A brand new higher priced laptop should not be defective, and if it is, it should be immediately replaced after only 60 days!
Date published: 2021-05-13T00:00:00-04:00
Rated

5

out of

5
by
SH 1973
from
Easy Use and Great Performance
Flexible use and light weight but most recent technology
Date published: 2021-04-04T00:00:00-04:00
Rated

5

out of

5
by
Epoch
from
Perfect
This hits all the features and nice design as well
Date published: 2021-06-05T00:00:00-04:00
Rated

5

out of

5
by
KTang
from
Great overall features for the money!
I am satisfied with the features and performance relative to the price paid.
Date published: 2021-02-23T00:00:00-05:00
Rated

5

out of

5
by
Shah81
from
Fast speed slick and light weight
Overall good computer. Features are good. Works fast. Can't find fingerprint reader ! No disc drive and small screen are two negatives
Date published: 2021-03-21T00:00:00-04:00
Rated

5

out of

5
by
Tan man
from
So far so good. Using pen needs a little bit diffi
Adding a slot for the pen will be great. Whenever I have to use the pen. Either I have forgotten it in the office or at home.
Date published: 2020-12-21T00:00:00-05:00
Rated

5

out of

5
by
LindaOle
from
My daughter loves this laptop!
Our daughter wanted an apple, but we didn't want to spend more money for a smaller screen and less memory. She absolutely loves this laptop and all the features. It's great to fold bacwkards and she treats it like a pad of paper-she can draw, write take notes. It is great for school.
Date published: 2021-02-23T00:00:00-05:00
Rated

5

out of

5
by
Nasir229
from
Great Product
I just received this laptop, it looks great performance is excellent.
Date published: 2021-03-02T00:00:00-05:00
Rated

5

out of

5
by
ricbowl
from
Delivered & Works As Advertised
Purchased a month ago. Great screen and good features, certainly light and easy to carry. Plenty fast for our use. Have not taken full advantage of Tablet features but our short experience using them was a good one. The ports seem somewhat flimsy and based on the feel when inserting or removing a cable or thumb drive etc. I worry that they will be damaged over time. I get that same feeling when handling the power adapter plug; just a flimsy (cheap feeling. Possibly the metal is thin for lightness but as long as they hold up I'll be happy. My last machine is 12 years old and still works, but tired. I hope LG asks me to review in 12 month; right now it's a Five Star rating.
Date published: 2021-01-11T00:00:00-05:00
Rated

5

out of

5
by
DHME
from
Amazing Display! Fast! Great Keyboard!
I LOVE my laptop. I had a 14 inch competitor with a display t would call normal. This screen POPS! So vivid. Super lightweight and fast.
Date published: 2021-03-25T00:00:00-04:00
Rated

5

out of

5
by
polly20
from
I can take this anywhere!
I bought this laptop for my 13 year old and liked it so much, I bought one for myself. I love the touchscreen and keyboard. It is really lightweight, so I can easily take it anywhere in my house or car. I was hesitant to use a laptop after using a desktop in my home office all these years, but when my spouse began using that computer during Covid-19, I decided to take the plunge and buy a laptop. Now, I prefer my laptop.
Date published: 2020-12-11T00:00:00-05:00
Rated

5

out of

5
by
MSBRN
from
Nice device
The device is light, easy to use, and speedy. I have had two separate "failures" that required auto restart and this is a concern for me. I also wish there were more information on the use/functions of the pen.
Date published: 2021-05-27T00:00:00-04:00
Rated

5

out of

5
by
Violet821
from
Awesome laptop
I bought this laptop a month ago and I'm really enjoying and love it. I was worried about the negative reviews people posted such as this laptop gets really hot when running a few windows or being charged and the sound is not great. However, my laptop has no such problems at all. I found an extra thunderbolt port which is nice, but it would be even nicer if a thunderbolt charging cable included. Only old DC connector included. Also, there is no storage space for the Stylus Pen.
Date published: 2021-05-26T00:00:00-04:00
Rated

5

out of

5
by
Happy at 67
from
Absolutely incredible: 3 Lb. 17" Laptop
I have owned this laptop for 1 month now and can not get over how quickly it turns on, off and responds to requests for new links/ The video and audio are excellent and make "Skype"ing amazingly clear. The 3 lb. weight and long battery life make the transport so easy. I really wanted another 17" to replace my previous laptop and was delighted with Consumer Review's high rating on the LG laptops. It has lived up to the reviews I count on. Excellent!
Date published: 2021-08-09T00:00:00-04:00
Rated

5

out of

5
by
GramLG2020
from
Stable
The laptops are stable, good price, good for travel
Date published: 2021-11-29T00:00:00-05:00
Rated

5

out of

5
by
JP M
from
A disappointing purchase
While I like the weight and looks of the LG Gram I am very disappointed with it. The Ethernet connection is very slow for today world. I prefer to use an Ethernet connection for security reasons when it is available. However, on my network, the Ethernet connection is only 60% of the speed of the WiFi. Thinking it was the dongle, I had that replaced only to be told it is the internals of the laptop that is determining the speed. I submitted a service request on 11/01/21 to see about replacing the component. It is now 11/18/21 and I am still waiting to hear something beyond acknowledgement that I submit the request.
Date published: 2021-11-18T00:00:00-05:00
Rated

5

out of

5
by
brad03
from
BATTERY LIFE NOT AS EXPECTED
I purchased this laptop 13 months ago and one of the specs that caught my attention was the anticipated battery life. I work both at home and on the road and really needed a reliable battery to ensure I can get things done while not connected to a charging source. The battery was subpar at best; however, I recently experienced some issues. In the last month, I noticed that the battery would no longer charge while connected to an outlet. Over the last 30 days, it's depleted to 1% battery and will not increase its charge. Now I am forced to use the computer while plugged in and it's no longer a mobile device. I called to see if there was a solution, but I was advised to try another charging cord. I haven't received it yet, but if that doesn't work, I don't see much value for the computer other than it being a stationery device. As it was just outside the 12 month window, the warranty does not cover any fixes. Needless to say, I am disappointed with the purchase. My only other feedback would be the speakers are not as loud as I would hope. Sometimes in a conference room setting you need to turn up the volume, but may not have access to external speakers. The laptop, up until then worked great and I would be more than happy rating it a 5 star if the battery maintained a normal charge. The touch screen is a plus and it addressed all my work needs.
Date published: 2022-05-24T00:00:00-04:00
Rated

5

out of

5
by
jaiswami
from
light, great touch screen and LG customer service
i bought this for 10 year old son during pandemic for his homework etc. He is small and i wanted something lightweight , and touchscreen is really good. Versatile screen that can tilt at any angle. Also when i had a minor issue, LG service went above and beyond for me to fix it. This is why I always buy LG product- refrigerator, tv and all
Date published: 2022-04-07T00:00:00-04:00