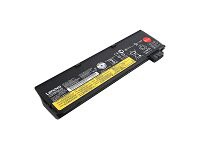 Quick tech specs
Notebook battery
6-cell
for ThinkPad A475; A485; P51s; P52s; T25; T470; T480; T570; T580
View All
Know your gear
The 6-cell ThinkPad battery 61++ is a replacement/spare battery for ThinkPad new T-series system. The battery is rechargeable and can be used as replacement or as a convenient spare for ThinkPad T470& T570 systems. This battery is powered by Lithium-Ion technology and has a safeguard chip which authenticates with Lenovo systems. The battery lasts on average 72 watt hours and utilises over-discharge protection to ensure a secure flow of power.

Many factors affect battery life. These include: screen brightness, battery conditioning, features, applications, power management and other customer preferences.
Lenovo ThinkPad Battery 61++ - notebook battery - Li-Ion - 72 Wh
is rated
4.63
out of
5
by
16
.
Rated

5

out of

5
by
karanbazaz
from
Initial impression is very good. Don't know long term but suspect it will be good
The standard (removable) battery on my P52s didn't provide sufficient battery life, particularly while traveling (even shorter flights). A secondary issue (with the standard battery) was that, given the standard battery is flush with the bottom of the laptop, the clearance between the bottom of the laptop and the desk is minimal. This results in poor airflow (intake at the bottom) resulting on the computer fan working on high most of the time. This 72Wh battery solved both issues, not only do I have great battery life, but given the protruding design of this new larger battery, it raises the back of the laptop just enough that there is now better airflow, therefore the fan no longer has to work on high most of the time. I've been working at my desk this morning for four hours (and this new battery installed), and I've only heard the fan kick in once (multiple apps, tools, and browsers running). I am very pleased with this purchase for the stated reasons. I hope this helps!
Date published: 2019-08-22T00:00:00-04:00
Rated

5

out of

5
by
Backland
from
Battery
Works as well as any battery should. Gets bit hot though.
Date published: 2019-09-12T00:00:00-04:00
Rated

5

out of

5
by
Pierre E
from
My experience of the 6 cells battery
The battery duration is really good between 10 to12 hours in function of what you are doing on your laptop. The back position of the laptop is higher so in case of plane surface, the laptop ventilation is better. The only bad thing is the extra weight of the battery in comparison to the 3 cells but it is not a surprise.
Date published: 2020-07-02T00:00:00-04:00
Rated

5

out of

5
by
ThinkPadOwner
from
Excellent battery
Fantastic battery, well made, affordable, easy to swap in, and loads of battery life.
Date published: 2020-03-25T00:00:00-04:00
Rated

5

out of

5
by
Nader S
from
Takes a long time to charge and runs hot
This battery is heavy and it takes 6 hours to fully charge. Also, it gets too hot to touch when it is charging. I do not recommend this battery.
Date published: 2020-07-24T00:00:00-04:00
Rated

5

out of

5
by
Thinkpadforever
from
Must have at lest two!
Although not flush with the body of the laptop, this battery only sticks out an inch and tilts the laptop up a bit off the table and allows for some heat dissipation too. Remember, Lenovo designed this battery to be swapped out while the laptop is in use, no need to power down and restart, they call it Power Bridge.
Date published: 2020-07-20T00:00:00-04:00
Rated

5

out of

5
by
Marilyn M
from
Awesome battery life!
I'm glad I looked into this. I've finally decided to replace my Lenovo T480 battery. Read the reviews on the website and decided on the 61++ Best choice ever. Battery has a longer life than the original one that came with my laptop. Though the battery sticks out from underneath, it's not a bother to me. Battery works perfectly fine! Awesome battery life!
Date published: 2020-04-16T00:00:00-04:00
Rated

5

out of

5
by
Jordanvally
from
Great battery
Worked great and as expected. I love that Lenovo allows swappable batteries. This will make my thinkpad last much longer. This thing added like 3 or 4 hours to my old battery life with the smaller one.
Date published: 2020-05-09T00:00:00-04:00
Rated

5

out of

5
by
SRM86
from
Great Battery
Best battery you can get for T480. Long lasting, fast charging, don't waste time with third party get the real deal.
Date published: 2020-06-22T00:00:00-04:00
Rated

5

out of

5
by
Clever
from
61++
Dramatically extended the life of my t470. Shipping was super fast, had it in just over 24 hours.
Date published: 2020-04-18T00:00:00-04:00
Rated

5

out of

5
by
DDLAR
from
My laptop (P52s) goes all day with this battery
I bought this battery so that I would not have to worry about running out of power while attending lectures. What I found is that my laptop runs all day on this battery.
Date published: 2020-02-02T00:00:00-05:00
Rated

5

out of

5
by
Vonhoof
from
61++ Excellence
Works as I expected. Holds a great charge for several hours of continual work.
Date published: 2019-08-06T00:00:00-04:00
Rated

5

out of

5
by
T480
from
Great quality
I currently use a T480. The stats below are from a precise nutritional scale: T480 w/o the external battery = 3.3 lbs T480 w/ 24wh battery = 3.59 lbs T480 w/ 72wh battery = 4.03 lbs 24wh battery alone = 0.295 lbs 72wh battery alone = 0.7319 lbs The 72wh battery does had a noticeable heft but I only notice it when I am holding it like a dinner plate. I don't feel the weight on my lap or in a backpack. I also no longer need to carry my power adapter since the 2 spare batteries can easily get me through an entire work day, or perhaps even 2! I don't have the 48wh battery, but I believe it is the exact same size but may be slightly lighter than the 72wh battery. The size of the battery is quite acceptable and doesn't bother me at all. It doesn't make the laptop feel or look chunky. Visually the 72wh battery does not look unsightly and remains quite hidden/out of sight. You can really only see the battery if you try to look under it, but from a normal height it remains rather discrete. I actually think the laptop looks better since it appears as if it is elevated/floating above the table. This also creates better airflow and a more desirable typing angle. I haven't done any real tests for battery life, but I can imagine 15+ hours are attainable while doing simple productivity/web browsing. There have been times I have seen crazy estimated readings like 26 hours remaining while doing office work, but I doubt one could actually achieve those kind of run times unless the system was idle. More realistically one could expect 8-13 hours of battery life depending on use. The advantage of getting it from Lenovo is that you will be getting a battery that was manufactured recently. The real problem is it will arrive to your doorstep PAINFULLY SLOW.
Date published: 2018-10-02T00:00:00-04:00
Rated

5

out of

5
by
Dkwazhere
from
Extended battery life!
Bought this two months ago and it is by far the best choice I made. Battery life's is extended more than 2x! [This review was collected as part of a promotion.]
Date published: 2017-12-12T00:00:00-05:00
Rated

5

out of

5
by
Brian Roque
from
Better battery life
Long term, it is incredible i use for hours and is more ergonomic
Date published: 2019-05-17T00:00:00-04:00
Rated

5

out of

5
by
Salparadise
from
ThinkPad Battery 61++ Excellent
Bought this battery to accompany my P52s and it's been worth the money. The battery life is over 8 hours in duration and adds little weight to the console. No regrets buying this product, I'd say its essential and anyone who has the ability to add this to their console should. [This review was collected as part of a promotion.]
Date published: 2019-03-10T00:00:00-05:00