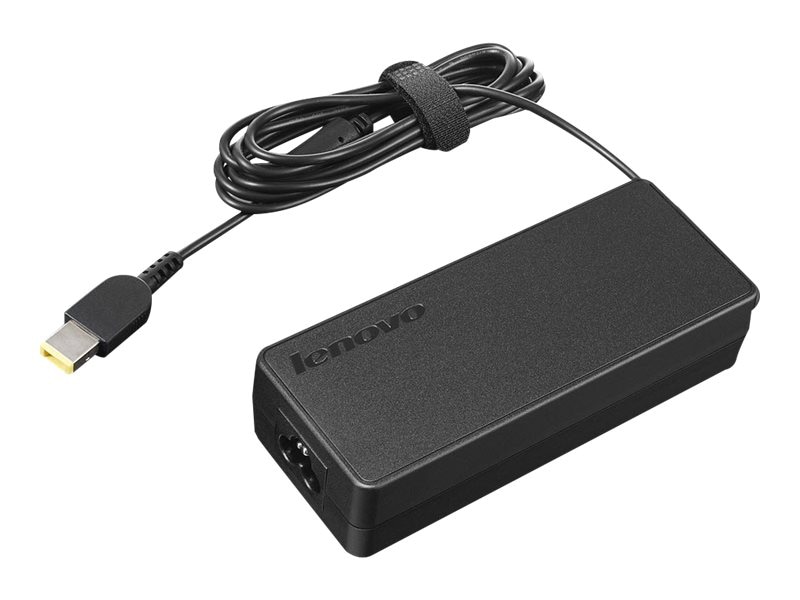 Quick tech specs
AC 100-240 V
for 330-15; B40-30; B40-70; M5400; ThinkPad 11; 11e Chromebook; Thinkpad 13; ThinkPad A275; A475; E46X; E47X; E56X; E57X; L460; L470; L560; L570; P40 Yoga; P50; P51; T25; T460; T470; T560; T570; X260; X270; ThinkPad Yoga 11; 11e Chromebook; 14; 260; 370; 460; V330-14; V330-15; V720
View All
Know your gear
Keep a spare ThinkPad 90W AC Adapter at hand to ensure your ThinkPad has a consistent flow of power. Keep one adapter in the office, one at home and another in your carrying case for immediate, convenient access to power. This ThinkPad AC adapter is perfect for use as a spare or replacement adapter for compatible laptops. It is compatible with all Lenovo laptops with the rectangular"slim-tip" common power plug. It is not compatible with legacy notebook systems with the round, barrel-type power plug. ThinkPad AC adapters are compact so you can easily keep a spare tucked into your carry case at all times. This 90w adapter will perform to the exact same standard as the one which originally came with your laptop. It is highly energy efficient and is backed by an official Lenovo 1-year warranty.
Lenovo ThinkPad 90W AC Adapter (Slim Tip) - power adapter - 90 Watt
is rated
4.50
out of
5
by
16
.
Rated

5

out of

5
by
TIMOTHY H.
from
Very sleek and durable
Works great and very sleek not bulky. It was delivered quickly and the box allowed it to be well protected. The website was user friendly and showed a range of options, styles, and colors. The cord easily wraps up and has a velcro strap that allows for easy setup and storage when finished using.
Date published: 2020-11-18T16:05:31-05:00
Rated

5

out of

5
by
_Mary
from
Exactly what I needed.
The ThinkPad 90 W charger works perfect for my X1 Carbon.
Date published: 2020-08-03T00:00:00-04:00
Rated

5

out of

5
by
SKHS
from
Very Pleased with the order and quick delivery. W
Very Pleased with the order and quick delivery. Would order again
Date published: 2020-06-09T00:00:00-04:00
Rated

5

out of

5
by
joe 42
from
Nice looking
I bought recently and it has been exactly what I wanted - many features - fast -quiet keypad - great screen size and light!!!
Date published: 2016-11-07T00:00:00-05:00
Rated

5

out of

5
by
Alex
from
Too Big and Too Heavy!
Too big and Too Heavy for such a beautiful and light laptop from Lenovo. X1 Carbon is great, but the whole experience is destroyed by this big and heavy charger. Design team should better talk with each other before making a product.
Date published: 2014-03-06T00:00:00-05:00
Rated

5

out of

5
by
akrafsig
from
Charges quickly
When I need to charge my laptop, it charges quickly and the adapter doesn't heat up that much even when it's being used for an extended period of time.
Date published: 2016-09-08T00:00:00-04:00
Rated

5

out of

5
by
JDKelley
from
On the move
This is part of my travel kit - I never know when I'll need a quick charge [This review was collected as part of a promotion.]
Date published: 2019-01-21T00:00:00-05:00
Rated

5

out of

5
by
Qesem
from
Amazing battery life!
I am not accustomed to writing reviews and replying to company surveys; however, I was keen to write this review of my new T550 to pass on to others my surprising discoveries with this computer. I work as a translator and the most important features for me are a good keyboard and a better than average battery life. I have owned two other "top brand" laptop computers in the past. Both of them were inadequate in terms of keyboard. To be honest, I had not done any research on either and I bought those computers based solely on speed and screen resolution and brand. This time around I did a significant amount of research on the internet before making my purchase. I have certainly not been disappointed by the keyboard on my new T550. It is extremely comfortable with responsive keys that facilitate accuracy and speed. I opted for a 256GB Solid State Hard Drive and 8 GB Memory, so I am more than satisfied with the speed of my T550. Leaving the best for last, and this really is the icing on the cupcake, the surprise has been the battery life. I upgraded the battery to an Integrated 3-cell (44Wh) All the sites that I researched, and the Lenovo site itself, gave the battery life for the T550 at between 10 and 14 hours. I figured that even the bottom of this range would suffice. The thing is: I am tired of fighting for a seat next to an electricity outlet. Surprise, surprise: I actually can't believe it still, and I have waited before rushing to write this, I have had my new T550 for over 2 months now and I regularly get over 24 hours of battery life.!!! How? I simply work only on 75% brightness! I am not employed by Lenovo so I certainly cannot, and am not, giving any kind of warranty. You should check with your dealer whether this is a freak or a normal situation. Anyway, I am over the moon with this performance. The only minor disappointment with my new T550 is that I added few dollars for a Fingerprint Reader; however, when I downloaded Windows 10, this function was disabled and I have been unable to reactivate it. Perhaps I will have more time soon to try and get my fingerprint reader to work. I hope you find this review helpful. Owen Lewis
Date published: 2016-08-28T00:00:00-04:00
Rated

5

out of

5
by
Gary 123
from
Love it
I bought this a month ago and I am extremely happy with it
Date published: 2016-08-22T00:00:00-04:00
Rated

5

out of

5
by
Mia M
from
Efficiency at its finest.
My old charger burnt out on me, and was having a hard time locating same product. Chat rep helped a lot made it quick and easy to purchase. Got it fairly quickly as well in the mail. [This review was collected as part of a promotion.]
Date published: 2019-04-20T00:00:00-04:00
Rated

5

out of

5
by
MickZ
from
Good travel-size charger
90W lightweight, perfect for travel. Do beware that on higher-end models this charger will not keep up with battery draw while using the laptop. I use it to recharge during idle time while traveling.
Date published: 2019-12-18T00:00:00-05:00
Rated

5

out of

5
by
Matt1337
from
Good Charger for New Generation of ThinkPads
This is the best charger you can buy for the newer ThinkPads - if yours uses this type of plug instead of a barrel connector, this is the charger you need. It charges my X1 Carbon in a couple of hours and I haven't had any issues with it in the last 2 years. I have one at the office and one at home. I order these for end users that need a faster charger or want one for travel - it's no heavier than other laptop chargers, and it fits in normal laptop bags. Not sure why people are complaining about the size/weight; I can carry this in my back pocket without any problems.
Date published: 2016-05-18T00:00:00-04:00
Rated

5

out of

5
by
Onceabuc
from
Extra AC adapter
One should always have an extra AC adapter for their mobile devices. I have one permanently connected in my work space and I travel with one. Because I have had such great support from the people at Lenovo, I am happy to order from them.
Date published: 2019-09-16T00:00:00-04:00
Rated

5

out of

5
by
karanbazaz
from
BEWARE!! Does not work for P50
I purchase this item for my Thinkpad P50 and it does not power it. I later purchased another charger and it works so it is not a laptop issue. The description clearly says P50 is supported and that is not the case.
Date published: 2019-08-08T00:00:00-04:00
Rated

5

out of

5
by
Dave U
from
Great AC adapter
Low profile, very powerful at 90 w, powers up a low battery quickly.
Date published: 2019-09-25T00:00:00-04:00
Rated

5

out of

5
by
Joe N
from
Replacement power adapter
I had an aftermarket adapter that broke at the connection for the AC cord. After looking on Amazon and finding horrible review and nondescript descriptions I decided to shop direct. Tech support was great in helping me find the correct adapter for my laptop. It works great and very well constructed.
Date published: 2019-08-03T00:00:00-04:00