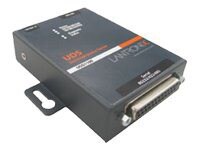 Quick tech specs
RS-485 to Ethernet using Serial over IP technology; UL864 Compliant; Wall Mountable
One DB-25 Serial Port; One 10/100 Mbps Fast Ethernet RJ-45 Port
View All
Know your gear
With the UDS1100, virtually any piece of equipment with a serial port can be added to an Ethernet network in a matter of minutes! This single-port device server is a quick, simple and inexpensive way to bring the advantages of remote management to equipment not currently connected to a network.

Our approach to network-enabling devices is transparent to your attached equipment and software so you won't need to change the way you work. Using a method called serial tunneling, the UDS1100 encapsulates serial data into packets and transports it over Ethernet. Serial tunneling can be done in two manners. First, using Lantronix supplied Com Port Redirector™ software, device applications not designed for network communications are re-directed to communicate to devices connected to the UDS1100. Second, connecting two UDS1100 device servers configured to automatically talk to each other over the network creates virtual serial connections that can extend serial communications across a facility or around the world.

The built-in web server enables users to access and configure the UDS1100 from a standard web browser. Web pages enabling the UDS1100 to be customized for unique applications can be built using Lantronix development tools. The on-board Flash memory provides room for future system software upgrades and maintenance-free, non-volatile web page storage.

The included Com Port Redirector™ software enables Windows® applications designed to only communicate though local COM ports to now communicate over to network-enabled devices over Ethernet. The software creates virtual COM ports which are mapped to remotely networked UDS1100 units connected to your equipment. This enables you to extend the reach of your devices' software applications across the globe.