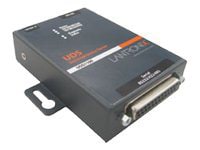 Quick tech specs
RS-485 to Ethernet using Serial over IP technology; Power Over Ethernet (PoE 802.3 AF); UL864 Compliant; Wall Mountable
One DB-25 Serial Port; One 10/100 Mbps Fast Ethernet RJ-45 Port
View All
Know your gear
Device networking is what powers M2M (machine to machine) communication. The UDS family of device servers enables users to connect, manage and control just about any piece of equipment with a serial port from virtually anywhere over Ethernet or the Internet.

With the UDS1100, virtually any piece of equipment can be added to an Ethernet network in a matter of minutes! This single-port device server is a quick, simple and inexpensive way to bring the advantages of remote management to equipment not currently connected to a network.

Our approach to network-enabling devices is transparent to your attached equipment and software so you won't need to change the way you work. Using a method called serial tunneling, the UDS1100 encapsulates serial data into packets and transports it over Ethernet. Serial tunneling can be done in two ways:

Using Lantronix supplied Com Port Redirector™ software, Windows® device applications not designed for network communications are re-directed to communicate to devices connected to the UDS1100.

Connecting two UDS1100 device servers configured to automatically talk to each other over the network creates virtual serial connections that can extend serial communications across a facility or around the world.

The built-in web server enables users to access and configure the UDS1100 from a standard web browser.

Web pages enabling the UDS1100 to be customized for unique applications can be built using Lantronix development tools. On-board Flash memory provides room for future system software upgrades and maintenance-free, non-volatile web page storage.

The UDS1100 can be set up locally through its serial port, or remotely using Telnet or a web browser. The included DeviceInstaller™ Windows-based configuration software simplifies setup and provides an easy way to:

Assign IP and other network specific addresses
Load custom web pages
Enable web-based configuration of the device server
Ping or query the attached device(s) over the network
View specific device data files
Upgrade firmware

In modem emulation mode, the UDS is used to replace dial-up modems. The unit accepts modem AT commands on the serial port. It then establishes a network connection to the end device, leveraging network connections and bandwidth to eliminate dedicated modems and phone lines. The PoE version enables you to also take advantage of network connectivity in areas without power outlets.

Built into the included Com Port Redirector software, TruPort® technology enables Windows-based applications to access and control serial ports on the UDS1100 as if they were actually local PC serial ports. The application can monitor and set hardware pins on the UDS1100 serial ports as well as access serial buffers for total Com port control. This allows existing applications to seamlessly transition from controlling local devices to true remote monitoring and control of devices around the world.