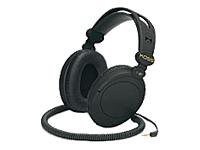 Know your gear
Delivering superb sound with a nod toward comfort, the R80 is a professional quality stereophone that follows in the steps of the current full size lineup. During long recording and listening sessions wearers will appreciate the R80's extra large leatherette ear cushions and its overall design that provide maximum isolation and deep bass. To capture every note and prevent sound from leaking through, closed leatherette earcushions form a comfortable seal around the ears, enhancing bass frequencies and isolating the listener from ambient noise.

The R80 features dynamic element construction that utilizes neodymium iron boron magnet structures for accurate acoustic sound reproduction, to reach a wide frequency response from 16-22,000 Hz. Oxygen-free copper voice coils improve signal transmission and conduction for cleaner, clearer sound.

Designed for frequent use over extended periods, the adjustable headband adapts to any head size or shape for added comfort. The pivoting ear cups provide flexible movement during extended wear. A detachable 8 foot, single entry coiled cord adds flexibility and reliability and affords ample flexibility of movement. A 3.5 mm (1/8") plug and a 6.3 mm (¼") screw-on type adapter are included.

With its precise sound reproduction and excellent isolation capabilities, sound professionals and music lovers alike will laud the outstanding performance and comfort of the R80.

Built to last, the R80 is covered by Koss is covered by Koss' No*Questions*Asked Lifetime Warranty.