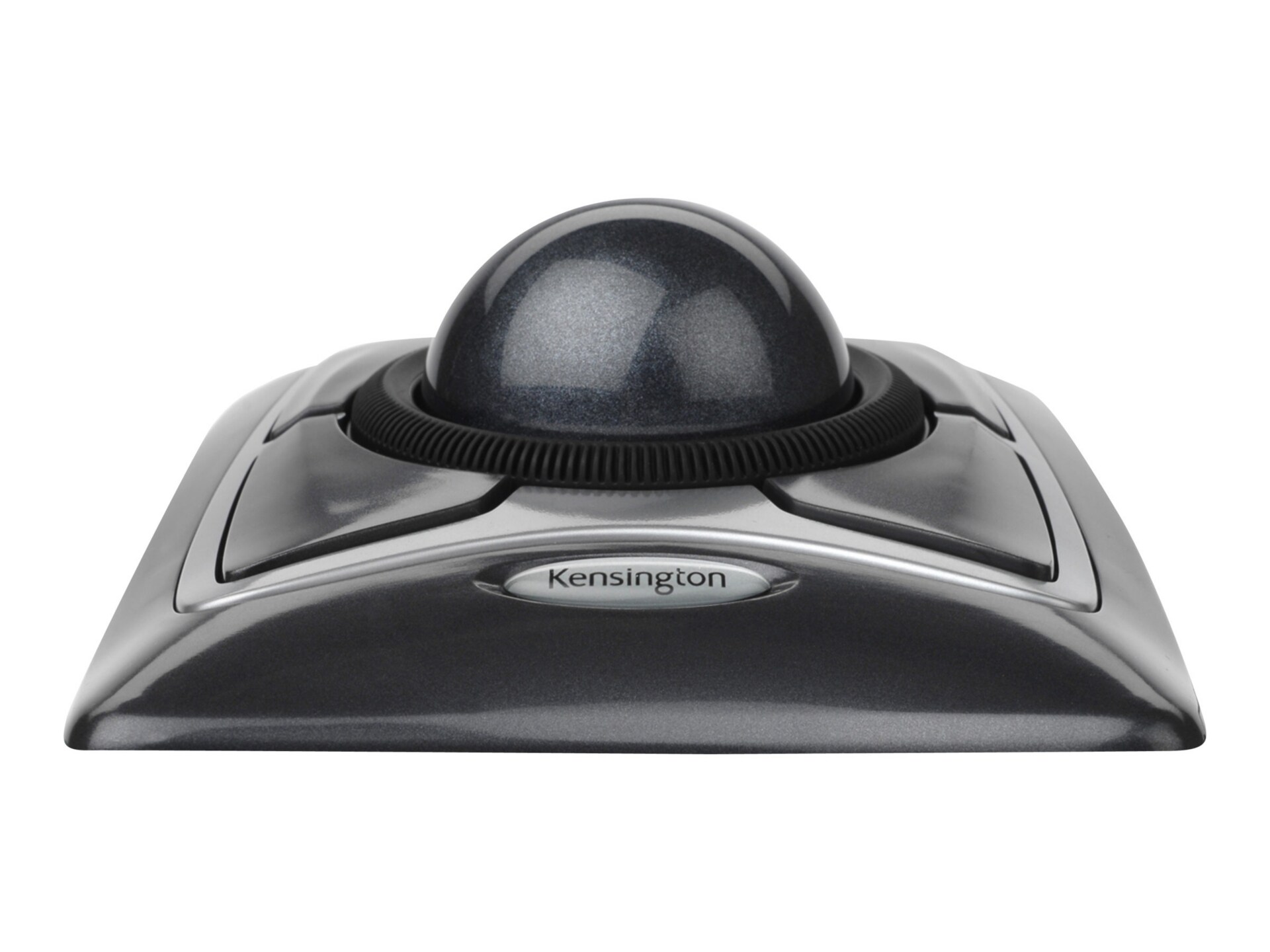 Know your gear
Designed for PCs and Mac's, the Expert Mouse employs Kensington's Diamond Eye™ optical technology for smooth, precise cursor movement. More comfortable than ever, the Expert Mouse comes with a soft new wrist rest-right in the box!

Features:
DiamondEye™ Optical tracking for superior accuracy
Award-winning Scroll Ring™ - precise scrolling at your fingertips
Exceptional comfort for ultimate productivity
Large ball for maximum precision and control
Detachable wrist rest cradles your hand in comfort

Note:
Mac running OS X or later with an available USB Port.
Internet connections or CD ROM drives to install the software.
Kensington Ergonomic Expert Mouse - MSRP $99.99
is rated
4.86
out of
5
by
7
.
Rated

5

out of

5
by
TigrisMagnus
from
Best Trackball ever
I use a trackball at work due to I use a Varidesk and it helps with my Arthritis. I like the Expert Mouse Trackball because it works with minimal maintenance. I clean it maybe every 2 months. The other thing I like is that the ball is the same size as a billiard ball. If I need a little more resistance I pop a cue ball or 8 ball in. I have had mine for 5 years without an issue.
Date published: 2018-03-21T00:00:00-04:00
Rated

5

out of

5
by
Lobo64
from
My third Kensington Mouse
This is my third Kensington Ergonomic Expert Mouse. When I upgrade my Apple computer every 5 years or so I buy a new Kensington EE Mouse. The track ball allows me to move the mouse over the screen very quickly. When I try to use a standard mouse, I find them to be very slow. The trackball mouse is like moving from a Model T to a Lincoln Town Car. Try one for a day and you will never go back to the Model T mouse.
Date published: 2018-09-26T00:00:00-04:00
Rated

5

out of

5
by
Edrele
from
More Comfortable Than A Mouse
It may take getting used to, but this is a great alternative to a mouse. As someone who sits in front of the computer for hours, it prevents my mouse hand from feeling cramped in the same position. Build quality is very good. I still have my first one at home and am on my third one for work since switching companies. Out of the box, ball movement may seem a bit scratchy, but that feeling quickly fades over use. Scroll ring allows me to quickly scroll up and down.
Date published: 2017-05-18T00:00:00-04:00
Rated

5

out of

5
by
GooseOnTheLoose
from
Gets the job done
I used to use a track ball but got away from it. Returning to it is a little awkward but it was before so nothing new here. I get more proficient with it every day and will eventually get back to full speed. Quality seems solid and works like a dream. A little on the pricey side but will be worth it once I'm fully settled in. If you're smart with programming the buttons you can fly through your tasks.
Date published: 2018-11-29T00:00:00-05:00
Rated

5

out of

5
by
Chris7404
from
After 8 years of heavy, daily use, it's time for a new one...
I've been a trackball user since I got my first one back in 1998. I now hate having to use a mouse. As an IT professional, trackballs are far superior to the mouse for so many reasons.You do not have to move your entire arm.You do not have to pick up your trackball and re-center it on the pad.Button position is so natural.Control is so precise.The big scroll ring on this is fantastic and easy to use.I'm here today to buy my 3rd Expert Mouse. My original, I gave to my sister when I traded up to the Optical version and now, since 2006 or so, my current Expert Mouse is beginning to break down...specifically, the left click button is going flakey.I LOVE this trackball. Thank you Kensington for the GREAT product.
Date published: 2014-06-13T00:00:00-04:00
Rated

5

out of

5
by
Operator
from
Excellent for control console.
Used for operator control console. This is their preferred track ball.
Date published: 2018-05-02T00:00:00-04:00
Rated

5

out of

5
by
daustins
from
I love this
I've been using Kensington trackballs for I think two decades. I have a 27" iMac and a 27" screen in extended desktop mode. I need to get across that football field in a hurry and there is no such thing as a desk big enough to have a mouse pad the size of half a tennis court.This has a pool ball as the ball and it's big enough to acquire rotational momentum as you spin it. The four buttons are very assignable too but frankly I use only two. I set up the left one for click and the right for double click, and both for drag.Combine this with MaxMenus, a much-underrated product, and you can zip around a very large desktop with minimal effort.I am thinking of buying another one in case Kensington stops making this one but then after a while USB might be Thunderbolt.Yes, this is that good and I am not on the payroll.
Date published: 2012-02-14T00:00:00-05:00